With Thanksgiving just a few weeks away, I thought you might be looking for a few reliable and easy recipes!  Whether you are hosting or are an invited guest, you are sure to find a tasty recipe.  I have compiled a list of some of my Paleo Thanksgiving Favorites!  These are the recipes that I will be having this holiday season.
Paleo Herb Roasted Turkey-
This Herb Roasted Boneless Turkey Breast always receives rave reviews.  All that is required is a few ingredients and some fresh herbs.  The prep time for this dish is a few minutes.  The big bonus is that while the turkey is roasting, you can prepare other dishes for your meal.
Cranberry Orange Sauce-
The days of canned jellied cranberry sauce are gone.  Fun fact:  I never liked cranberry sauce and always avoided it completely.  That is until I had this recipe.  It is so different and fresh tasting!  With this Cranberry Orange Sauce recipe, you can make the freshest, tastiest side dish which will be absolutely irresistible!  By the way, do you remember the jello molds?  I do love the cranberry orange combination and make these scones often.
Sweet Potatoes-
For many, Thanksgiving would not be complete without a sweet potato dish.  This Sweet Potato Casserole with Candied Pecans is tasty and so pretty all at the same time!  It may seem that I have spent an awful lot of time recently perfecting sweet potato recipes (here, here here and here).  This is true and I continue this endeavor.
Introduce A New And Interesting Side Dish-
Looking for a side dish that is a little different, but has the typical holiday veggies?  May I suggest Orange Ginger Glazed Carrot and Parsnips?  The carrots and parsnips soften slightly and soak up the delicious sauce. Yum!  I really prefer a cast iron skillet for this recipe.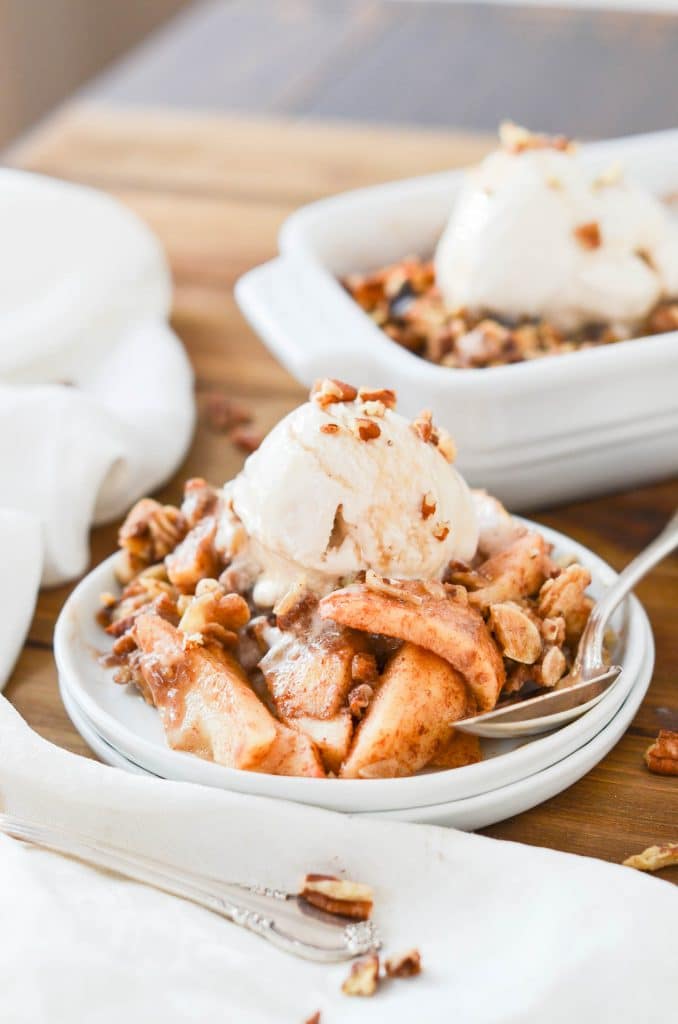 Save Room For Dessert-
A fall favorite, this Paleo Apple and Cranberry Crisp  is amazing on Thanksgiving!  This recipe uses fresh or dried cranberries.  This scrumptious recipe can be made ahead and is delicious served with coconut whipped cream or your favorite ice cream.  I love using my Kitchen aid electric mixer with the whip attachment for coconut whipped cream.
Some Tips For Preparing Paleo Thanksgiving Favorites –
 Do as much chopping and prep ahead as possible.  I chop vegetables, nuts, fruits, etc.. and place in labeled containers in the refrigerator.  This makes assembling recipes for cooking and baking so much easier.
Outline your meal, make lists of necessary ingredients, and do shopping ahead.
Set your holiday table the morning of your feast.
Make your holiday morning breakfast simple (e.g. smoothie).
Encourage others to help.  This makes the day, meal, holiday more fun and enjoyable for all.
Additional Paleo Thanksgiving Day Recipes:
The equipment you'll need:
Instant Read Thermometer| Potato Ricer| Bulb Baster|Mandoline Slicer| Roasting Pan
Thank you for using my affiliate links, which at no extra cost to you, provides me with a small commission that helps with the running of this site.   I look forward to creating and posting many more delicious recipes for you.
Original post date – November 9, 2016