I remember, a few years ago, when I started a gluten free and dairy free diet.  Several months after that,  I added a diet free of grains.  And, then, after that,  I added a low fodmap diet to the mix.  Whew! This is going to be impossible! Well, these Sweet Potato Pumpkin Spice Truffles remind me that there are options, lots of options!
What I have found-
There is a learning curve to changing your diet and I am on that journey.  It can seem overwhelming in the beginning.
Although I try to stick primarily to low fodmaps in my diet, I am finding that I can add in certain higher fodmap foods on occasion with no issues, like this delicious Apple Pie Smoothie  or Paleo Apple and Cranberry Crisp recipe.  Apples are higher fodmap, but on occasion, and in moderation, do not bother me.  Also, portion sizes are important, as a low fodmap food can become high fodmap with a larger serving.  As I navigate the fodmap list, through trial and error, I find that each person must find the foods that cause a reaction and avoid those.
High fodmap foods that I currently avoid –
These are the foods that I have currently identified as the most problematic for me – onions, garlic, scallions, leeks, shallots.  As you can see, mostly garlic and onions.  But! I have found garlic or onion infused oil is a wonderful solution and is a great alternative to garlic and onions.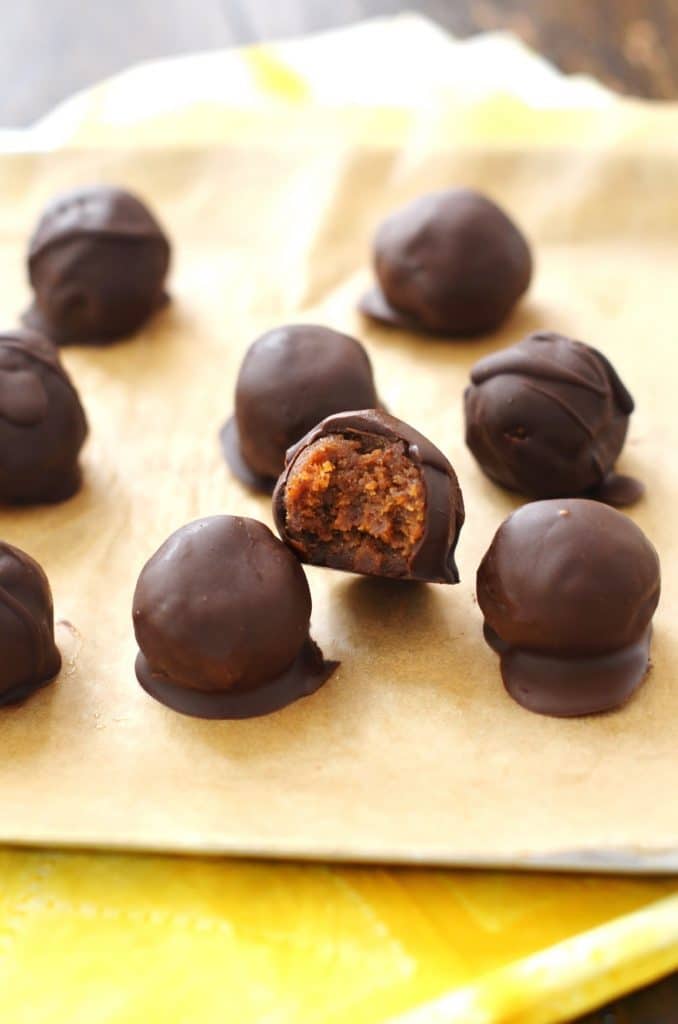 Making your Sweet Potato Pumpkin Spice Truffles –
You can use your own freshly made sweet potato puree for this recipe, either by baking or the slow cooker version.
Ingredients: (Affiliate Links)-
Creamy Almond Butter (Store bought or My Favorite Almond Butter)
Chocolate Chips (non-dairy and gluten free)
Coconut Oil (preferably organic)
I find it easiest to use my electric mixer (affiliate link) to make the filling.
Related:  Sweet Potato Paleo Chocolate Brownies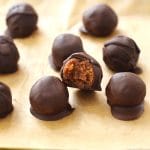 How To Make Sweet Potato Pumpkin Spice Truffles
Enjoy this healthier Paleo truffle recipe with delicious sweet potatoes and pumpkin pie spice!

Course:
Almond Butter, Dessert, Dessert Topping/Icing/Frosting, Snack
Cuisine:
American, Dessert
Ingredients
1/2

cup

sweet potato puree

1/2

cup

creamy almond butter

1

tsp

pumpkin pie spice

1/2

tsp

vanilla extract

pinch

sea salt

1

tsp

coconut oil (preferably organic)

1/3

cup

chocolate chips

1/2

tbsp

maple syrup
Instructions
In a mixing bowl, add the sweet potato puree, almond butter, maple syrup, pumpkin pie spice, vanilla extract and sea salt. Add salt to taste.


Mix well, and roll into balls. I like to make 1/2 tablespoon sized balls, but you can choose any size.

Place in the refrigerator to harden and set about 1 hour.

When the balls are ready, make the chocolate shell topping. Melt 1 tsp. of coconut oil in 1/3 cup of chocolate chips.

Dip each ball in to the chocolate mixture and coat the entire ball. Place back in the refrigerator to harden. Will be ready in about an hour.

Store in the refrigerator because they tend to melt when left out for a period of time.
Nutrition Facts
How To Make Sweet Potato Pumpkin Spice Truffles
Amount Per Serving
Calories 159
Calories from Fat 99
% Daily Value*
Total Fat 11g 17%
Cholesterol 1mg 0%
Sodium 12mg 1%
Potassium 200mg 6%
Total Carbohydrates 12g 4%
Protein 3g 6%
* Percent Daily Values are based on a 2000 calorie diet.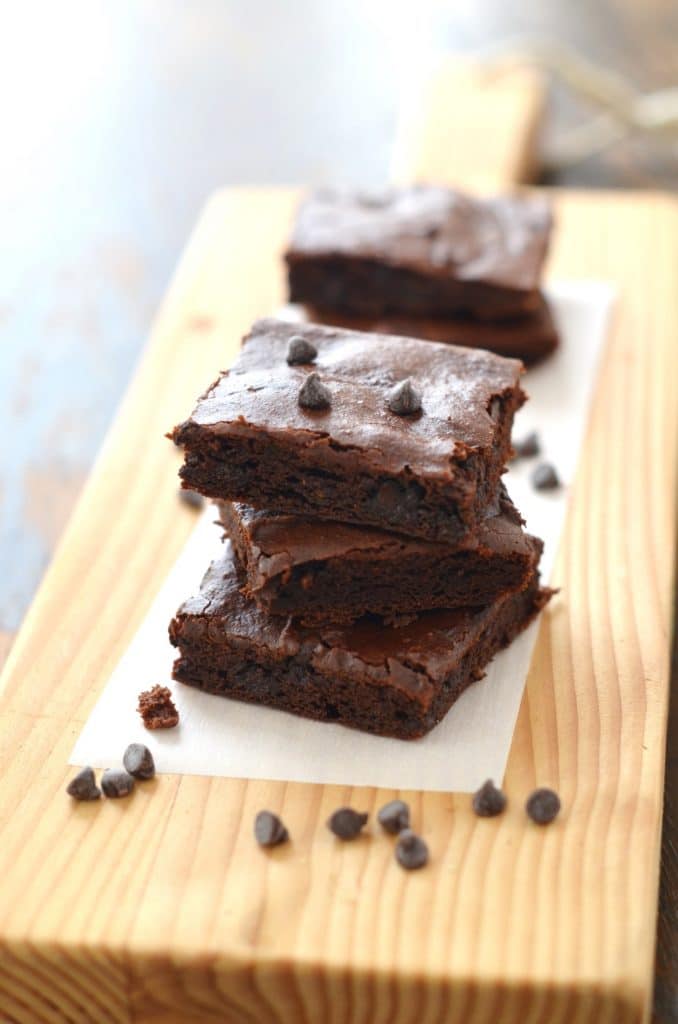 Love sweet potatoes?  Try these Fudgy Sweet Potato Brownies.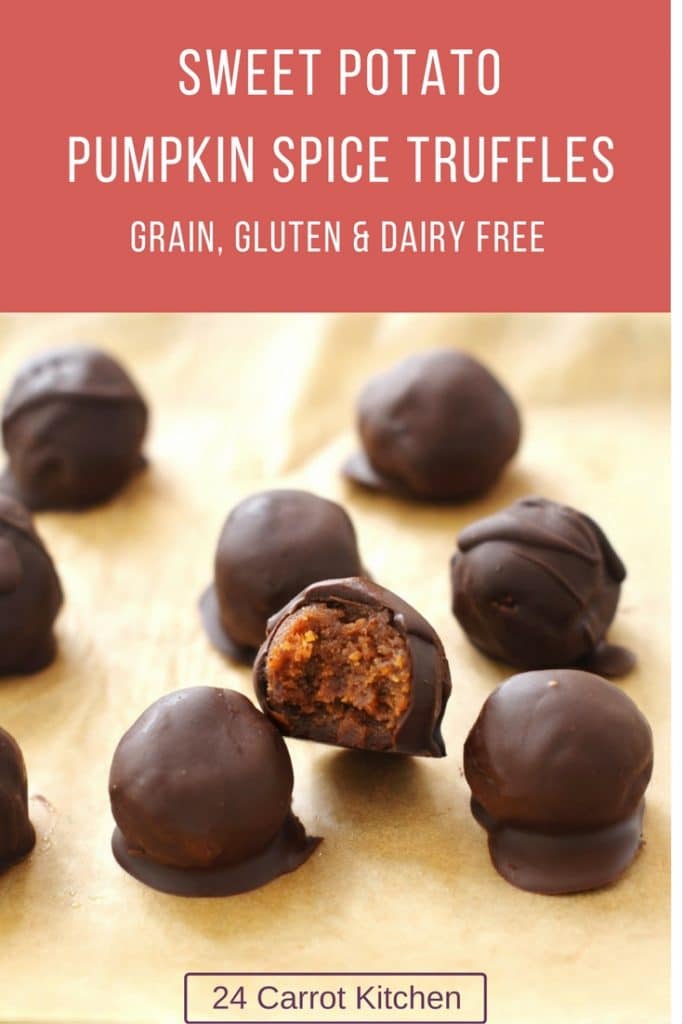 Hope you enjoy these recipes if you try!