I call these Coconut Flour Chocolate Glazed Paleo Donuts a happy miracle.  They are healthier than most donuts, and I took some chances using different ingredients and it worked.
It's a good thing I consider myself a what if person.  As a food blogger, this works out quite well, as I am not too fearful of combining ingredients and analyzing the results.
Here is a little secret – the first renditions of this recipe were made with eggs.   As I enjoyed these donuts with some tea, I noted the sweet chocolate taste, cake, and crumb-like texture.  There was something special here.  Missing in my grain free, gluten free and dairy free world for far too long.
As the delicious aroma of freshly baked donuts still permeated my kitchen, I wondered how far I could take this.  After all, I often create several variations of a recipe to get it just right.
So for the next try, I decided – "to boldly go where no man has gone before" (if you get that reference, can we be BFF's?)  That meant, no eggs!
The Disappearing Paleo Chocolate Donuts:
Okay, these donuts were made several times before I even had a chance to photograph them for this post!  They kept disappearing so fast.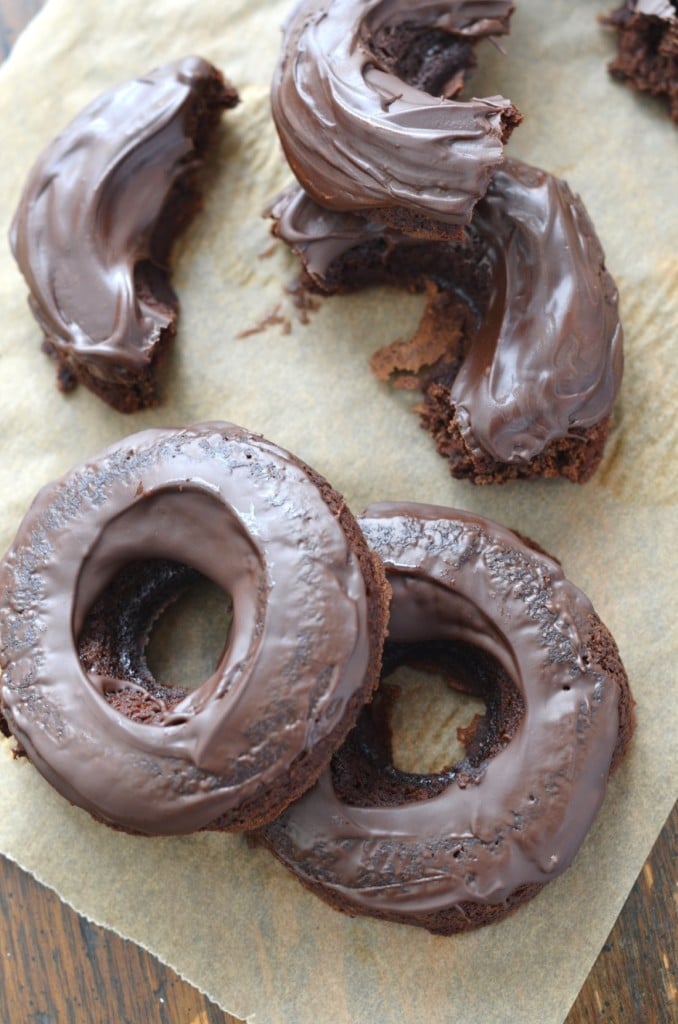 Making Your Coconut Flour Chocolate Glazed Paleo Donuts-
Mix all the ingredients in one mixing bowl.
Spread the batter in your donut pan (Aff-link) to make 5 low carb coconut flour donuts.
Bake at 350 degrees F. for approximately 30 minutes.
Can't wait to try these chocolate coconut flour donuts in this silicone donut pan too.  While the donuts are baking, it is time to make the glaze!   You might have a favorite glaze that you could use here.  I simply melt some non-dairy, gluten-free chocolate chips to make a glaze.  Once the donuts are cool,  spread the glaze over the donuts covering the tops.  This glaze will harden slightly in just a few minutes.  🙂
Making Flax Eggs:
Place one tablespoon freshly ground organic flax seed in a small bowl.
Add three tablespoons room temperature water.
Stir to mix and then let sit for about ten minutes.
The mixture should resemble the consistency of an egg.
Note:  this also works with organic chia seed to create a chia egg.  Flax or chia eggs work well in some recipes to replace chicken eggs.
But How Do These Vegan Coconut Flour Donuts Taste?
They are moist and chocolatey goodness!
 With a cake-like texture
Decadent because of the rich chocolate flavor and icing
Pumpkin puree is an ingredient, but they do not taste like pumpkin.  In the future, I would love to try making paleo donut holes in a donut maker!
Related:
The Best Paleo Chocolate Cupcakes
Easy Two Ingredient Chocolate Ganache – try this recipe as your paleo donut glaze!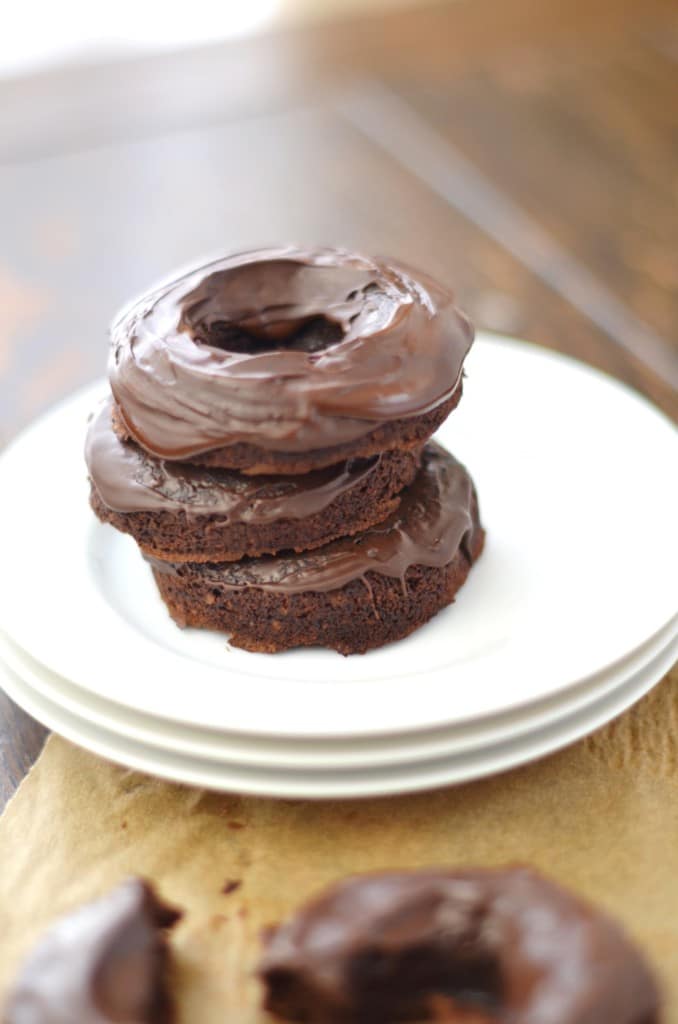 Get Your Supplies For This Recipe:
Thank you for using my affiliate links, which at no extra cost to you, provides me with a small commission that helps with the running of this site.   I look forward to creating and posting many more delicious recipes for you.
p.s. – I used Anthony's Organic Coconut Flour in these and love this flour!
Favorite products used in this recipe:  Mixing bowls, Cacao Powder, Sea Salt, Organic Flax Seed, Coconut Sugar, Pumpkin Puree, Vanilla Extract, Chocolate Chips, Coconut Oil Spray.
I hope you love these if you try them! And they work well with eggs also. 🙂
Live Long and Prosper!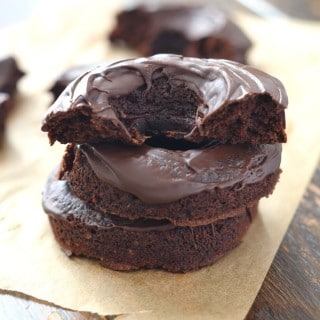 Coconut Flour Chocolate Glazed Paleo Donuts
You will love this healthier, grain, gluten and dairy free recipe. There are also no eggs or oil! It is hard to believe how great they taste!
Course:
Breakfast, Brunch, Dessert, Dessert Topping/Icing/Frosting, Snack
Cuisine:
American, Breakfast, Dessert
Ingredients
1/4

cup

coconut flour

1/4

cup

cacao powder

1/4

teaspoon

fine sea salt

1/2

teaspoon

baking soda

2

flax eggs

(substituting eggs is fine)

1/8

cup

maple syrup

1/8

cup

coconut sugar

1/4

cup

pumpkin puree

1

teaspoon

vanilla extract

1/4

cup

water

Glaze:

1/3

cup

chocolate chips

(optional: delicious without glaze also)
Instructions
Preheat oven to 350 degrees F.

Grease a donut baking pan by spraying with oil (I like coconut oil). Makes 5 donuts.

Place all the dry ingredients in a bowl and whisk to remove all lumps and to combine.

To the dry ingredients, add the wet ingredients, and mix well to form a batter.

Add the batter to your donut pan to make 5 donuts and spread to smooth.

Bake for approximately 30 minutes until donuts are set and pull away slightly from the side of the pan.

Let cool completely before icing.

For glaze: melt 1/3 cup of chocolate chips and spread over the donuts.

Should last a few days in an airtight container. For best results, store in the refrigerator.
Nutrition Facts
Coconut Flour Chocolate Glazed Paleo Donuts
Amount Per Serving
Calories 158
Calories from Fat 45
% Daily Value*
Total Fat 5g 8%
Cholesterol 1mg 0%
Sodium 258mg 11%
Potassium 141mg 4%
Total Carbohydrates 25g 8%
Protein 3g 6%
* Percent Daily Values are based on a 2000 calorie diet.
Easy Pin It Strip: