These Coconut Flour Pancakes with Blueberry Sauce are low carb and delicious!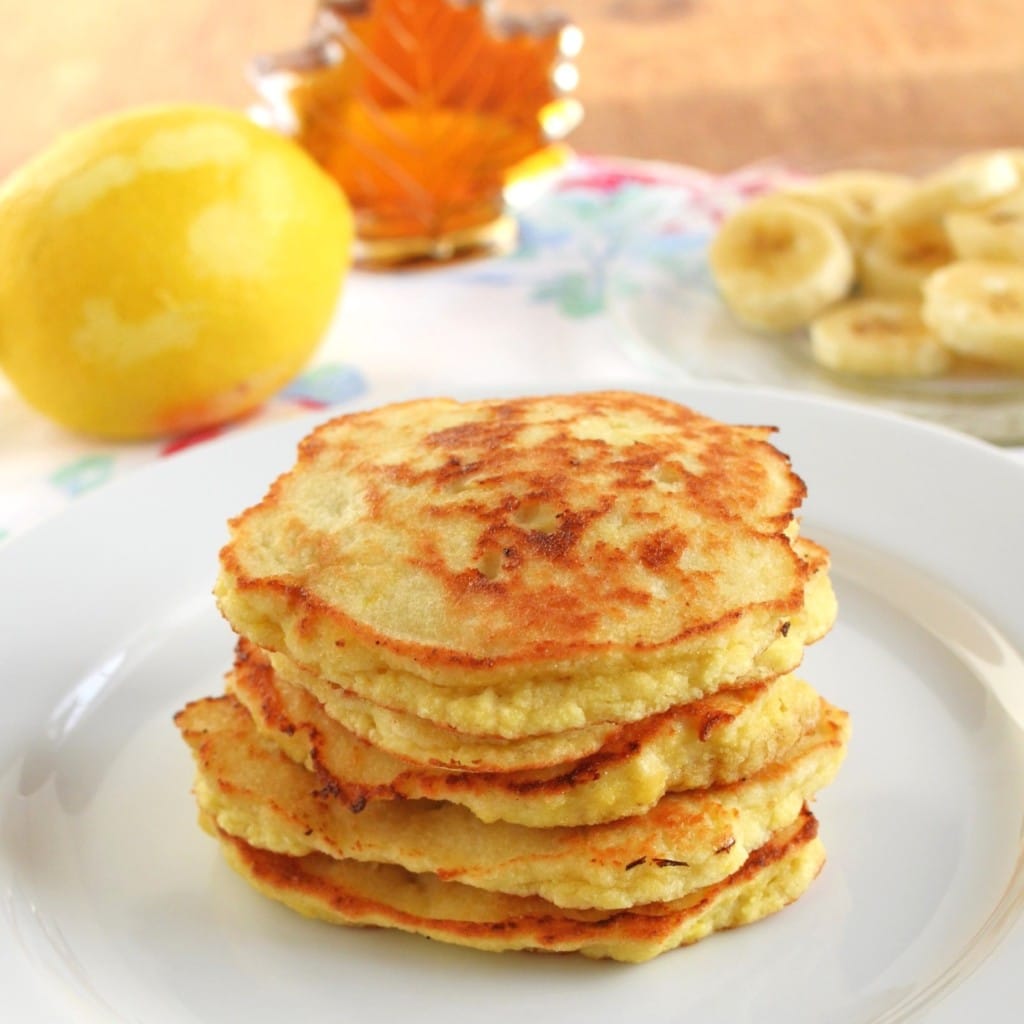 Well, let me tell you, it is hard finding a good gluten free, easy, coconut flour pancake recipe!  Until now, that is.  This recipe is adapted from Goop and these are so tasty and fluffy, they're amazing.  I have tried many gluten free pancake recipes and there was always something wrong, too thin, broke apart easily, the taste was off, weird consistency.  You get the idea.  I have made quite a few batches of these beauties and they come out great every time. So, if you are looking for a tasty, easy, fluffy, low carb pancakes, try these.
Related:
One leeetle tip when making these Coconut Flour Pancakes –
I have made this with and without lemon zest.  Definitely make with if at all possible.  It adds something that makes them tastier.  It really does. 🙂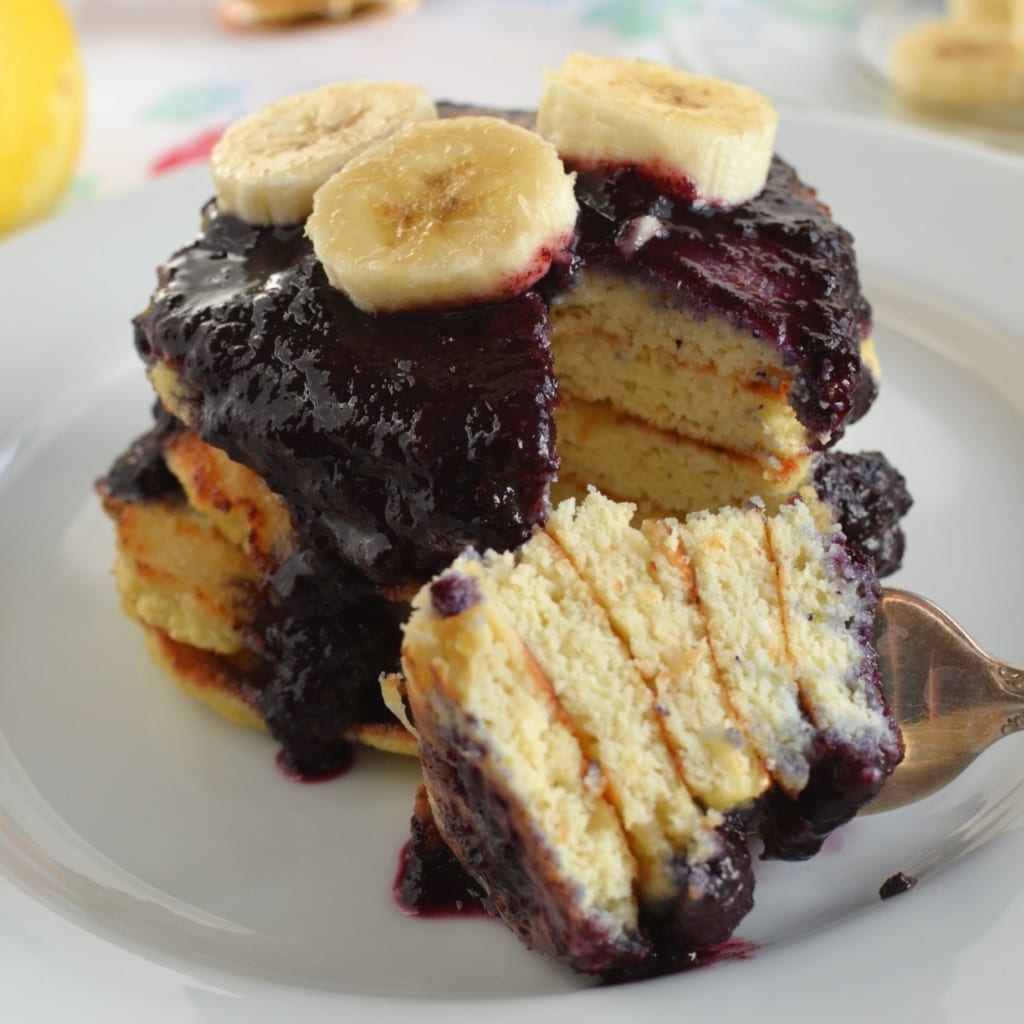 Another tip –
Try to have all ingredients at room temperature.  From experience, I have learned that when cold eggs are blended with liquid coconut oil, the coconut oil gets lumpy.  You can rectify this by whisking the batter, but I find the pancakes aren't as fluffy.  Just a few things to look out for.
One day when making these coconut flour pancakes, I added this easy to make blueberry sauce.  I do hope the photo tells the story of how tasty it was and how fluffy the pancakes are.  Add some banana slices on top for extra fun!
This is one of those recipes that over time you will memorize and be able to whip together any morning.
I would love to know how you like it if you try it!
Enjoy!
Christine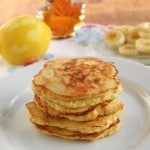 Coconut Flour Pancakes with Blueberry Sauce
This is a coconut flour pancake recipe sure to please everyone. Simply delicious and try adding blueberry sauce to make it extra special.
Ingredients
Coconut Flour Pancakes

1/4

cup

coconut flour

1/2

teaspoon

baking soda

pinch salt

3

tablespoons

coconut oil

(melted)

extra coconut oil or ghee for pan

1

tablespoon

maple syrup

3

large eggs

(at room temperature)

1/3

cup

almond milk

1/2

teaspoon

vanilla extract

1

teaspoon

lemon zest

Blueberry Sauce

1

cup

frozen berries

(use one kind or a mix of several)

2

tablespoons

maple syrup

Maple syrup or blueberry sauce for serving
Instructions
Coconut Flour Pancakes

Combine dry ingredients (coconut flour, baking soda and salt) in a medium sized bowl.

Melt coconut oil until just melted

Combine eggs, coconut oil, maple syrup, vanilla, lemon zest in a bowl and whisk together.

Add wet ingredients to dry ingredients and mix until just combined. Set aside for about 2 minutes. This gives the batter a chance to come together.

Heat 1 tablespoon coconut oil or ghee in a pan over medium low heat. Add two tablespoons of pancake mix and form pancakes in the pan. Cook for about two minutes per side.

Blueberry Sauce

Combine berries, maple syrup and a few tablespoons of water in a saucepan over medium low heat. Bring to a low simmer cook until berries are soft and tender, about 8 -10 minutes.

The mixture can be immediately poured over pancakes, or if you desire a smoother texture can be put in a blender and processed (and then poured over pancakes).

Store in the frig for up to 4 days.
Update 6/8/15 – getting eggs at room temperature – place eggs in bowl of warm water for about 10 minutes.  Since you want all ingredients as close to room temperature as possible, you could also place almond milk in pan and heat for a few minutes to take chill off.  This way, the ingredients should all come together nicely.  Enjoy!
Favorite Products used for success in this recipe: Coconut Flour,  Coconut Oil, Maple Syrup, Vanilla Extract, Whisk, Mixing Bowl, Sauce Pan, Cast Iron Skillet.  This coconut flour works well also!  (Affiliate Links)
Thank you for using my affiliate links, which at no extra cost to you, provides me with a small commission that helps with the running of this site.   I look forward to creating and posting many more delicious recipes for you.
Easy to Pin It Strip: