These Coconut Banana Flour Pancakes are delicious Paleo, gluten-free and dairy-free!
This is an updated version of the coconut flour pancakes recipe I published a few years ago. While I loved the original version of this recipe (Goop coconut flour pancakes), a few tweaks make the coconut pancakes recipe even more fantastic.
How did I create this new fluffy coconut flour pancakes version? A test!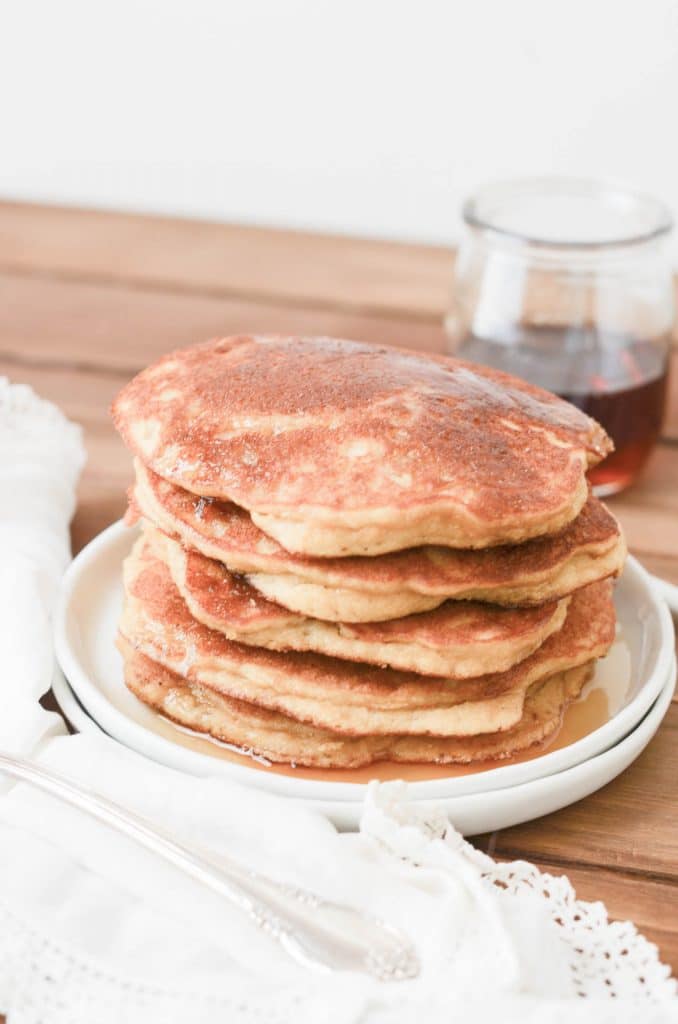 Here's What I did to Create These Amazing Paleo Coconut Flour Banana Pancakes:
One afternoon became a major pancake making session; me mixing pancake batter, flipping pancakes and carefully placing said pancakes on numbered plates. Ingredients were strewn all over the kitchen and luckily the doorbell did not ring, to save the unsuspecting visitor from seeing me with my coconut flour-dusted apron and spatula in hand.
The taste testers did their job and had a nice meal in the process. Taste testers were rounded up by geographic location; those closest to the kitchen at this particular time were chosen.
Unfortunately, one eager applicant had to be rejected though as my floppy-eared basset hound would surely have skewed the results. Plus, I am super careful what I feed him. 🙂
By the way, I was a taste tester, of course!
The winner became clear and was crowned.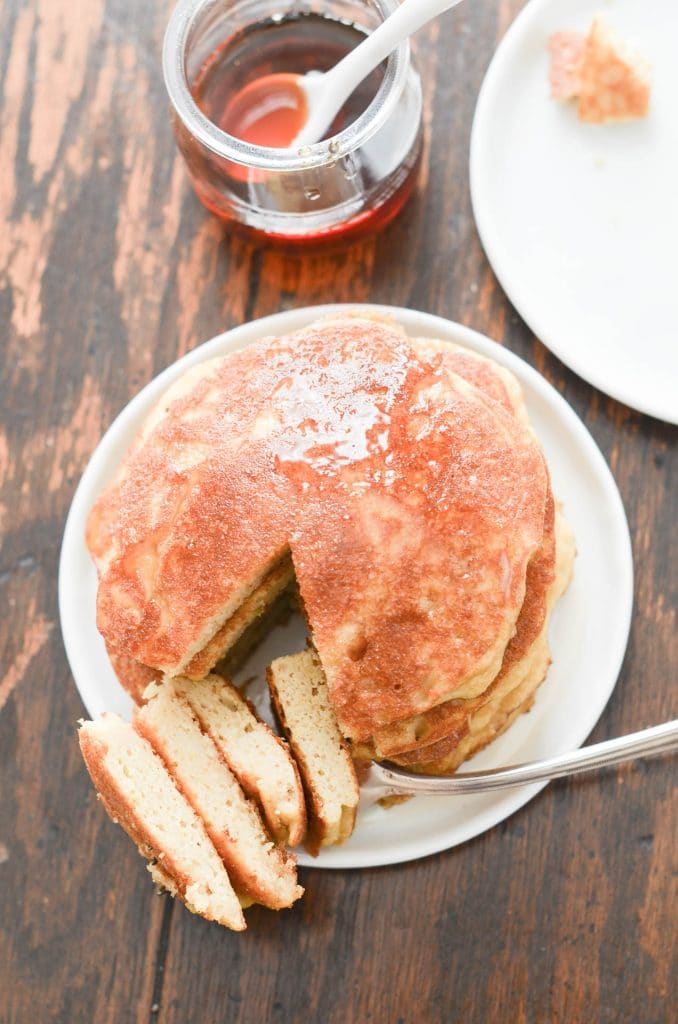 Paleo Coconut Flour Pancakes:
As you may know, it's not easy finding a good gluten-free, easy, coconut flour pancake recipe! Until now, that is. The objective is fluffy, tasty and healthier pancakes that just happen to be grain, gluten and dairy free.
I have tried many gluten free pancake recipes and there was always something wrong, too thin, broke apart easily, the taste was off weird consistency. You get the idea. I have made quite a few batches of these beauties and they come out great every time.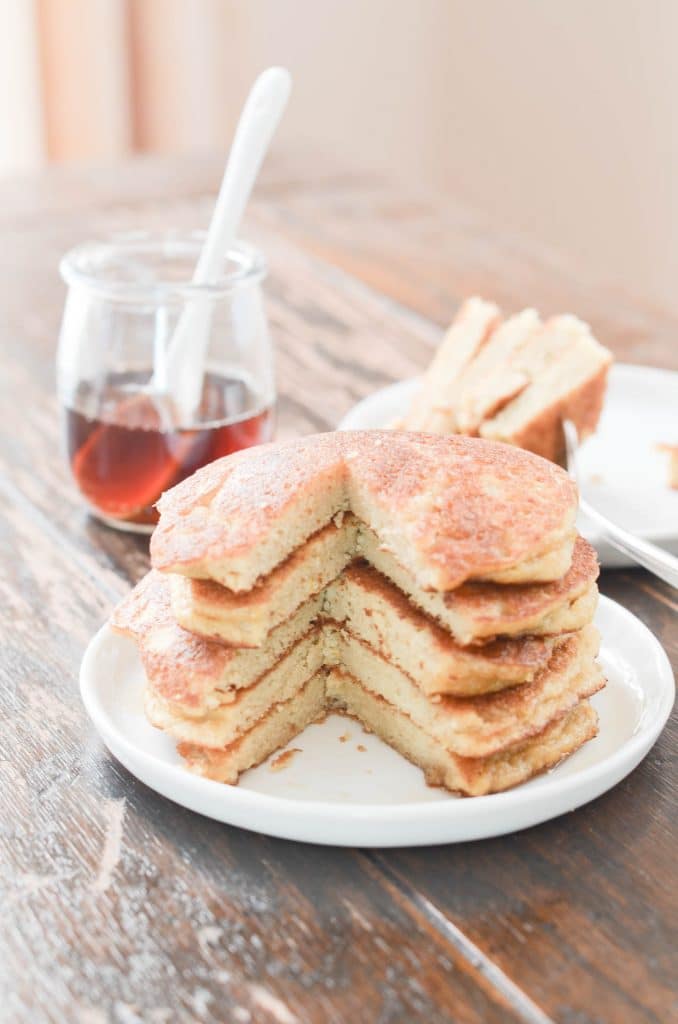 So, if you are looking for a tasty, easy, fluffy, low-carb pancakes, try these.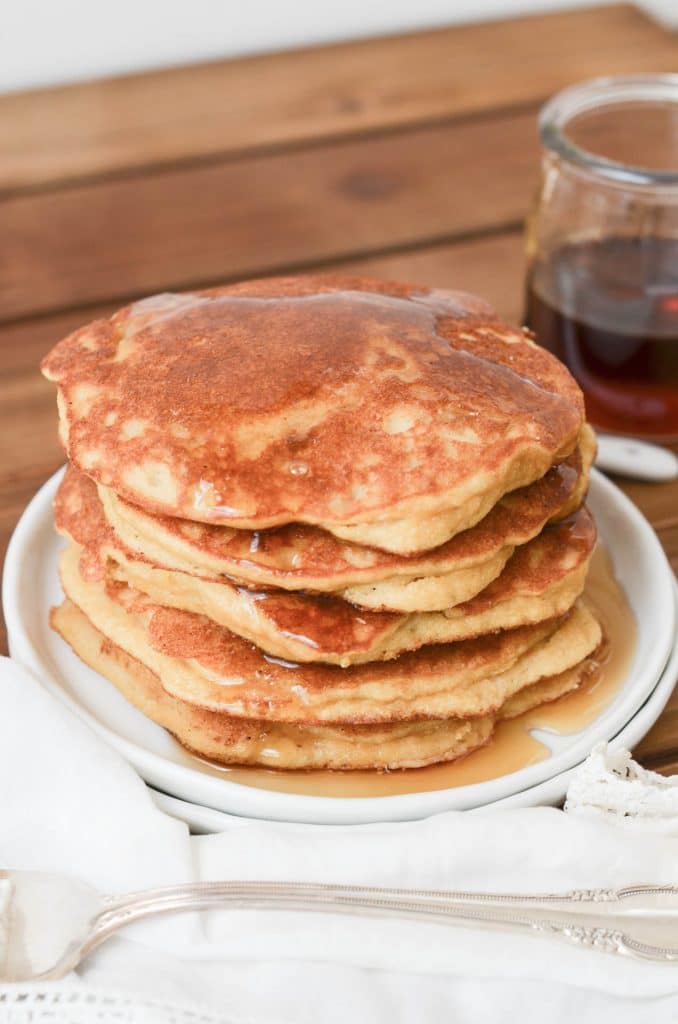 Related:
Tips When Making Your Coconut Flour Banana Pancakes:
Use room temperature eggs
Preheat your skillet (if using cast iron)
Make this a Paleo Coconut Flour Pancake for One easily by cutting the recipe in half.
Great Qualities of Coconut Flour:
Coconut flour is a flour made from coconut solids that have been ground into a very fine powder. With its mild coconut flavor, it is a wonderful substitute for flour-based recipes.
Low Carb
Great for those on a grain and gluten-free diet.
High Fiber
High Protein Source
Coconut flour requires much more liquid than other flours, including almond flour in its recipes. This is usually eggs. In order to use fewer eggs, I used more almond milk in these gluten-free pancakes. To make nut free, you could try another milk, maybe coconut milk.
Bonus: Try the blueberry sauce recipe and spread on your freshly made pancakes!
Well, after this, I am looking forward to more taste testing!
An invitation to you! Subscribe to my email list and get the latest recipes delivered to your inbox!
*Recipe revised 8/2017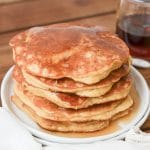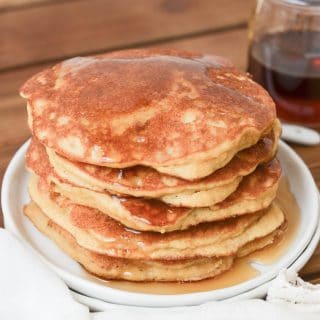 The Best Coconut Flour Banana Pancakes (Paleo)!
A Paleo coconut flour banana pancakes recipe that is sure to please everyone. Add fresh blueberries or mini chocolate chips. A freshly made blueberry sauce is amazing with these gluten-free pancakes!
Course:
Breakfast, Brunch, Pancakes
Ingredients
1/3

cup

organic coconut flour

1/2

teaspoon

baking soda

pinch salt

1/4

teaspoon

baking powder

2

tablespoons

maple syrup

2

organic large eggs

(at room temperature)

3/4

cup

almond milk

1/2

teaspoon

vanilla extract

1

teaspoon

fresh lemon juice

Blueberry Sauce

1

cup

frozen berries

(use one kind or a mix of several)

2

tablespoons

maple syrup

spray coconut oil or olive oil for pan

Maple syrup or blueberry sauce as topping.
Instructions
If using a cast iron skillet, preheat your skillet to medium-low heat.

Combine dry ingredients (organic coconut flour, baking soda, baking powder and salt) in a medium-sized bowl.

Add the fresh lemon juice to the dry ingredients. If it starts to fizz that is fine; it is the reaction between the baking soda/powder and helps to create fluffier pancakes.

Combine eggs, maple syrup, vanilla, and almond milk in a bowl and whisk together.

Add wet ingredients to dry ingredients and mix until just combined. Set aside for about 2 minutes. This gives the batter a better chance to absorb the coconut flour.

In your heated skillet, add some spray coconut oil or olive oil. Alternatively, you could add a tablespoon of oil and spread around pan. Then add1/4 cup of pancake mix to the skillet and spread to make a pancake shape. Cook for about 3 minutes per side until pancakes are lightly browned and cooked inside. Makes 5 pancakes.

For the Blueberry Sauce - Combine berries, maple syrup and a few tablespoons of water in a saucepan over medium-low heat. Bring to a low simmer cook until berries are soft and tender, about 8 -10 minutes.

The mixture can be immediately poured over pancakes, or if you desire a smoother texture can be put in a blender and processed (and then poured over pancakes).

Store in the refrigerator for up to 4 days.
Nutrition Facts
The Best Coconut Flour Banana Pancakes (Paleo)!
Amount Per Serving
Calories 125
Calories from Fat 27
% Daily Value*
Fat 3g5%
Cholesterol 65mg22%
Sodium 202mg8%
Potassium 103mg3%
Carbohydrates 20g7%
Protein 3g6%
Vitamin A 110IU2%
Vitamin C 3.3mg4%
Calcium 81mg8%
Iron 0.6mg3%
* Percent Daily Values are based on a 2000 calorie diet.
Favorite Products used for success in this recipe: Coconut Flour, Coconut Oil, Maple Syrup, Vanilla Extract, Whisk, Mixing Bowl, Sauce Pan, Cast Iron Skillet. This coconut flour works well also! (Affiliate Links)
Thank you for using my affiliate links, which at no extra cost to you, provides me with a small commission that helps with the running of this site. I look forward to creating and posting many more delicious recipes for you.