What you will love about these Dark Chocolate Covered Macadamia Nuts is that there are only two ingredients, are ready within an hour, and are healthier than many other traditional chocolate treats.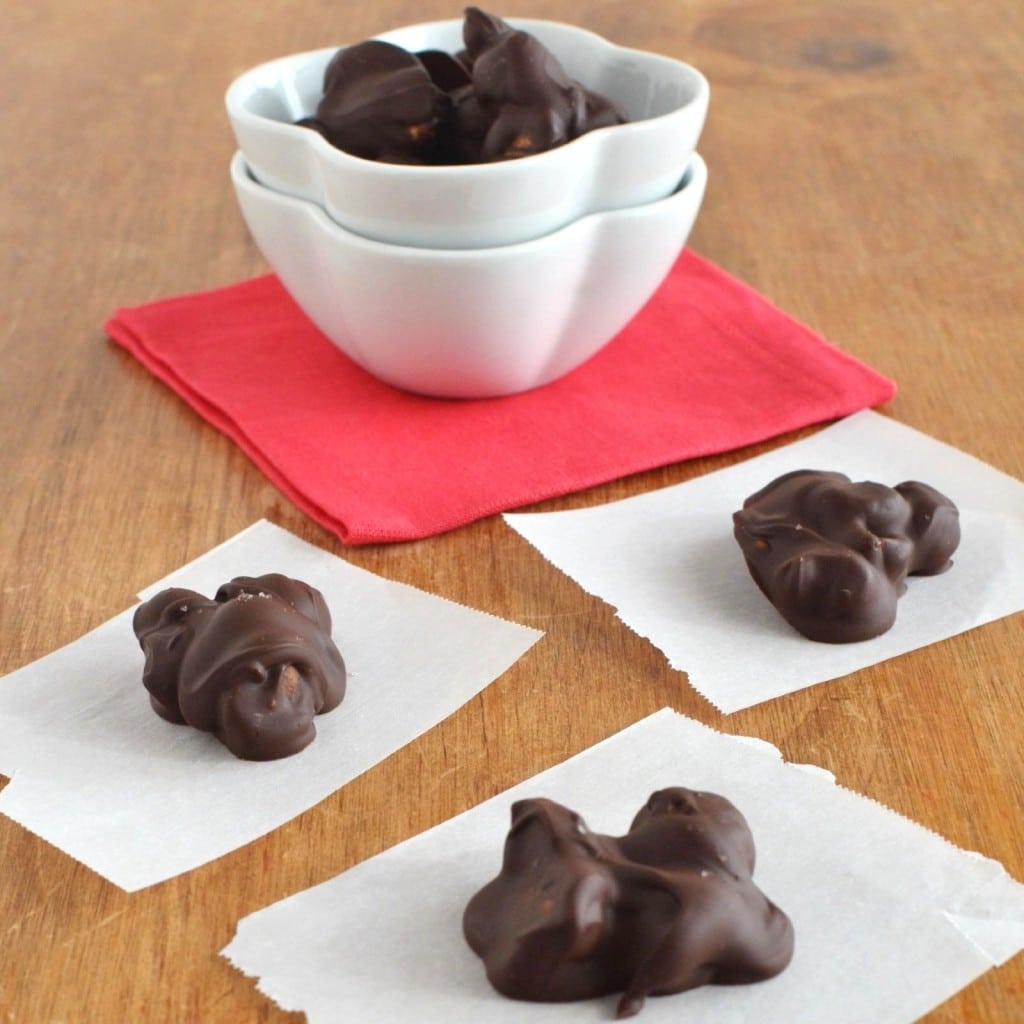 Hello, my name is Christine and I am a chocoholic.  Chocolate vs. vanilla?  With me, it's not even close.  And luckily, there exists in this lovely world, gluten free, dairy free chocolate chips.
Do you want to know what I did the other day?  Well, my favorite brand of chocolate chips went on sale,  and naturally I am a stocker-upper when things I use go on sale.  So, I bought all the bags they had, which was about 5 bags.  I know I will use them, especially with the holidays coming.
And anytime company is coming, I can make these dark chocolate covered macadamia nuts!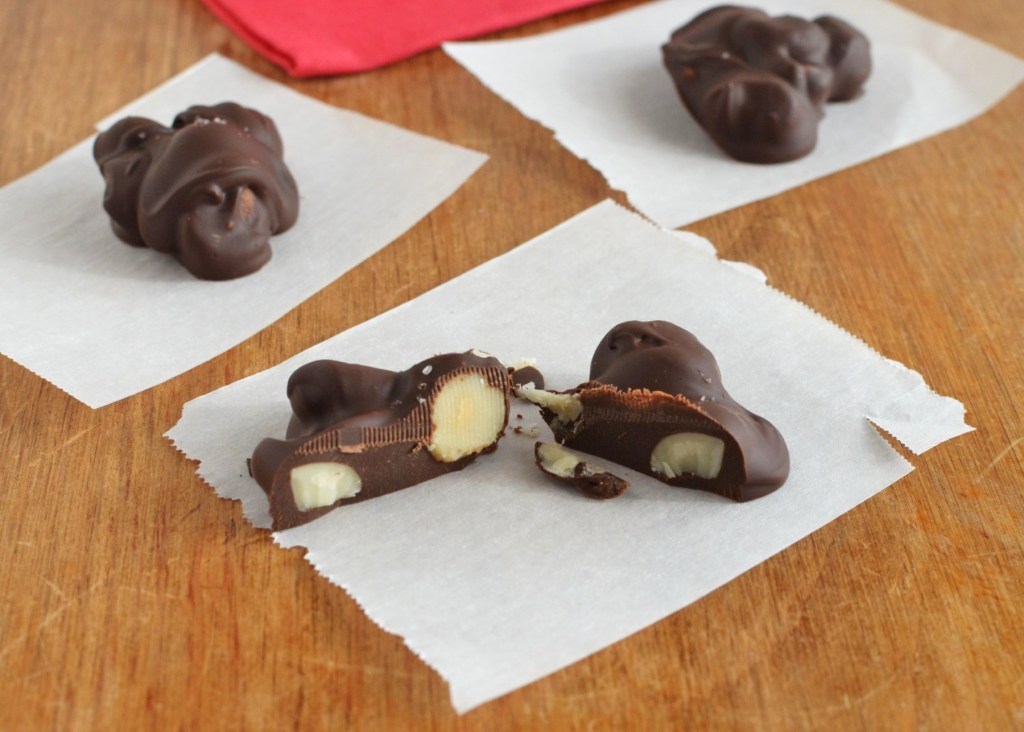 I sliced open a cluster so you could see the inside.  They are deliciously tasty morsels. You won't be able to eat just one.  Fair warning!  Or at least I can't, remember I am the chocoholic.  🙂  Of course, all kidding aside, it's all about moderation really and this is something that is important to keep in mind.  So, I try to as well, especially during the holiday season.  Eating a piece of fruit, like an apple, before heading to a holiday celebration seems to keep me from jumping excessively into the plates of deliciousness I am certain to see at parties.  For example, a plate of dark chocolate covered macadamia nuts, which I simply love!  Just a little tip I thought I would throw in there. 🙂
A suggestion for serving – create an ice cream topping.  Just take a cluster and chop it up with a knife and sprinkle on your favorite ice cream.  I have been known to do that with my favorite chocolate coconut milk ice cream.  Oh, and this would work well with other nuts, like roasted, salted almonds.
Thanks for stopping by.  Enjoy!



Dark Chocolate Covered Macadamia Nuts
An easy, quick chocolate nut candy dessert
Ingredients
1

cup

dark semi sweet chocolate chips

I use Enjoy Life brand

1/2

cup

roasted

salted macadamia nuts

pinch sea salt
Instructions
Prepare a baking sheet with parchment paper.

Melt the chocolate chips -

You can melt the chocolate chips by placing chocolate chips in a heat proof bowl and

either microwaving them in 30 second intervals until almost melted and then stirring until completely melted

or melting in a double boiler on the stove.

Once melted, let sit on the counter for a minute or two.

Using a large spoon, put about 3-4 macadamia nuts on the spoon and dip it into the chocolate mixture. Then scoop this chocolate/nut mixture onto your prepared baking sheet.

Once all the nuts have been used, spread the leftover chocolate mixture over each chocolate cluster making the chocolate part a little fuller and thicker.

Optional: sprinkle each cluster with a bit a sea salt.

Place the baking sheet in the refrigerator for about 20-30 minutes until chocolate clusters have hardened. They are ready to consume at this point and should come off the baking sheet without being sticky.

Store in an air tight container in the frig for about a week.
East to Pin It Strip: