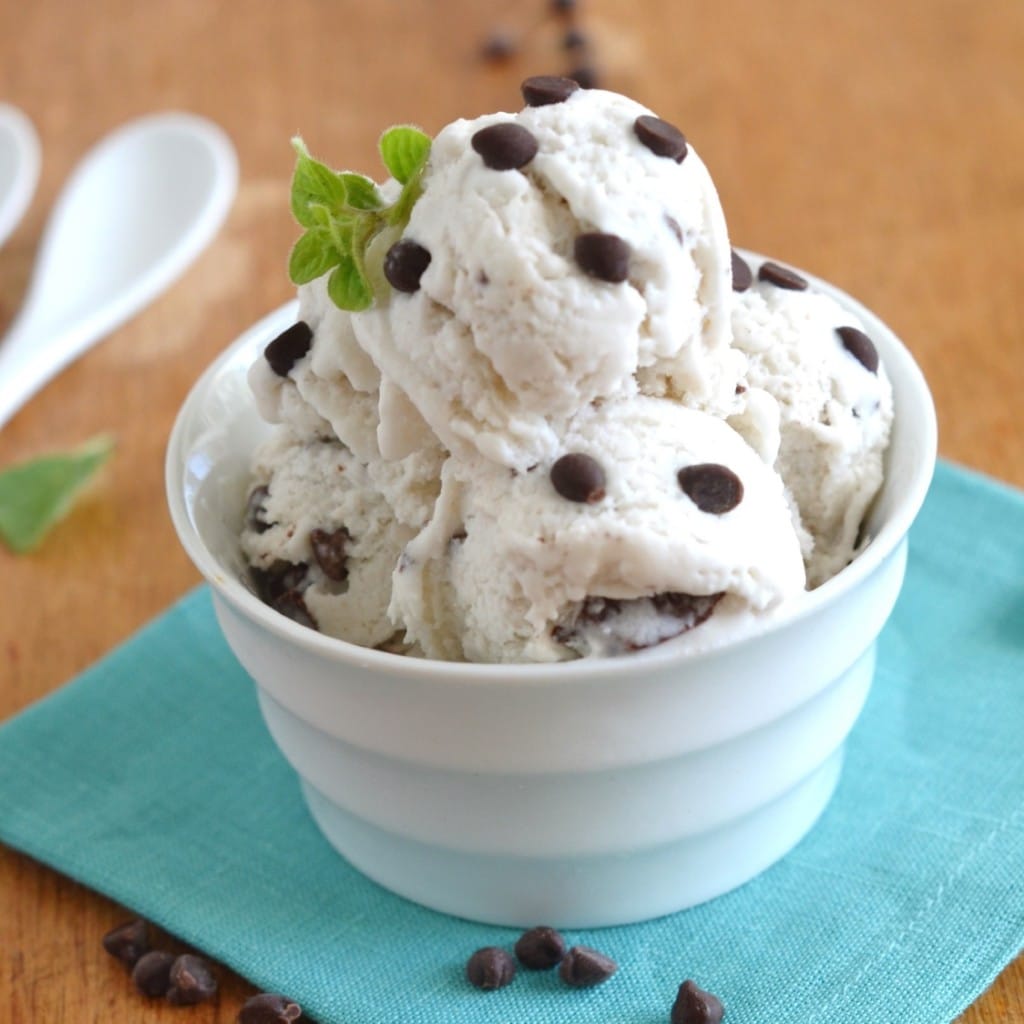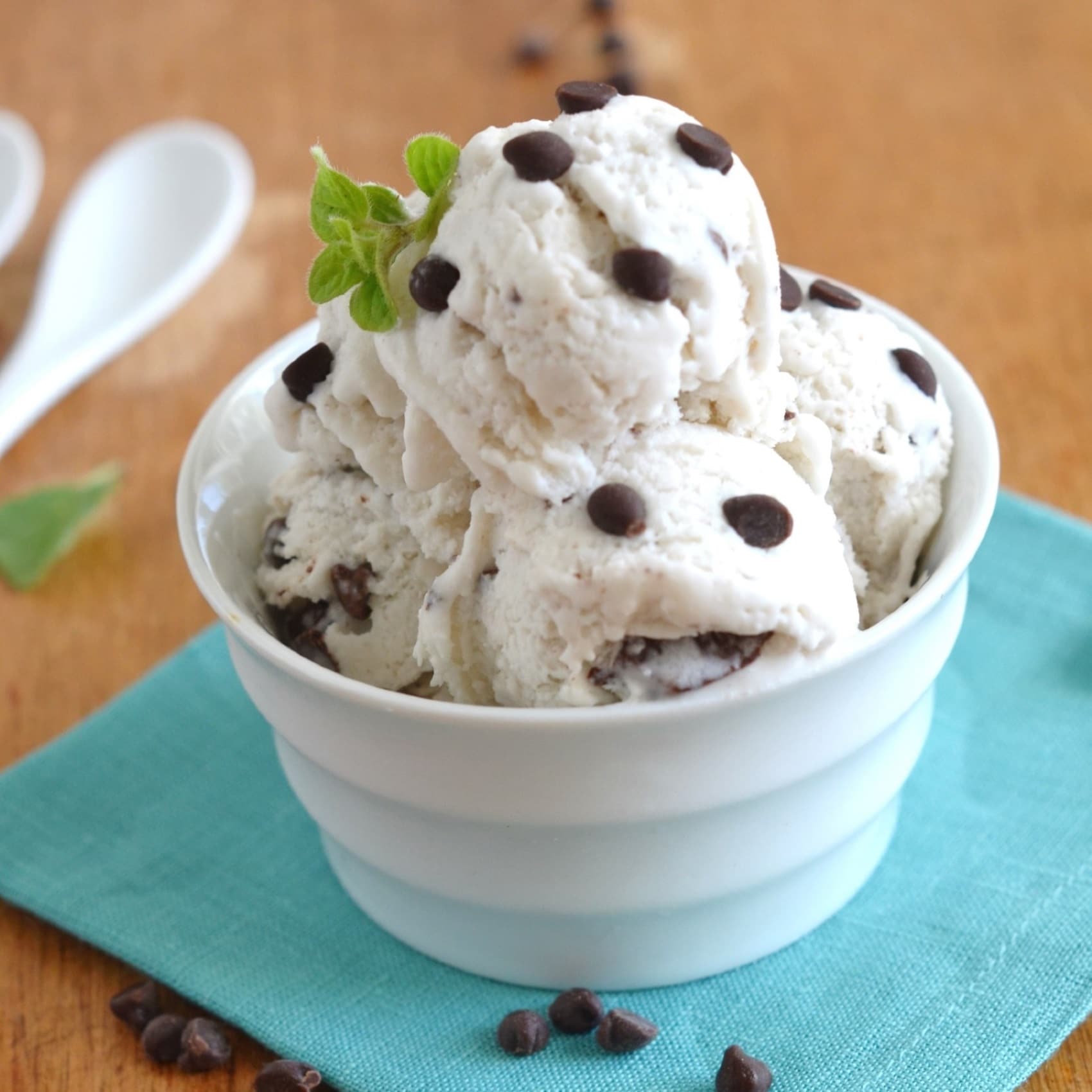 Happy Monday!  I am pretty excited about this Mint Chocolate Chip Coconut Ice Cream that I am featuring today.  It is very creamy, a little minty, crunchy and chocolatey and just sweet enough.  I recently discovered Organic Coconut Cream in a 5.4 ounce can and have added it to a few recipes and really like it.  Has anyone else tried it?  I have had my ice cream maker for about a year now and wonder what I did without it!  It has paid for itself since I make most of my ice cream now.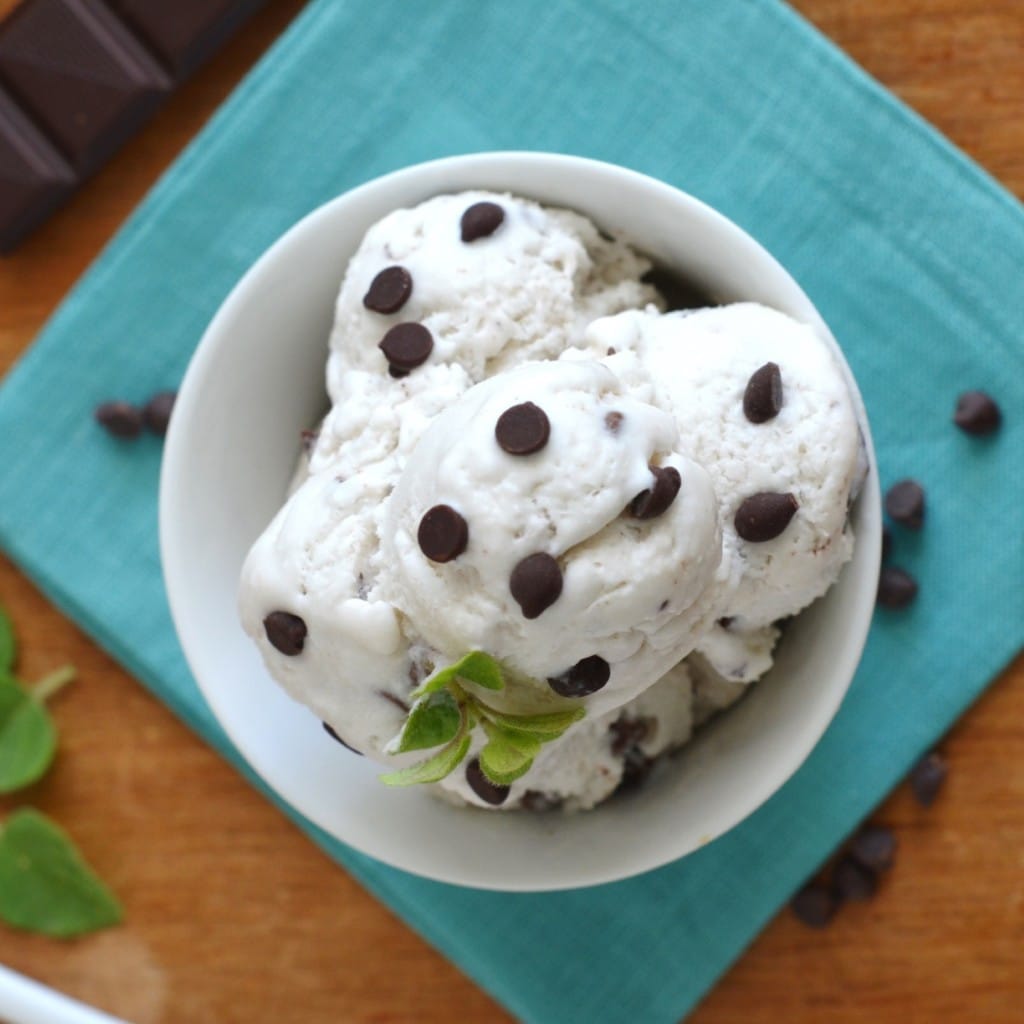 Mint Chocolate Chip was my favorite ice cream flavor as a child.  Fun fact:  when I was a teenager, I had a job scooping ice cream at a local ice cream shop that was similar to Dairy Queen.  It was fun testing out all the great flavors, but Mint Chocolate Chip was always my preferred.
With this ice cream, I get to re-experience my favorite flavor growing up with healthier ingredients.
Did you have a favorite ice cream flavor as a child?
Enjoy your day!
My favorite products used in this recipe:
Native Forest Organic Coconut Cream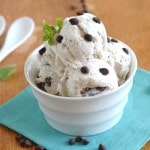 Mint Chocolate Chip Coconut Milk Ice Cream
You will love this delicious, creamy, decadent mint chocolate chip ice cream.
Course:
coconut milk ice cream, Dessert, Snack, Vegan "Ice Cream"
Cuisine:
American, Dessert
Ingredients
One can full fat coconut milk

ounce

One can coconut cream (optional

but adds creaminess. I used Native Forest, unsweetened, organic coconut cream premium, 5.4 can.) You could sub a few tablespoons of coconut cream from the top of a can of full fat coconut milk, or leave out.

1/8

cup

maple syrup

1/2

teaspoon

peppermint flavor

it's in the same bottle as extracts

1/8

cup

mini chocolate chips

I used Enjoy Life brand

1/8

cup

chopped chocolate bar (I used 85% cacao

organic)
Instructions
Place both coconut milks in a saucepan and heat until milks are melted but not boiling.

Add maple syrup and stir.

Take off heat and add peppermint flavor.

Pour mixture into a glass container and place in frig for several hours until very cold.

Pour mixture into your ice cream maker and process per manufacturer's instructions.

While your ice cream is in the ice cream machine, place bowl back in the frig to stay *cold. This helps when you pour your ice cream into the bowl. It allows you to add chocolate chips, stir and combine without the ice cream melting as fast.

When done, pour ice cream into your cold bowl, add chocolate chips and chopped chocolate and stir to combine.

Either consumer immediately or place in freezer until more frozen and then scoop ice cream and serve.

Notes: Placing empty bowl back in frig while ice cream is being made in ice cream maker is helpful because this will give you time to add chocolate chips/chocolate chunks and stir before it all starts melting.

If you freeze prepared ice cream for longer than several hours, it will become very hard. You will simply need to remove from freezer, place a room temperature for a period of time (20 minutes?) until it is soft enough to scoop. Some preparation in advance is necessary, but so worth it!
Nutrition Facts
Mint Chocolate Chip Coconut Milk Ice Cream
Amount Per Serving
Calories 101
Calories from Fat 36
% Daily Value*
Fat 4g6%
Cholesterol 1mg0%
Sodium 6mg0%
Potassium 75mg2%
Carbohydrates 14g5%
Vitamin A 15IU0%
Calcium 23mg2%
Iron 1mg6%
* Percent Daily Values are based on a 2000 calorie diet.
Easy to Pin It Strip: