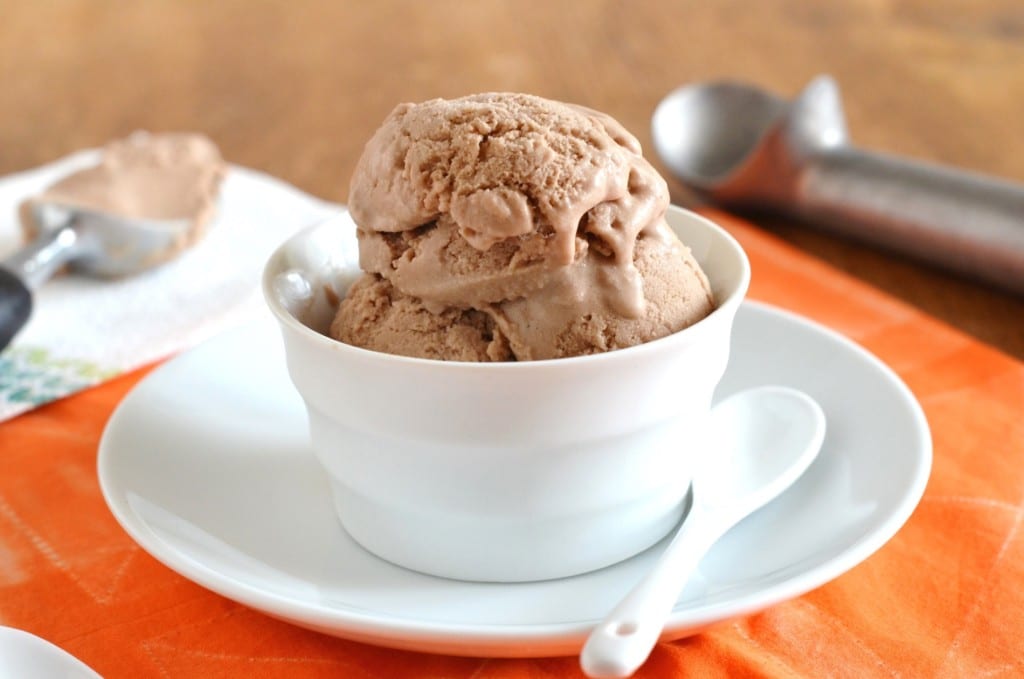 Tis the season for ice cream!  I recently made this creamy, chocolatey, decadent ice cream and just had to share.  There are plenty of dairy free ice creams that can be made without an ice cream maker, but having one opens up new doors of possibilities and make the process so much easier.  I use a Cuisinart, which I recommend, and have no problems with it.  I have had it over a year.  The bowl has to be frozen so I just keep in the freezer at all times.  It doesn't really take up that much room and I can make ice cream on a whim.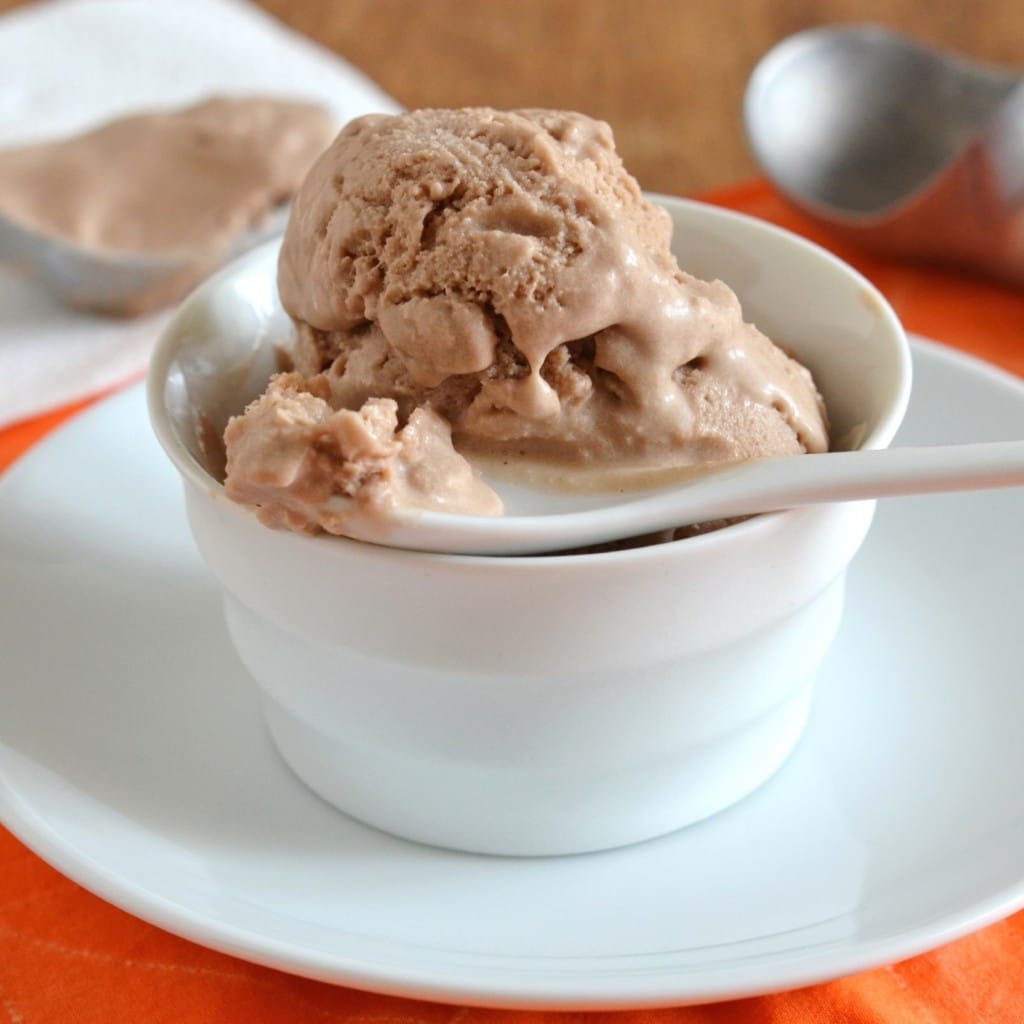 Most of the nondairy, coconut milk, nut milk ice cream that I have made I prefer serving right out of the ice cream maker.  It is fine to store leftovers in the freezer, however, the texture changes a little bit.  It can become rock hard solid.  This is when you do have to plan because you will need to take your ice cream out of the freezer about 20 minutes prior to serving.  It would just be too hard otherwise.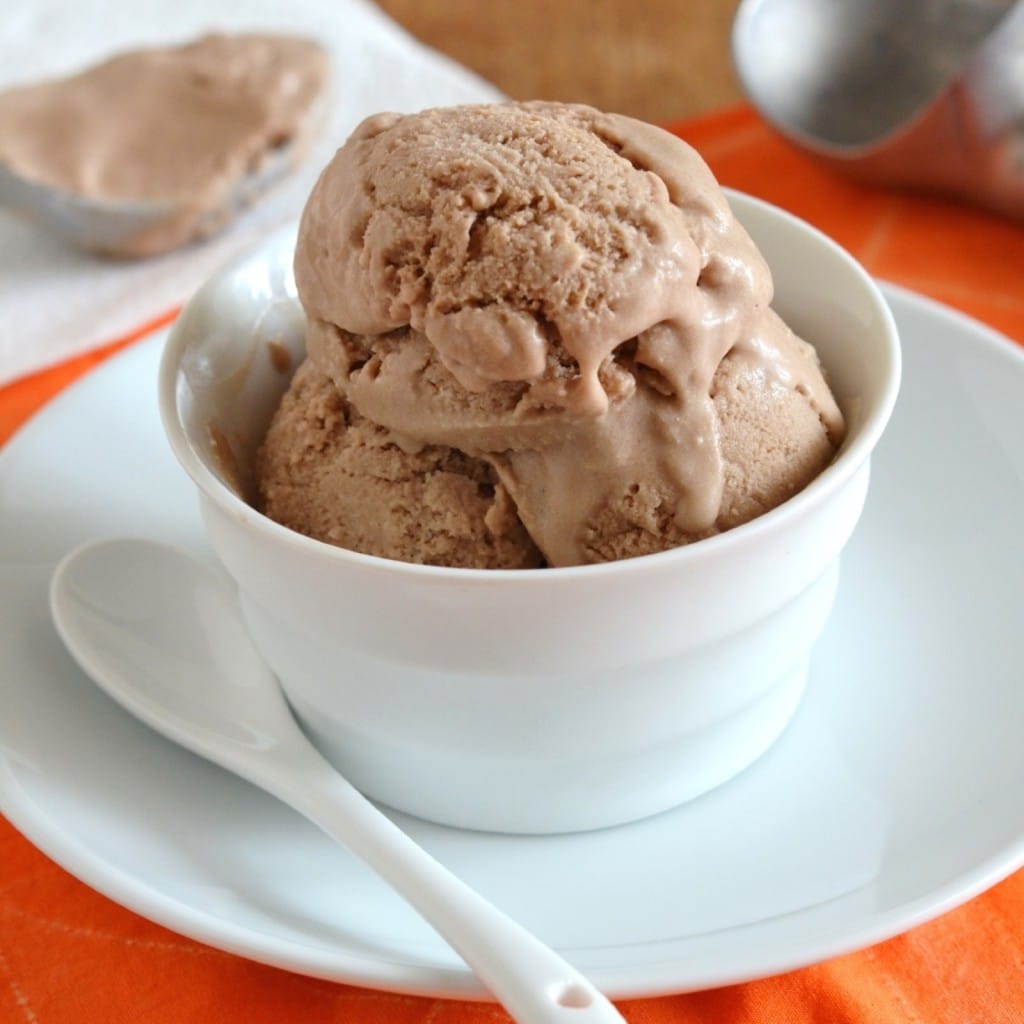 All of the photos in the post are of the ice cream after it has been frozen, then taken out of the freezer to thaw and soften a bit, and scooped into a serving dish.  Straight out of the ice cream maker, the consistency is more like soft serve.
Regardless, these dairy-free ice creams are totally worth it, cost effective and a life saver to those who are dairy free.  The taste is amazing and delicious!
Related:
Chocolate Coconut Milk Ice Cream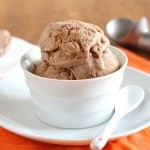 Chocolate Banana Ice Cream
A delicious healthier, dairy free, ice cream recipe. So creamy and chocolately. It is especially good served straight from the ice cream maker as it is just like soft serve.
Course:
coconut milk ice cream, Dessert, Vegan "Ice Cream"
Cuisine:
American, Dessert
Ingredients
1

large banana

1

can full fat coconut milk

1

cup

almond milk

unsweetened

1/4

cup

maple syrup

2

tablespoons

cacao powder (I use organic

raw)
Instructions
Place all ingredients in a blender and process until totally combined.

Place mixture in the refrigerator for several hours until very cold (at least 2).

Then following your ice cream maker instructions, pour mixture into your machine and make ice cream.

Voila and enjoy!

Note: you may store leftovers in the freezer, but realize that the texture will change slightly to become very hard. When serving, plan on removing from freezer at least 20 minutes prior.
Nutrition Facts
Chocolate Banana Ice Cream
Amount Per Serving
Calories 191
Calories from Fat 18
% Daily Value*
Fat 2g3%
Sodium 167mg7%
Potassium 377mg11%
Carbohydrates 44g15%
Protein 2g4%
Vitamin A 40IU1%
Vitamin C 5.1mg6%
Calcium 200mg20%
Iron 0.8mg4%
* Percent Daily Values are based on a 2000 calorie diet.
Easy to Pin It Strip: