We have a special ingredient to thank for these, light, fluffy, healthy, low carb and delicious Gluten-Free Banana Chocolate Chip Muffins!  They are also grain free and paleo!
They make a delicious snack, breakfast on the go, a tea time nibble or sweet tooth fix!  All with decent and fairly nutritious ingredients.  Did I mention they are very kid friendly?
Hmmm….Why is it that some coconut flour recipes turn out fab and others not so much?  I really wanted to know.  Because when I started using this fiber-rich flour, I wanted to be able to predict success.  And hold it in my hand in the form of delicious edible creations.
If this is a puzzle to solve, I'm in.  Because, well…results!
Now, imagine this – it's like having an easy button on your kitchen counter.  🙂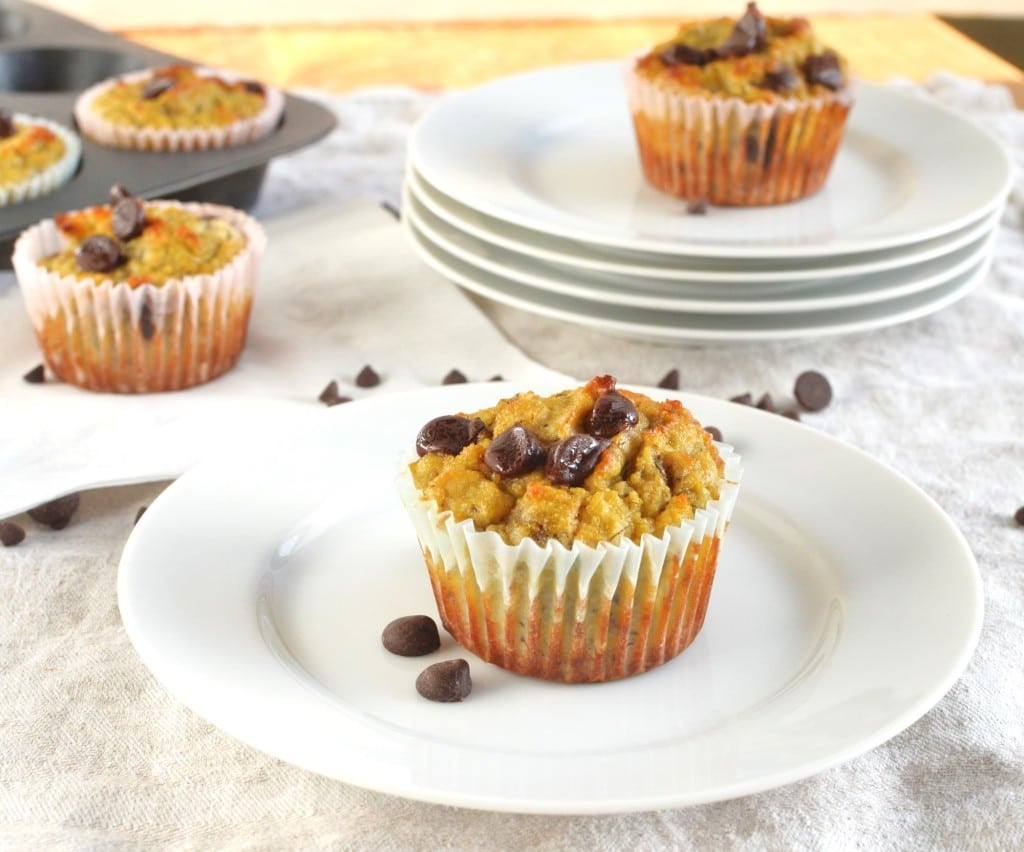 Wait A Minute –
Okay, Hear ye, Hear ye – I do not want to over-sell this recipe, but it is really good.  And all the other coconut flour recipes on the site have been tested and are loved too.  I get it – you are looking for tasty, but easy paleo banana muffins.  My motto – just because you are gluten-free, does not mean you can't find great food!
Baking Your Coconut Flour Banana Muffins:
Due to the unique properties of coconut flour, you cannot substitute any other flour in this recipe.  Now, that I have been using coconut flour for a while, it has become very familiar to me.  It wasn't always that way.  I had not even heard of it until a few years ago.  Now, with my gluten-free lifestyle, it is a mainstay.
What You Should Know About Coconut Flour:
A few things I have learned about coconut flour along the way –
Coconut flour absorbs moisture and therefore needs moisture, so there are usually more eggs in a recipe with this flour.  Generally speaking, the more coconut flour you use, the more eggs and/or liquid you will need to add.
It is lighter than almond flour which makes it ideal for baked goods; quick breads, rolls, cookies, bars, cakes, muffins, breads and even pancakes.
Due to the fiber content, it is harder for some to digest, so if just starting out, maybe try in small doses (a muffin might be the right size).
The low carb, high fiber property of this flour may make it a good choice for celiacs, diabetics and those that use the GI Index.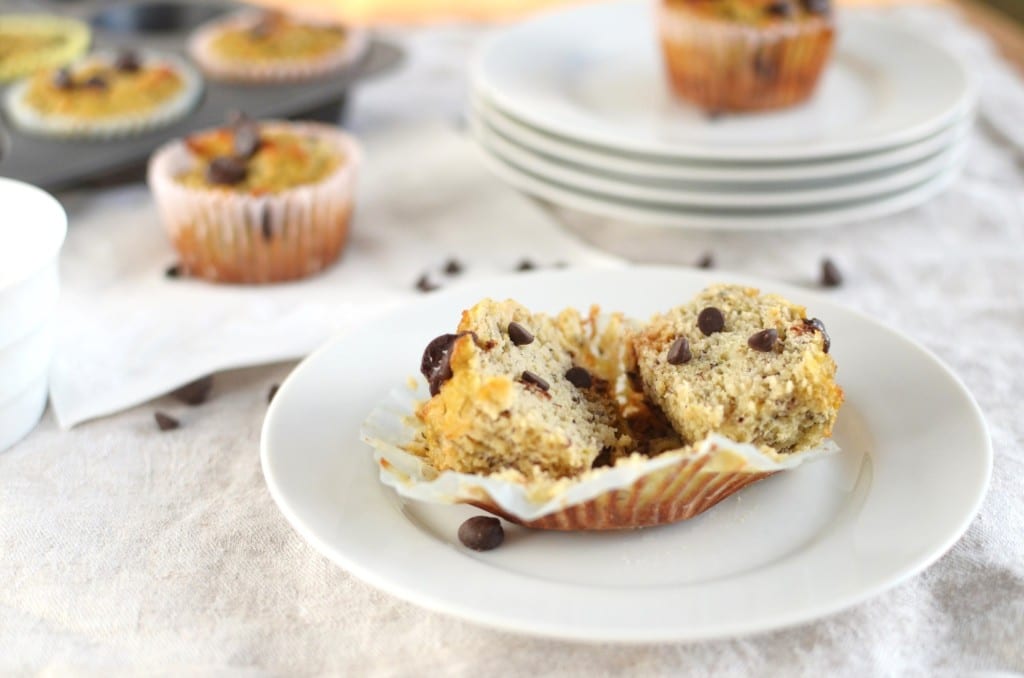 Storing Coconut Flour:
To keep my organic coconut flour as fresh as possible, I store in a sealed container in the refrigerator.  Since you use less than traditional flour, it can last awhile.
Extra Tips To Try With Coconut Flour: 
 Try replacing crackers or breadcrumbs in your meatloaf or meatballs with coconut flour.  Try adding about half the amount you would and go from there.  Add some liquid if you need to.
Or try adding some to thicken a gravy.
It can also be used as a breading for fish or chicken.
Having said that, and with some experience using coconut flour, I can say it is one of my favorite flours (try Anthony's or Let's Do Organic brands) to work with.  And I do prefer organic non-gmo coconut flour.
I have also experimented with coconut flour by making cut-out cookies with icing.  In this recipe, I made hearts for Valentine's Day, but this cookie recipe would work with any cookie cutter shape.
Related: Chocolate Glazed Donuts, Cut Out Cookies, Fluffy Pancakes, Lemon Pudding Cakes, Best Paleo Banana Bread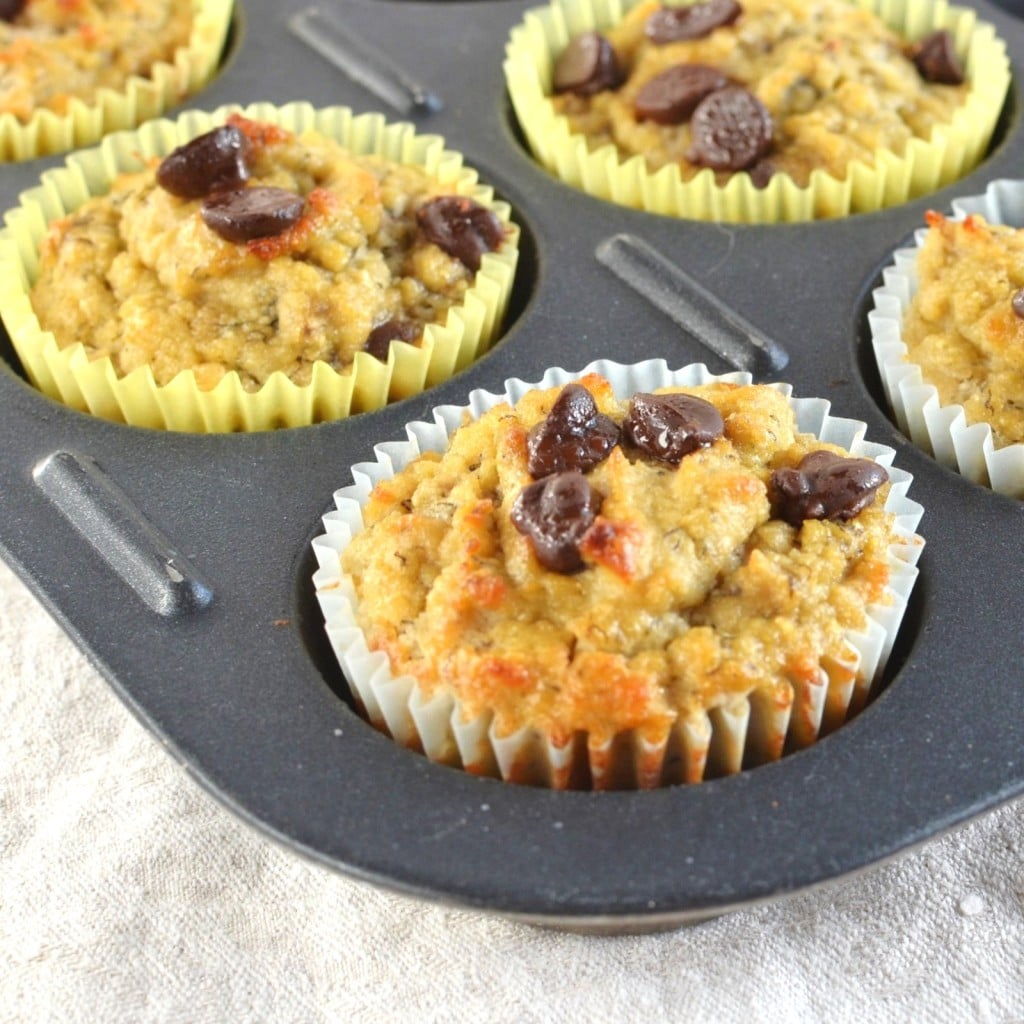 These delicious healthy gluten-free banana chocolate chip muffins would make the perfect healthier treat to accompany a breakfast such as a delicious egg scramble or a super healthy smoothie. How about this muffin as a lovely afternoon snack or dessert.
Looking forward to adding more coconut flour recipes to the blog in the future.  Be the first to hear by subscribing to the email list!
If you try this recipe, let me know! Leave a comment, rate it, and I would love if you tagged a photo #24carrotkitchen on Instagram!
Christine
Favorite products used in this recipe:  Coconut Flour (Anthony's or Let's Do Organic), coconut milk, vanilla extract, chocolate chips, electric mixer, mixing bowls, muffin liners, muffin tray, ice cream scoop.
Thank you for using my affiliate links, which at no extra cost to you, provides me with a small commission that helps with the running of this site.   I look forward to creating and posting many more delicious recipes for you.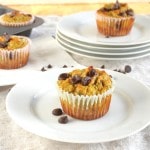 The BEST Gluten-Free Banana Chocolate Chip Muffins
This easy and delicious gluten-free banana chocolate chip muffins recipe is sure to become your favorite! A delicious muffin recipe using coconut flour, bananas and chocolate chips.
Ingredients
5

large eggs

1/4

cup

coconut oil

(melted)

1/2

cup

coconut milk

(canned)

1/2

teaspoon

vanilla extract

1/2

cup

coconut flour

1/2

teaspoon

baking soda

1/2

teaspoon

salt

2

bananas

(mashed)

1/4

cup

chocolate chips .

(I use Enjoy Life brand as they are dairy free. They make mini and regular size)
Instructions
Place bananas in electric mixer and blend until bananas are mashed consistency. Then add the rest of the wet ingredients, eggs, one at a time and blend well after each, coconut oil, coconut milk and vanilla.

Place dry ingredients (coconut flour, baking soda and salt) in a medium sized bowl and mix.

Add wet ingredients to dry ingredients and mix well. Place 12 paper muffin liners in a muffin tray. Add chocolate chips to batter and using a large ice cream scoop, divide batter among a dozen (12) regular sized muffin cups. Optional: add an additional 1/4 cup or a few chocolate chip morsels to the top of each muffin.

Bake at 350 degrees F. for about 30 minutes, until the tops of the muffins are slightly browned and an inserted toothpick comes out clean.
Easy to Pin It Strip: