Salmon Cakes are a quick, easy, ready in under 30 minutes dinner idea.  There are two ways to cook; in the oven for about 25 minutes or in a cast iron skillet for a few minutes on each side.  You choose.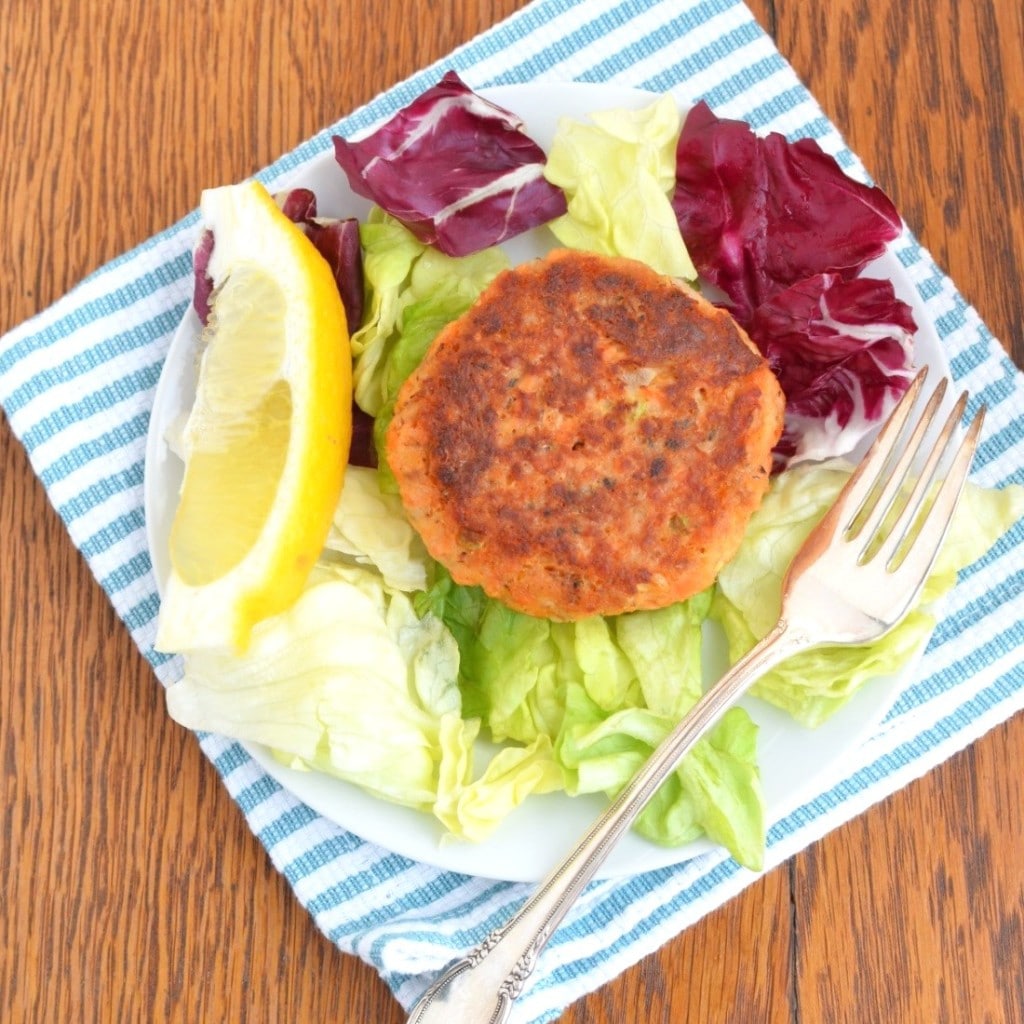 I seriously could not wait to share this recipe with you all!   It is on my dinner and/or lunch rotation several times a month.  Use wild canned salmon and a few other ingredients and you will have four delicious salmon cakes in about an hour.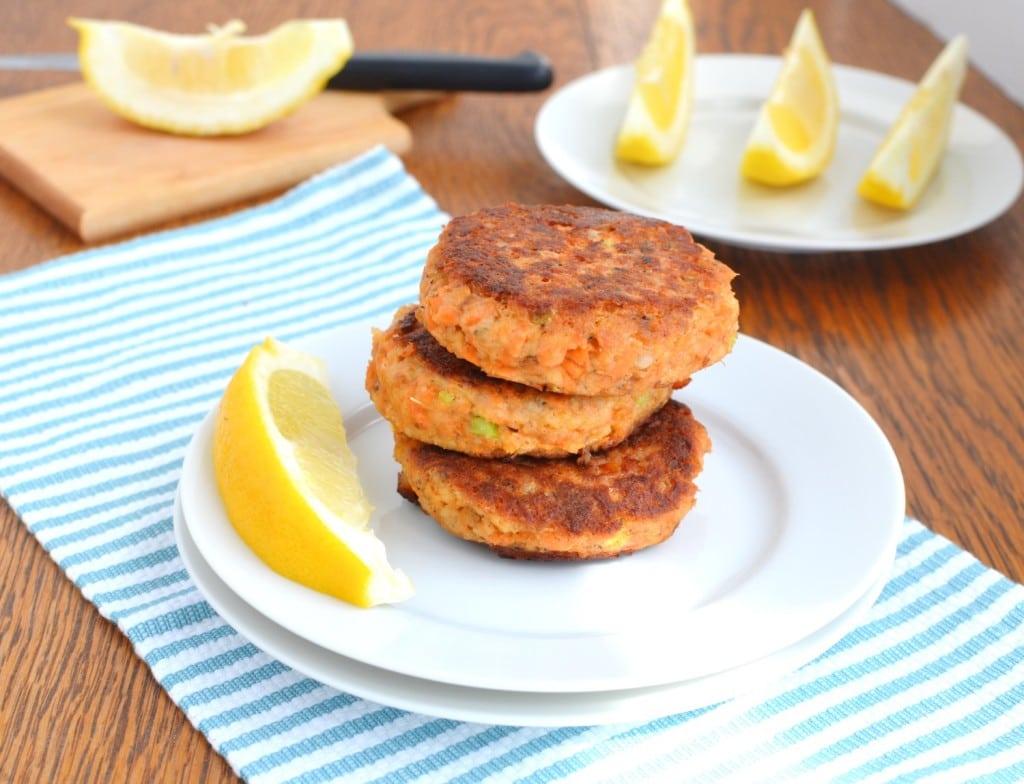 I have been experimenting with different ingredients and this version just seemed to be "the one".  I have paired these Salmon Cakes with rice and veggies, served on bed of lettuce (as shown in photos) and between two slices of toasted bread with lettuce as a sandwich.  It never disappoints.  Love the drizzle of lemon juice on top of the Salmon Cakes too.  Sauteing in coconut oil adds some healthy fats to my diet, yet there is not a coconut flavor in the Salmon Cakes at all, which I prefer.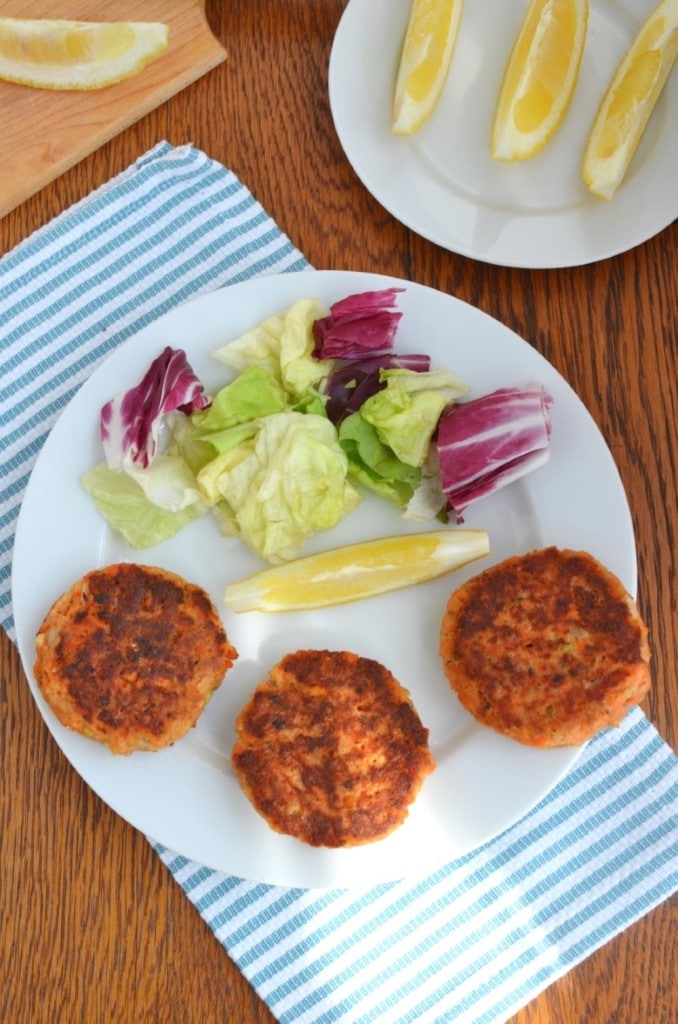 If you happen to be gluten and dairy free like moi, this recipe will work for you.  My favorite gluten free bread brand (at the moment) is De Land Millet Special, and I find it in the freezer section of Whole Foods.  There are a few good brands of gluten free breads out there.  You might have to try a few to find your favorite.  If gluten is not an issue, just use your favorite bread.  For a grain free version, simply substitute 2 tablespoons of coconut flour for the bread.  Delish!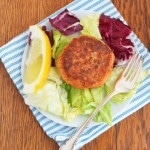 Salmon Cakes
These Salmon Cakes are a delicious and easy addition to your dinner/lunch rotation.
Ingredients
1 6

ounce

can wild salmon

2

tablespoons

shallots

finely chopped

1/8

teaspoon

cumin

2

tablespoons

celery

finely chopped

1

egg

1

clove

medium garlic

minced

piece

*1 of gluten free bread made into bread crumbs

toast the slice then grind the toast in a food processor until resembles bread crumbs, For GRAIN FREE VERSION SUB 2 TBS. COCONUT FLOUR FOR GF BREAD

1/4

teaspoon

salt

1/8

teaspoon

pepper
Instructions
Place the canned salmon into a medium sized bowl. Be sure to drain off all the liquid from can.

Mix and break up the salmon pieces with a fork in the bowl. Once it is mixed well, add the other ingredients. Again, mix well.

Refrigerate ingredients for about an hour (can be made ahead and refrigerated until you are using).

Using a 1/4 cup measuring cup, form patties with the salmon mixture. This recipe will make exactly four salmon cakes.

Place 2 tablespoons coconut oil in a saute pan on medium low heat (stoves vary in temp, medium to medium low works best on mine). I usually add a little more oil if it gets depleted during cooking.

Then place all four salmon cakes in the skillet, cooking for about 3- 4 minutes per side, until brown and crispy on each side.

Place cooked salmon cakes on plate with paper towel to drain excess oil.

Enjoy on top of lettuce, with rice and fresh vegetables, on a bed of lettuce or make a sandwich between toast or your favorite roll or bun. Lots of choices.

*For a grain free version, substitute 2 tablespoons coconut flour for bread.

Enjoy!

Update: I have recently discovered cooking in the oven at 350 degrees F. for about 25 minutes works great as well! Just line a baking pan with parchment paper, form the salmon patties and place on the baking sheet. Easy!

Note: if the mixture does not come together well enough to make patties (crumbly), you may need to add another egg. Flax eggs work great in this recipe.
Easy To Pin It Strip: