This easy, nutritious, protein packed breakfast is also a decadent meal that can be made in just a few minutes.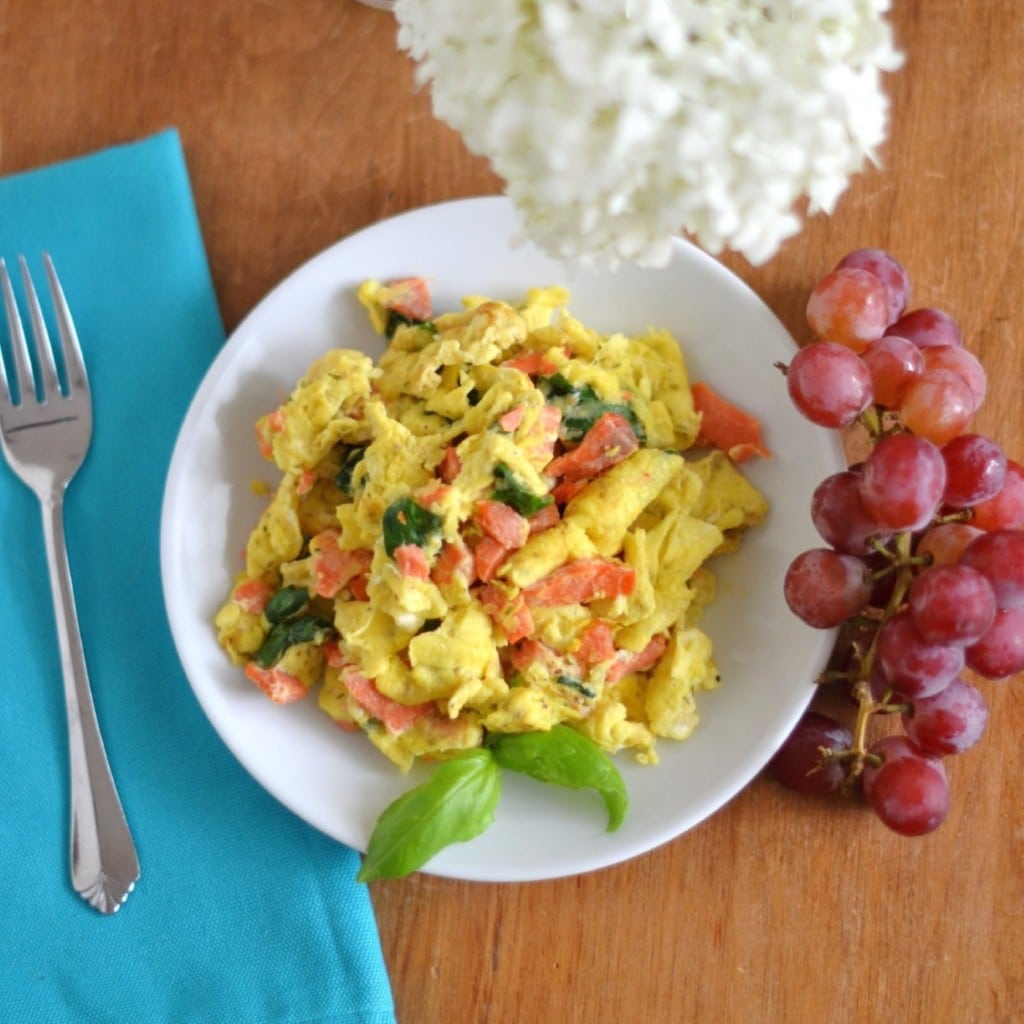 If you are looking to add healthy Omega 3 fats to your life, then one great and easy way to do that is to eat salmon.  Going grain free, gluten free and dairy free has its challenges and one is keeping a good balance of Omega 6 to Omega 3 fats.  Adding smoked salmon to scrambled eggs adds those Omega 3's I am looking for.  Plus, it adds some salty deliciousness to this dish.  I love the egg salmon combo.  I threw in the spinach because I had it on hand and it is an easy way to add a veggie.  I sometimes add red pepper or zucchini if I have that.  Lately, my zucchini have been used to create a zucchini brownie recipe that is worth checking out!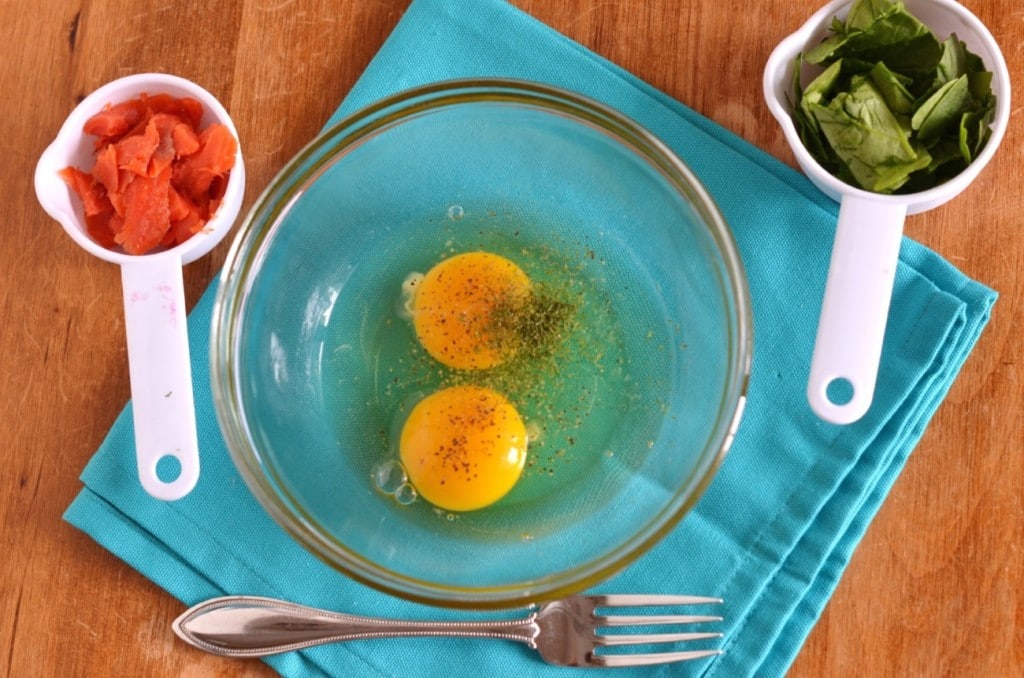 The smoked salmon I buy is "wild salmon" and is cold smoked.  There is "farm raised" salmon, but I prefer and choose wild whenever possible.  This is a simple, easy dish that comes together in a few minutes.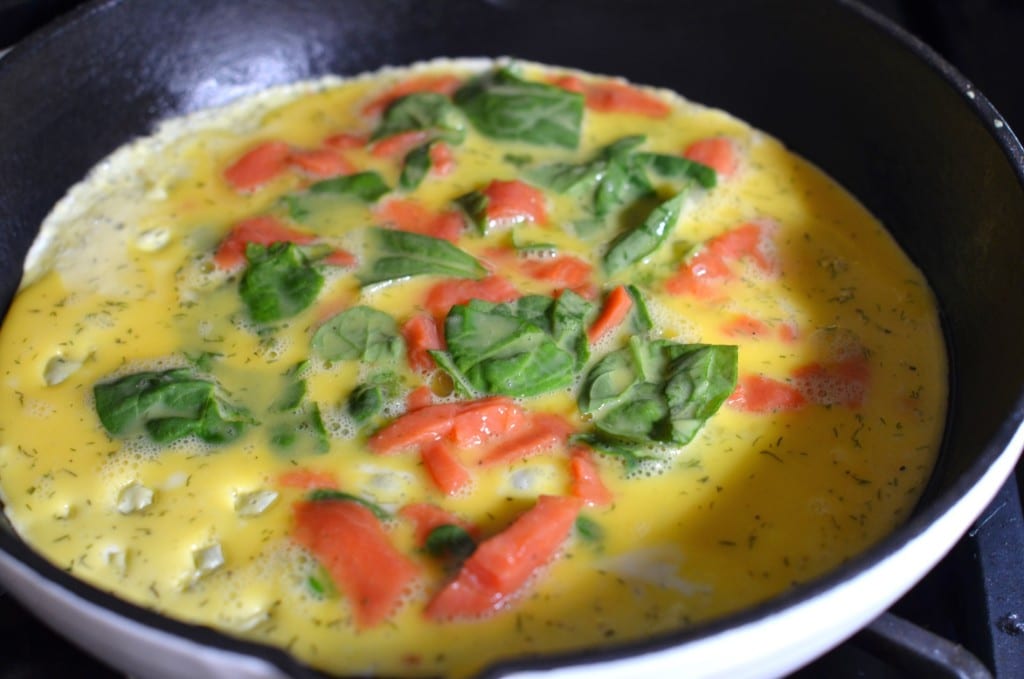 Above is the scrambled eggs cooking in my cast iron skillet.  If I left everything intact (without stirring) for a few minutes and then flipped it at the center it could also be made as an omelet.  When I do that I cut the omelet in half as it really makes two servings or one generous serving.
I have used organic eggs for this recipe, but I have been on the lookout for a local source of pastured, farm fresh eggs.  While vacationing at the Cape (Cape Cod) a few weeks ago, I thought I had found my farm fresh eggs.  Oh, boy I was thrilled, and could imagine the taste and pictured myself eating those freshest of fresh eggs.  Well, either the chickens weren't laying or I would get to the farm too late, because every time I checked – no eggs!  I would even get there early in the morning.  Nothing.  Oh, the agony of defeat.  Ha, ha!
They had gorgeous, organic zucchini though.  Plenty to create and test my  Zucchini Brownies.
Enjoy your day!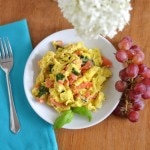 Simple Smoked Salmon Scramble
Simple, healthy, scrambled egg recipe. Will become a go-to recipe.
Course:
Breakfast, Brunch, Entree, Seafood
Ingredients
2

eggs

I used extra large

1

cup

large handful of spinach - optional

about 1/2

1/3

cup

smoked salmon

chopped into bite size pieces

1/4

teaspoon

dried dill

1

Tablespoon

water or almond milk or coconut milk

salt and pepper

to taste

1-2

tablespoons

coconut oil

for the pan
Instructions
Place coconut oil in pan (I use a cast iron skillet) and turn on heat to medium low to begin preheating pan.

In medium sized mixing bowl, add eggs and sprinkle with a pinch of salt and pepper.

Whisk eggs and add water or milk. Whisk some more until a little frothy.

Add salmon, chopped spinach and dill to mixing bowl. Gently mix ingredients together.

Add mixture to your pan, adjust temperature if needed and stir until mixture becomes scrambled and eggs are cooked.

Enjoy.
Nutrition Facts
Simple Smoked Salmon Scramble
Amount Per Serving
Calories 154
Calories from Fat 108
% Daily Value*
Fat 12g18%
Cholesterol 168mg56%
Sodium 262mg11%
Potassium 184mg5%
Protein 10g20%
Vitamin A 1645IU33%
Vitamin C 4.2mg5%
Calcium 49mg5%
Iron 1.4mg8%
* Percent Daily Values are based on a 2000 calorie diet.
Easy to Pin It Strip: