This Slow Cooker Mashed Sweet Potatoes recipe is my new favorite thing. We all should have at least a few super easy recipes with a few ingredients that are delicious but are effortlessly prepared. And consistent! They come out perfectly every time. This recipe for mashed sweet potatoes that are paleo is an easy prep, set it and forget it recipe that makes the house smell wonderful and provides a tasty and nutritious dish. Another recipe that fits this description is my Oven Roasted Sweet Potato Wedges.
Just A Few Ingredients: Sweet Potatoes, Water, Ghee, Salt and Pepper
Getting The Right Texture For Your Slow Cooker Mashed Sweet Potatoes:
The texture of these mashed sweet potatoes is very different from what you would get from baked sweet potatoes. When using baked sweet potatoes, the texture is thicker, rougher and even after mashing is different. Plus, mashing baked potatoes takes time. In the past, (prior to the slow cooker), this is how I traditionally made mashed sweet potatoes. Another option is to boil the potatoes in boiling water for a few minutes. Both of these options will work. (I have read that with the boiling method, some of the nutrients are lost. This makes sense as, during the boiling process, some of the nutrients might end up in the water that is discarded.) However, when using the slow cooker and the parchment paper method, all the hard work it took away. 🙂
Related: Sweet Potato Pumpkin Spice Truffles
Making Your Healthy Slow Cooker Mashed Sweet Potatoes:
To get started, there is about 5 minutes of prepping the sweet potatoes and everything goes into the slow cooker. I set the temperature at high in my slow cooker and cook time is usually 2-3 hours. When it is done, you have a creamy, silky, slightly caramel-y, totally delicious side dish.
Use your favorite ghee, or consider making your own. I have a step by step tutorial for the Homemade Ghee I make. Try it, it's easy!
If you like recipes with sweet potatoes, you will love these fudgy Sweet Potato Chocolate Brownies!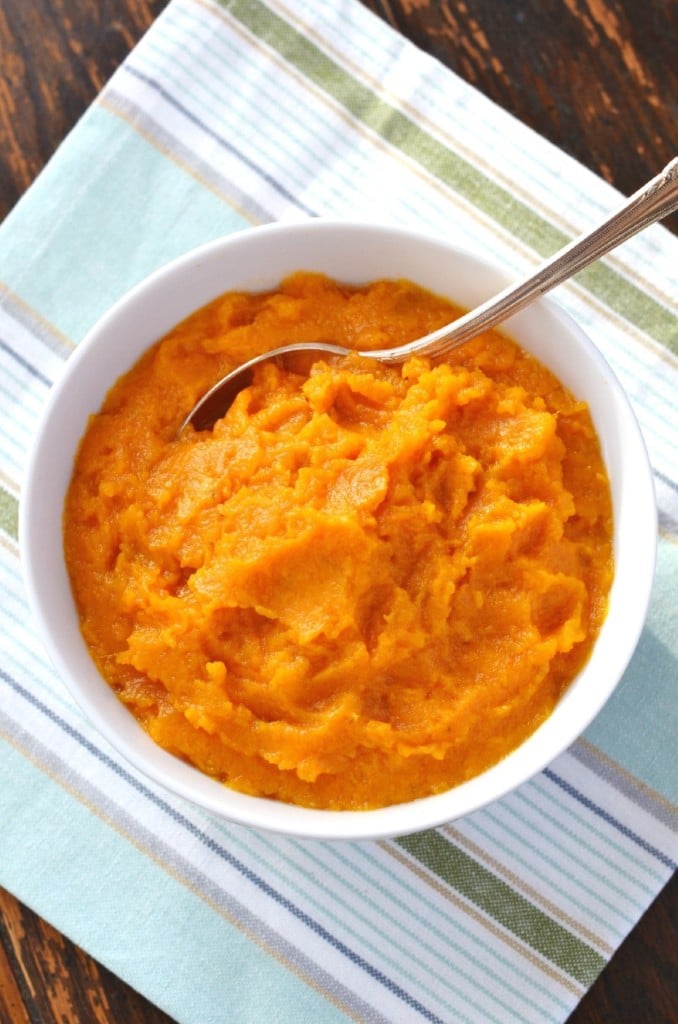 Should I mention storage when there probably won't be any leftovers? Okay, well, in an airtight container for a few days in the fridge.
Related: Mashed Sweet Potatoes with Candied Pecans
Easy Slow Cooker Mashed Sweet Potatoes Tutorial:
Photo 1: Place the chopped sweet potatoes in the bottom of the slow cooker.
Photo 2: Using parchment paper, cut out the exact shape of the slow cooker lid. You will cover the sweet potatoes tightly with this (as shown in photo 3). This is important because it will help the sweet potatoes stay moist and not dry out.
Photo 3: Once you have covered the sweet potatoes with parchment, place the lid on your slow cooker. Place the pot in your slow cooker, set it and continue on to the recipe to finish. I love that this recipe is easy and delicious. Since I bought my slow cooker, I rely on it for many recipes.
Related: Paleo Slow Cooker Turkey Chili

Benefits of Sweet Potatoes:
Sweet Potatoes are a highly nutritious food to add to your diet. They are an excellent source of vitamins A (beta-carotene), C (ward off flu, help with stress, plus much more), E, B6 (heart health), as well as manganese (relaxation, anxiety) and potassium (reduce swelling, relax muscles, help regulate the kidneys). They are a great source of fiber (helps with blood sugar regulation), anti-oxidants and have anti-inflammatory properties. There are also reports that sweet potatoes may contain cancer-fighting properties or have anti-cancer ingredients and enzymes. Since I really love the taste and benefits of sweet potatoes, I have created several recipes and hope to create many more!
Related: Anti-inflammatory Green Smoothie
Buying Organic Sweet Potatoes:
I try to buy organic sweet potatoes when possible because even though I do not consume the skin, I prefer to consume fruits and veggies that have been grown with the least amount of chemicals. EWG puts out an annual list of the fruits and vegetables grown with the least and most pesticides. Check the list here. Note: this list changes yearly, so I try to be aware of the latest list.
Related:
Buying Local Organic Sweet Potatoes:
For the metro Boston area, I love Hutchins Farm, a local organic farm in Concord, MA. In addition to great, seasonal produce, they also have herbs, local grass-fed eggs, local honey, and bread. Sweet Potato Hash would go perfectly with fresh, local eggs made into a scramble or frittata. Attached to the farm stand is a deck overlooking the orchard and fields with tables and chairs for relaxing. The view is gorgeous! Since this farm stand is a few towns away, I can't go all the time, but like to try to get there every few weeks, especially when my favorite produce is in season. A bonus is that they usually have interesting and rare varieties of produce not easy to find in a traditional grocery store. This past fall we tried an unusual looking squash that turned out to be so fresh and delicious tasting. To find out what it is in season at the farm, check their website, or I usually check their Facebook page and they also have a produce calendar.
Use fresh sweet potatoes to make a Vegan Sweet Potato Smoothie. In this recipe, I use Hanna sweet potatoes, which are an off-white color versus the orange or purple of most typical varieties.
Do you have a favorite local, organic farm? What are your favorite items to buy?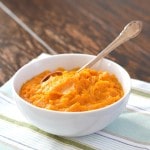 How To Make Easy Slow-Cooker Mashed Sweet Potatoes
Slow cookers are appliances that save time while at the same time creating and cooking delicious recipes. I use a basic slow cooker (crockpot) and find it works fine.
This recipe produces creamy, delicious mashed sweet potatoes. This recipe is sure to become a favorite of yours.
Course:
holiday dish, Side Dish
Ingredients
2-3

pounds

of sweet potatoes

(I like to buy organic)

3/4

cup

water

1-2

tablespoons

ghee

(I used the recipe on my site)

pinch sea salt and pepper

(to taste)

Pinch of cinnamon or nutmeg - optional
Instructions
Wash, peel and chop sweet potatoes in small chunks.

Place the sweet potatoes, water and pinch sea salt and pepper in the slow cooker.

Make a parchment paper cover to be used to cover the sweet potatoes while cooking. I used the lid as a template to cut the parchment paper cover. (See photos)

Place the parchment paper snugly on top of the sweet potatoes and place lid on top.

Cook the sweet potatoes on high for 2-3 hours until sweet potatoes are tender. Using potato masher, mash until creamy, add ghee, mix and serve.

Yes, I know, delicious, huh! Enjoy!
Nutrition Facts
How To Make Easy Slow-Cooker Mashed Sweet Potatoes
Amount Per Serving
Calories 227
Calories from Fat 27
% Daily Value*
Fat 3g5%
Cholesterol 9mg3%
Sodium 127mg5%
Potassium 764mg22%
Carbohydrates 45g15%
Protein 3g6%
Vitamin A 32175IU644%
Vitamin C 5.4mg7%
Calcium 68mg7%
Iron 1.4mg8%
* Percent Daily Values are based on a 2000 calorie diet.
Easy to Pin It Strip: