Paleo Sweet Potato Hash – this easy, versatile, grain, gluten and dairy free dish can be served as a side for any meal.  Top with an egg for breakfast or serve with your favorite entree.  The options are endless!
Breakfast does not have to be boring or take a long time.  And it can be flavorful and be healthy.  All at the same time.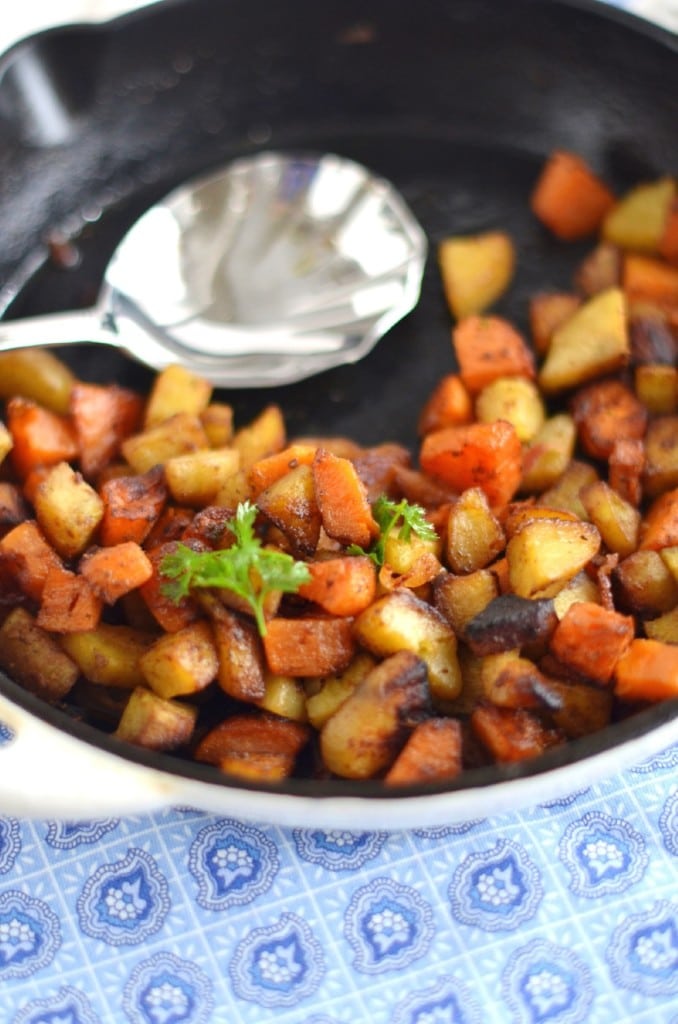 Having tried many paleo sweet potato hash browns recipes with all sorts of results, it is very fulfilling to find one that is easy, predictable and reliable.  The other really nice thing is that the total cooking time is under thirty minutes.  This is ideal for any dish, but in this case, since it is a side dish, I can be working on other parts of the meal while the potatoes are browning in the skillet.
In this particular recipe, I have used orange (Garnet and Jewel) and white (Hannah) sweet potatoes, but you can use any type.  I would love to try Japanese and Purple sometime.
Health Benefits of Sweet Potatoes:
Eaten in moderation, sweet potatoes are reported to contribute to a healthy diet.  They are anti-inflammatory, have lots of great vitamins and minerals (A, C, manganese, b vitamins, potassium).  I have read that they are a great source of beta carotene, are heart healthy, great for skin and hair, digestion (fiber) and are helpful in cancer prevention.
Related:  Try these amazing paleo Sweet Potato Brownies
When I think of hash, I usually want to pair this with eggs for breakfast.  Any type of eggs would work great; friend, scrambled and especially poached eggs.  I would even try this as a side for filling for an omelette.
However, I also enjoy this paleo sweet potato hash as a side to a great savory dinner meal as well.  For added fun and variation, I would try adding a chopped apple or sausage.  The combination of spices make the house smell awesome as this is cooking.  I especially enjoy this dish on a crisp, cool fall morning.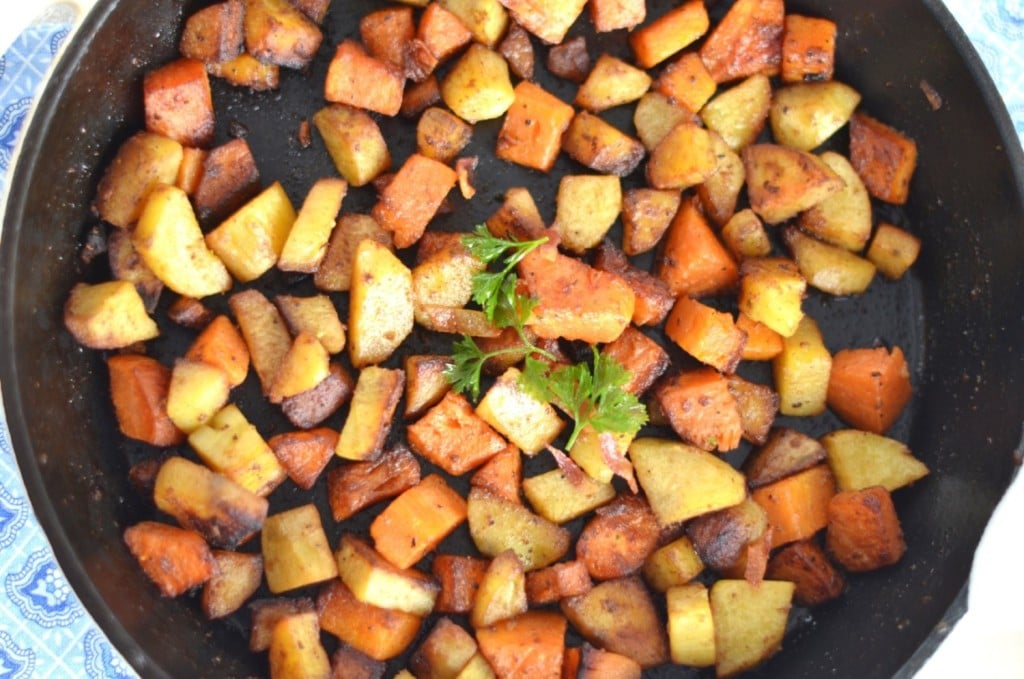 Making Your Paleo Sweet Potato Hash:
Recommended Tip: consider making a double batch because – leftovers!
To a pot of boiling water, add 1/4 teaspoon of salt.   Add one pound of peeled and chopped sweet potatoes.  Let me interject here and say I almost always use organic sweet potatoes.  The thinner the skin of a vegetable or fruit, the more likely I am to buy organic.  Plus, sweet potatoes routinely show up on the list of vegetables grown with the most chemicals.  Consuming produce with chemicals is contrary to keeping out diets as clean as possible.  Okay, rant over!
Cook the sweet potatoes in the boiling water for about five minutes, until fork tender.  Drain.
In a skillet ( I like a cast iron skillet), add the ghee, coconut oil, and spices.  Stir around to combine.  Add the sweet potatoes and stir the spices and potatoes together coating all the potatoes.  Cook for five to ten minutes more until sweet potatoes become slightly browned.  Serve immediately and/or store in the refrigerator.
Interested in learning how to make your own homemade ghee?  Try this tutorial.
Related:
Crockpot Sweet Mashed Potatoes
Although I have a few recipes almost ready to post on the blog, I could not wait to get this one up, as I use my blog often to view my recipes.  So, here you go –  Enjoy!
Hope you are having a great week!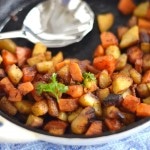 Awesome Paleo Sweet Potato Hash That Is Really Easy!
This sweet potato hash is grain, gluten and dairy free, It has a little sweetness and warmth from the spices. Can be prepared ahead of time and heated up later. Makes great leftovers.
Course:
Breakfast, Brunch, Side Dish
Cuisine:
American, Breakfast
Ingredients
pound

One sweet potatoes

(peeled and cubed into 1/2" size pieces.)

2

tablespoons

ghee

1

Tablespoon

coconut oil

1

tablespoon

coconut sugar

1

teaspoon

ground cinnamon

(I like Ceylon)

1/4

teaspoon

ground nutmeg

1/2

teaspoon

ground ginger

1/4

teaspoon

ground pepper

pinch of salt
Instructions
Bring a medium sized pot of water to a boil. Add a 1/4 teaspoon of salt.

Add the sweet potatoes and boil for about 5 minutes, until tender, but not mushy.

Drain sweet potatoes.

Heat skillet on medium heat, add ghee, coconut oil and spices.

Add the sweet potatoes to the skillet and toss with a spoon so all is covered with spices.

Cook for 5 minutes and toss all to re-coat and distribute spice mixture.

Turn heat to medium low and cook for 5 more minutes or until potatoes are slightly browned.

Serve as a side dish or can be stored in fridge and heated up later.
Nutrition Facts
Awesome Paleo Sweet Potato Hash That Is Really Easy!
Amount Per Serving
Calories 206
Calories from Fat 99
% Daily Value*
Fat 11g17%
Cholesterol 19mg6%
Sodium 68mg3%
Potassium 382mg11%
Carbohydrates 26g9%
Protein 1g2%
Vitamin A 16090IU322%
Vitamin C 2.7mg3%
Calcium 39mg4%
Iron 0.7mg4%
* Percent Daily Values are based on a 2000 calorie diet.
Easy to Pin It Strip: