With Thanksgiving just around the corner, here is an easy recipe for the classic Sweet Potato Casserole with Candied Pecan Topping.  It is so delicious, uses just a few ingredients and can be made ahead!
And luckily, this side dish is very transportable and makes great left overs.  The sweet potatoes in the grocery store have been ginormous lately, so I used 2 extra large.  I prefer buying the larger size because they are easier to peel (or at least it seems that way to me!).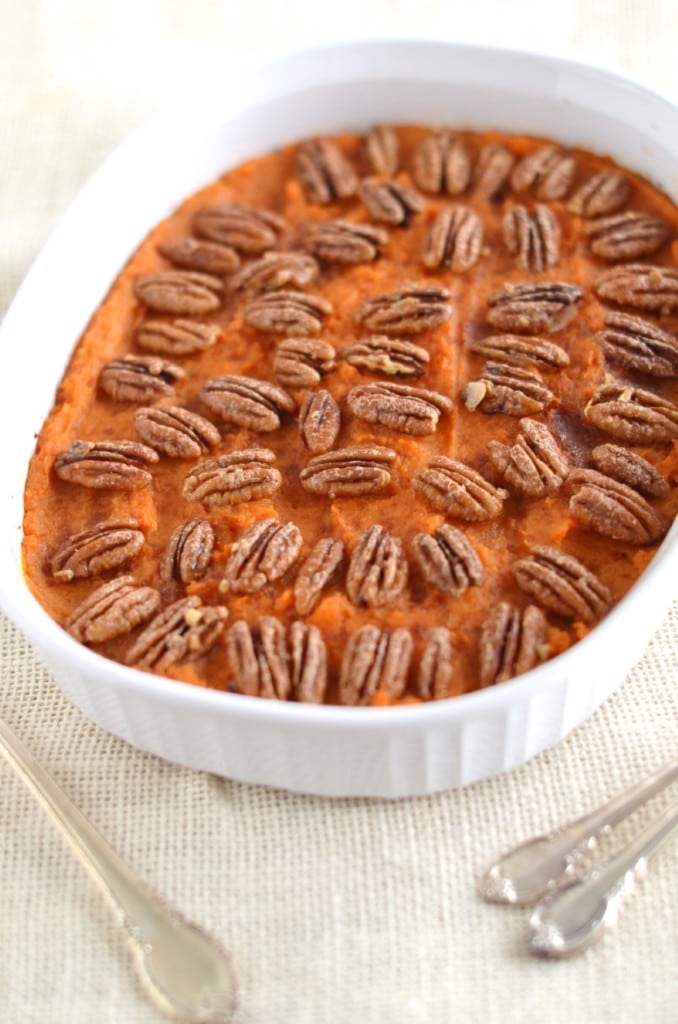 I used 2/3 cup of raw pecans, but you could use 1 cup to completely cover the top of your casserole.  I only had 2/3 cup of pecans on hand, so that is what I went with and it worked fine.
I hope you enjoy this if you try it!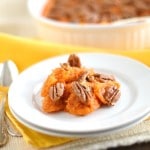 Sweet Potato Casserole with Candied Pecan Topping
A delicious, but easy, paleo side dish. Wonderful for holidays, but easy enough for every day.
Ingredients
2

extra large or 3 large sweet potatoes

peeled and cut into small 2" cubes

1

tablespoons

ghee

2

tablespoons

maple syrup

1/2

teaspoon

ground cinnamon

1/4

teaspoon

nutmeg

I used a few twists of my nutmeg grinder spice

1/2

teaspoon

vanilla extract

1/4

teaspoon

sea salt

1

tablespoon

coconut sugar

sprinkling on top of casserole before baking

Candied Pecans:

2/3

cup

raw pecans

1-2

tablespoons

maple syrup

I used one tablespoon
Instructions
Preheat oven to 350 degrees F.

Bring a pot with water to a boil and add cubed sweet potatoes and cook for 8-10 minutes until fork tender.

Drain water and add to a electric mixer with ghee, 2 tablespoons maple syrup, cinnamon, nutmeg, vanilla, and sea salt. Mix until combined and to your preference consistency.

Spray a casserole dish with spray oil ( I use coconut oil) and pour sweet potatoes into dish and smooth top.

In a cast iron skillet (or small pan), spray lightly with coconut oil, add the raw pecans, maple syrup on medium low and mix with spoon for about 30 seconds to 1 minute coating all the pecans with maple syrup.

Pour pecans onto a baking sheet with parchment, spread out in one layer and let cool.

Arrange the pecans on top of the casserole and sprinkle with coconut sugar.

Bake at 350 degrees for 20-25 minutes.

Can be made ahead!
Easy to Pin It Strip: