Looking for thick, fudgy and super simple to make Gluten-Free Vegan Brownies that are also egg free, oil free, Paleo?
Trying to get someone (kids, spouse, friends or yourself?) to eat more vegetables?  Here's an easy gluten-free, dairy-free, egg-free brownies recipe especially for you.
Later in the post, I share all the best tips for success, plus the printable recipe.
Related:
Dairy Free Mint Chocolate Chip Ice Cream
Grain-free Baking Powder Recipe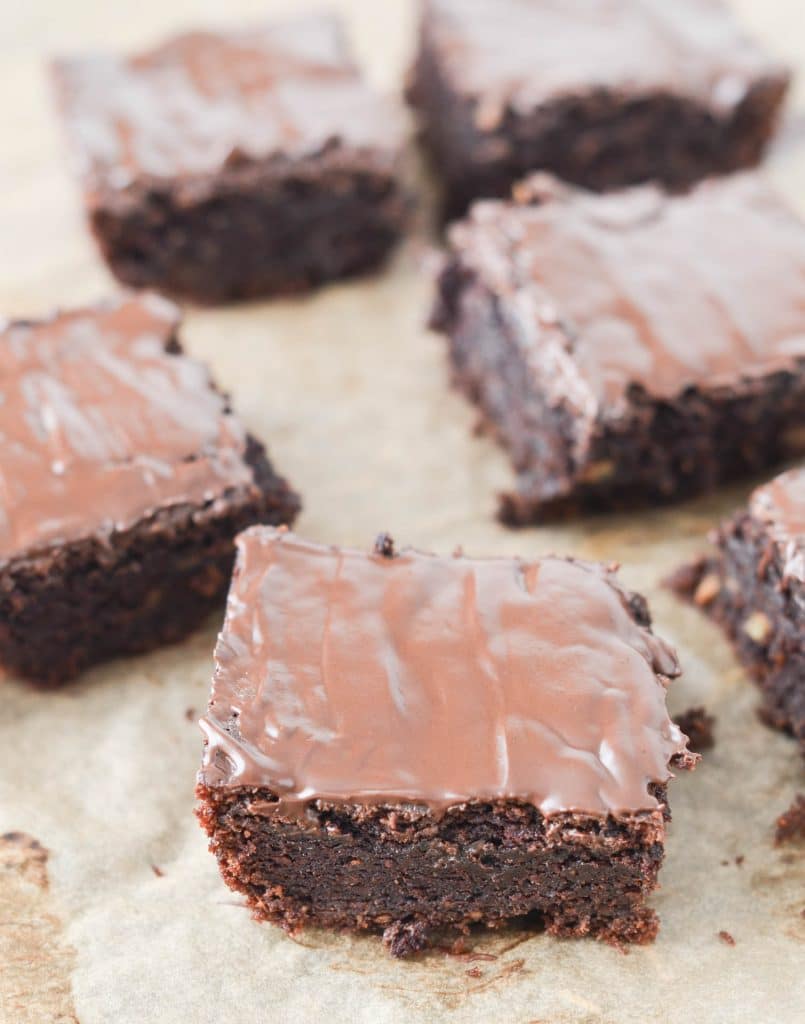 How To Make Your Gluten-Free Vegan Brownies:
All ingredients get mixed up in a bowl, spread into a prepared 6 x 6 baking pan.  I use a Corning Ware pan and sometimes an 8 x 5 glass loaf pan.
Ingredients you will need: (the printer friendly recipe is at the bottom of the post.)
mashed organic sweet potatoes (or puree),
raw organic cacao powder
maple syrup
baking powder
vanilla extract
sea salt.
All ingredients get mixed in a bowl, small food processor or with an electric mixer.  Pour the brownie batter into baking pan and smooth the top.  Sprinkle with a few tablespoons of chocolate chips or wait until baked and cooled and spread chocolate ganache icing.
Bake for 35 minutes until toothpick comes out clean.  Let cool for 10 minutes before slicing.
Related: Sweet Potato Pumpkin Spice Truffles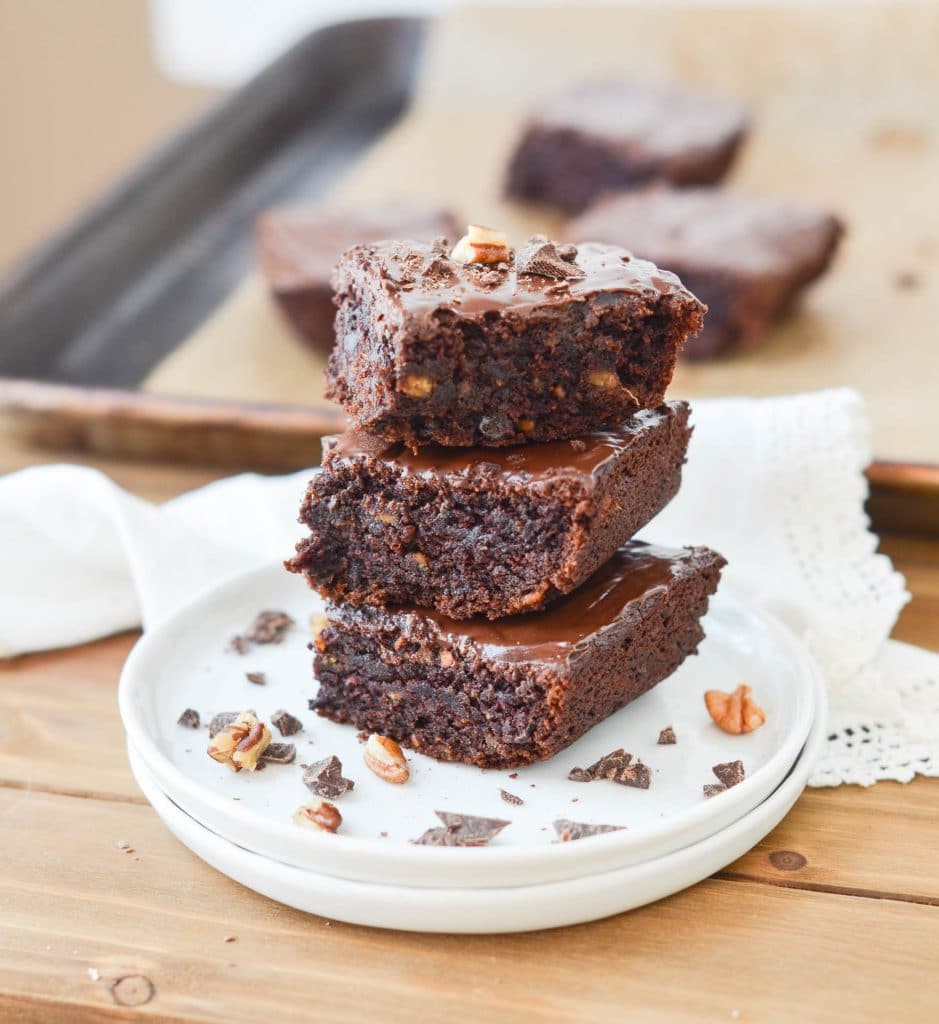 This recipe is so easy and such a favorite that it gets made often at my house, all year round.
Related: Vegan Sweet Potato Smoothie
FAQ:  Do these brownies taste like sweet potatoes?  In my opinion, No!  They taste just like fudgy brownies.
Sweet potatoes are a healthy, delicious food and the texture works perfectly for this recipe.
make a great mid-afternoon snack, for kids or adults.  Oh, what a great gift for your grain, gluten, and dairy free friends!
Some great tips and time savers with these Simple Vegan Brownies:
lately, I have been using organic Japanese sweet potatoes (also called Japanese yams) in this recipe.  Fairly widely available in the grocery stores, they have a dark red to a purple exterior and a creamy ivory interior.  I find they have less moisture than orange sweet potatoes.  Both varieties work in this recipe.
Make the sweet potato puree ahead and freeze 1/4 cup portions in silicone molds. Or, because I find it easier, my latest technique is to make the puree in my kitchen aid mixer, then use a 1/4 cup measure and scoop onto a parchment lined baking sheet.  Freeze and then place balls/scoops in a plastic freezer bag.  Just take out scoops of puree, thaw and use in the recipe.
Raw, organic, cacao powder can be clumpy.  It may be necessary to mix separately into a fine, powdery consistency before adding to the batter.  If you add the clumps, it could be harder and take longer to mix the batter.  I have learned this the hard way. 🙂
My Favorite Almond Butter works well in this recipe as well as most store-bought creamy almond butter.  Store leftover almond butter in the refrigerator.
Make the batter ahead! I have been known to make two batches and bake one and refrigerate the other for …..drumroll….. baking the next day!  Ha!
Be creative – what other ways can you bake this batter?  (e.g. a giant cookie?)
These delicious brownies make a great mid-afternoon snack, for kids or adults.  I love guilt-free treats!
Related: Slow Cooker Mashed Sweet Potatoes
Variations –
 Chocolate Brownie Tarts – great for entertaining.  The brownie batter fits perfectly in two 3″ porcelain tarts.  Spray a little coconut oil for nonstick and the baking time is 25 minutes.  Let cool and the brownie tart should easily come out of a tart pan.
One large brownie cookie – Sometimes I spread the batter thinner and rounder on the parchment paper for a large cookie which I cut into pie size pieces.  Love the crispy edges!
Any way you bake them, you will love these sweet potato brownies.  Plus, getting loved ones to eat more vegetables while having dessert is always a win.
Be sure to sign up for my newsletter so you'll hear about new recipes right away!
Enjoy!
PIN for later!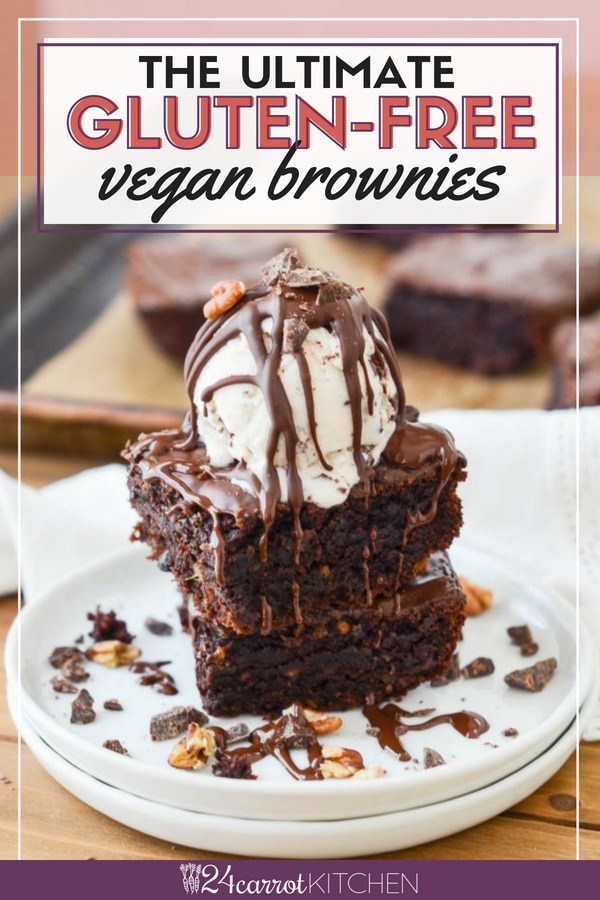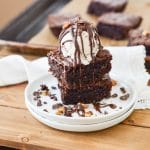 The Ultimate Gluten-Free Vegan Brownies!
Looking for delicious, gluten-free vegan brownies that are fudgy, Paleo and dairy-free? You will love these brownies. Enjoy with or without dairy free chocolate ganache icing.
Course:
Brownie, Brownies, Dessert, Dessert Topping/Icing/Frosting, Snack
Cuisine:
American, Dessert
Ingredients
1

cup

organic mashed sweet potatoes

(Use Japanese sweet potatoes for best texture and taste.Freshly made or canned)

1/2

cup

creamy almond butter

(recipe on the site for Almond Butter)

2

tablespoon

maple syrup

2

tablespoons

raw organic cacao powder

1

teaspoon

baking powder

(grain-free recipe on my site, see link)

1/2

teaspoon

vanilla extract

(optional)

2

tablespoons

dairy-free chocolate chips

pinch

sea salt
Instructions
Preheat oven to 350 degrees F.

Spray a 6 x 6 Pyrex or Corningware baking dish with oil spray. (an 8 x 5 loaf pan also works well.)

In a medium-sized mixing bowl, add all the ingredients and mix well. An electric mixer or small food processor also works well for mixing.
Note: If the cacao powder is clumpy, whisk it well or use a small food processor to make a fine powder. The batter is sticky and solid.


Toss in chocolate chips and stir well to combine.
Note: if using dairy-free ganache icing, you may wish to leave the chips out.

Pour batter into the prepared baking dish and spread until smooth.


I have also made these in two 3 " porcelain tart dishes (spray with coconut oil and 25 minutes baking time).

Tip - Optional: Add a few (one tablespoon) of chocolate chips to the top. Yum! looking brownie.


Bake for 30-35 minutes until cooked through. Best to wait until cooled to slice into brownies. Makes about 6 brownies.
Tip: Also works well in an 8 x 4 loaf pan. Same baking time.
Nutrition Facts
The Ultimate Gluten-Free Vegan Brownies!
Amount Per Serving
Calories 169
Calories from Fat 99
% Daily Value*
Fat 11g17%
Sodium 11mg0%
Potassium 253mg7%
Carbohydrates 15g5%
Protein 4g8%
Vitamin A 2360IU47%
Vitamin C 0.4mg0%
Calcium 99mg10%
Iron 1.5mg8%
* Percent Daily Values are based on a 2000 calorie diet.
Easy to Pin It Strip: