Oh, I have a favorite awesome cranberry scones recipe that I love to make.  There was that time, being in a rush, that I forgot the baking powder.  I was waiting patiently, tapping a pen, making a to-do list to distract myself.  I could hardly wait to hear the *ding* from the timer.  Because –  fluffy, flaky scones!  Then came the DING, but when I opened the oven, I saw flat scones.  What?  What did I do?  I retraced my steps and realized I *forgot an important ingredient.  The all important "make it fluffy" ingredient.  Baking Powder.
*As luck would have it, I have a genius solution that makes this problem go away, which I share later in this post.  And, it works every time. 🙂
Now, how can I insure that the store bought variety is gluten free baking powder?
It is not easy, as many of the store bought gluten free baking powder brands contain cornstarch (not gluten free), and some contain aluminum (no thanks).
There are three main ingredients in commercially bought baking powder:  baking soda, cream of tartar and usually cornstarch.  Some brands use potato starch (gluten free) or wheat starch (contains gluten).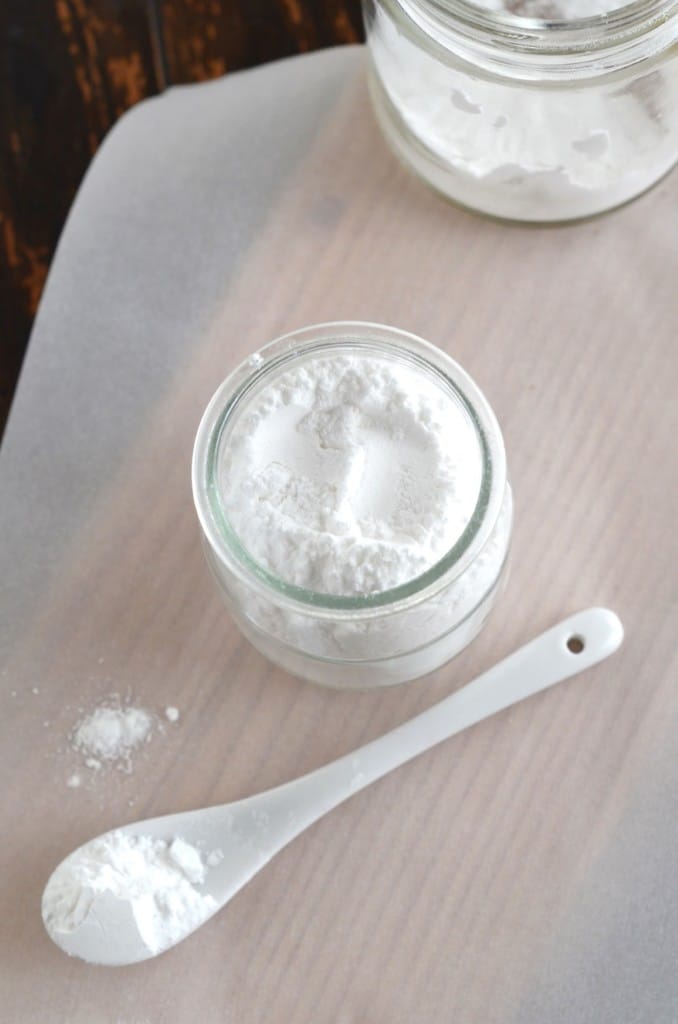 What if we could replace the cornstarch with something that works just as well, wouldn't that be a win?
Wait, what's wrong with cornstarch?
Well, if on the paleo diet, it is not recommended because it is a high starch, low nutrient grain that is highly processed.  The paleo diet is a grain free diet.
Okay.
So, making homemade grain free baking powder takes 5 minutes and is as simple as pouring the ingredients in a bowl, mixing and then storing in a container in the pantry?  Plus, it is less expensive than store bought cornstarch free baking powder?  Well, yes, I'm in!
Store Bought Gluten Free Baking Powder Brands:
I did find this brand that uses potato starch in its gluten free baking powder.  All the other brands I found use cornstarch. So, this would be my store bought first choice.
But, why not make your own homemade DIY gluten free baking powder recipe?
Making Your Gluten Free Baking Powder:
It's so easy!
You will need:  Baking Soda, Cream of Tartar and Tapioca Starch/Flour.  All of these ingredients are easily available in your grocery store.  Whole Foods has a 365 brand of cream of tartar that I like also.
I usually make this recipe every 4-5 months unless I happen to run out sooner.  Perhaps because I make it fresh, I actually believe it is better and more effective than store bought baking powder.
Related:
Lemon Juice Using This Kitchen Utensil
Why Use Gluten Free Baking Powder in Recipes?
Baking powder is a leavening agent that helps our baked goods rise and puff up where necessary.  There is a difference between a flat cookie and a puffy cookie.  Although I use baking soda mostly in my recipes, there are recipes where baking soda makes all the difference.  I can clearly see the effect in my baked goods when I use it. They give baked goods a nice rise, whereas without it they would be flat and perhaps, dense.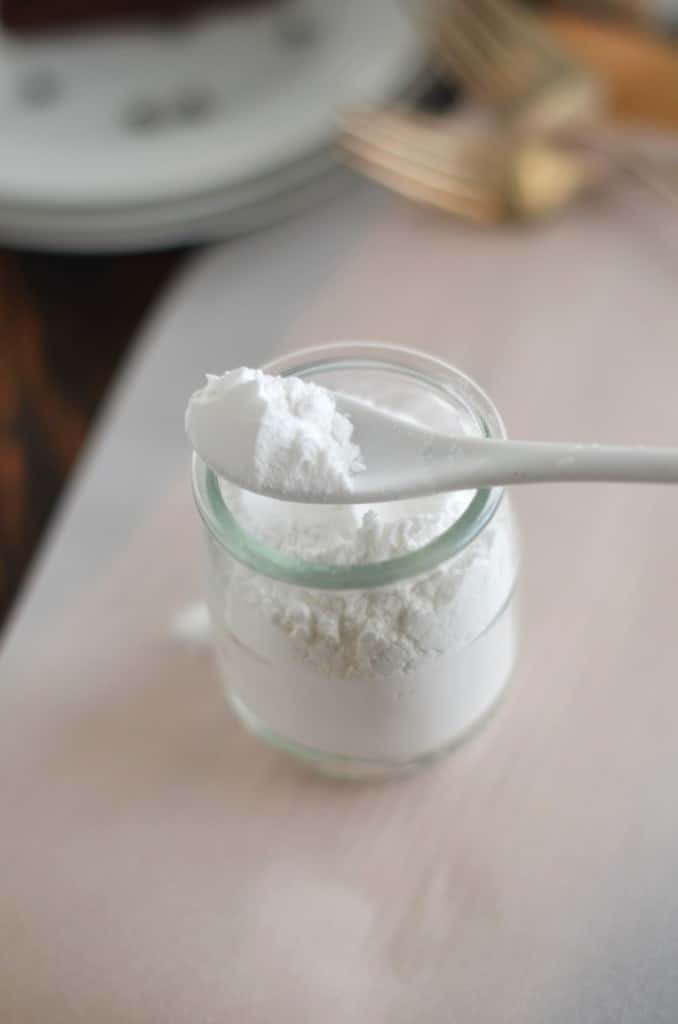 Tip: Try to look for the large size of cream of tartar at the grocery store.  It will last longer that way and is more cost effective.  🙂
Related: Checking if Baking Powder Still Works.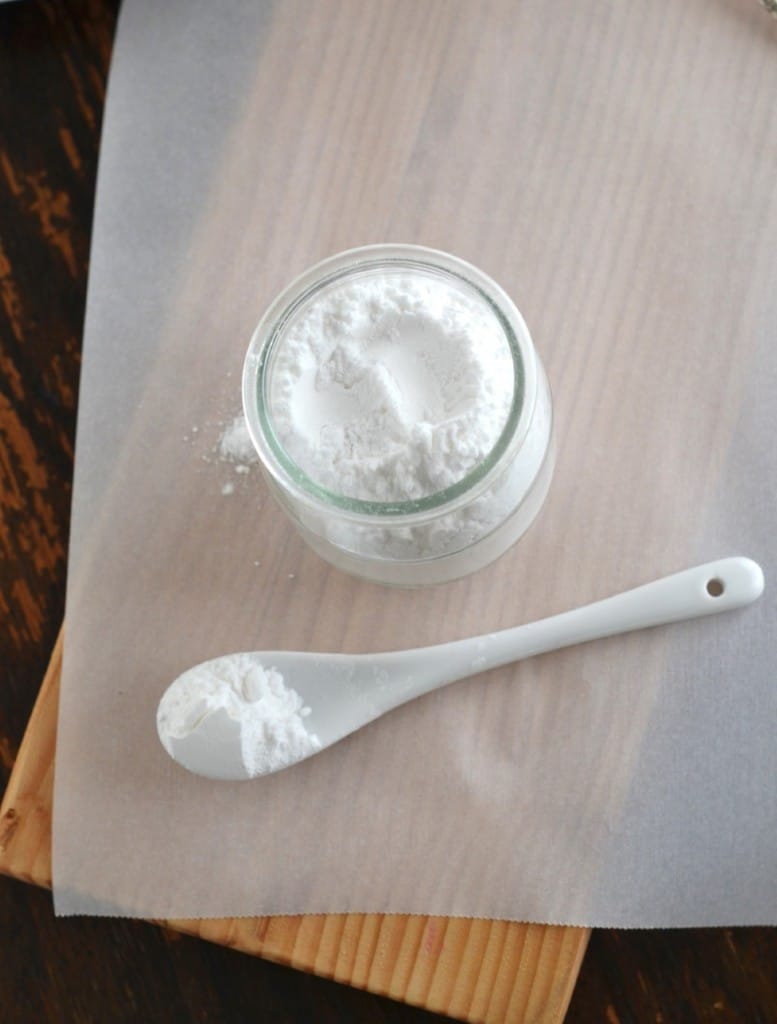 Recipes That Use Gluten Free Baking Powder:
Will this post find you enjoying your kitchen sessions, baking away and making lots of delicious treats?  Make sure to take some time to enjoy.  Since I am recipe testing often, I tend to be baking all year round.  Many people increase their baking activities around holidays, in the winter etc…  This recipe is totally customizable and changed to the amount you may be using.  Here is a guide I found for cutting a recipe in half.  I often do this with recipes.  You might also wish to double this recipe.
Okay, I am off to make a batch of this easy gluten free baking powder!  As scones await!
Please let me know if you have any questions.
Enjoy!
p.s. My foolproof way to make sure you don't forget anything in a recipe?  I line all the ingredients up on one side of the counter.  When I have used an item, it goes to the other side.  Works beautifully!  Here is a short, cute read about getting everything ready prior to starting the recipe.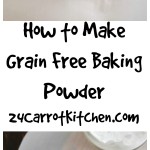 How to Make Your Gluten Free Baking Powder - Easy!
Here is my go to grain free, cornstarch free baking powder recipe! I make a batch and it lasts several months in a dry, cool cabinet.
Ingredients
1/8

cup

baking soda

1/4

cup

cream of tartar

1/4

cup

tapioca starch/flour
Instructions
Pour the ingredients in a bowl and stir to combine.

Pour into a jar with a lid. Store in a dry place, like a cupboard.

That's it!

Store in a cool, dry place for several months. I put a note on the jar with the recipe and current date. I also put a date in the future when I should replace, usually about 4-5 months.
Easy to Pin It Strip: