This post may contain affiliate links.
The Scene:  It's a lazy Sunday morning and maybe you are reading the paper and drinking some tea.  You want to make something for breakfast, and, ideally, this would be something outside of your normal routine of, say, smoothies, eggs, granola, or chia pudding.
But what?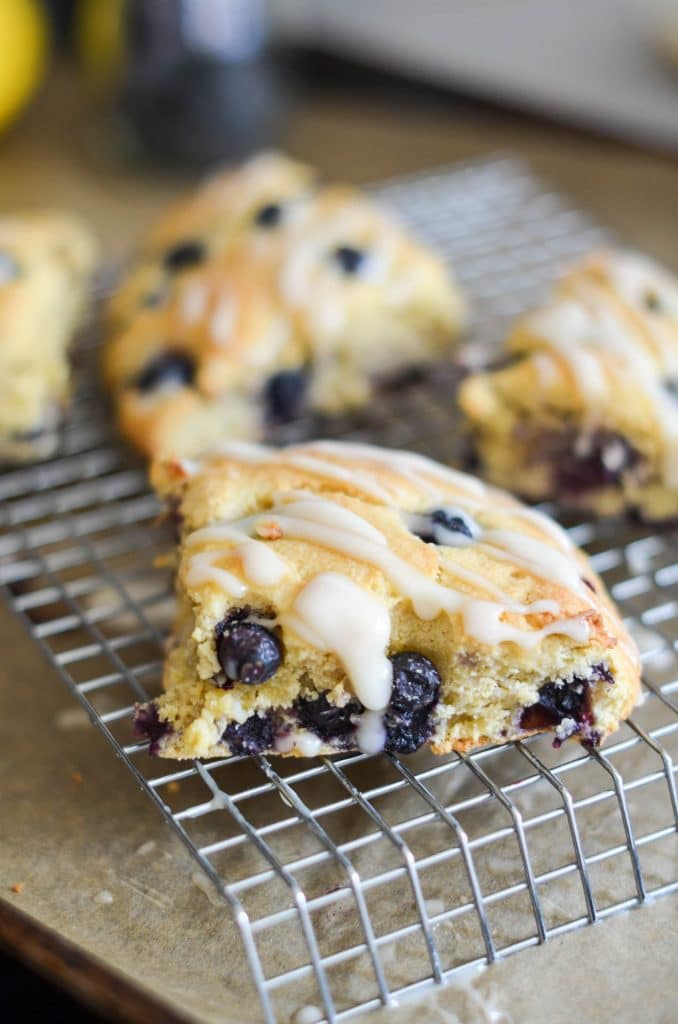 How about a delicious baked good, you ponder.  So, you start to imagine the delicious goodie that you have had many times in your life, but since going gluten free just seems out of reach.
Todays the day! – it's time to get out your favorite jam or jelly and whip up a batch of these scrumptious Gluten Free Blueberry Scones  In addition to being grain, gluten and dairy free, they are easy to make and ready within a half hour.
Other Gluten Free Scones:
After discovering and making this other tasty scone recipe recently, I set out to find other flavor combos.  I was just so excited about the prospect of gluten free, dairy free scones that are also Paleo and that actually tasted like a scone.  These best blueberry scones with almond flour turned out to be the ticket.
Yes, that's right, blueberry lemon scones without heavy cream.  With this recipe, you can add the ginger or leave it out.  It is great both ways.
If cinnamon and raisin sounds like a great idea, try these gluten-free scones.
Making Your Gluten-Free Blueberry Scones:
You will love how easy these scones are to make.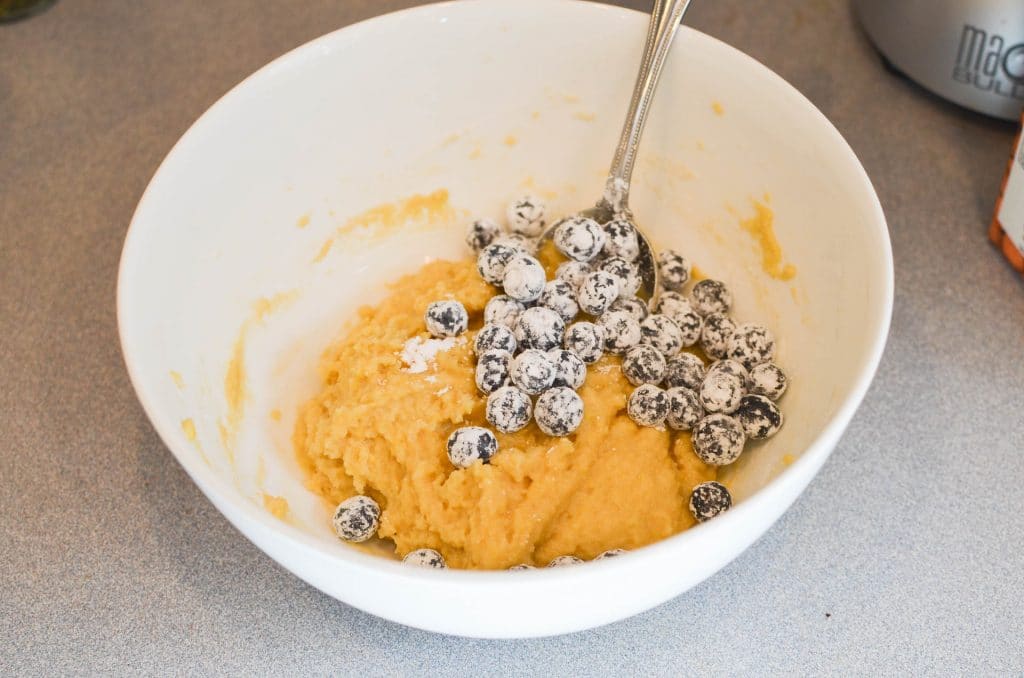 This is a sticky dough, however, add a little more almond flour if it is too sticky.  You should be able to mold it into a round (6 inches in diameter) like below.  I added a few extra blueberries to the top of this.  Place the round dough on a parchment lined baking sheet.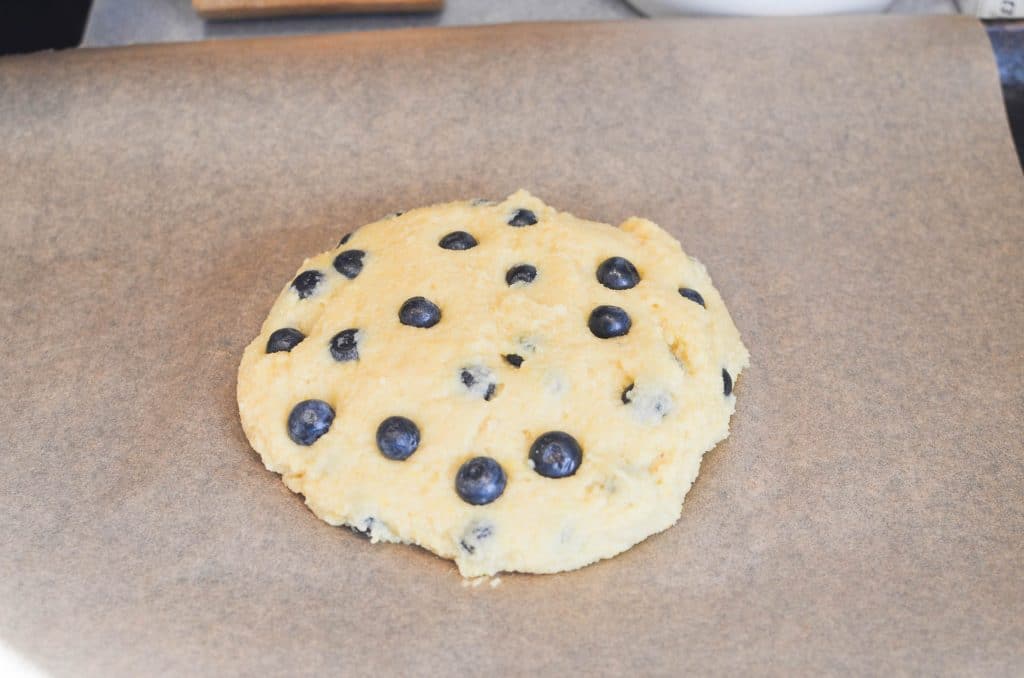 Then, spray a knife with a little oil spray (to help with sticking) and cut the round dough batter in 4 pieces as shown below.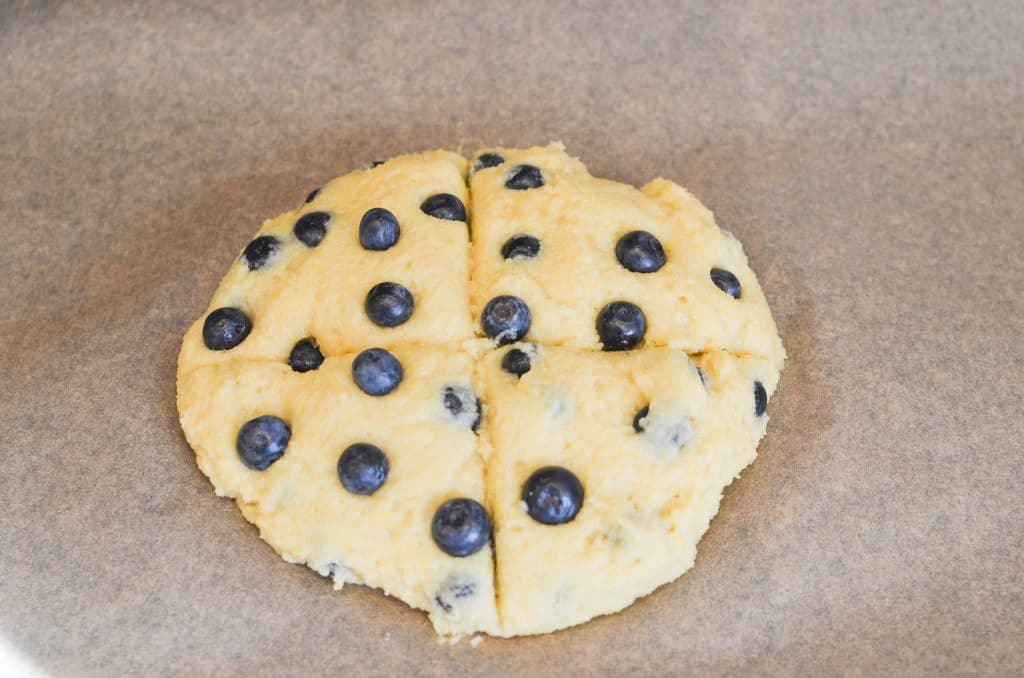 Bake the scones at 350 degrees F. for 20 minutes.  Then using a knife, separate the scones into four pieces so they are not touching.  Place back in the oven and bake for another 5-10 minutes until browned on top.
And here they are out of the oven: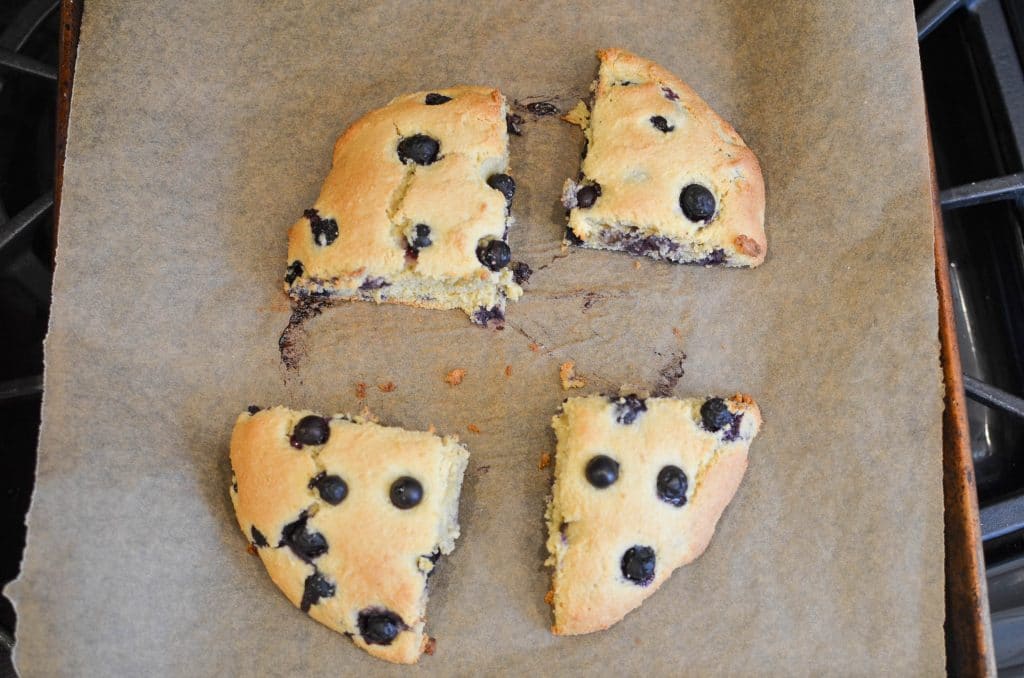 These are best made and consumed right away.
Lemon Glaze for your Gluten Free Blueberry Scones – 
I often have these scones plain.  They can be served with ghee, jam, jelly, etc… But if you are in the mood for a glaze, you might want to try a delicious and easy lemon glaze.  In a small bowl, whisk the following ingredients until smooth.  It will thicken as it sits, so you may need to add more almond milk.  (Try this easy kitchen hack to get lemon juice in a jiffy).
 2 tablespoons maple syrup
1 teaspoon freshly squeezed lemon juice
3 tablespoons coconut butter (also called "manna")
1-2 tablespoons almond milk (start with one tablespoon and add more milk as needed to get desired consistency).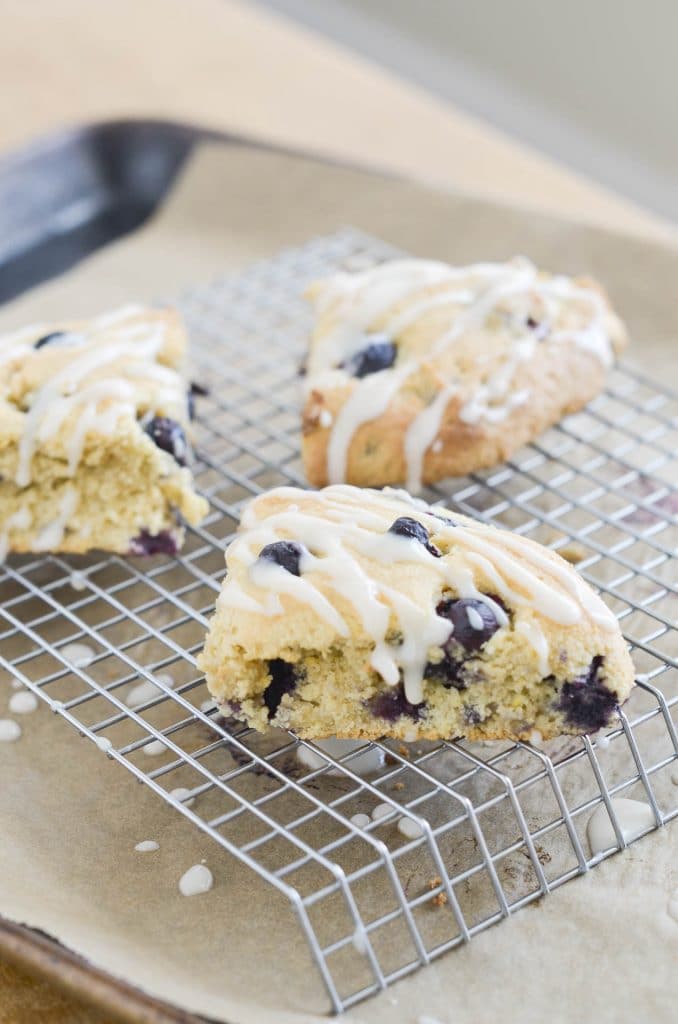 This recipe was adapted from here.
Related:
Enjoy!
*Recipe Updated: 7/21/2017
A new favorite for Sunday morning?  Gluten-free scones, so easy, can be made anytime!
Are you signed up to receive the latest recipes via email?  Great!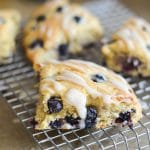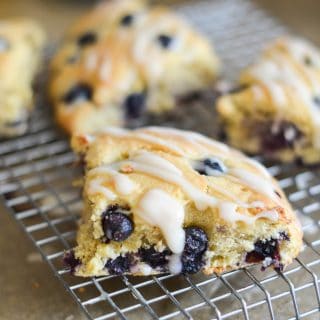 How To - The BEST Gluten Free Blueberry Scones
A favorite grain, gluten and dairy free scone recipe that is also paleo! Enjoy with blueberries and add some ginger for extra special flavor.
Course:
Breakfast, Breakfast Scone, Brunch, Scone, Snack
Cuisine:
American, Breakfast
Ingredients
1

cups

and 1/3 almond flour

1/2

cup

arrowroot flour

1

teaspoon

baking powder

1/8

teaspoon

salt

1

large organic egg

2

tablespoons

maple syrup

1/8

cup

organic applesauce

1

teaspoon

ground ginger

1/2

cup

*fresh blueberries

(extra for top of scones)

1

teaspoon

arrowroot flour

(to mix with blueberries)

1

teaspoon

fresh lemon juice
Instructions
Preheat oven to 350 degrees F.

Prepare a baking sheet with parchment paper.

In a large mixing bowl, place all the dry ingredients and whisk out all lumps.

Add the lemon juice and mix.

Add the remaining ingredients and mix well. Let dough sit for 10 minutes to incorporate. After 10 minutes, if too sticky, add about a tablespoon of almond flour.

Mold into a 6 inch round diameter and place on baking sheet. Add some extra blueberries to the top.

Using a greased knife, cut the round into four pieces.

Bake at 350 degrees F. for 20 minutes. Take out of the oven, separate into four scones that are not touching. Place back in the oven for 5 - 10 minutes until tops are browned.

Let cool and spread lemon glaze if using.

To store: they usually are consumed right away, but may last a day in an air tight container.
Recipe Notes
*You can use frozen blueberries. After you make the individual scones and place on baking sheet, press frozen blueberries into the tops of the scones.  Otherwise, tossing into the batter may turn the batter blue.
Nutrition Facts
How To - The BEST Gluten Free Blueberry Scones
Amount Per Serving
Calories 278
Calories from Fat 135
% Daily Value*
Total Fat 15g 23%
Cholesterol 40mg 13%
Sodium 90mg 4%
Potassium 152mg 4%
Total Carbohydrates 32g 11%
Protein 7g 14%
* Percent Daily Values are based on a 2000 calorie diet.
Easy to Pin Strip:

Reader Interactions