This Strawberry Blueberry Smoothie came from a desire to get more superfoods into my diet the easiest way possible.
There are lots of options, but what about something that takes only a few minutes, is a healthy meal, tastes great and is refreshing too?
I have never been blueberry picking, that I can remember.
But, strawberry picking?  Oh, Yes.  Strawberries were kind of a big deal where I grew up, on the North Fork of Long Island.
There was even a Strawberry Festival every June where some lucky young lady was crowned the Strawberry Queen.  I did have a dream or two about wearing that crown.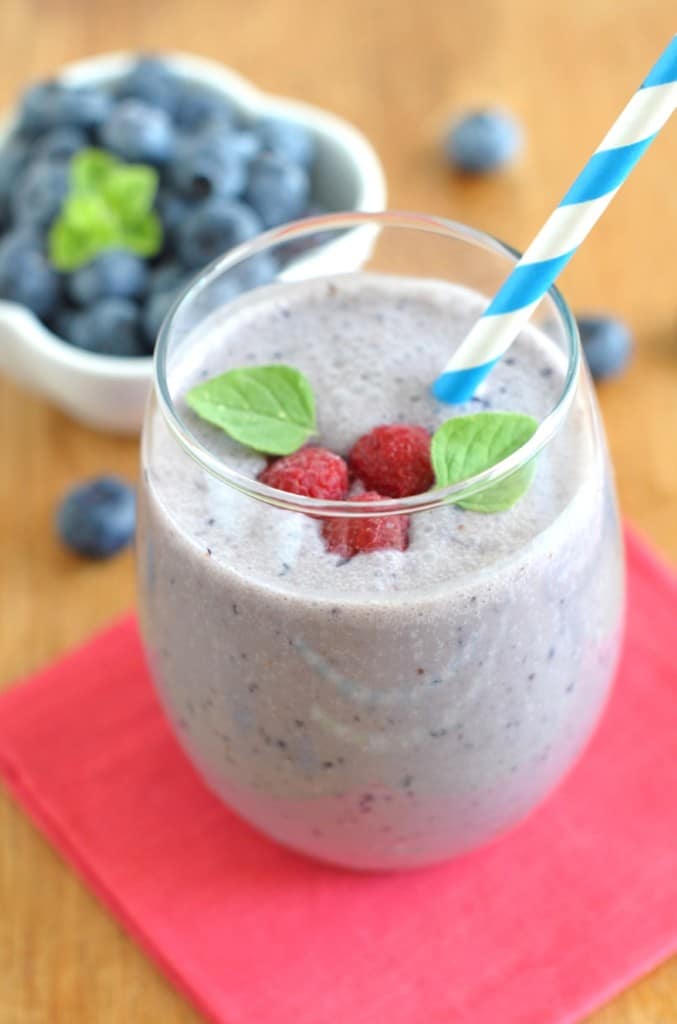 Fast forward a few years and I am a mom to a toddler, living in New England, near farms that offer strawberry picking.  I could see the scene vividly as I passed by the farm sign, Pick Your Own Strawberries Here!  What fun Ms. Toddler and I would have, and she would be picking and eating strawberries non-stop.
Except that is not what happened.
Making Your Strawberry Blueberry Smoothie:
I prefer using organic strawberries and organic and/or wild blueberries in this recipe.  Both are easily available frozen in the grocery store and fairly reasonable.  Seasonally, fresh are available, but sometimes frozen is less expensive.  And, wherever possible, I try to buy from local farms.
I do love that this is a berry smoothie without a banana.  I have used blueberries and strawberries, but you could add another berry, such as raspberries, and I am sure it would be awesome as well.  Another benefit is that it is a great option for those looking for a strawberry blueberry smoothie without yogurt.
Since we all tend to be on the go in the summer, portable drinks are optimal.  It takes but a few minutes to blend up this mixed berry smoothie.  Pour it in your favorite transportable cup and off you go.
Smoothies can be meal replacements for me on very hectic, busy days.  However, in that case, I might add a small scoop (about a tablespoon) of protein (nut butter, protein powder, etc…) to balance.  My nutritionist stresses the importance of meals containing three things – healthy protein, carbs and fats.
Coconut Cream:
The easiest way to get coconut cream for your smoothie is to use a can a full fat coconut milk.  Open the can and you will notice that the can has a watery part and a cream part.  Scoop out the coconut cream to use in this smoothie.  Don't throw out the coconut water!  Save for another smoothie or drink as you would a glass of water.  So refreshing!
Tip:  If you are adding aloe vera juice to this smoothie, Trader Joe's has one I have used and liked. It is reasonably priced and come in a jug container.  I store in the refrigerator and use as needed.  It is almost all juice, with relatively few additives.
Check out this book for more fruit information and recipes: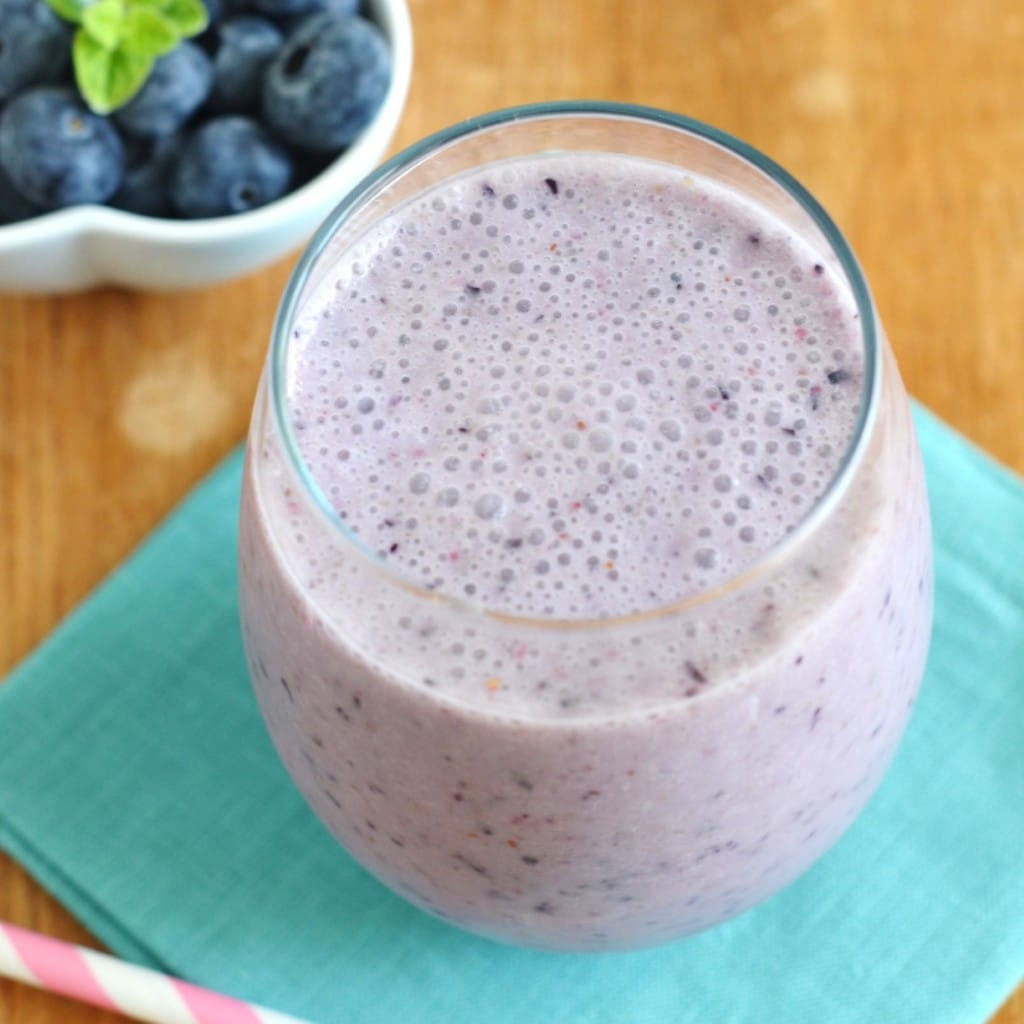 Turns out, Ms. toddler was only mildly interested in picking strawberries and refused to try any of them.  Quite honestly, she actually looked irritated and bored.  What?
Do you know what I did?
Yes, I did.  I tried again the next year.  And the year after that.  Because, I reasoned, each time, she would be a year older and maybe, just maybe, she would like it.  After all, it was something I loved, remember?
Nope.
Nada
Not happening.
Related: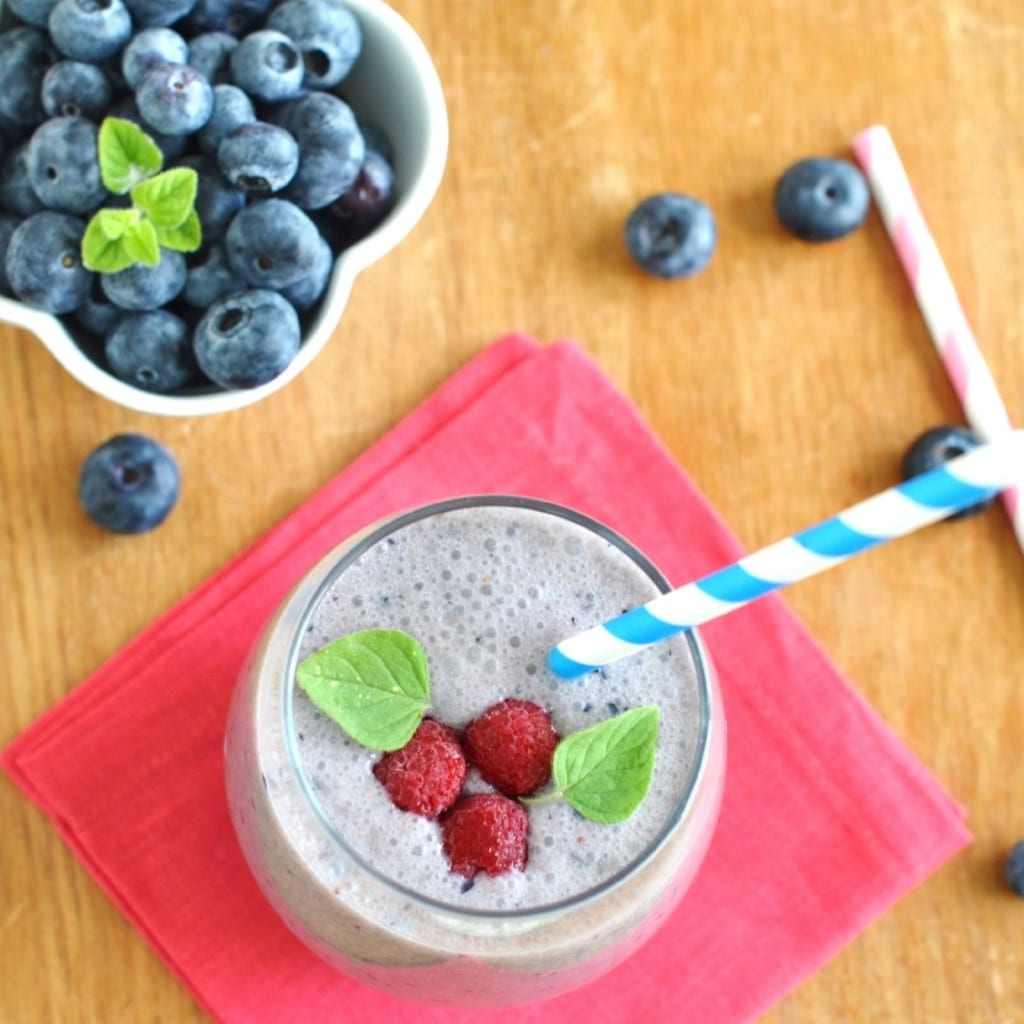 Ms. Toddler is now Ms. Teen and although she has never fully taken to fruits, she will on occasion have this smoothie.  And, she says she likes it. That works for me and I'm going with it.
Takeaway? – we are all unique and have our own likes, preferences, and dislikes.  And, throw those fruits and veggie into a smoothie because it may be just the ticket to getting your kids eating those awesome superfoods.
Love blueberries?  Here is another popular berry smoothie to try – Blueberry Pineapple Smoothie.
Try This For Smoothie Success:
I find that in order to be successful in my smoothie a day habit, I need a good routine where ingredients and tools are easily accessible.  The ten minutes it takes to pull my blender out of the cabinet, and chop up fruits and veggies will too often come between me and my nutritious smoothie, especially during a particularly busy morning.  However, with a few easy strategies, smoothie success is a breeze, even on the busiest of days.
A great blender – While I have a larger blender for certain recipes, it is this smaller blender which you will find on my counter.

Make my daily smoothies with this blender.
Strong enough to whip up frozen fruit, ice, and nuts
Easy to rinse cups (vs. harder to rinse and clean blender pitcher)
Portable caps for the blender cups (so I can take my smoothies to-go!)
Less clunky than a larger blender and fits perfectly on my counter top.

Frozen fruit in plastic bags ready to go:

It is super easy to buy frozen, pre-chopped fruit from the grocery store.
Reasonably priced and organic produce available.
If buying fresh produce, freeze by placing fruit on a baking sheet lined with parchment paper. Spread fruit in an even layer with no pieces touching. Freeze completely and then place in plastic bags.  If you place fresh fruit in bags and freeze, you will have frozen clumps of fruit that are hard to separate and use. 🙂
Have your favorite smoothies all year, not just when fruit is in-season.
I often transfer the contents into resealable individual clear plastic bags for easy use. It is easy to monitor when the supply is running low.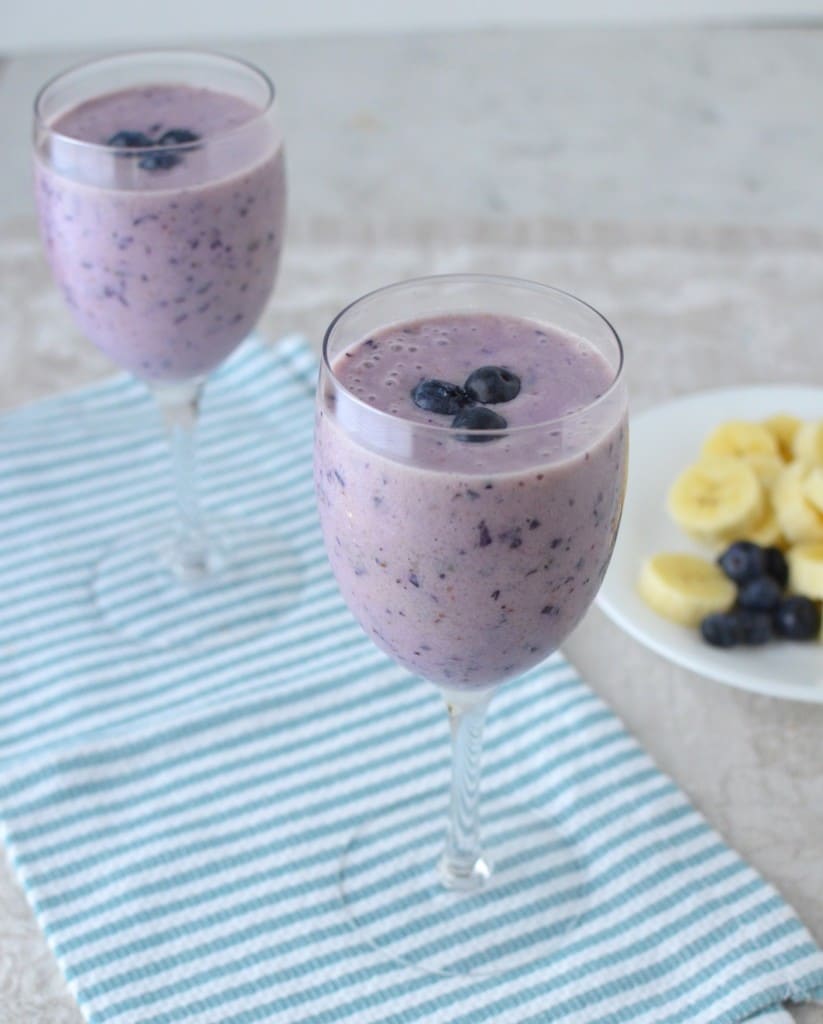 Looking for an awesome, yet reasonably priced blender?  This is the one I use and love!  🙂

Wishing you a wonderful day!
From,
The Strawberry Queen (in my dreams!)
Products Used In This Recipe: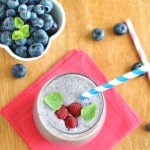 The BEST Healthy Strawberry Blueberry Smoothie!
A wonderfully refreshing berry smoothie which is very versatile using fresh or frozen berries.
Ingredients
1/2

cup

blueberries

(I used fresh, wild blueberries for this recipe)

1/2

cup

strawberries

(1/2 cup equaled 2 very large frozen strawberries)

1

cup

non-dairy milk of your choice

(almond, coconut, etc..)

1

tablespoon

maple syrup

1/4

cup

coconut cream ( I used Native Forest Organic Coconut Cream 5.4 ounce can. This is optional

(Optional, adds some extra creaminess.)

1

tablespoon

100% aloe vera juice

(Optional)
Instructions
Place all ingredients into a blender and blend for several minutes until smooth and frothy.

Pour into a glass and enjoy!

Note: If possible, use organic strawberries and organic and/or wild blueberries in this recipe. Additionally, fresh strawberries and blueberries may be available seasonally, locally through farms.
Easy to Pin It Strip: