This post may contain affiliate links.
How To Make The Best Turmeric Smoothie!
I had to make a lot of Anti-inflammatory Green Smoothies before I found the one.
In the case of this smoothie, it is easy and delicious too!
Is Turmeric Good In Smoothies?
As Annette in the comments states – "Wow, delicious! I was a little nervous if this would be tasty, but very refreshing."
Turmeric Green Smoothie – Best Qualities:
Tasted great
Had anti-inflammatory ingredients
Was quick and easy to make
-Check, check and check
The truth is I have several green smoothies that I really love and make, but this one is a true favorite and has the extra element of turmeric and ginger which are reported to have great anti-inflammatory properties.
Love this turmeric banana smoothie for all the health benefits and great taste!
Looking for anti-inflammatory smoothie recipes, but wonder how to find a great tasting one?  I was in the same boat, and through trial and error created one that is not only easy to make but is delicious as well.
TRY THIS FOR SMOOTHIE SUCCESS:
I find that in order to be successful in my smoothie a day habit, I need a good routine where ingredients and tools are easily accessible.  The ten minutes it takes to pull my blender out of the cabinet, and chop up fruits and veggies will come between me and my smoothie, especially during a particularly busy morning.  However, with a few easy strategies, smoothie success is a breeze, even on the busiest of days.
A GREAT BLENDER – WHILE I HAVE A LARGER BLENDER FOR CERTAIN RECIPES, IT IS THIS SMALLER BLENDER WHICH YOU WILL FIND ON MY COUNTER.

Make my daily smoothies with this blender.
Strong enough to whip up frozen fruit, ice, and nuts
Easy to rinse cups (vs. harder to rinse and clean blender pitcher)
Portable caps for the blender cups (so I can take my smoothies to-go!)
Less clunky than a larger blender and fits perfectly on my countertop.

FROZEN FRUIT IN PLASTIC BAGS READY TO GO:

It is super easy to buy frozen, pre-chopped fruit from the grocery store.
Reasonably priced and organic produce available.
If buying fresh produce, freeze by placing fruit on a baking sheet lined with parchment paper. Spread fruit in an even layer with no pieces touching. Freeze completely and then place in plastic bags.  If you place fresh fruit in bags and freeze, you will have frozen clumps of fruit that are hard to separate and use.
Have your favorite smoothies all year, not just when the fruit is in-season.
I often transfer the contents into resealable individual clear plastic bags for easy use. It is easy to monitor when the supply is running low.
 Benefits of Ginger and Turmeric:
In the quest of consuming more ginger and turmeric, two awesome anti-inflammatories, I created this great tasting smoothie. Both turmeric and ginger are deemed to have powerful anti-inflammatory benefits.  Turmeric is a member of the ginger family and has the active ingredient "curcumin".  Ginger is an herb that can be consumed ground, fresh or as a juice.  Many smoothies for arthritis pain tend to include these ingredients.  But, as always, you may want to check with your health professional to make sure these ingredients are good for you.
Additionally, this turmeric green smoothie has flax and chia seeds which contain omega 3 fatty acids.  Omega 3 fatty acids are considered to have wonderful anti-inflammatory benefits as well.
Best Storage For Ginger and Turmeric:
I store my fresh turmeric and ginger by wrapping each in a paper towel, then placing them in a sealed plastic bag and storing it in the fridge.  It is easy to tell the difference between the two because turmeric has a very bright orange flesh.
I ended up needing a little assistance at the grocery store when picking out the fresh turmeric.  I had an idea of what turmeric looked like, but as luck would have it, this area of the grocery store (near all root veggies like turnips, beets, etc…) was not clearly marked.  I chose something I thought was turmeric but actually turned out to be the second type of ginger.  At that point, the helpful staff gave me a mini-lesson on turmeric, which I really appreciated.  Next time I go it will be easy to find.  And as I know, it was worth the effort as turmeric is awesome.
I can't quite explain it, but I do feel better after consuming this smoothie.  All those little aches and pains seemed diminished.
Related:
Making Your Turmeric Smoothie:
To make, simply peel back some of the skin of the ginger and turmeric root, and cut off the pieces you need.  Add the rest of the ingredients to your blender and blend for several minutes until desired texture.

Products used in this recipe:  Golden Flax Seeds, Chia Seeds, Cinnamon.
My favorite supplement – Thorne Meriva Curcumin.  I have been using this for several years as recommended by my physician.  As with any supplements, check with your healthcare provider before taking any supplements.
Thank you for using my affiliate links, which at no extra cost to you, provides me with a small commission that helps with the running of this site.   I look forward to creating and posting many more delicious recipes for you.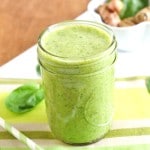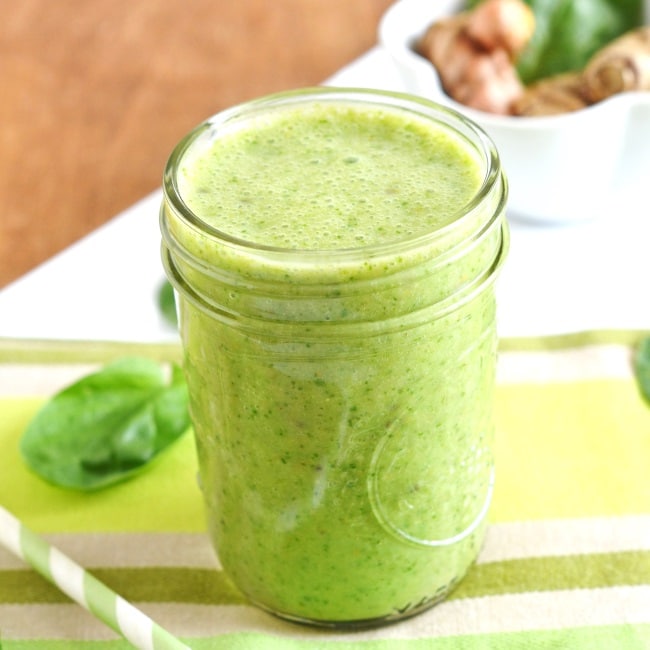 The BEST Turmeric Smoothie
This turmeric smoothie is great for breakfast, snack, after a workout. I even have this as a meal replacement during those hectic busy days! Lots of great, clean eating ingredients in this smoothie!
Course:
Beverage, Breakfast, Drinks, Smoothie
Cuisine:
American, Breakfast
Ingredients
1

cups

and 1/2 unsweetened almond milk

1

slices

frozen banana

1/2

inch

piece of fresh ginger

(peeled and sliced)

1/2

inch

piece of fresh turmeric

(peeled and sliced)

1/2

teaspoon

ground cinnamon

1

teaspoon

chia seeds

1

teaspoon

flax seeds

2

cups

fresh spinach
Instructions
Place all ingredients in the blender and blend for several minutes until smooth in consistency. Pour into a glass and drink up. Enjoy!
Nutrition Facts
The BEST Turmeric Smoothie
Amount Per Serving
Calories 105
Calories from Fat 45
% Daily Value*
Total Fat 5g 8%
Sodium 374mg 16%
Potassium 392mg 11%
Total Carbohydrates 11g 4%
Protein 4g 8%
* Percent Daily Values are based on a 2000 calorie diet.