The Best Pineapple Smoothie Recipe is easy, delicious and awesome?  Two ingredients  (frozen pineapple and almond milk) and easy to whip up!  Yes!
While looking for an after workout snack recently and wanting to keep it relatively quick and easy, I made this easy healthy pineapple smoothie without yogurt.  Two simple ingredients and just a few minutes are all it takes.  You could substitute fresh pineapple and use the milk of your choice in this recipe.
In that case, and if you are looking for a cold, frothy drink, I would add a few ice cubes.  I would like to try fresh pineapple in this smoothie, but the convenience of buying frozen pineapple chunks wins at the moment.  So much of what I prepare and make it from scratch, I really like to save time where I can. 🙂
Related:  Strawberry Pineapple Smoothie, Blueberry Pineapple Smoothie
Simple Pineapple Smoothie:
What I love about pineapple beside the wonderfully sweet tropical taste are the health benefits.  Did you know that pineapples are reported to provide antioxidant and immune protection, as well as anti-inflammatory and digestive benefits?  And containing Bromelain,  it is a natural anti-inflammatory and painkiller.  I have read that other benefits are cancer and cough and colds prevention.
Pineapples have lots of great vitamins and minerals too!  Get a healthy dose of B6, manganese, calcium, vitamin C, potassium, folate and more.
I recently purchased a small blender and love it, however, it would recommend going with the slightly more powerful version if you are in the market for a smoothie blender.  If you make smoothies often, it is worth it.
How To Make A Pineapple Smoothie: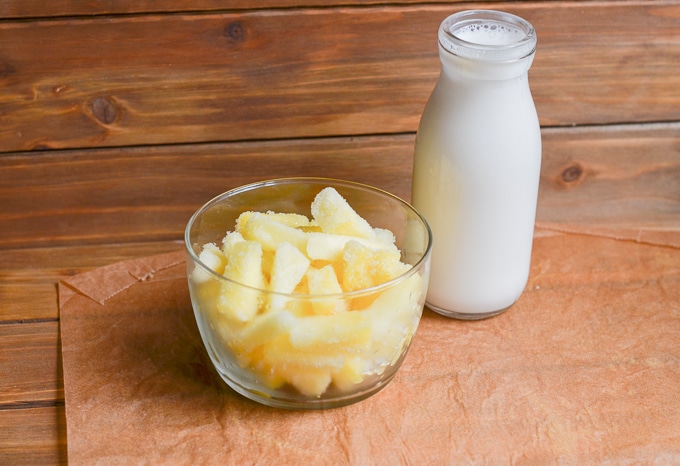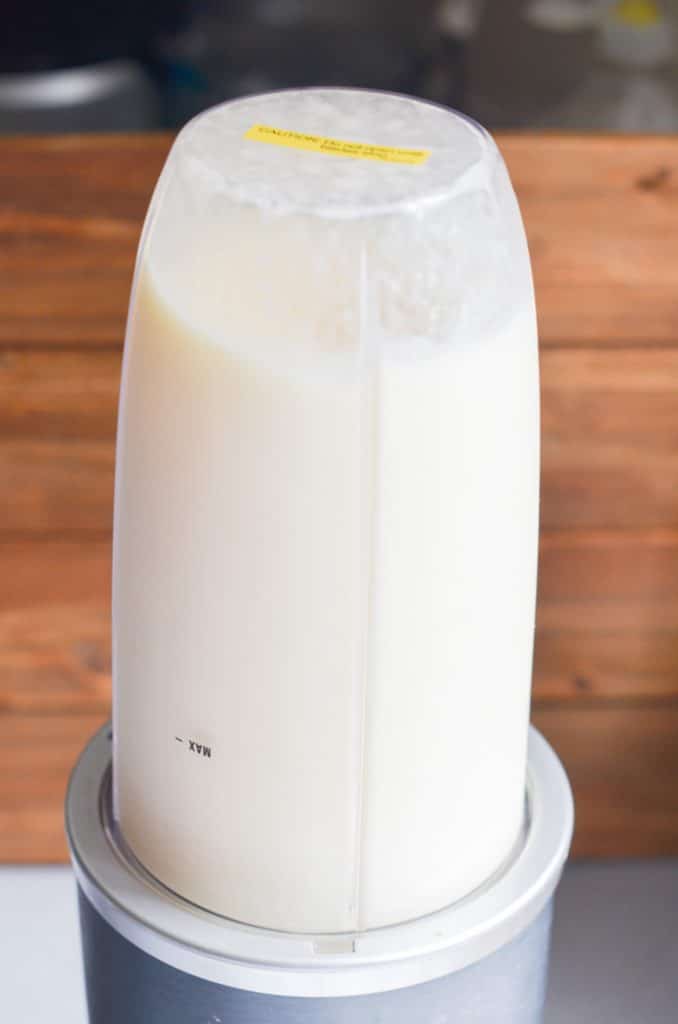 Buying Pineapple-
Since frozen pineapple is available year-round, I enjoy this smoothie for all seasons.  I find bags of frozen pineapple chunks in the grocery store.  Although I am picky about buying organic produce in most cases, I am a little more relaxed with pineapple.
The reason is that pineapple has a thick skin.  And my theory is that the thicker the skin, especially a skin you will be peeling and discarding, there is less of a chance of chemicals or pesticide residue to reach the edible fruit.  This is a decision you will have to make for yourself based on what you are comfortable with.
Fruits with thick skins I do not worry as much about buying organic, however, if the price is right and it is available, I would choose organic.  Most of the pineapple I consume is not organic.
What Other Fruit Goes Well With Pineapple?
Berries (blueberries, strawberries, etc…)
Bananas
Mango
Oranges
Apples
Pears
Peaches
The right combination of ingredients to liquid and types of fruits, vegetables, and add-ins will determine smoothie success.
Looking for other amazing smoothie recipes? Check these out!
★ Did you make this recipe? Please give it a star rating below!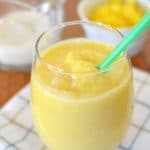 The Best Pineapple Smoothie Recipe!
Pineapple Smoothie Recipe! How to make a smoothie that is healthy and delicious! This smoothie any time of day.
Course:
Beverage, Breakfast, Dessert, Smoothie, Snack
Cuisine:
American, Breakfast, Dessert, Snack
Ingredients
2

Cups

frozen pineapple chunks

1 1/2

cups

unsweetened almond milk (or milk of choice)

(might be good with coconut milk)
Instructions
Place the frozen pineapple chunks and almond milk in a blender and let it whizz for a few minutes until reaches the desired consistency. Refreshing!
Nutrition Facts
The Best Pineapple Smoothie Recipe!
Amount Per Serving
Calories 217
Calories from Fat 36
% Daily Value*
Fat 4g6%
Sodium 490mg20%
Potassium 359mg10%
Carbohydrates 44g15%
Protein 3g6%
Vitamin A 190IU4%
Vitamin C 157.7mg191%
Calcium 493mg49%
Iron 1mg6%
* Percent Daily Values are based on a 2000 calorie diet.
Update Notes:  This post was originally published on October 24, 2013, but was republished with an updated recipe, new photos, step by step instructions and photos, success tips and a video in October 2018.
Thank you for using my affiliate links, which at no extra cost to you, provides me with a small commission that helps with the running of this site.   I look forward to creating and posting many more delicious recipes for you.