The Best Pineapple Smoothie Recipe is easy, delicious and awesome?  Two ingredients  (frozen pineapple and almond milk) and easy to whip up!  Yes!
While looking for an after workout snack recently and wanting to keep it relatively quick and easy, I made this easy healthy pineapple smoothie without yogurt.  Two simple ingredients and just a few minutes are all it takes.  You could substitute fresh pineapple and use the milk of your choice in this recipe.
In that case, and if you are looking for a cold, frothy drink, I would add a few ice cubes.  I would like to try fresh pineapple in this smoothie, but the convenience of buying frozen pineapple chunks wins at the moment.  So much of what I prepare and make it from scratch, I really like to save time where I can. 🙂
Related:  Strawberry Pineapple Smoothie, Blueberry Pineapple Smoothie
Simple Pineapple Smoothie:
What I love about pineapple beside the wonderfully sweet tropical taste are the health benefits.  Did you know that pineapples are reported to provide antioxidant and immune protection, as well as anti-inflammatory and digestive benefits?  And containing Bromelain,  it is a natural anti-inflammatory and painkiller.  I have read that other benefits are cancer and cough and colds prevention.
Pineapples have lots of great vitamins and minerals too!  Get a healthy dose of B6, manganese, calcium, vitamin C, potassium, folate and more.
Sometimes, I will throw in a few pieces of frozen pineapple into whatever smoothie I happen to be making.  I try to consume at least one green smoothie a day.  In this quest, I like to play around with ingredients, which is how recipes are created!
Well, sometimes, if the smoothie I am making just doesn't taste right (e.g. not sweet enough),  I will add just a few pieces of frozen pineapple, and it immediately solves the problem and brings the smoothie to life.  It adds the right amount of sweetness in addition to all the nutritional goodness.
I recently purchased a small blender and love it, however, it would recommend going with the slightly more powerful version if you are in the market for a smoothie blender.  If you make smoothies often, it is worth it.  And, I recently made a batch of my Vegan Cream Cheese Recipe in the Nutribullet.  It only took a few minutes and made the cream cheese so creamy!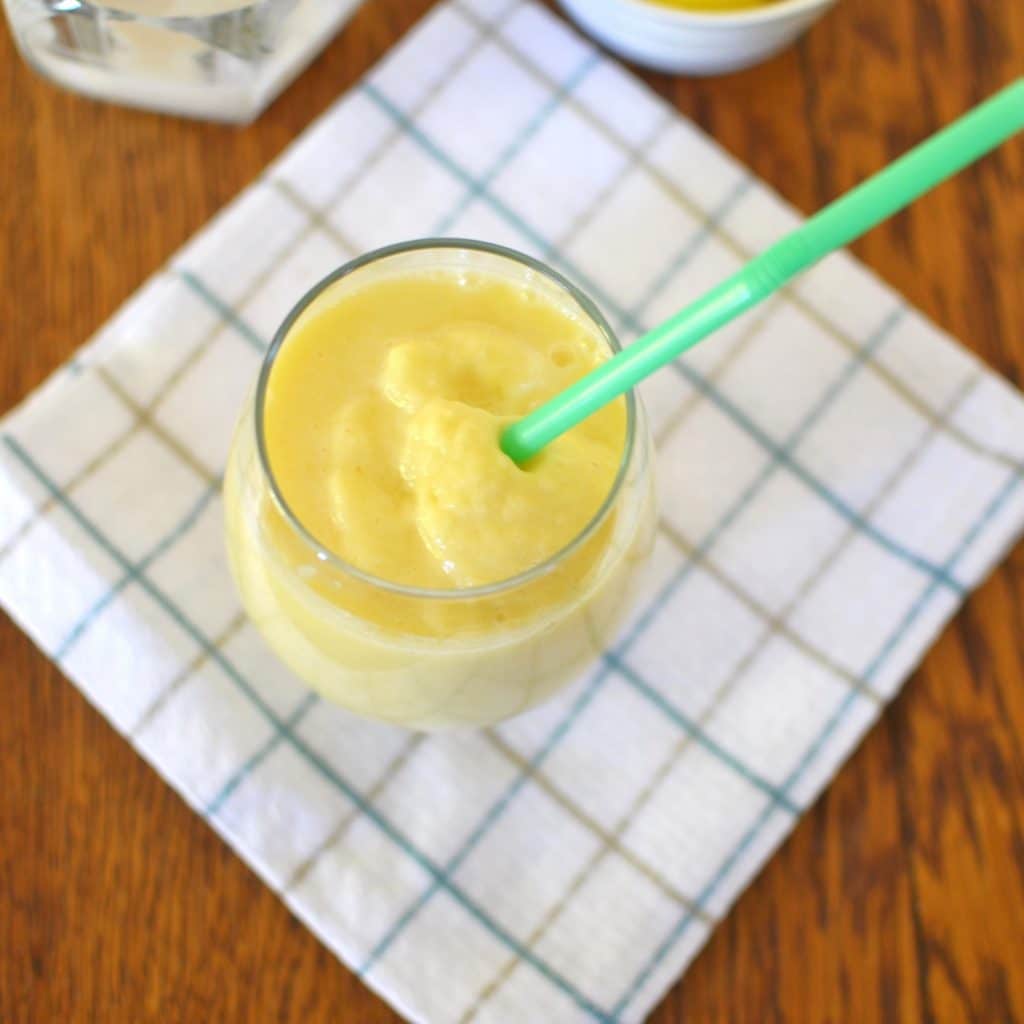 Pineapple Smoothie Recipe!
Make Ahead Smoothie Tips?
I find that in order to be successful in my smoothie a day habit, I need a good routine where ingredients and tools are easily accessible.  The ten minutes it takes to pull my blender out of the cabinet, and chop up fruits and veggies will come between me and my smoothie, especially during a particularly busy morning.  However, with a few easy strategies, smoothie success is a breeze, even on the busiest of days.
A GREAT BLENDER – WHILE I HAVE A LARGER BLENDER FOR CERTAIN RECIPES, IT IS THIS SMALLER BLENDER WHICH YOU WILL FIND ON MY COUNTER.

Make my daily smoothies with this blender.
Strong enough to whip up frozen fruit, ice, and nuts
Easy to rinse cups (vs. harder to rinse and clean blender pitcher)
Portable caps for the blender cups (so I can take my smoothies to-go!)
Less clunky than a larger blender and fits perfectly on my countertop.

FROZEN FRUIT IN PLASTIC BAGS READY TO GO:

It is super easy to buy frozen, pre-chopped fruit from the grocery store.
Reasonably priced and organic produce available.
If buying fresh produce, freeze by placing fruit on a baking sheet lined with parchment paper. Spread fruit in an even layer with no pieces touching. Freeze completely and then place in plastic bags.  If you place fresh fruit in bags and freeze, you will have frozen clumps of fruit that are hard to separate and use.
Have your favorite smoothies all year, not just when the fruit is in-season.
I often transfer the contents into resealable individual clear plastic bags for easy use. It is easy to monitor when the supply is running low.
Buying Pineapple-
Since frozen pineapple is available year-round, I enjoy this smoothie for all seasons.  I find bags of frozen pineapple chunks in the grocery store.  Although I am picky about buying organic produce in most cases, I am a little more relaxed with pineapple.
The reason is that pineapple has a thick skin.  And my theory is that the thicker the skin, especially a skin you will be peeling and discarding, there is less of a chance of chemicals or pesticide residue to reach the edible fruit.  This is a decision you will have to make for yourself based on what you are comfortable with.
Fruits with thick skins I do not worry as much about buying organic, however, if the price is right and it is available, I would choose organic.  Most of the pineapple I consume is not organic.
Pineapple Smoothie With Almond Milk (While On Vacation):
When going on vacation, I have to do a little planning in advance in order to keep a grain, gluten, and dairy-free diet.  I usually look for restaurants in the area, grocery stores, farm stands, farmer's markets, organic coffee shops, etc…
Additionally, I make some of my recipes to bring along that I know will travel well, like Plantain Chips, Paleo Granola, Monkey Munch, Sweet Potato Brownies and many other favorites that are on the site.
Last summer, we rented a beach house for a week.  What I like about a house versus a hotel room is access to a kitchen.  I find that having a kitchen means more control over ingredients, freshly prepared foods, less money spent in restaurants and more relaxing (less driving, waiting in line, etc..).
Well, I was pleasantly surprised when we arrived at this particular beach house to find this blender, this cookbook, this pan and many other favorites.  It was very obvious that the house belongs to a foodie!  There was also a great resource at the house;  a guide to the owner's favorite local restaurants, stores and places of interest.  This came in handy when making decisions regarding fun activities.
So, every morning while on vacation, I made delicious smoothies for breakfast.  In the afternoon and evening, I used the awesome pan to saute, fresh, local, organic veggies. Then I used my prior research and knowledge (along with recommendations from the guide at the house) of the area for the best eating out adventures.
I particularly like this pineapple smoothie recipe with milk (non-dairy) in the early fall.  We usually have a few splendidly warm Indian summer days in New England and a healthy pineapple smoothie is so refreshing.  Looking for more information about pineapples?  Read these 8 Fun Facts.  You could also make this a pineapple coconut smoothie, but substituting coconut milk and it would be delicious!
What Other Fruit Goes Well With Pineapple?
Berries (blueberries, strawberries, etc…)
Bananas
Mango
Oranges
Apples
Pears
Peaches
The right combination of ingredients to liquid and types of fruits, vegetables, and add-ins will determine smoothie success.
Sitting in the sun sipping this pineapple smoothie recipe is amazing.  And it is kid friendly too!  If you have smoothies often, consider these glass straws.  How awesome!
Some others to try Blueberry Smoothie, Strawberry Smoothie, Green Keen Smoothie (which has spinach), or Anti-Inflammatory Green Smoothie, Tropical Pina Colada or a Green Kale Smoothie.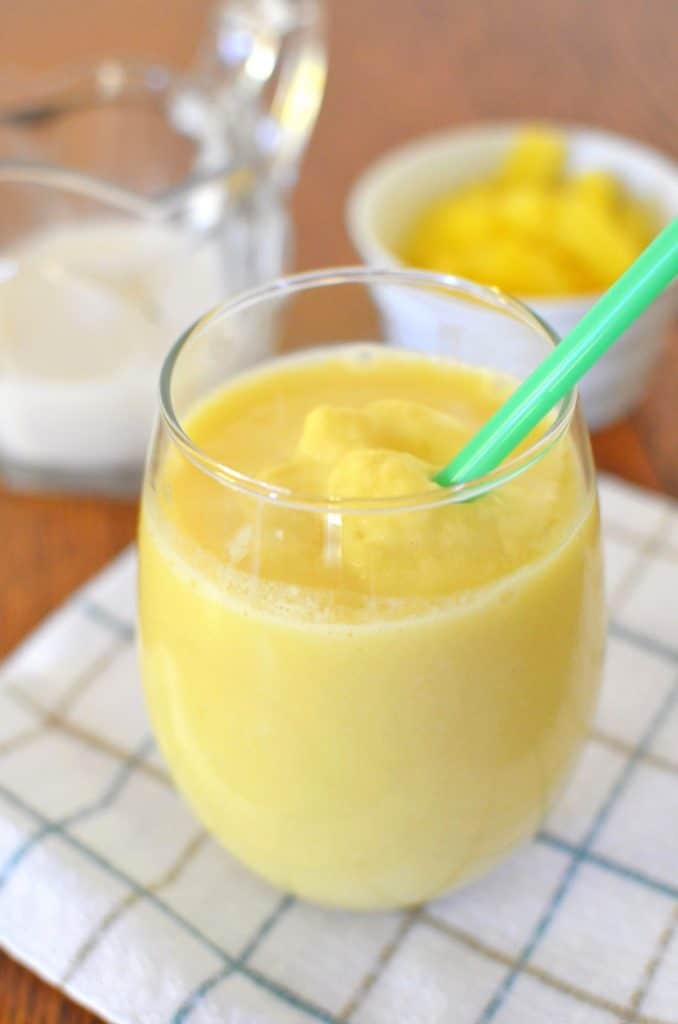 Although, as the weather starts changing, I am looking forward to the next few months to making some of my delicious soups and finding new favorites.
Do you have a favorite smoothie recipe?  Do you have a favorite recipe using pineapple?
I hope you are having a wonderful week. 🙂  As always, thank you for stopping by!
Christine
Recipe:  2 cups frozen pineapple chunks, 1 1/2 cups unsweetened almond milk (or milk of choice, coconut milk would be good).  Place ingredients in a blender and whizz for several minutes until creamy.  Enjoy!
★ Did you make this recipe? Please give it a star rating below!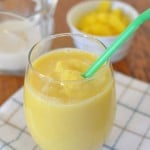 The Best Pineapple Smoothie Recipe!
Pineapple Smoothie Recipe! How to make a smoothie that is healthy and delicious! This smoothie any time of day. I particularly love this smoothie after a workout or while sipping on a sunny afternoon. Enjoy!
Course:
Beverage, Breakfast, Dessert, Smoothie, Snack
Cuisine:
American, Breakfast, Dessert, Snack
Ingredients
2

Cups

frozen pineapple chunks

1 1/2

cups

unsweetened almond milk (or milk of choice)

(might be good with coconut milk)
Instructions
Place the frozen pineapple chunks and almond milk in a blender and let it whizz for a few minutes until reaches the desired consistency. Refreshing!
Nutrition Facts
The Best Pineapple Smoothie Recipe!
Amount Per Serving
Calories 217
Calories from Fat 36
% Daily Value*
Total Fat 4g 6%
Sodium 490mg 20%
Potassium 359mg 10%
Total Carbohydrates 44g 15%
Protein 3g 6%
* Percent Daily Values are based on a 2000 calorie diet.