This Tropical Fruit Smoothie is dairy free, has 5 ingredients and takes only a few minutes to whip up!  One sip and you will immediately be transported to memories of your favorite tropical location!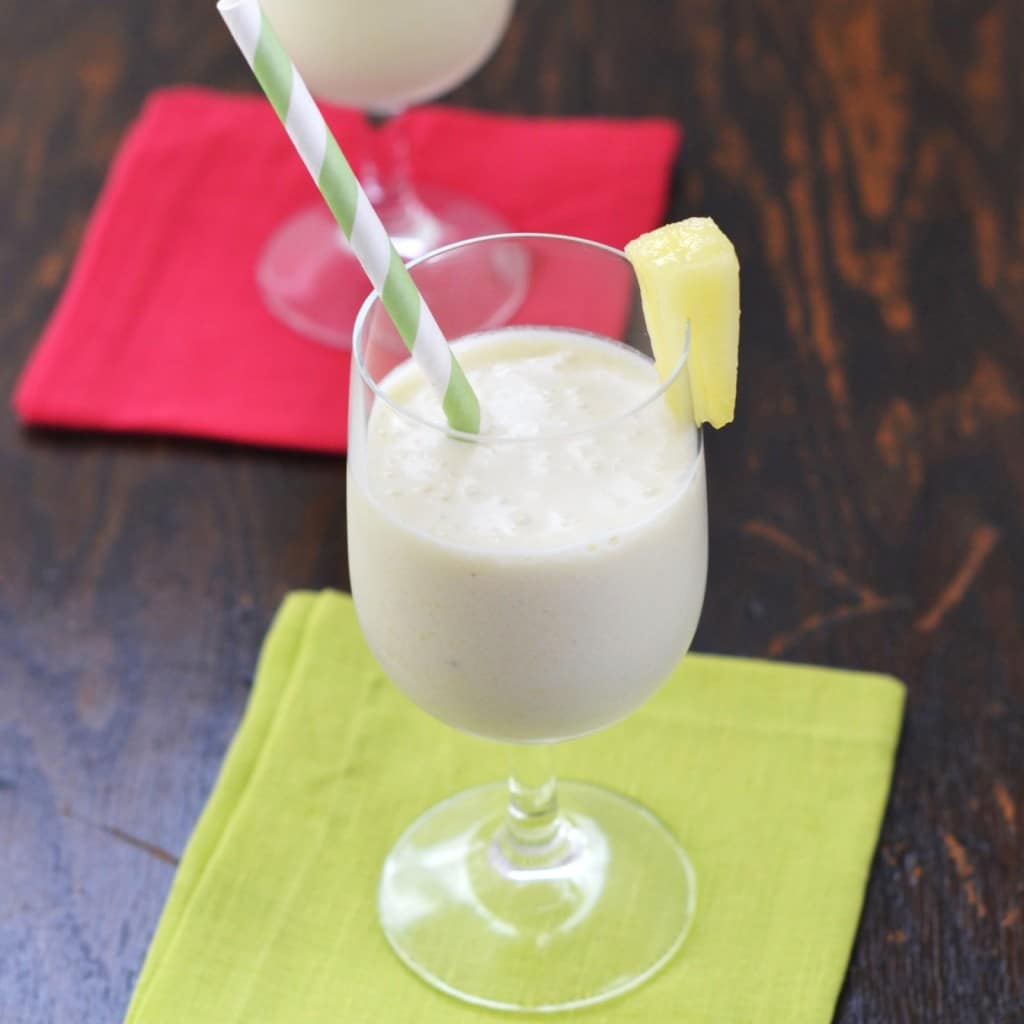 Smoothies have been my breakfast choice of late.  This easy tropical fruit smoothie is such an easy way to get in extra fruits and veggies in a delicious way!
No refined sugar is used since the banana and orange naturally sweeten this creamy smoothie.  With the addition of fresh ginger root, you have a smoothie that has ingredients that have been shown to boost the immune system (cold and flu prevention!) and are very kid friendly.
Related:
Delicious 2 Ingredient Pineapple Smoothie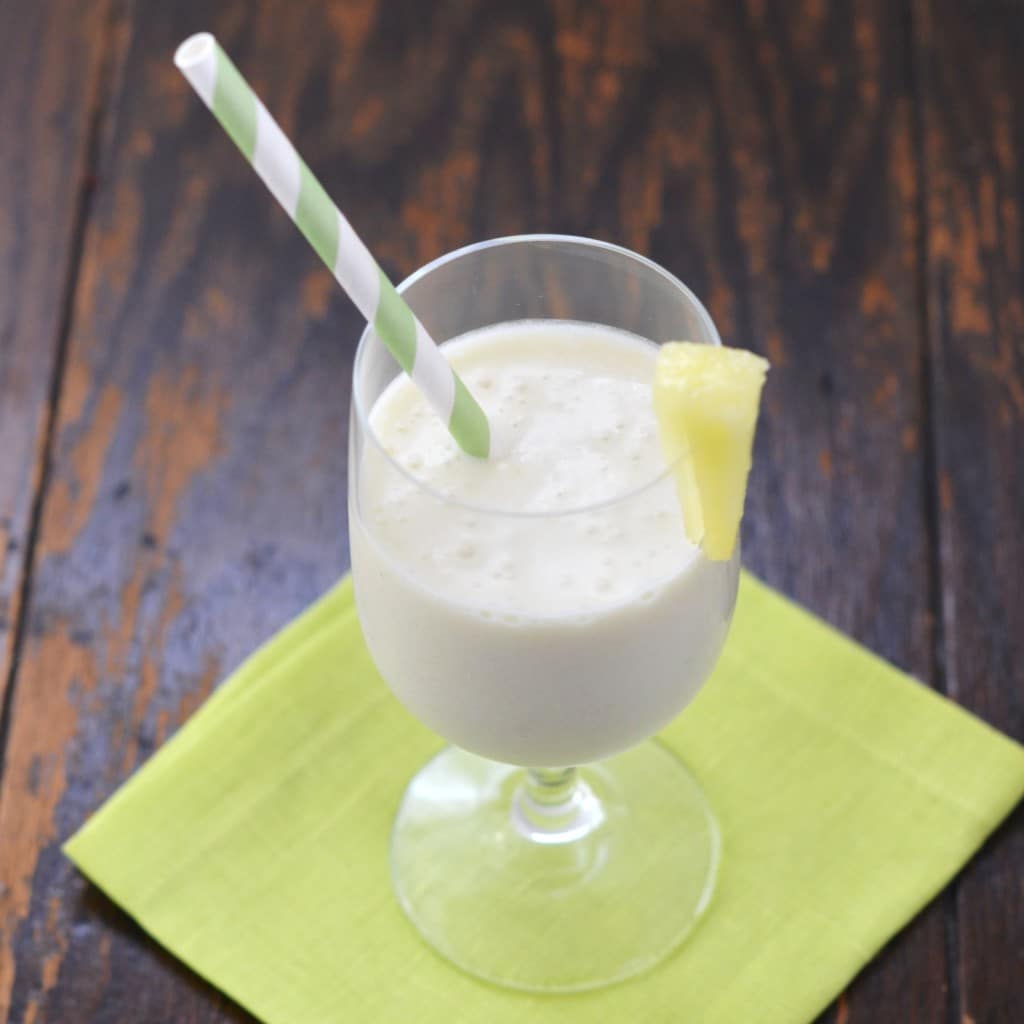 Healthy Benefits of Pineapples:
Pineapples have bromelain, an enzyme that studies show reduces inflammation and swelling and helps digestion.  Additionally, all the ingredients are affordable, and convenient to find.  I usually buy a bag of frozen pineapple chunks, which lasts for several frozen tropical fruit smoothie servings.  I love that this smoothie is so easy and convenient.  The pineapple and orange add loads of vitamin C.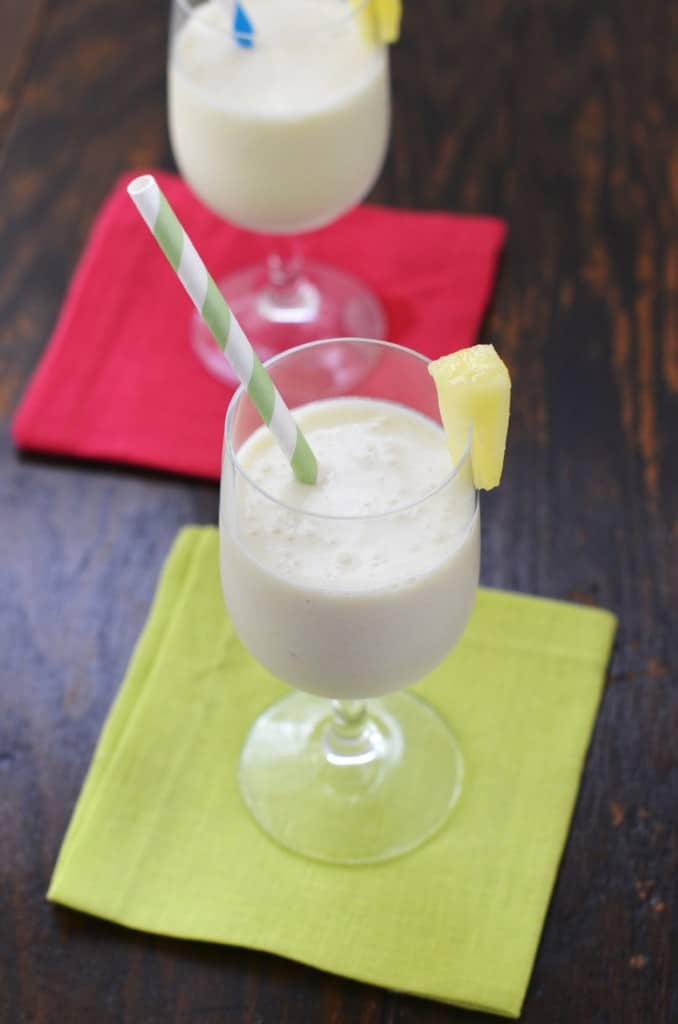 Enjoy this smoothie any time of day – breakfast, as a snack or take it to go!
And if you added a splash of rum, you would likely have a tasty, refreshing, Pina Colada!  I have not tried this yet, however.  🙂
If you are looking for an awesome, yet reasonably priced blender, this is the one I use and love! 🙂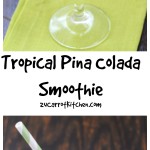 The Ultimate Dairy Free Tropical Fruit Smoothie
This is an easy, delicious smoothie that will have you thinking about your favorite tropical locale!
Ingredients
1

in

Frozen banana

cut pieces

1

cup

frozen pineapple chunks

1.2

cup

coconut milk

1/2

an orange

peeled

1/4

inch

fresh ginger

1/2

cup

water
Instructions
Place all ingredients in a blender and blend for several minutes until completely mixed. Garnish with pineapple pieces.
Easy to Pin It Strip:

Related posts: