This post may contain affiliate links.
When I found out how easy smoothies were to make and incorporate into my life, it was natural to seek additional flavors and combinations.  From that premise, this Spinach Apple Smoothie (vegan, Paleo, gluten-free, grain free and dairy-free) was created.
One morning, with an almost bare refrigerator (I know – a food blogger?), and facing a super challenging day, I was faced with a dilemma.  Only a few minutes to prepare a healthy breakfast that would keep me going strong for several hours.
And, on this particular morning, I might have made one of my most favorite smoothies if I had the ingredients.
Fortunately, though,  I found some fresh, organic spinach, a green apple, an orange, and some frozen lime and lemon juice.  Hmmm….
My favorite, trusty blender whirred and whizzed for a good minute creating a spinach green apple smoothie the color of the favorite Sesame Street character (…the frog…).  Oh boy, what have I done? Do the flavors balance at all?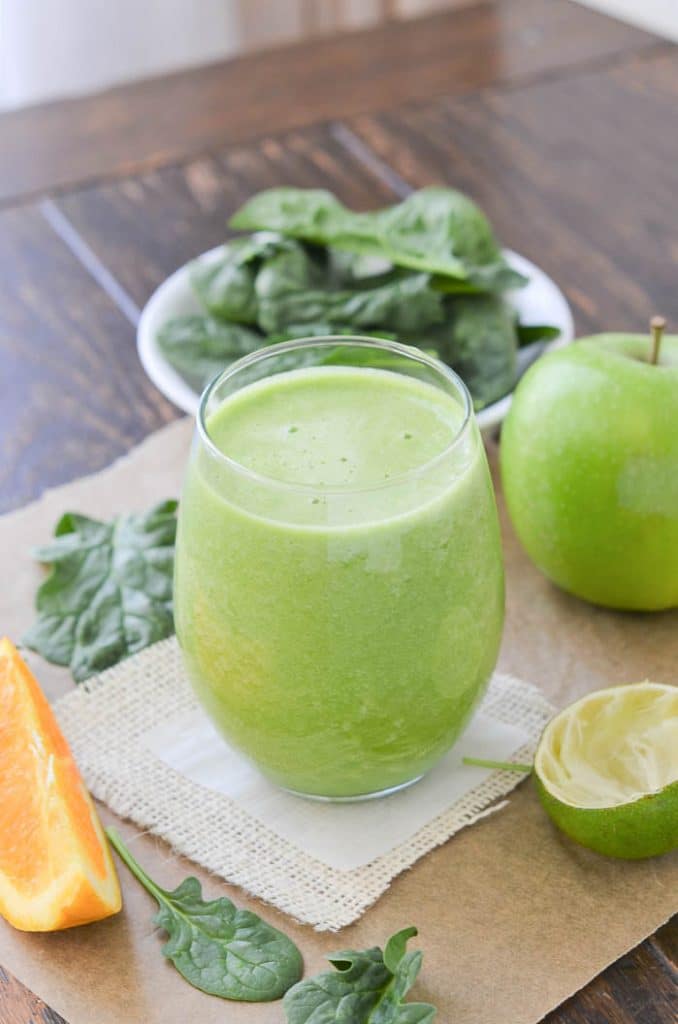 Turns out this simple green apple smoothie tasted shockingly refreshing and deliciously clean.  Not needing to be overly sweet, it headed straight to the favorites list.  A little bit like this smoothie.
Isn't it great when a smoothie also boasts super nutrition?
Spinach and Apple Smoothie Benefits:
Green Apples are special because:
fiber
antioxidants
vitamins A, B, C and E
help lower cholesterol
give us energy
Fresh Organic Baby Spinach is wonderful for:
and provides us with:
protein
Vitamins A and C
iron
folate
magnesium
Related:  Super Green Smoothie
An Interesting Note About The Spinach Apple Smoothie:
Although I like to have a healthy,  or green smoothie most days, lately, I have been rotating just fruit smoothies with green smoothies.  So, one day I will have an all fruit smoothie and on another a green smoothie.  And I am trying out different greens in my smoothies.  There is some evidence that rotating the greens you use can be beneficial.
I find smoothies a super easy way to get in several servings of fruits and vegetables every day.
Some fruit smoothies you might like to try:
Ways To Make Daily Smoothies a Habit:
Start with a great blender that will mix up your ingredients well and fast!
Buy bags of chopped frozen fruit for easy access.
Cut and freeze banana slices
Buy fresh ginger, peel and cut into small 1/2″ pieces.
Use organic orange and lemon peels by cutting into small pieces and freezing in plastic bags.  Adds great flavor!
Replace a dessert with a fruity smoothie.
Prepare in advance – Measure and place all ingredients in a mason jar or Bpa-free plastic bag. Doesn't this look very handy for prepping?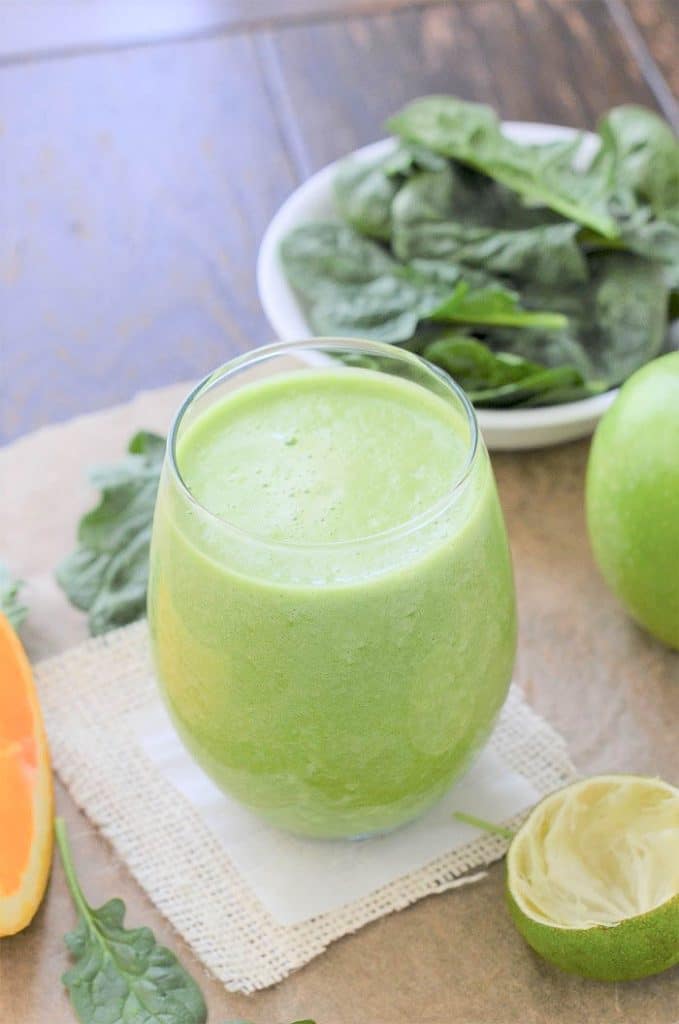 Making Your Own Last Minute Smoothies:
It's fun and easy to create new smoothie combinations.  Frozen fruit with a liquid (non-dairy milk, coconut water, water) will blend up and be delicious.  Start with one cup of fruit and add 1/4 cup of liquid.  Add more of each to get your desired consistency.  Add your favorite greens (kale, spinach, etc..) for a green smoothie.
Add one of more of these to your smoothie for superfood boost:
Turmeric (fresh turmeric, peeled and add a small piece)
Avocado
Seaweed– Dulse Flakes
Cinnamon-Ceylon
Suggestion: do not add chia seeds to your smoothies because in my experience it creates an unpleasant texture!
Would you find it slightly strange that as I sipped this Spinach Green Smoothie, I envisioned a felt green frog muppet chanting – Yeah! You Nailed It!
Have a great day!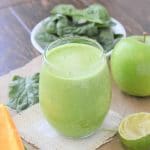 3 Easy Steps To The Best Spinach Apple Smoothie!
A delicious blend of fresh fruits and vegetables as a meal replacement or snack, this Spinach Apple Smoothie is ideal.
Course:
Breakfast, Smoothie, Snack
Ingredients
1

green apple

(granny smith)

1

cup

fresh organic baby spinach

1/2

lime (without peel)

1/2

tsp

fresh lemon juice

1/4

orange (remove peel)

4

ice cubes
Instructions
Gather ingredients - peel, remove core and chop apple into chunks. I like using granny smith for this recipe.

Place all ingredients in a blender and for 1-2 minutes until smooth.

Pour into a glass and enjoy!
Nutrition Facts
3 Easy Steps To The Best Spinach Apple Smoothie!
Amount Per Serving
Calories 127
% Daily Value*
Sodium 29mg 1%
Potassium 421mg 12%
Total Carbohydrates 33g 11%
Protein 1g 2%
* Percent Daily Values are based on a 2000 calorie diet.
Easy to Pin It Strip: