What is not to love about a Green Detox Smoothie? This smoothie is easy to make and tastes so great, even kids will love it!
A few years ago, I made a promise to myself. I set an intention that I would create a specific habit where several servings of fruits and vegetables were part of meals every day. And I knew that success hinged on making the process foolproof.
A typical morning for me looks like this – several servings of fruits, vegetables, herbs, non-dairy milk, etc… straight into the blender. Some mornings it's this smoothie or another favorite, the anti-inflammatory smoothie.
While the smoothie is blending (1-2 minutes), I put all the ingredients away. As I drink my delicious, freshly made, healthy smoothie, my day has started with my intention fulfilled. So easy!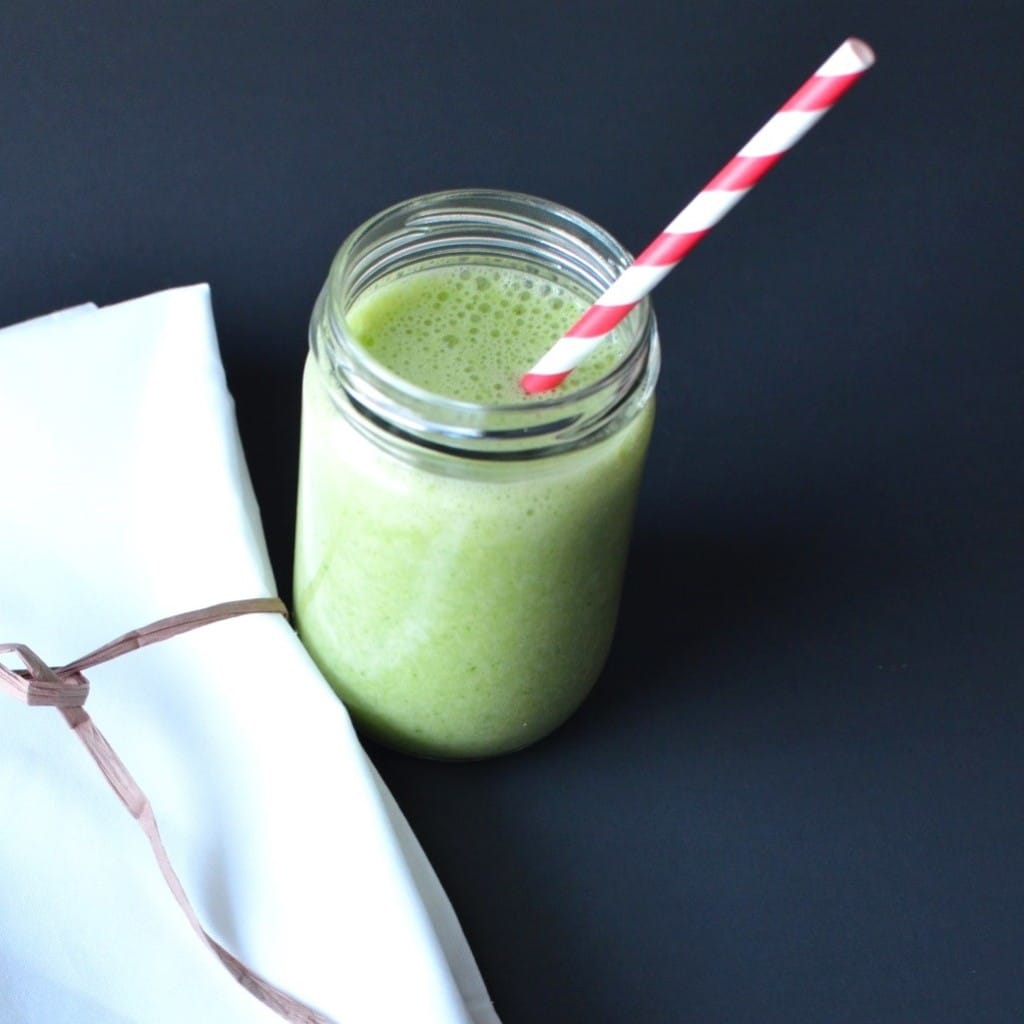 Here you get a few handfuls of spinach (look for organic), yet you can't taste the spinach in the final drink. And, spinach is generally mild tasting. I happen to love spinach and spinach salads, but if you are someone who doesn't, this may be a way to get all the nutritious benefits of this wonderful green. Why not add a small piece of ginger for anti-inflammatory benefits? I would consider this a little milder tasting smoothie compared to the Green Kale Smoothie, (which was much sweeter tasting).
Try This For Spinach Detox Smoothie Success:
I find that in order to be successful in my smoothie a day habit, I need a good routine where ingredients and tools are easily accessible. The ten minutes it takes to pull my blender out of the cabinet, and chop up fruits and veggies will too often come between me and my nutritious smoothie, especially during a particularly busy morning. However, with a few easy strategies, smoothie success is a breeze, even on the busiest of days.
A great blender – While I have a larger blender for certain recipes, it is this smaller blender which you will find on my counter.

Make my daily smoothies with this blender.
Strong enough to whip up frozen fruit, ice, and nuts
Easy to rinse cups (vs. harder to rinse and clean blender pitcher)
Portable caps for the blender cups (so I can take my smoothies to-go!)
Less clunky than a larger blender and fits perfectly on my counter top.

Frozen fruit in plastic bags ready to go:

It is super easy to buy frozen, pre-chopped fruit from the grocery store.
Reasonably priced and organic produce available.
If buying fresh produce, freeze by placing fruit on a baking sheet lined with parchment paper. Spread fruit in an even layer with no pieces touching. Freeze completely and then place in plastic bags. If you place fresh fruit in bags and freeze, you will have frozen clumps of fruit that are hard to separate and use. 🙂
Have your favorite smoothies all year, not just when fruit is in-season.
I often transfer the contents into resealable individual clear plastic bags for easy use. It is easy to monitor when the supply is running low.
The great thing about smoothies is that you can add or subtract ingredients according to your tastes.
Looking for a smoothie that tastes like a strawberry milkshake? Try this strawberry smoothie !
How great is it to eat one cup of spinach first thing in the morning (or anytime)? Awesome!
Kitchen Tip – freeze your fresh ginger and it will last months. Simply peel ginger and place in a Ziploc baggie. It will be ready to go when you need it. Since ginger is very perishable, this is a great way to store it.
This book is a great resource for creating awesome and healthy green smoothies.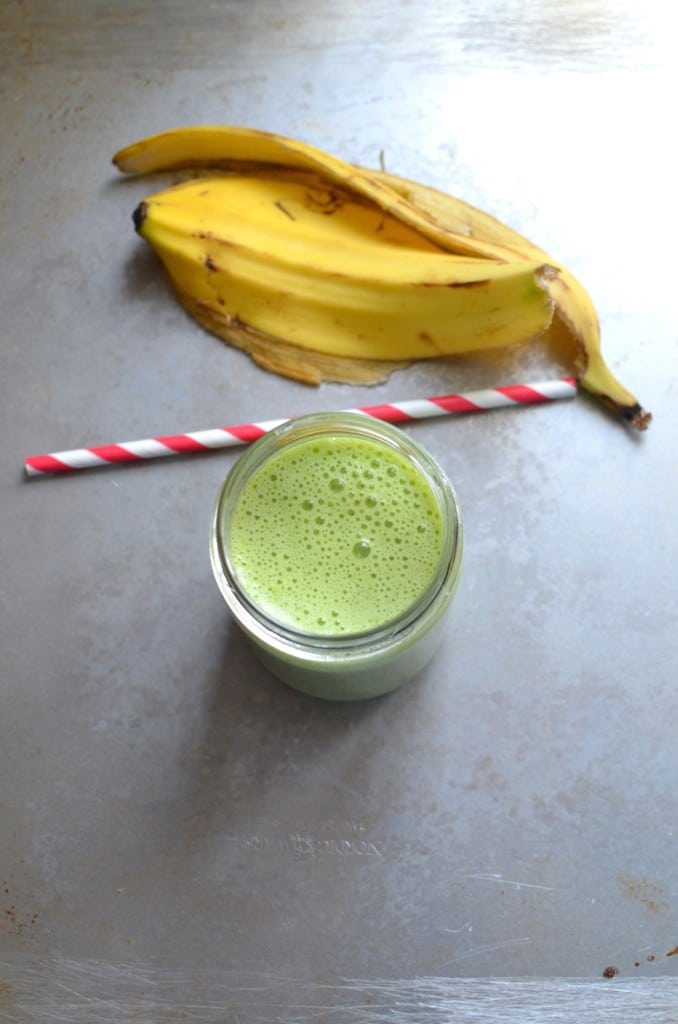 Ingredients For Your Green Detox Smoothie:
1 cup unsweetened organic almond milk
1 cup fresh organic fresh spinach
1/4 inch fresh ginger, peeled
1 tablespoon orange (approximate measure, not just the juice)
1 tablespoon fresh organic parsley and/or organic cilantro
1/2 stalk organic celery
1/4 peeled lime or lemon
1/2 teaspoon ground flaxseed
4 ice cubes
1 banana (frozen if possible)
Instructions:
Place all ingredients in a blender and pulse on high until all ingredients are blended, approximately 1 minute.
3 Day Green Smoothie Detox:
Related:
Very Popular Two Ingredient Smoothie
Looking for an awesome, yet reasonably priced blender? This is the one I use and love!
Your Turn
Tell me your secrets for quick, easy, foolproof morning meals in the comments. Would love to hear your suggestions and successes!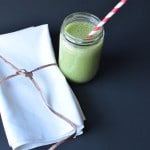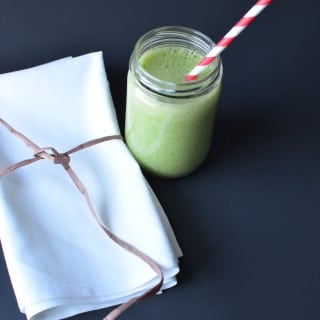 How To Make The Best Green Detox Smoothie!
Try this green detox smoothie for breakfast, snack or post work out!
Course:
Breakfast, Smoothie, Snack
Cuisine:
Breakfast, Snack
Ingredients
1

cup

unsweetened organic almond milk

1

cup

organic fresh spinach

1

small piece of ginger (1/4 inch piece)

(peel fresh ginger)

1

tablespoon

orange (fresh orange, not just the juice)

(approximate measure)

1/2

teaspoon

ground flaxseed - optional

4

ice cubes

1

banana

1/2

organic celery stalk

1/4

lime or lemon

(remove peel)

1

tbsp

organic fresh parsley and/or organic cilantro
Instructions
Place all ingredients in a blender and pulse at high speed for approximately one minute until perfectly blended.
Nutrition Facts
How To Make The Best Green Detox Smoothie!
Amount Per Serving
Calories 177
Calories from Fat 36
% Daily Value*
Fat 4g6%
Sodium 372mg16%
Potassium 679mg19%
Carbohydrates 35g12%
Protein 4g8%
Vitamin A 3300IU66%
Vitamin C 46mg56%
Calcium 330mg33%
Iron 1.4mg8%
* Percent Daily Values are based on a 2000 calorie diet.
Additional Resources: this site has a wealth of information, as does this site, and I love these smoothies too!