Not only does this Dairy Free Tropical Mango Smoothie Bowl taste great, but mangoes will supply you with plenty of vitamin A, fiber, folic acid and vitamin C.  I have read that mangoes can aid in digestion, promote brain health, slow signs of aging, cure acne, lower risk of cancer and boost immunity; in addition to other benefits.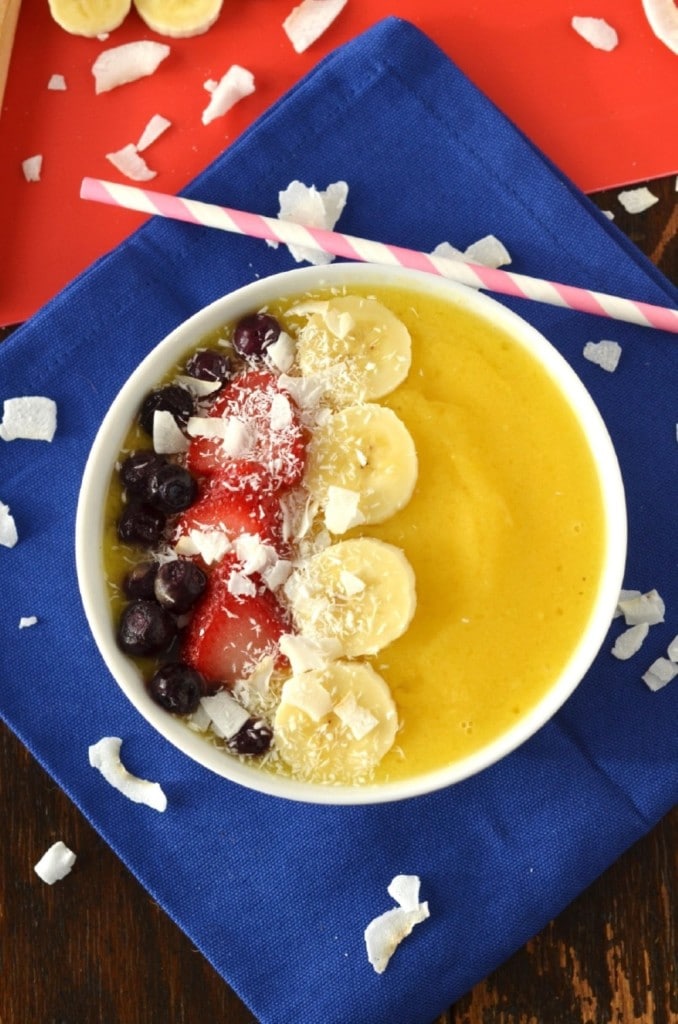 I sometimes add a few other ingredients to this smoothie bowl, depending on what I happen to have on hand.  I have added spinach, celery, ginger, chia seeds and a variety of berries.  Regardless of what I add, it always tastes great.  That is not always the case with all smoothies, but seems to work with this one.
Pouring it into a bowl to serve will give you  an opportunity to add your favorite toppings.  On this particular day, I added sliced bananas, strawberries, blueberries, chopped flaked coconut and unsweetened shredded coconut to the top.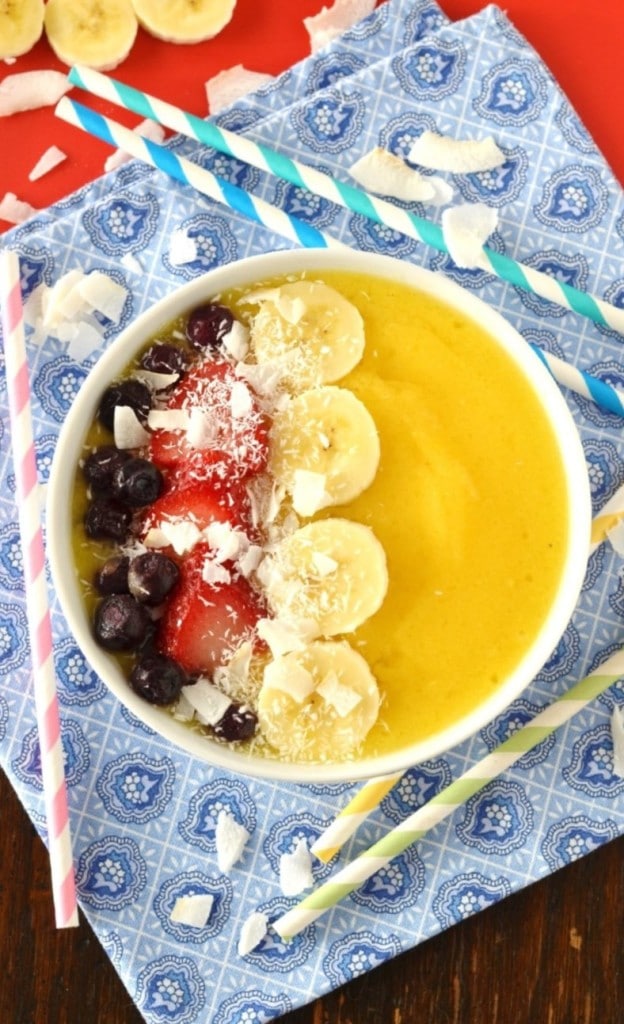 With this smoothie, all you need is a few minutes and a blender.  Just add the chopped, frozen mango, banana, ice cubes, and water and blend until very smooth.  Depending on your blender, it should be ready within 2-4 minutes.
I would love to know how you like it if you try it (and what toppings you used).  Enjoy!
If you like this recipe, I would ask you to consider subscribing so that you receive email notification any time there is a new post.  Just go to the top of the page and type in your email address and you will be on "the list".  Or go to the sidebar and sign up where you see "Newsletter".  I will be so glad if you did.
Like smoothies?  Here are a few other reader favorites:
Anti-inflammatory Green Smoothie
Check this page out for more smoothies on the site:
p.s. – This is the blender I use almost daily and love! 🙂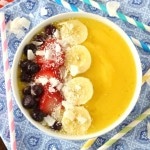 Dairy Free Tropical Mango Smoothie Bowl
This smoothie could not be easier, yet has several nutritious fruits. Use any toppings you choose.
Ingredients
1

cup

frozen mango chunks

1/2

frozen banana

(chopped)

4

ice cubes

1

cup

water
Instructions
Place all ingredients in a blender and blend on high for several minutes until completely blended and smooth.

Pour in a bowl and add your choice of toppings; berries, coconut flakes, slice strawberries, pineapple chunks, sliced banana, etc...

Enjoy!
Easy to Pin It Strip:

Related posts: