Not only is this an easy, delicious dessert that is grain, gluten and dairy free; but the bonus is that there is no pan to clean!  That certainly makes it a favored recipe of 24 Carrot Kitchen.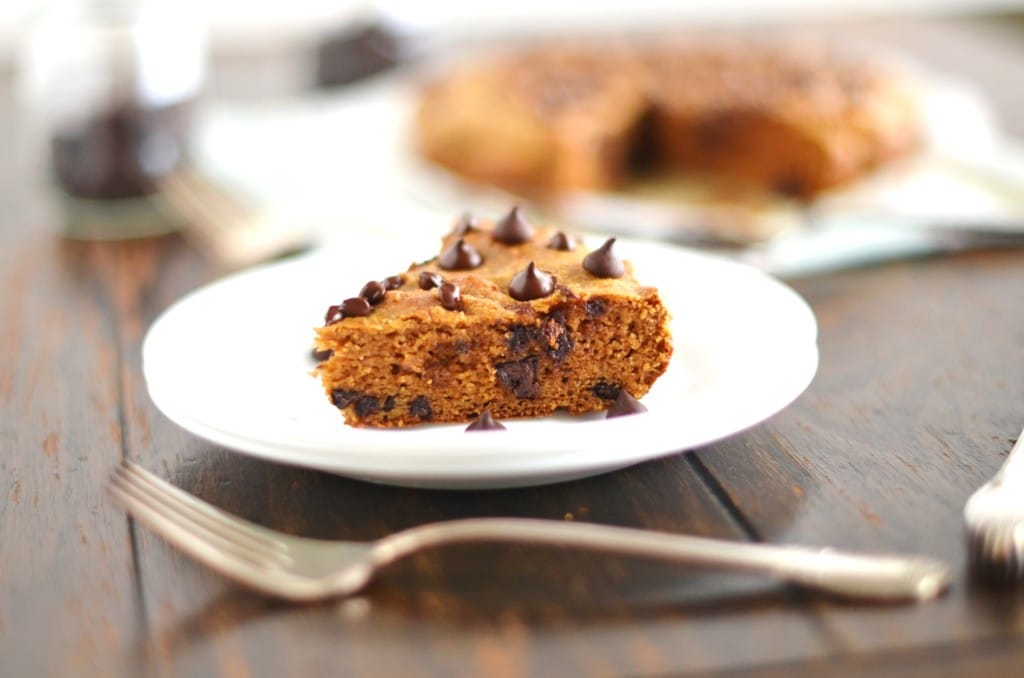 Lining the cast iron skillet with parchment paper does not affect the skookie (skillet + cookie) in any way.  After your skookie has baked, you can just throw the parchment paper away!  The cast iron skillet is ready to be used again immediately.
The below photo shows the batter as I am pouring it into the 8″ cast iron skillet.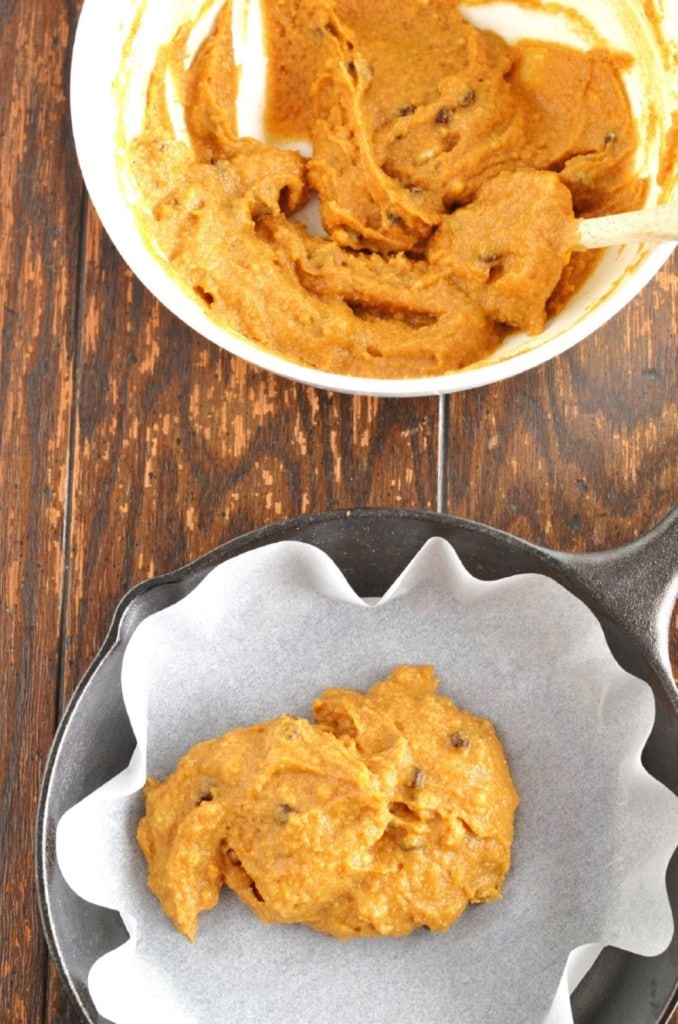 In the below photo, the skookie has cooled and I have cut a slice. I sprinkled a few extra chocolate chips over the top.  So good!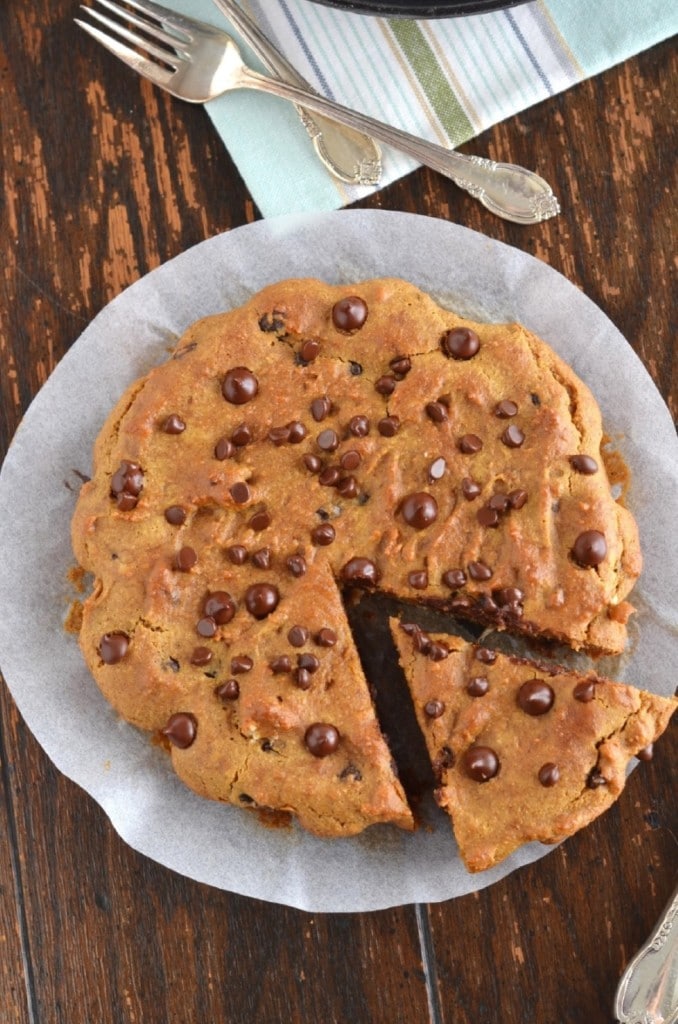 The texture of this skookie is almost like a brownie.  The addition of the pumpkin puree helps keep it moist and flavorful.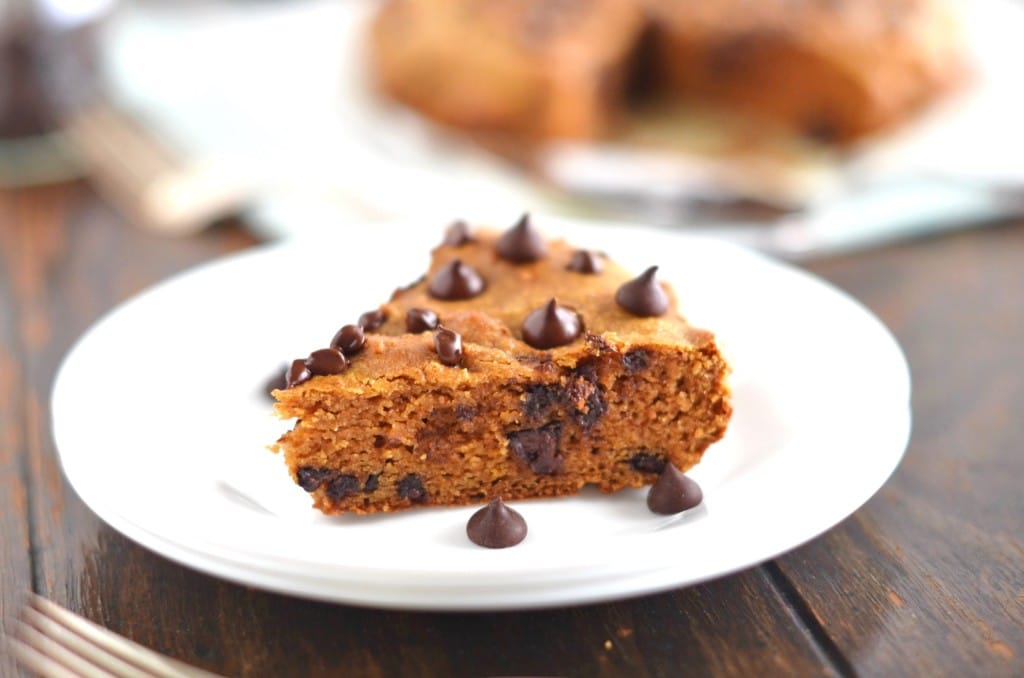 This would be an awesome treat to have anytime.  See, grain free can be delicious!  I hope you are having a great week.
Enjoy!
If you like this recipe, I would ask you to consider subscribing so that you receive email notification any time there is a new post.  Just go to the top of the page and type in your email address and you will be on "the list".  Or go to the sidebar and sign up where you see "Newsletter".  I will be so glad if you did.
If you like this recipe, you might like to try – Pumpkin Chocolate Chip Squares.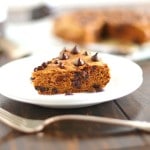 Pumpkin Skillet Chocolate Chip Skookie
A healthier version of a skillet skookie (skillet + cookie). Delicious and use parchment for easy, no clean pan!
Ingredients
1

cup

blanched almond flour

1/4

cup

almond butter

1

teaspoon

baking soda

1/2

teaspoon

vanilla extract

1

large egg

I have used extra large and it worked fine.

1/4

cup

pumpkin puree

2

tablespoons

maple syrup

1/2

teaspoon

pumpkin pie spice

1/4

cup

dairy free

gluten free chocolate chips, plus 1 tablespoon for sprinkling on top of skookie.
Instructions
Preheat oven to 350 degrees F.

Prepare an 8 inch cast iron skillet with parchment paper. (I used a pre-cut round size parchment insert).

Combine all ingredients in a mixing bowl and mix until well combined.

Pour batter into the prepared cast iron skillet.

Bake for 25 minutes until top is slightly golden brown.
Psst! – I often shop at Thrive to stock up my pantry on healthy ingredients.  They have awesome prices on my favorite products. Some of the items in this recipe are from Thrive.  Check them out!
Easy to Pin It Strip: