Here is a tutorial for making Ghee, a product I adore, which is a traditional Indian recipe for clarified butter.  I found that when I went dairy free, cooking with ghee became a wonderful option for many recipes that traditionally called for butter.  Although you can buy ready made ghee, you will love being able to make it yourself (i.e. easy and cheaper).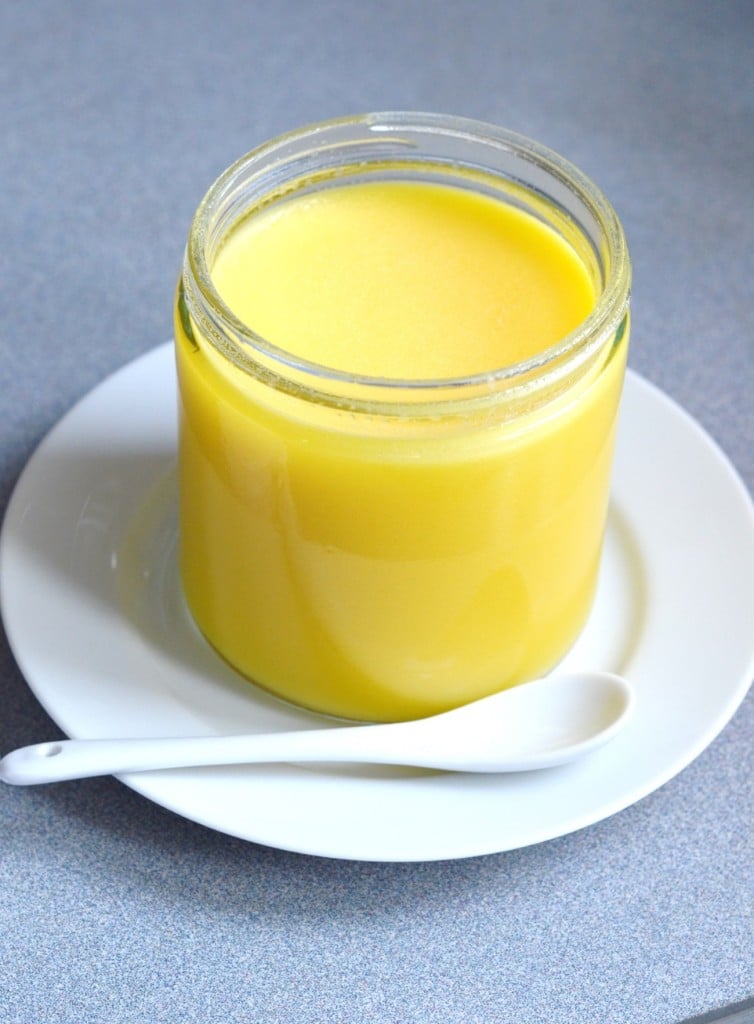 The above photo is freshly prepared Ghee that has cooled  and solidified at room temperature.
Ghee is also referred to as Clarified Butter.  Ghee is basically butter that is warmed so that the milk solids that contain lactose and casein melt away, which makes it an invaluable cooking fat for those avoiding dairy products with those ingredients.  And it is Whole 30 approved.
My first batch burned!  The temperature was too high. I gave it another try and find that it is so easy to make now.
The below photo shows freshly made Ghee that is still warm and in a liquid state.  I wait until it has cooled before using.
Making Your Ghee:
To get started you will need: (affiliate links)
a strainer fitted with some cheesecloth
A sturdy pot. I use my heavier pots for this.
unsalted butter – I prefer a grassfed butter (like Kerrygold).
a jar with a lid I usually use 1 pound of butter (two 8 ounce bars of Kerrygold unsalted butter) at a time and need one jar.
Here is the strainer and cheesecloth over the jar that I will pour the ghee over once done.  The strainer catches all the brown milk solid bits that are left at the bottom of the pan.  You don't want those in the ghee.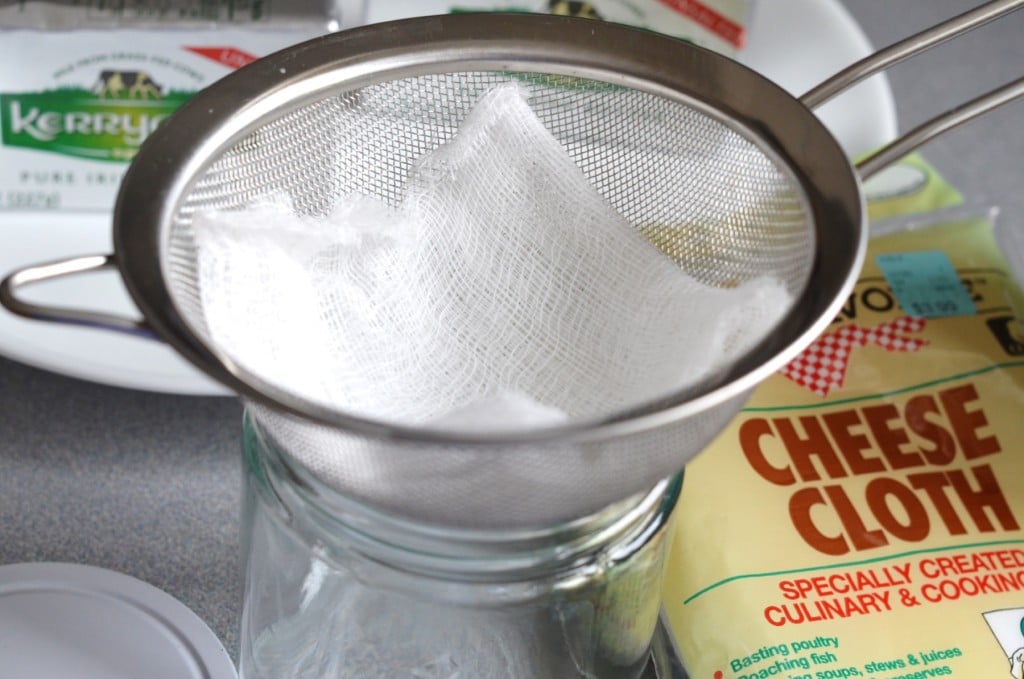 Start off by placing your butter in your pan.  The first time I made ghee, it burned and sputtered because the temperature was too high.  When making ghee I have the stove burner temperature on low.  I make sure the butter goes through several stages and this can take anywhere from 15-30 minutes.  I stay in the kitchen, doing other things while it is cooking, so I can keep an eye on the progress.  Then I have one jar of ghee which usually lasts a few months.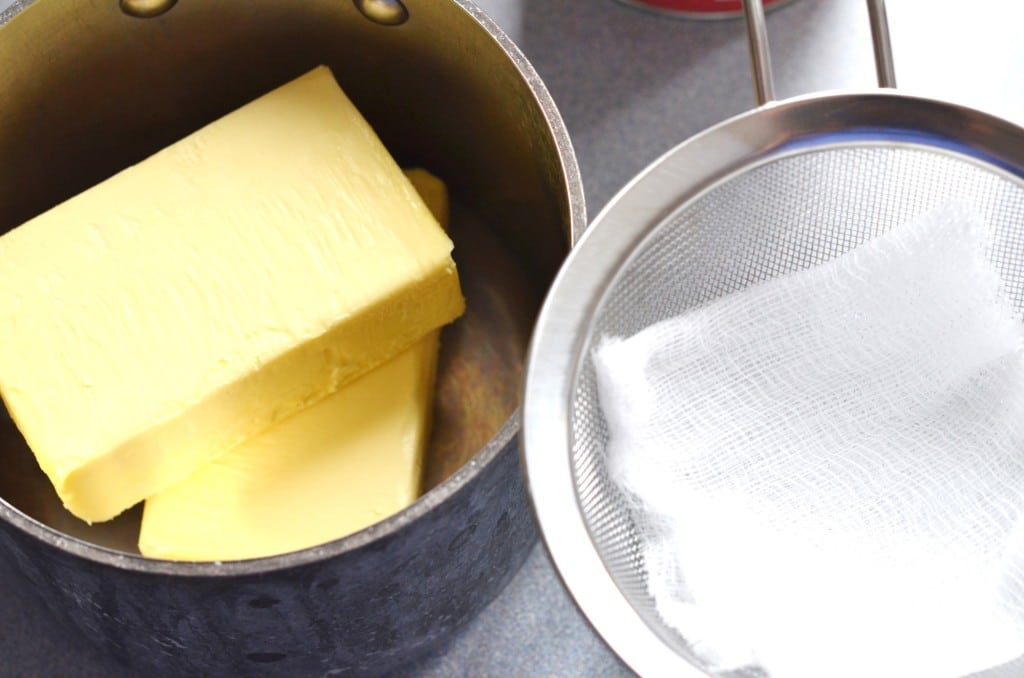 The butter below has melted, but there is still a few more minutes of cooking time.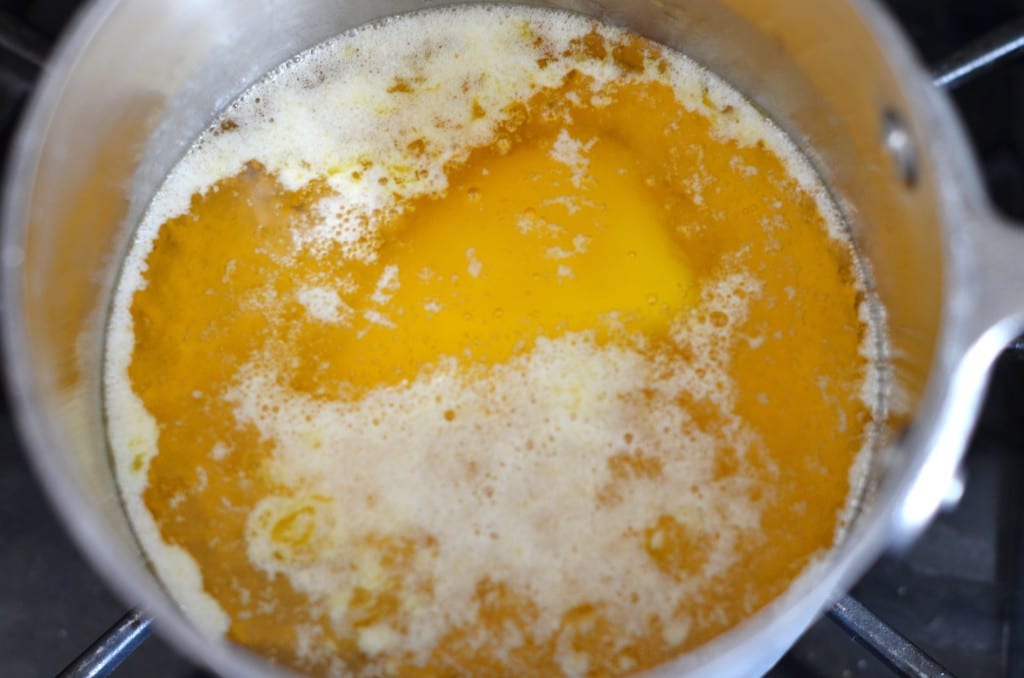 The butter goes through stages as it cooks towards the finished product Ghee.  I have several photos so you have a good idea what to expect.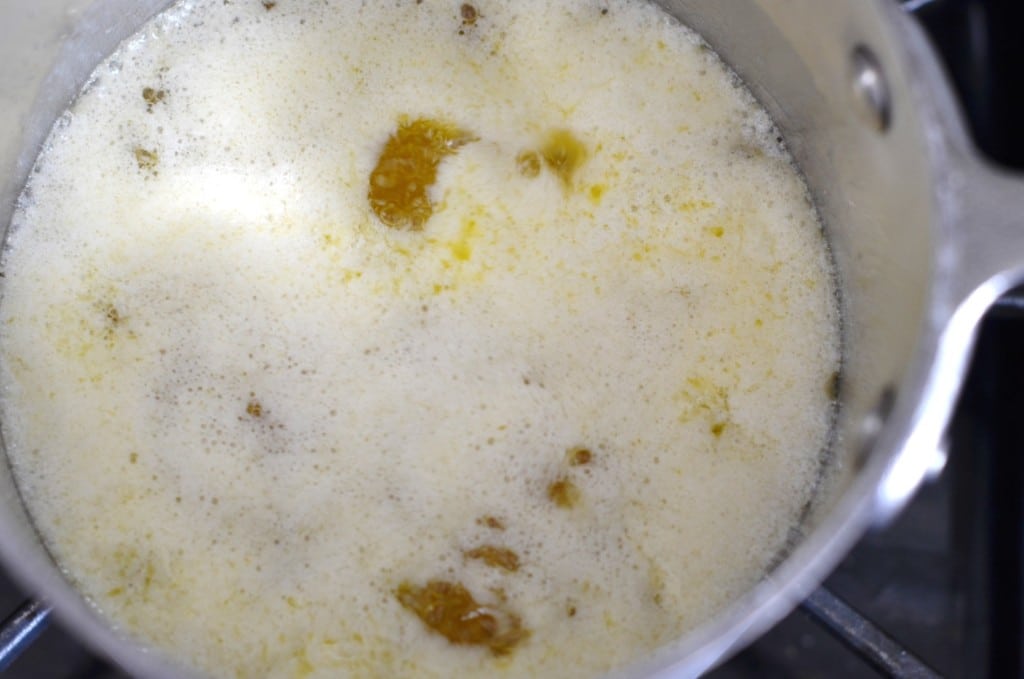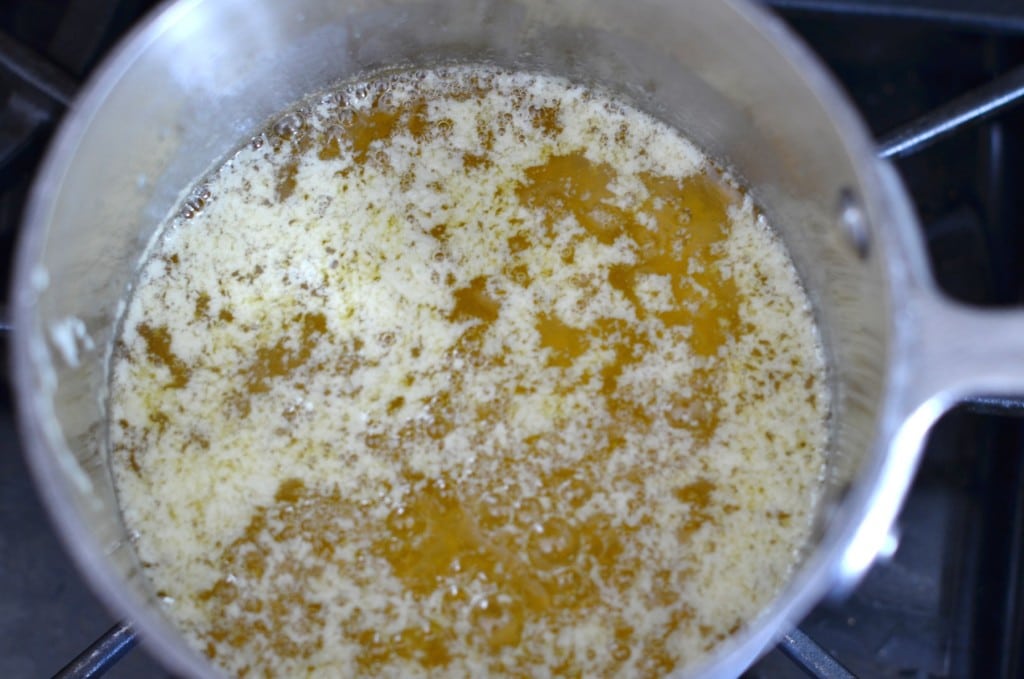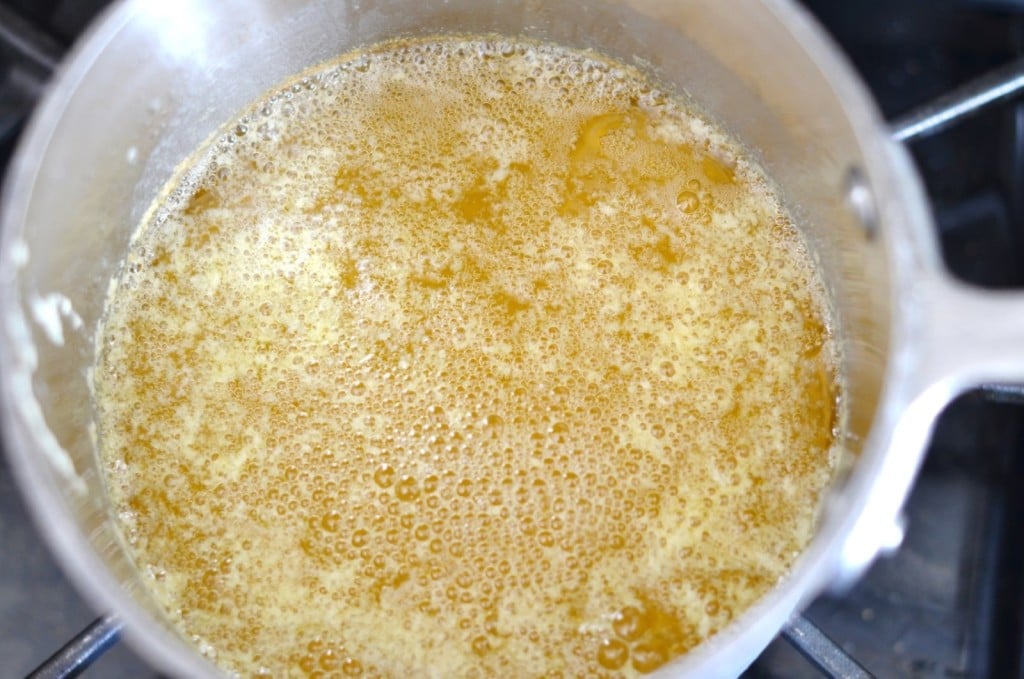 In the below photo, the butter is getting a little darker, browner and same with the edges.  There is residue at the bottom which will be caught in the strainer and some will be left at the bottom of the pan.  I am satisfied that my Ghee is ready at this point.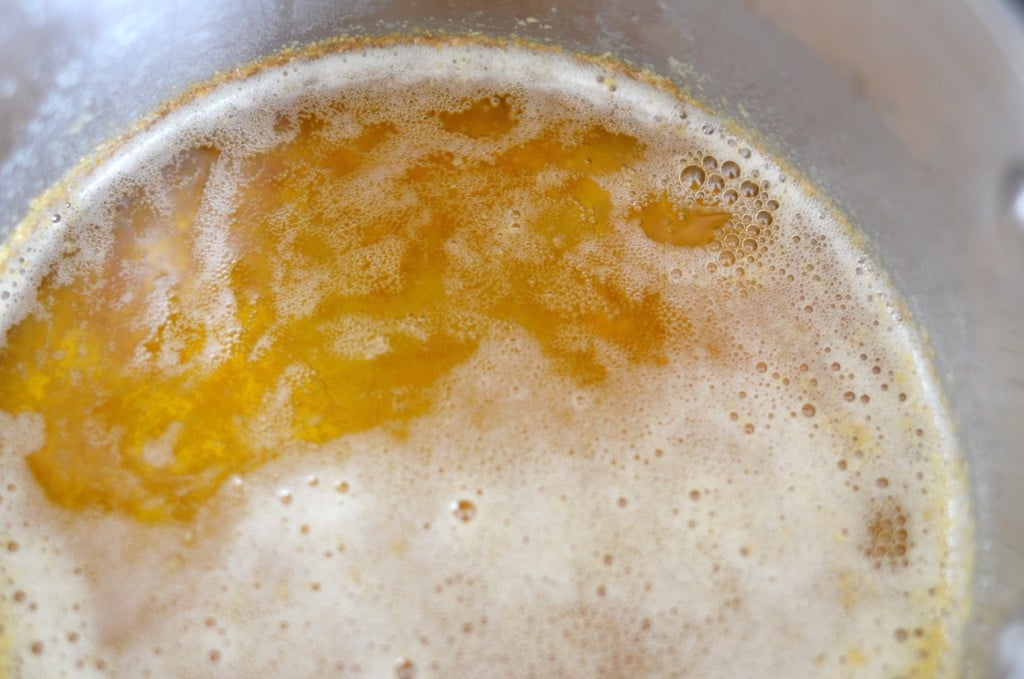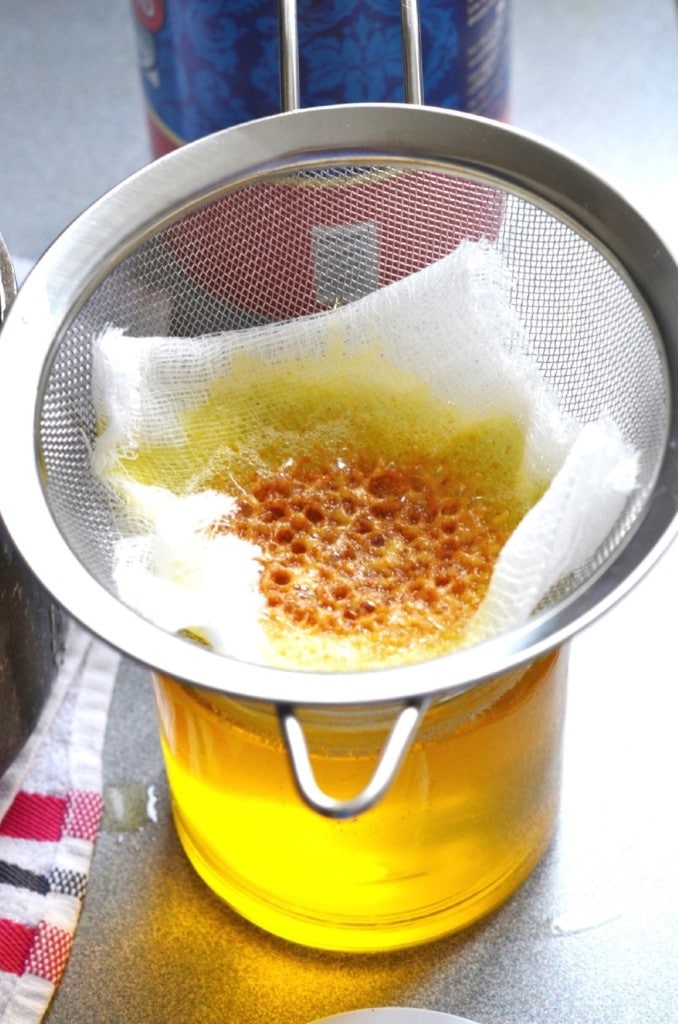 Above I have strained the Ghee into my jar.  Above and below you can see the bits of milk solids left in the bottom of the pan.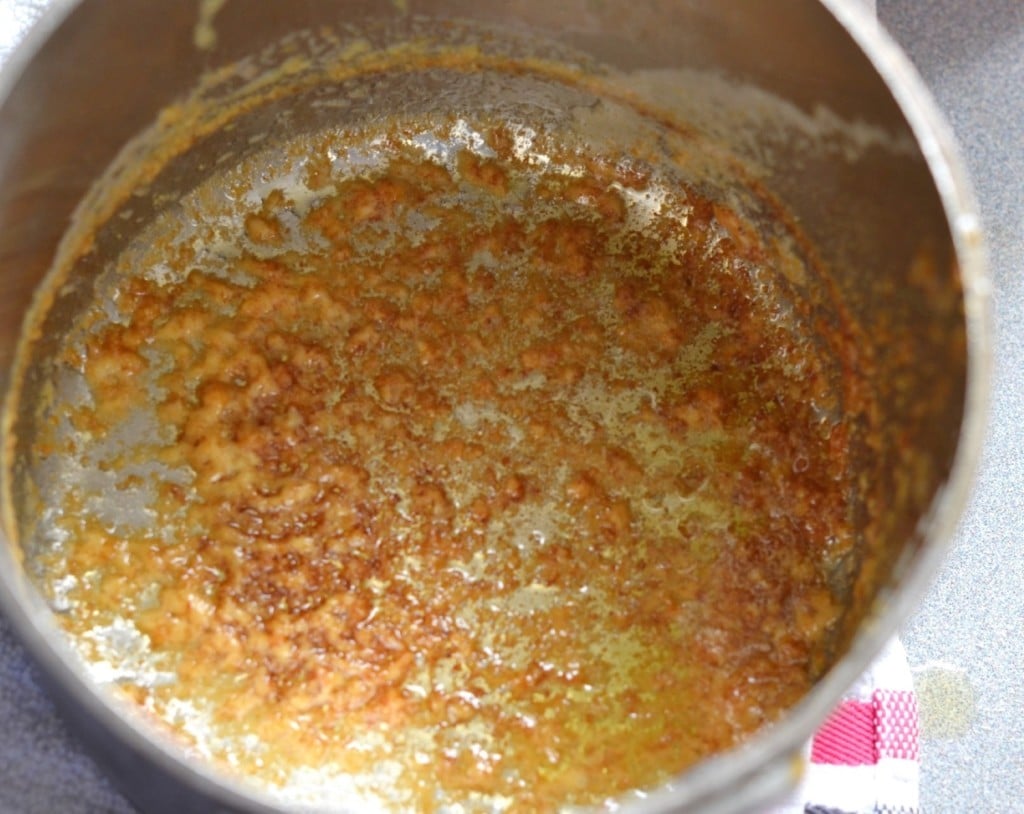 I pour the finished Ghee into a jar and let it cool.  Sometimes I strain a few times just to be sure I am getting rid of the milk solids, lactose and casein.  If you are extremely sensitive, you might talk to your health care provider about whether homemade Ghee is a viable resource for you.  My functional medicine practitioner gave me the go ahead.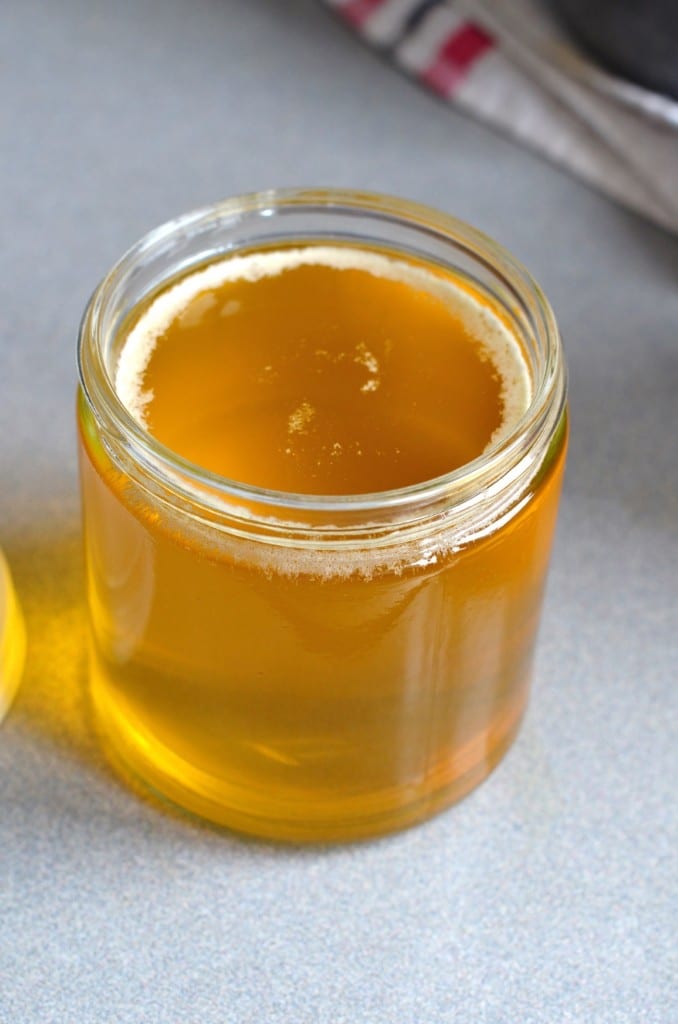 How To Use Your Homemade Ghee:
So, now you have made Ghee, what are some uses?  Ghee has an awesome buttery yet caramel flavor.  I will sometimes add it to baked goods or cookie recipes.  It is a great fat to add to any hash, such as sweet potatoes or white potatoes.  It also goes great with eggs and pancakes.  I use it in the Slow Cooker Mashed Sweet Potatoes recipe.
Storing Your Homemade Ghee:
I prefer to store my Ghee in the refrigerator and it seems to last longer and stay fresher this way, especially in the summer months.  In the winter months, I know many prefer to keep it in a cupboard because of the softer consistency.  I would do this if I know I will be using my Ghee often enough to go through the jar rather quickly.  Otherwise, my preferred storage method is the refrigerator.
Do you have a favorite way to use Ghee?
Please let me know if you have any questions.  I would love to hear from you!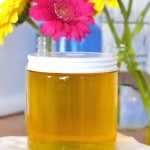 D.I.Y. Ghee, Fresh, Fast, and Easier Than You Realize
Here is a tutorial for making your own ghee. You will love how easy it is!
Course:
Condiment, Cooking fat
Ingredients
ounce

Two 8 blocks of unsalted butter.

like grass fed Kerrygold brand
Instructions
Place your unsalted butter in the bottom of a sturdy saucepan and turn the heat to low.

As your butter is melting, place a piece of cheesecloth in a strainer over a glass jar.

Once the ghee is done, pour over the cheesecloth into the jar. Discard the cheesecloth.

Let your freshly prepared ghee cool in the jar. Then add a lid and store at room temperature for one month or in the refrigerator.
Nutrition Facts
D.I.Y. Ghee, Fresh, Fast, and Easier Than You Realize
Amount Per Serving
Calories 260
Calories from Fat 261
% Daily Value*
Total Fat 29g 45%
Cholesterol 78mg 26%
Sodium 3mg 0%
Potassium 8mg 0%
Total Carbohydrates 0g 0%
Protein 0g 0%
* Percent Daily Values are based on a 2000 calorie diet.
Here is the easy to Pin It Strip: