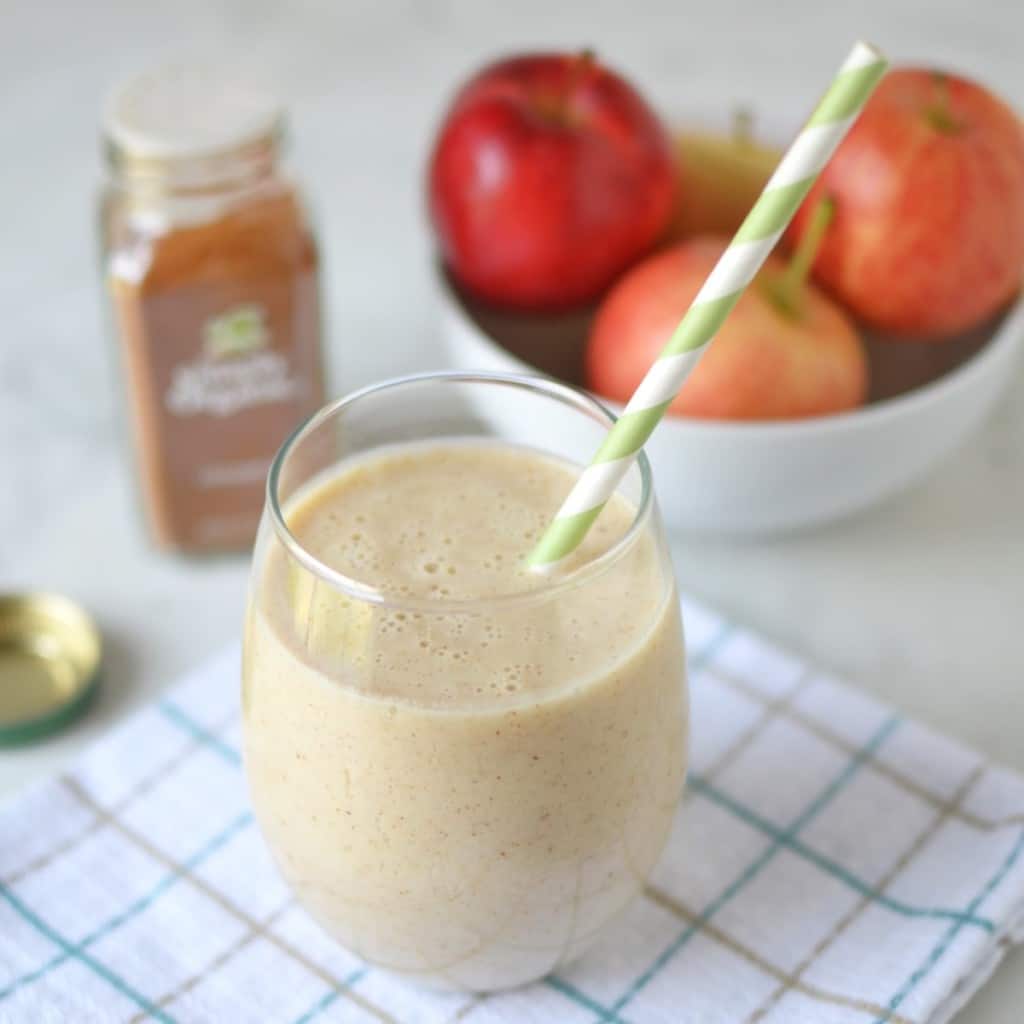 I found a new smoothie! This one is a healthy dessert in a glass.
Oh my gosh, I have been MIA on the blog lately. Life gets busy sometimes, and this spring especially it seems with graduations, etc.., it has been a complete whirlwind! Thanks for bearing with me!
Additionally, in the last few months, I have been experimenting with a gluten-free, dairy-free diet. I am finding it is suiting me very well, however, the downside is that it takes a while to get the swing of it (gluten is everywhere!), and it can be challenging re-working and/or finding tasty recipes. As I find great recipes or products, I will post on the blog. This Apple Pie Smoothie is one of my favorites so far.
Meanwhile, let me tell you about this smoothie!
What you will love about this awesome tasting smoothie:
Easy to whip up
Only 5 ingredients
Healthy snack option
Non-dairy
Gluten-free
Delicious!
Here are the ingredients:
Almond Butter (consider using my favorite almond butter!)
An Apple
Non-dairy milk (I used organic, unsweetened almond milk)
Cinnamon
Non-dairy yogurt
Although this Apple Pie Smoothie would be great at any time of year, I bet I will be making this even more during the fall apple picking season.
Meanwhile, today looks like a picture-perfect June day. I hope you have wonderful plans and get out there and enjoy. Happy Father's Day to all the dads out there.
Please let me know if you try this recipe for Apple Pie Smoothie. I love your comments!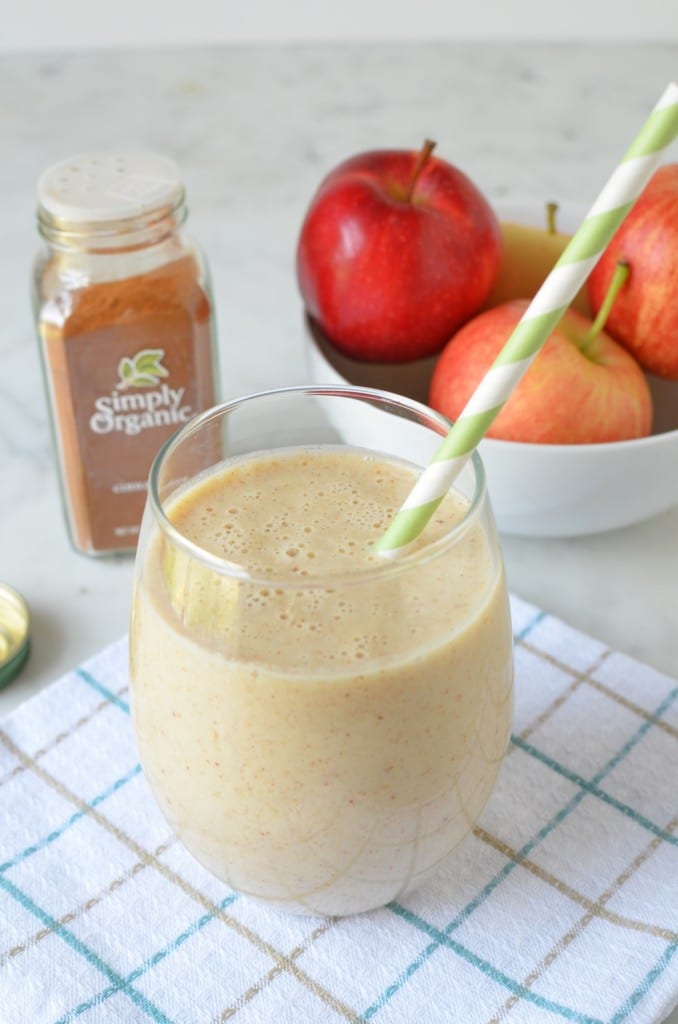 TRY THIS FOR SMOOTHIE SUCCESS:
I find that in order to be successful in my smoothie a day habit, I need a good routine where ingredients and tools are easily accessible. The ten minutes it takes to pull my blender out of the cabinet, and chop up fruits and veggies will come between me and my smoothie, especially during a particularly busy morning. However, with a few easy strategies, smoothie success is a breeze, even on the busiest of days.
A GREAT BLENDER – WHILE I HAVE A LARGER BLENDER FOR CERTAIN RECIPES, IT IS THIS SMALLER BLENDER WHICH YOU WILL FIND ON MY COUNTER.

Make my daily smoothies with this blender.
Strong enough to whip up frozen fruit, ice, and nuts
Easy to rinse cups (vs. harder to rinse and clean blender pitcher)
Portable caps for the blender cups (so I can take my smoothies to-go!)
Less clunky than a larger blender and fits perfectly on my countertop.

FROZEN FRUIT IN PLASTIC BAGS READY TO GO:

It is super easy to buy frozen, pre-chopped fruit from the grocery store.
Reasonably priced and organic produce available.
If buying fresh produce, freeze by placing the fruit on a baking sheet lined with parchment paper. Spread fruit in an even layer with no pieces touching. Freeze completely and then place in plastic bags. If you place fresh fruit in bags and freeze, you will have frozen clumps of fruit that are hard to separate and use.
Have your favorite smoothies all year, not just when the fruit is in-season.
I often transfer the contents into resealable individual clear plastic bags for easy use. It is easy to monitor when the supply is running low.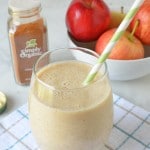 Apple Pie Smoothie
This is a healthy smoothie that makes a great breakfast on the go, snack or delicious dessert.
Course:
Breakfast, Smoothie, Snack
Cuisine:
American, Breakfast, Dessert
Ingredients
1

Tablespoon

unsweetened smooth almond butter

1

apple

(peeled, cored and chopped)

1/2

cup

milk

( I used unsweetened almond milk)

1/4

teaspoon

ground cinnamon

(use up to 1/2 teaspoon depending on your taste)

1

cup

non-dairy yogurt (about one container of vanilla or plain)

(sub coconut cream about 1/8 cup)
Instructions
Place all ingredients in a blender and blend for a few minutes until the desired texture is reached. It's that quick and easy! Enjoy your Apple Pie Smoothie!
Nutrition Facts
Apple Pie Smoothie
Amount Per Serving
Calories 571
Calories from Fat 261
% Daily Value*
Fat 29g45%
Cholesterol 76mg25%
Sodium 410mg17%
Potassium 1544mg44%
Carbohydrates 45g15%
Protein 33g66%
Vitamin A 725IU15%
Vitamin C 7.5mg9%
Calcium 1088mg109%
Iron 1.1mg6%
* Percent Daily Values are based on a 2000 calorie diet.