This Paleo Apple Crisp recipe has become a new classic for me, and I hope you as well.
Are you someone that has been eating apple crisp, like,  forever?  Me too.
It is easy to think of this as a fall recipe.  Well, fall activities usually include apple picking and so naturally recipes will be sought for all those apples!
Guess what? I make this recipe all year round.  Apples are available all year round, so why not?  I do admit that I tend to make it much more frequently in the fall.  With apples everywhere, paleo apple dessert is on the mind!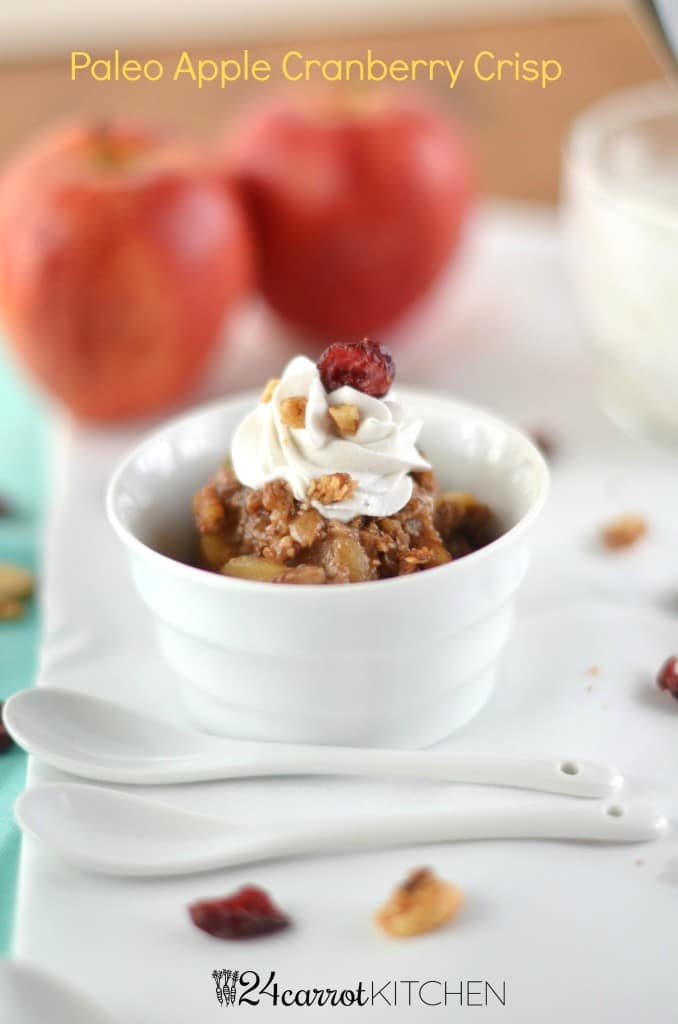 Some Things You Will Love About This Paleo Apple Crisp:
Less sugar than traditional apple crisp (and no refined sugar)
Is super easy to make
Can be made ahead and makes great leftovers
Healthier treat for kids
Customizable – add some cranberries or other dried fruit
Great healthy breakfast idea
Ingredients For Your Grain Free Apple Crisp:
This apple crisp recipe combines fresh apples with chopped nuts, ground cinnamon, tapioca starch/flour, coconut sugar, maple syrup, coconut oil, lemon juice, almond flour, pumpkin seeds, dried cranberry and sea salt to make a delicious dessert.  And, what a great healthy breakfast idea.
I have added some pumpkin seeds to this recipe and it gives it some extra crunch.  But, let's not overlook some of the great health benefits of pumpkin seeds.  They are reported to be anti-inflammatory, have healthy fats and contain zinc and magnesium.  When someone is looking for more magnesium, I tell them – eat some pumpkin seeds!
Related:  Delicious, Roasted Pumpkin Seeds with Cinnamon
Tip:  You can use any type of dried fruit in this recipe (or leave it out entirely).  I have also used frozen cranberries to great results.  With frozen cranberries, there are no oils or sugars that are used in dried cranberries.  It can sometimes be hard to find fruit sweetened dried cranberries.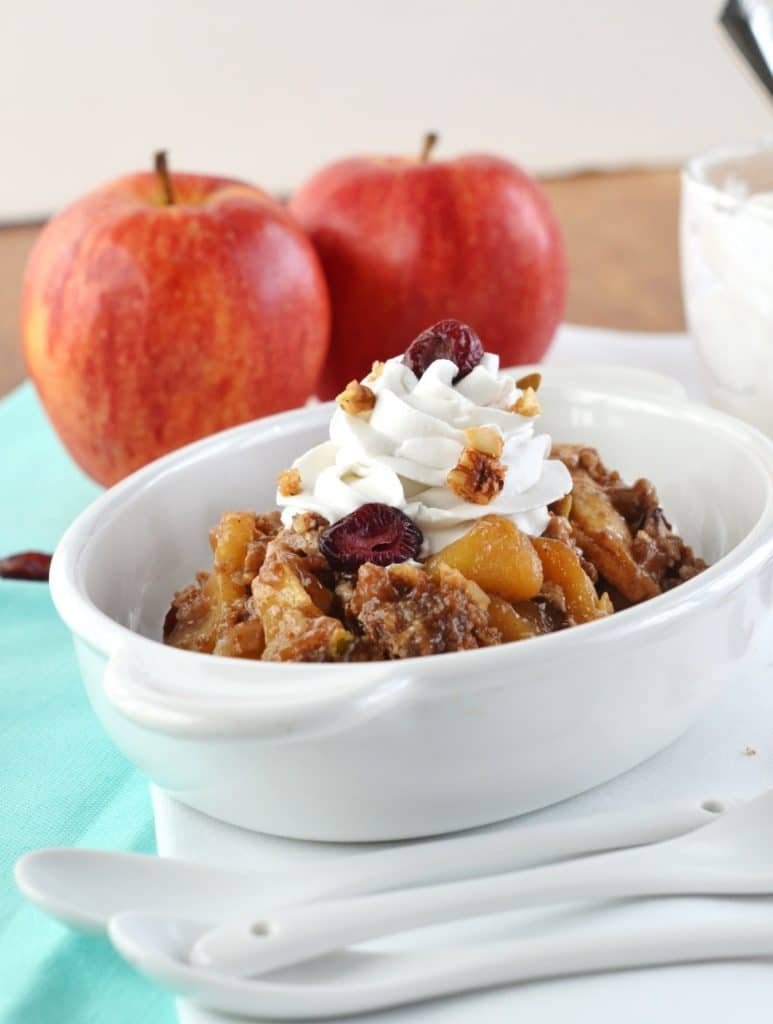 When making this recipe, I sometimes slice the apples, and other times I chop them.  Choose your favorite method as it doesn't affect the taste or quality of the recipe.  For this particular version, I am using organic Fuji, as they were on sale when I made this recipe.  There are other apples that would work well too; green Granny Smith's are always a good choice when baking.
Related: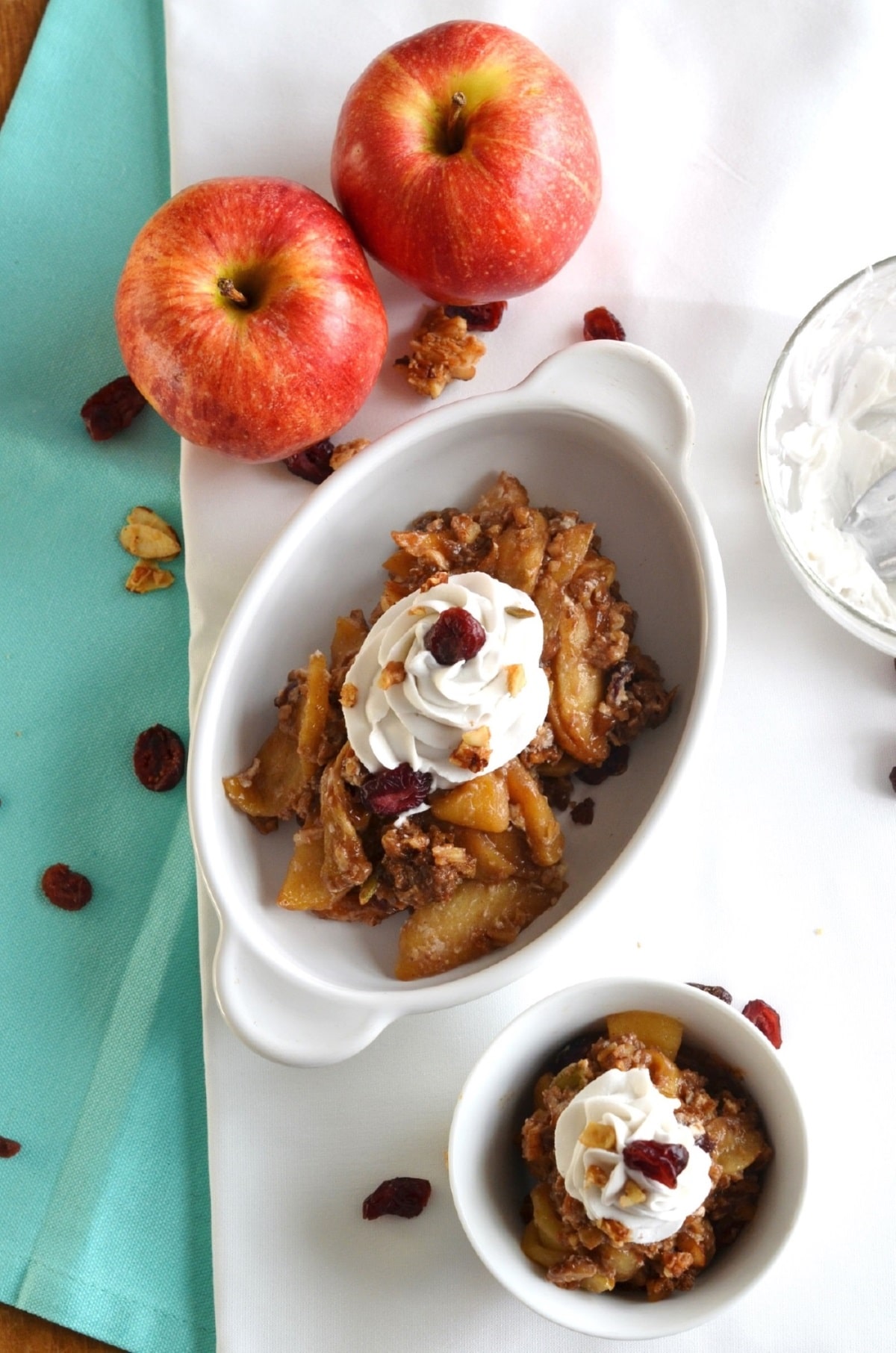 The almond flour apple crisp would be a wonderful Thanksgiving dinner dessert.  With a scoop of vanilla non-dairy ice cream or coconut whipped cream, it would be divine!
Making Coconut Whipped Cream:
I will eventually creating a post dedicated to making coconut whipped cream, with photos and all.  But, I wanted to share this delicious recipe with you.  It is so simple and easy to make.  It goes perfect with so many recipes and particularly this paleo apple crisp.
You will need to take a can of full fat coconut milkand place in the refrigerator over night.  You want the coconut milk to be very cold.  Otherwise it will not whip up very well.  When you are ready to use, scoop out the white, thick, coconut cream into a mixing bowl of an electric mixer.  Save the coconut water that is left for smoothies. (p.s. lots of smoothies on my site :))
Add a tablespoons of organic confectioners sugar and using whisk attachment, whisk the mixture until it resembles whipped cream.  This usually takes about two minutes.  You can also use maple syrup to sweeten you coconut whipped cream.  One reason I like confectioners sugar is that it contains some tapioca starch which helps thicken the coconut whipped cream, which helps it hold its shape.  Here is a tutorial for making coconut whipped cream.  I have tried several brands and this is my favorite and is always reliable for this recipe.  And, you will want to get organic because there are no chemicals used to process the coconut milk. 🙂
Nuts  for this recipe – almonds, walnuts, pecans.  Use your favorites or just one kind.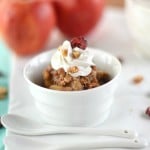 Awesome Paleo Apple Crisp - The Most Delicious!
An easy apple crisp recipe that is grain, gluten and dairy free using less sugar/sweetener than most traditional crisp recipes. Make a double batch and have some for breakfast!
Ingredients
cups

Three Apples - I used Fuji (5 total

sliced)

Add to apples:

1/8

cup

coconut sugar

1

tablespoon

lemon juice

2

tablespoons

tapioca flour/starch

1

teaspoon

ground cinnamon

I like ceylon

1/8

teaspoon

sea salt

For the topping:

1/4

cup

almonds

chopped

1/4

cup

walnuts

chopped

1/2

cup

pecans

chopped

1

tablespoon

almond flour

I used blanched

1

tablespoon

tapioca flour/starch

1

tablespoon

coconut oil

melted (add 1 Tablespoon more if needed)

1/8

cup

coconut sugar

1

teaspoon

ground cinnamon

1

tablespoon

dried cranberries

1

tablespoon

pumpkin seeds

pinch sea salt

tablespoons

Note: sometimes I add a few frozen cranberries for a change .

instead of dried cranberries
Instructions
Preheat oven to 350 degrees F.

Spray a glass casserole dish with oil spray (I use coconut oil)

Peel and slice apples and place in large mixing bowl.

Add the lemon juice, tapioca starch, cinnamon coconut sugar and sea salt to apples in mixing bowl. Toss to combine.

Spread the apple mixture in casserole baking dish.

In a medium sized mixing bowl, combine the topping ingredients. Stir to combine well.

Spread topping over the top of the apples.

Bake, uncovered, for 30 minutes or until apples are tender and cooked through.

Now you just need to add a little ice cream or coconut milk whipped cream!

Enjoy!
Easy to Pin It Strip: