I am happy to report that although finding a really good dairy free, egg free nog recipe is very challenging, this recipe shows it is possible!
Finding A Good Dairy Free, Egg Free Nog-
I have tried several store bought dairy free egg nog drinks, but there were issues, so I stopped buying them.  Either the taste was off or I did not want to consume the unhealthy ingredients that were necessary as preservatives.
Here is a fresh and easy dairy free egg nog recipe with no unhealthy additives that tastes really good.  Try it with a splash of rum for some fun!  Add a fun garnish like pomegranate seeds for holiday color.  I have also added a sprinkle of ground nutmeg, but ground cinnamon would work as well.
Making Your Dairy Free, Egg Free Nog-
Place all the ingredients in a blender and blend for several minutes.  I really like this coconut milk and maple syrup in this recipe.  Don't forget a sprinkle of cinnamon or nutmeg on top! I have also placed a few pomegranates on top for some festive holiday color.  (Affiliate Links)
With the weather in New England unseasonably warm, it's hard to imagine that Christmas is only a few days away.  However, the evenings are cool and a little egg nog at a gathering and the holiday spirit comes alive in no time.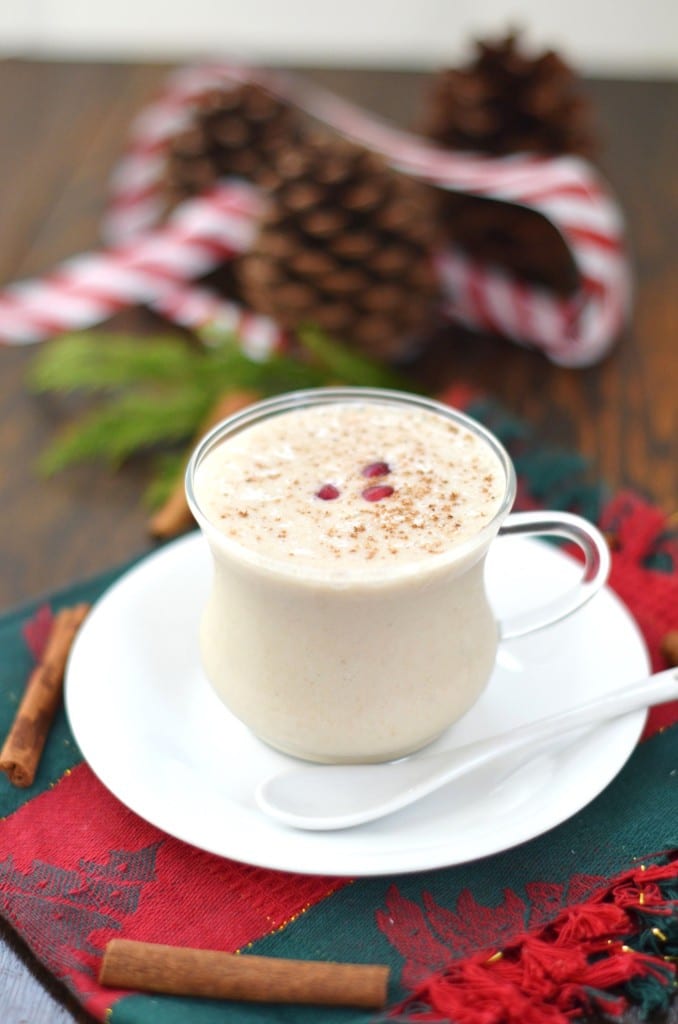 It is actually supposed to be in the 60's on Christmas day near Boston.  I plan on going for a long hike with my family and basset hound.
What are your plans for the holidays?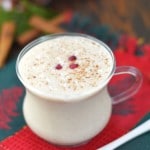 Dairy Free, Egg Free Nog
Here is yummy dairy free, egg free egg nog recipe.
Ingredients
1

cup

unsweetened almond milk

1/8

cup

coconut milk

(I use canned full fat)

1

frozen banana

(cut in chunks)

1

teaspoon

cinnamon

(I like Ceylon Cinnamon)

1

teaspoon

vanilla extract

1/4

teaspoon

nutmeg

cloves

pinch

(optional)

1

tablespoon

maple syrup

(optional depending on your sweetness level)

Splash of rum
Instructions
Place all ingredients in a blender and blend for a few minutes until completely combined and a little foamy and frothy.

Garnish with sprinkled cinnamon or nutmeg. I have garnished with a few pomegranates for holiday color. Optional: add a splash of rum.
Easy to Pin It Strip:

Related posts: