I am happy to report that although finding a really good dairy free, egg free nog recipe is very challenging, this recipe shows it is possible!
Finding A Good Dairy Free, Egg Free Nog-
I have tried several store bought dairy free eggnog drinks, but there were issues, so I stopped buying them.  Either the taste was off or I did not want to consume the unhealthy ingredients that were necessary as preservatives.
Here is a fresh and easy dairy-free eggnog recipe with no unhealthy additives that tastes really good.  Try it with a splash of rum for some fun!  Add a fun garnish of pomegranate seeds for holiday color.  I have also added a sprinkle of ground nutmeg, but ground cinnamon would work as well.
Making Your Dairy Free, Egg Free Nog-
Place all the ingredients in a blender and blend for several minutes.  I really like this coconut milk and maple syrup in this recipe.  Don't forget a sprinkle of cinnamon or nutmeg on top! I have also placed a few pomegranates on top for some festive holiday color.  (Affiliate Links)
With the weather in New England unseasonably warm, it's hard to imagine that Christmas is only a few days away.  However, the evenings are cool and a little eggnog at a gathering and the holiday spirit comes alive in no time.
Try This For Smoothie Success:
I find that in order to be successful in my smoothie a day habit, I need a good routine where ingredients and tools are easily accessible.  The ten minutes it takes to pull my blender out of the cabinet, and chop up fruits and veggies will too often come between me and my nutritious smoothie, especially during a particularly busy morning.  However, with a few easy strategies, smoothie success is a breeze, even on the busiest of days.
A great blender – While I have a larger blender for certain recipes, it is this smaller blender which you will find on my counter.

Make my daily smoothies with this blender.
Strong enough to whip up frozen fruit, ice, and nuts
Easy to rinse cups (vs. harder to rinse and clean blender pitcher)
Portable caps for the blender cups (so I can take my smoothies to-go!)
Less clunky than a larger blender and fits perfectly on my countertop.

Frozen fruit in plastic bags ready to go:

It is super easy to buy frozen, pre-chopped fruit from the grocery store.
Reasonably priced and organic produce available.
If buying fresh produce, freeze by placing fruit on a baking sheet lined with parchment paper. Spread fruit in an even layer with no pieces touching. Freeze completely and then place in plastic bags.  If you place fresh fruit in bags and freeze, you will have frozen clumps of fruit that are hard to separate and use. 🙂
Have your favorite smoothies all year, not just when fruit is in-season.
I often transfer the contents into resealable individual clear plastic bags for easy use. It is easy to monitor when the supply is running low.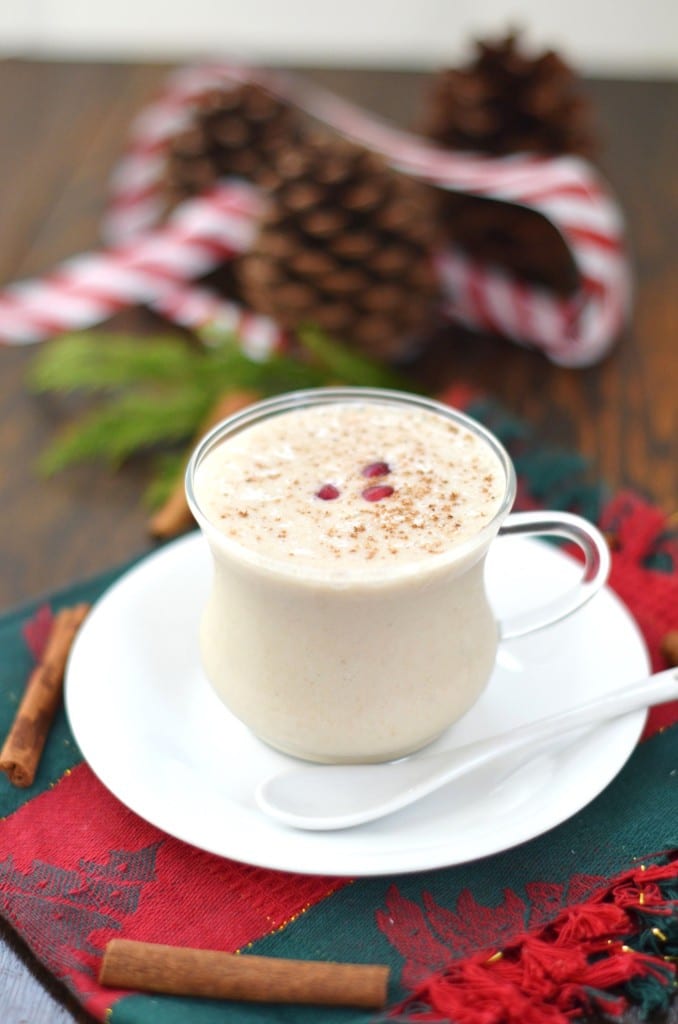 It is actually supposed to be in the 60's on Christmas day near Boston.  I plan on going for a long hike with my family and basset hound.
What are your plans for the holidays?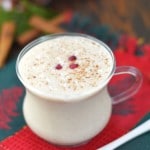 Dairy Free, Egg Free Nog
Here is yummy dairy free, egg free eggnog recipe.
Course:
Appetizer, Beverage, Drinks
Ingredients
1

cup

unsweetened almond milk

1/8

cup

coconut milk

(I use canned full fat)

1

frozen banana

(cut in chunks)

1

teaspoon

cinnamon

(I like Ceylon Cinnamon)

1

teaspoon

vanilla extract

1/4

teaspoon

nutmeg

cloves

pinch

(optional)

1

tablespoon

maple syrup

(optional depending on your sweetness level)

Splash of rum
Instructions
Place all ingredients in a blender and blend for a few minutes until completely combined and a little foamy and frothy.

Garnish with sprinkled cinnamon or nutmeg. I have garnished with a few pomegranates for holiday color. Optional: add a splash of rum.
Nutrition Facts
Dairy Free, Egg Free Nog
Amount Per Serving
Calories 268
Calories from Fat 81
% Daily Value*
Total Fat 9g 14%
Sodium 332mg 14%
Potassium 529mg 15%
Total Carbohydrates 44g 15%
Protein 3g 6%
* Percent Daily Values are based on a 2000 calorie diet.
Easy to Pin It Strip:

Reader Interactions