I have been reading lately that pumpkin seeds have all sorts of health benefits. I know they are delicious tossed into a fresh green lettuce salad to add some crunch. So, I have been trying to come up with different and interesting ways to incorporate them into the home culinary landscape. These Cinnamon Roasted Pumpkin Seeds are a twist on the usually roasted pumpkin seeds. The cinnamon sugar combination in this recipe gives the plain raw pumpkin seeds a boost of flavor.
What you will love about this Cinnamon Roasted Pumpkin Seed recipe:
Easy
Crunchy
A little sweet
Portable
Healthy snack
Topping for ice cream
Supplies For You Cinnamon Roasted Pumpkin Seeds-
I found a bag of raw pumpkin seeds for a very reasonable price and used most of the bag for this recipe. The original recipe has been adjusted just slightly by changing the oil to coconut oil and the sugar coconut palm sugar, which are both my preferred choices these days.
How To Make Your Cinnamon Roasted Pumpkin Seeds-
Cooking at a relatively low temp, 300 degrees, allows the pumpkin seeds to cook slowly and not burn. You might want to adjust the amount of sugar, cinnamon, and salt to your liking. Ghee may work as a replacement for the coconut oil, however, I have not tried this substitution yet. If you do, please do let us know in the comments. 🙂 Check out this post for a tutorial on how to make your ghee.
P.S. – Your house will smell amazing as these are baking!
Eat them on their own or toss into your favorite ice cream.
Hope you are having a great week! Enjoy!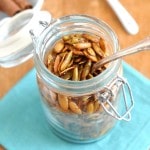 Cinnamon Roasted Pumpkin Seeds
An easy, tasty snack using raw pumpkin seeds.
Ingredients
Peheat oven to 300 degrees F.

cups

One and one half of raw pumpkins seeds

2

tablespoons

coconut oil

1

teaspoon

ground cinnamon

1-2

tablespoons

coconut palm sugar

1/4

teaspoon

salt
Instructions
In a medium-sized bowl, place pumpkins seeds, cinnamon and coconut oil. Toss together until well blended.

Spread pumpkin seeds in a single layer on a baking sheet.

Bake in the oven until pumpkin seeds are lightly toasted, about 40 minutes.

Remove pumpkin seeds from oven and place in a medium-sized bowl. Pour sugar over the pumpkin seeds and toss to mix. Set aside to cool

Store in an airtight container for up to a week.
Nutrition Facts
Cinnamon Roasted Pumpkin Seeds
Amount Per Serving
Calories 58
Calories from Fat 45
% Daily Value*
Fat 5g8%
Sodium 43mg2%
Potassium 55mg2%
Carbohydrates 1g0%
Protein 2g4%
Vitamin C 0.2mg0%
Calcium 5mg1%
Iron 0.6mg3%
* Percent Daily Values are based on a 2000 calorie diet.
Recipe Source: here