All that is needed for fresh, delicious whole egg mayonnaise recipe with a few ingredients, a blender and a couple of minutes.  That's it?  Yes!  I particularly love this mayonnaise on this grain free focaccia bread!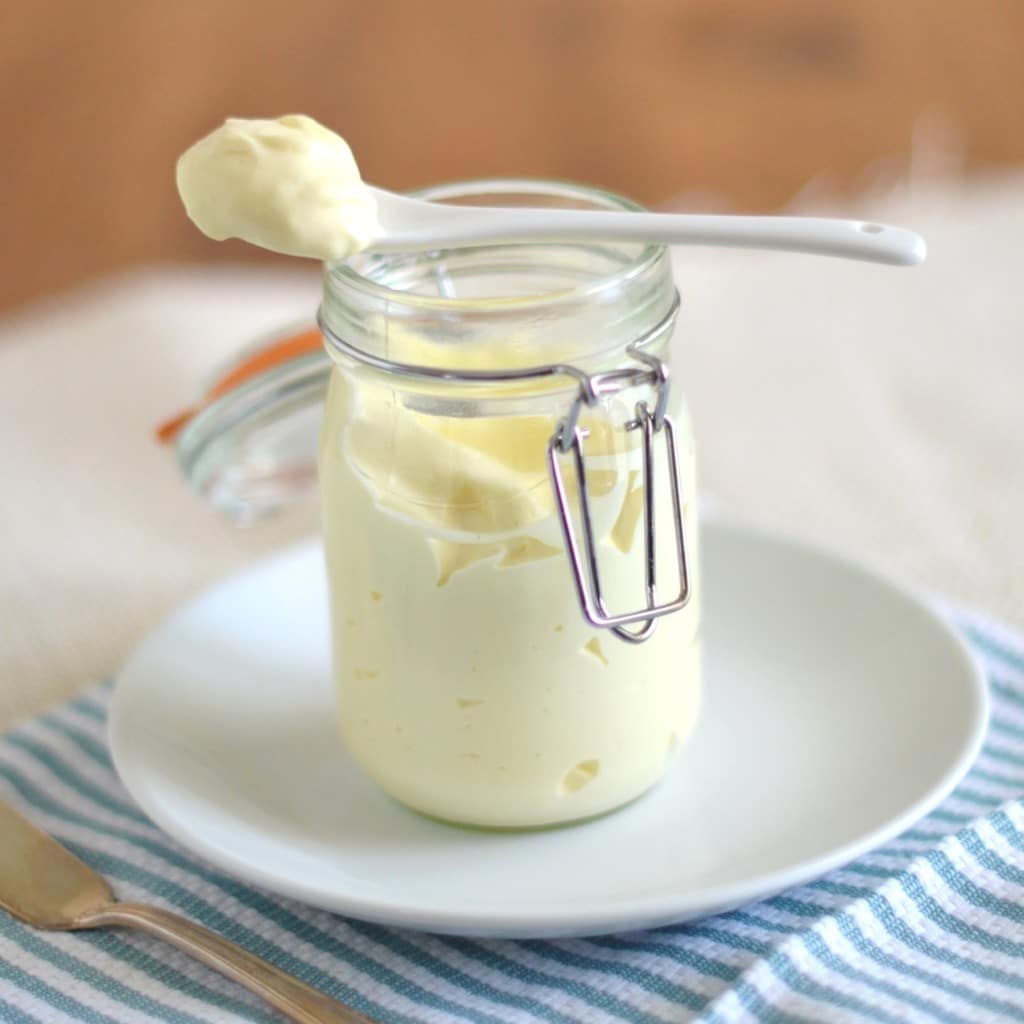 There is another quick homemade mayonnaise recipe on the blog I like also. Isn't it nice to have options?  Yes!  I use both recipes.
Best Oil For Mayonnaise-
One recipe on the blog uses walnut oil and the other olive oil, so my choice may depend on what I have on hand. The main thing is that both oils work equally well in a mayonnaise recipe.  When using olive oil, I prefer light olive oil for its mild flavor.
Related: Homemade Mayonnaise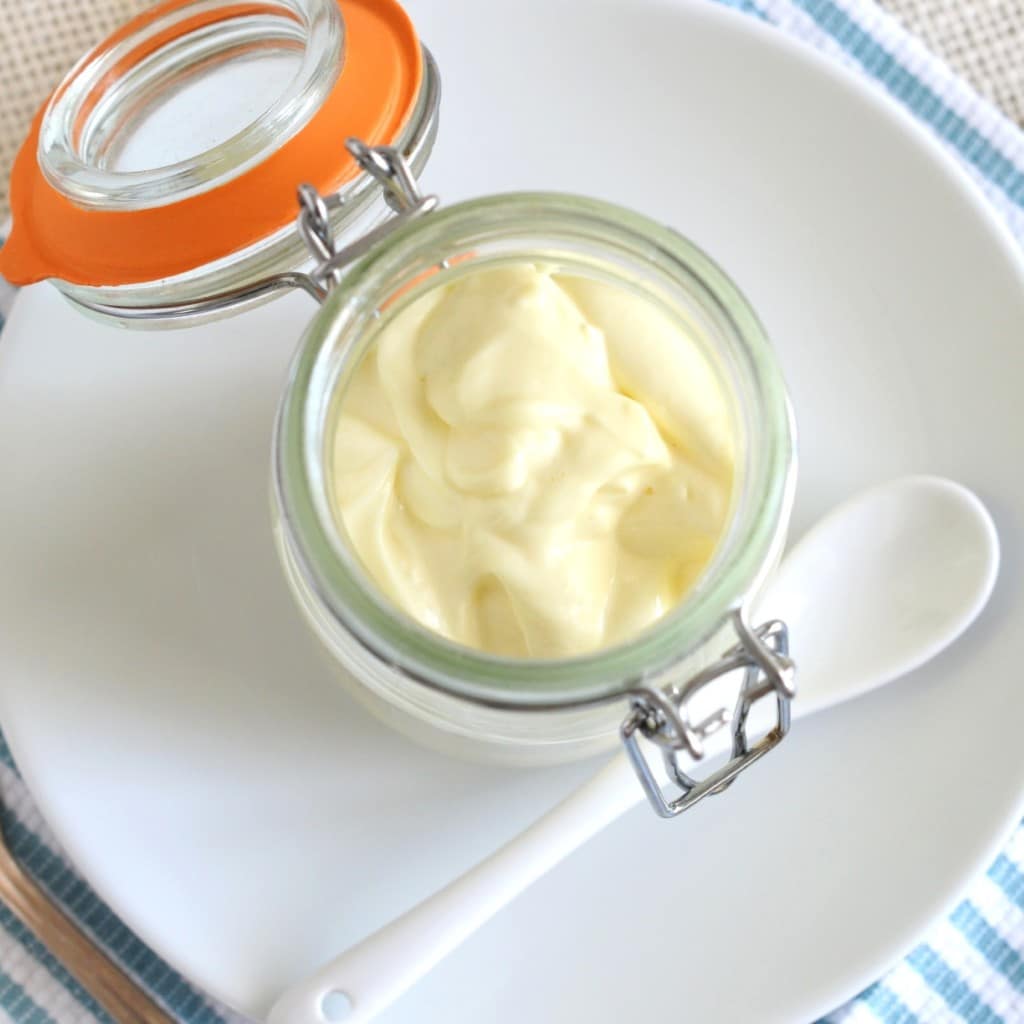 Basic Mayonnaise How To-
Making mayonnaise can sometimes be intimidating, but after you have made it a few times successfully, you get the whole thing down and conquered.  The main concept with mayonnaise is that the whole mixture blends, emulsifies and thickens.  Pouring the oil in slowly, or as a drizzle will help the mayonnaise come together in this way.  Before I started making my own mayonnaise, I had concerns about it coming out okay; but, now I am very glad I learned how to make it. Using the right tools is imperative.  I like using a food processor, this blender or this blender. (Affiliate Links) I would say use whatever appliance you are most comfortable with.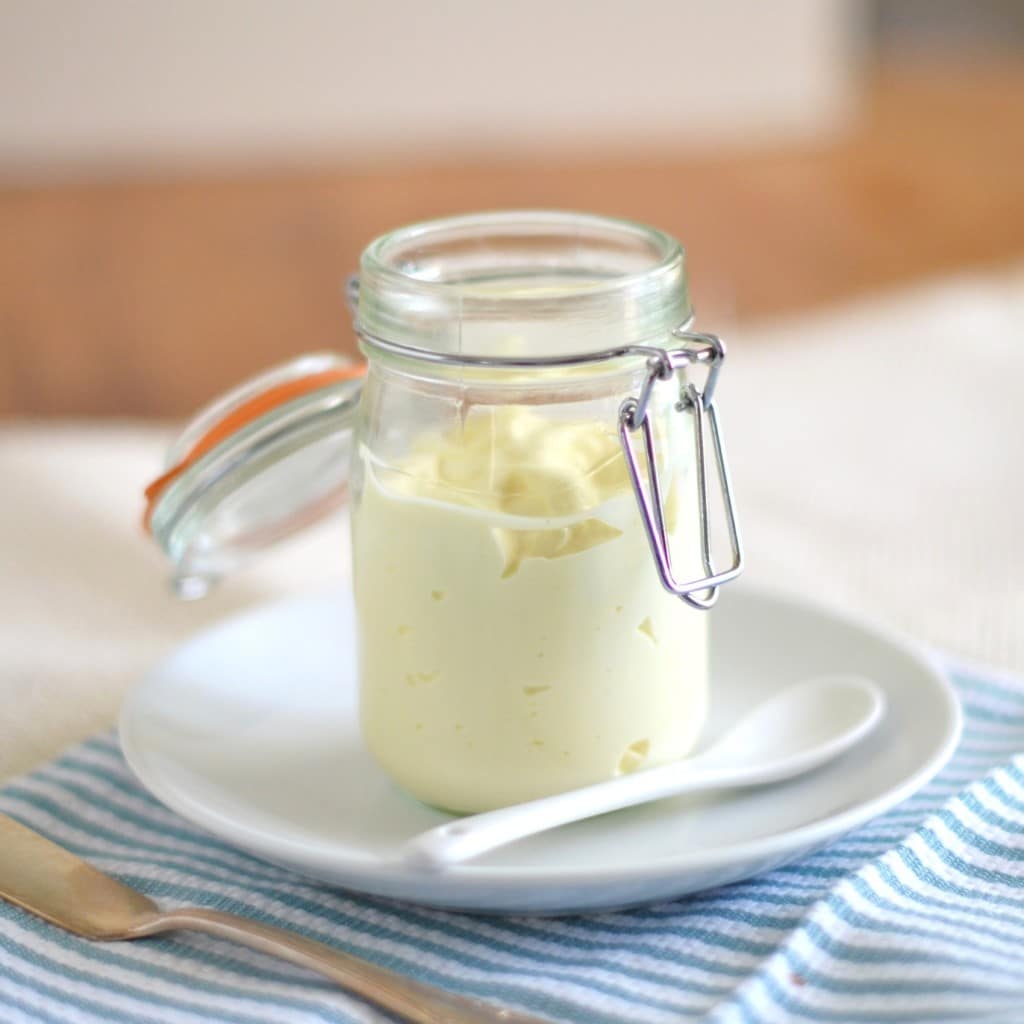 The Taste-
There is a distinct taste to fresh, homemade, basic mayonnaise.  It just tastes better than store bought, in my opinion.  It can be used in all your favorite recipes where mayonnaise is called for. My recommendation is store in the fridge for about a week or so.  I try to make this recipe right as I need it, or knowing I will be using within a few days.  It is not like the store bought variety that can be left in the fridge for awhile!
Questions?  Feel free to leave me a comment.  🙂
Enjoy!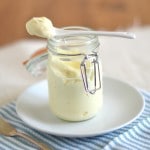 Basic Mayonnaise
This is an easy, basic mayonnaise recipe. Can be used alone or enhanced with other flavors, spices and/or ingredients.
Ingredients
One egg

(I used extra large size)

1/2

teaspoon

dry mustard

1/2

teaspoon

fine sea salt

(or to taste)

tablespoons

Lemon juice to taste

(I usually use 2)

1

cup

extra light tasting olive oil

(may use up to an additional 1/4 cup oil to get desired consistency.)
Instructions
Place egg, mustard, salt and 1/4 cup oil in food processor. Blend until combined.

Slowly add additional 3/4 cup olive oil until mixture is emulsified and becomes mayonnaise (takes a few minutes). Check consistency to see if you need to add more oil to get desired texture. If yes, add slowly and blend in food processor.

Once you have reached desired consistency, add lemon juice to taste.

Store in a glass jar in fridge for up to a week.
Easy to Pin It Strip:

Related posts: