This post may contain affiliate links.
Easy Guacamole recipe that is creamy, flavorful, super easy to make, with just a few ingredients.  Perfect to top Paleo Turkey Chili, Breakfast Sausage, a Gluten-Free Frittata Recipe, or just enjoy Paleo Plantain Chips.
How To Make A Healthy Guacamole Recipe:
When I'm looking for healthy fats to add to your diet, I seek out avocados.
I do remember a time, years ago, when I wouldn't touch them though.  Whenever I was out with friends and they ordered guacamole, I wouldn't even try it!  I believe it was the green color and mushy consistency mostly.  It just did not appeal to me.
How do you make homemade guacamole?
To open the avocados:
With a knife, slice the avocado and open so you have two halves.
Take out the pit and scoop out the green avocado "meat".
Place avocado in a bowl and mash to desired texture. (chunky or smooth)
Add other ingredients and it's ready.
Whole30 – What To Eat With The Guacamole:
Paleo Plantain Chips are the perfect accompaniment for the Whole30 compliant guacamole.  Please note:  store-bought plantain chips, while delicious, are not Whole30 approved.
A new rule clarified that store-bought chips are not part of the Whole30 program.
"No store-bought chips of any origin (potato, tortilla, plantain, coconut, kale…)"
However, homemade chips are fine.  Try crispy oven baked kale chips!
Fast forward a few years and then one day I tried it, most likely at a Mexican restaurant.  And loved it.  Those are moments where you say to yourself, why didn't I try this sooner!  Then I had a habit, several years ago, that while running errands around lunch time, I would stop by Whole Foods, buy a container of guacamole and make that my lunch.   Simply – loved – it.
But then I started to realize it would probably be better if I learned to make my own, both cost wise and for freshness.  It is so amazingly easy to make.  The only time I might purchase a pre-made container now is if I was on vacation and did not have access to a kitchen.  It reminds me of coconut milk ice cream.
Now that I have started making my own, I don't want to purchase store bought any longer. I am having a lot of fun creating new coconut milk ice recipes too, and I plan on posting to very best ones, of course.
There are so many variations possible with guacamole too.  This version is my basic, simple, everyday guacamole recipe.  I can whip this up in minutes and can be eaten right away or saved for later by storing in the refrigerator.  To make this guacamole recipe spicy, add 1/2 minced garlic.
Can you use lemon juice instead of lime for guacamole?
Yes, it will keep the guacamole from turning brown and will add fresh citrus flavor that is different from lime, but also good.
As you can see by the photos, I like my guacamole a little on the chunky side.  If this is your style also, just be careful when mashing the avocados with a fork.  It is easy to get carried away and "over mash".
Oh, and I usually use this method for squeezing citrus, especially when it's just 1/2 a lime as in this recipe.  Feel free to double this recipe too!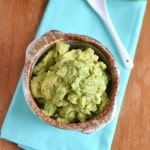 Easy Guacamole Recipe You Will Love - So Easy!
Easy Guacamole - this is an easy, creamy guacamole recipe. Can be double, tripled, etc...
Course:
dressing/sauce, Guacamole, Sauce, Side Dish, Snack, Spread
Ingredients
2

ripe avocados

1/2

lime juiced

1

clove

garlic

minced

1

tablespoon

onion

chopped very finely

salt and pepper to taste
Instructions
Place all ingredients in a bowl and with a fork (or potato masher), mix and combine.

Add salt and pepper to your taste.

Best consumed right away, but can put in frig for later use.
Nutrition Facts
Easy Guacamole Recipe You Will Love - So Easy!
Amount Per Serving
Calories 163
Calories from Fat 126
% Daily Value*
Total Fat 14g 22%
Sodium 7mg 0%
Potassium 487mg 14%
Total Carbohydrates 9g 3%
Protein 2g 4%
* Percent Daily Values are based on a 2000 calorie diet.