This post may contain affiliate links.
Easy Guacamole recipe that is creamy, flavorful, super easy to make, with just a few ingredients.  Perfect to top Paleo Turkey Chili, Breakfast Sausage, a Gluten-Free Frittata Recipe, or just enjoy Paleo Plantain Chips.
How To Make A Healthy Guacamole Recipe:
When I'm looking for healthy fats to add to your diet, I seek out avocados.
How do you make homemade guacamole?
To open the avocados:
With a knife, slice the avocado and open so you have two halves.
Take out the pit and scoop out the green avocado "meat".
Place avocado in a bowl and mash to desired texture. (chunky or smooth)
Add other ingredients and it's ready.
Whole30 – What To Eat With The Guacamole:
Paleo Plantain Chips are the perfect accompaniment for the Whole30 compliant guacamole.  Please note:  store-bought plantain chips, while delicious, are not Whole30 approved.
A new rule clarified that store-bought chips are not part of the Whole30 program.
"No store-bought chips of any origin (potato, tortilla, plantain, coconut, kale…)"
However, homemade chips are fine.  Try crispy oven baked kale chips!
Helpful Guacamole Tips:
Use a potato masher to make avocados as chunky or creamy as desired (even better than a fork, which can leave the mash too chunky).
Do not use a food processor to "mash" avocados as it will make them too pureed.
Oxidation happens when the avocado flesh is exposed to air.  To save the guacamole for later, lightly press plastic wrap over the surface and store in the refrigerator, for up to a few hours.
Guacamole tastes best at room temperature.
Buy avocados that are firm and leave on the counter a few days to ripen.
A trick to get them to ripen quicker is to place in a sealed paper bag with a banana for a day or two.
If too ripe and you are not ready to use, place the avocado on the refrigerator shelf which will slow ripening.
If you need your avocados ripe sooner, wrap the avocado in aluminum foil and place in 175 degrees F. oven for about 10-12 minutes.  Let cool and avocados should be ready to use.
There are so many variations possible with guacamole too.  This version is my basic, simple, everyday guacamole recipe.  I can whip this up in minutes and can be eaten right away or saved for later by storing in the refrigerator.  To make this guacamole recipe spicy, add 1/2 minced garlic.
Can you use lemon juice instead of lime for guacamole?
Yes, it will keep the guacamole from turning brown and will add a fresh citrus flavor that is different from lime, but also good.
As you can see by the photos, I like my guacamole a little on the chunky side.
Oh, and I usually use this method for squeezing citrus, especially when it's just 1/2 a lime as in this recipe.  Feel free to double this recipe too!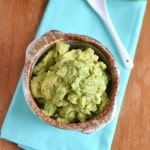 Easy Guacamole Recipe You Will Love - So Easy!
Easy Guacamole - this is an easy, creamy guacamole recipe. Can be double, tripled, etc...
Course:
dressing/sauce, Guacamole, Sauce, Side Dish, Snack, Spread
Ingredients
2

ripe avocados

1

tbsp

lime juice

(sub lemon juice)

1

clove

garlic

minced

1

tablespoon

onion, chopped very finely

(sub shallot)

salt and pepper to taste

6

grape or cherry tomatoes

(cut in quarters)

pinch

ground cumin
Instructions
Place the avocados in a bowl and mash with a potato masher.

Add the remaining ingredients and mix well.

Add salt and pepper to your taste.


Best consumed right away, but can put in refrigerator for later use.
Recipe Notes
May add several dashes of hot red pepper sauce to taste.
Nutrition Facts
Easy Guacamole Recipe You Will Love - So Easy!
Amount Per Serving
Calories 197
Calories from Fat 135
% Daily Value*
Total Fat 15g 23%
Sodium 16mg 1%
Potassium 924mg 26%
Total Carbohydrates 16g 5%
Protein 3g 6%
* Percent Daily Values are based on a 2000 calorie diet.