This day is going to end very well indeed!
Because – Paleo Turkey Chili!
It might start out as one of those days.  You know the kind, lots of running around, several appointments, multiple errands and checking off items on the cherished to do list.  One by one…off we go.
Later this afternoon, you will be walking into your house and get a whiff of the delicious, healthy meal that has been cooking and simmering all day long, for you and your family.  Off come the shoes, down to the bags as you bid a fond farewell to the stress of the day.  And it's all ready to go, steaming hot; just grab some dishes, sit down and feast.
This hearty bowl of chili warms the body and soul.  This Paleo Chili recipe uses ground dark turkey, canned organic tomatoes (but I often add some freshly chopped organic tomatoes as well), some delicious veggies and spices which combined make a recipe you will want to make again and again.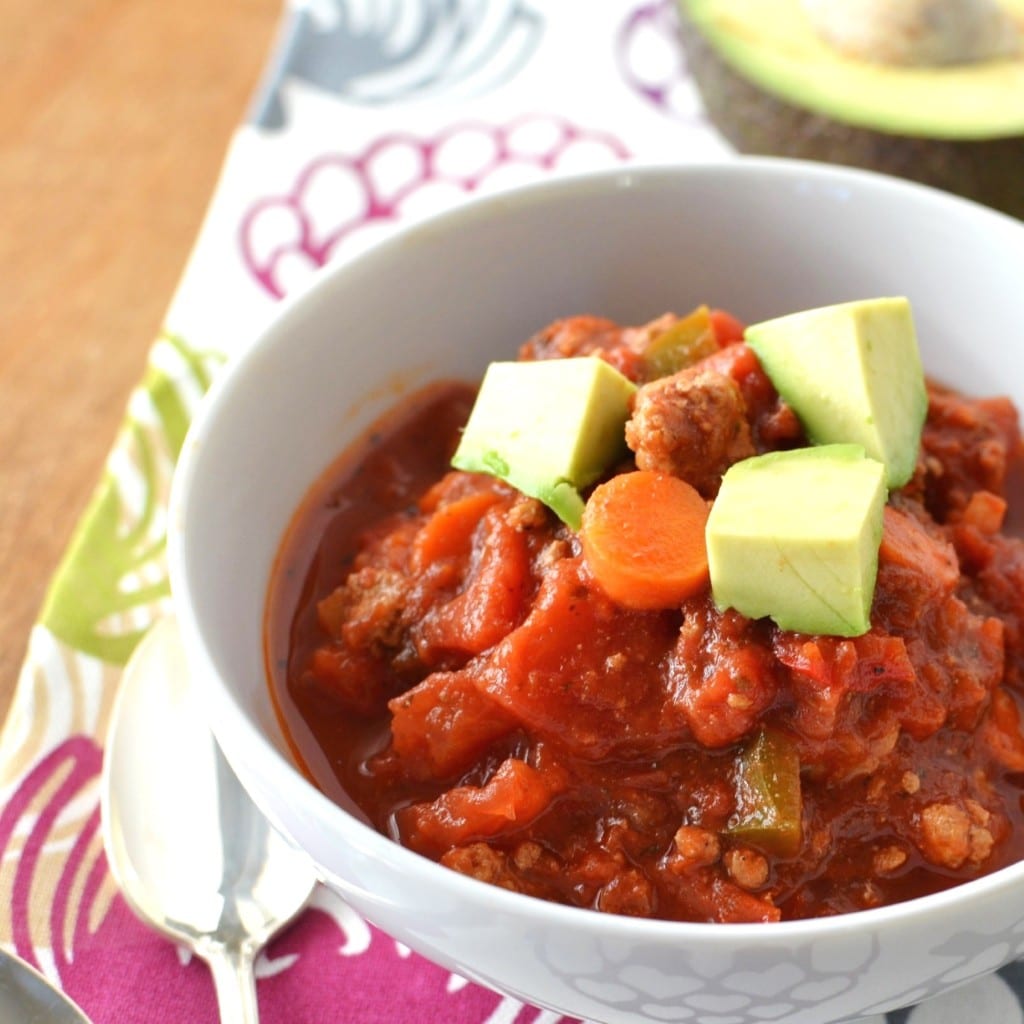 Looking for other amazing recipes? Check these out!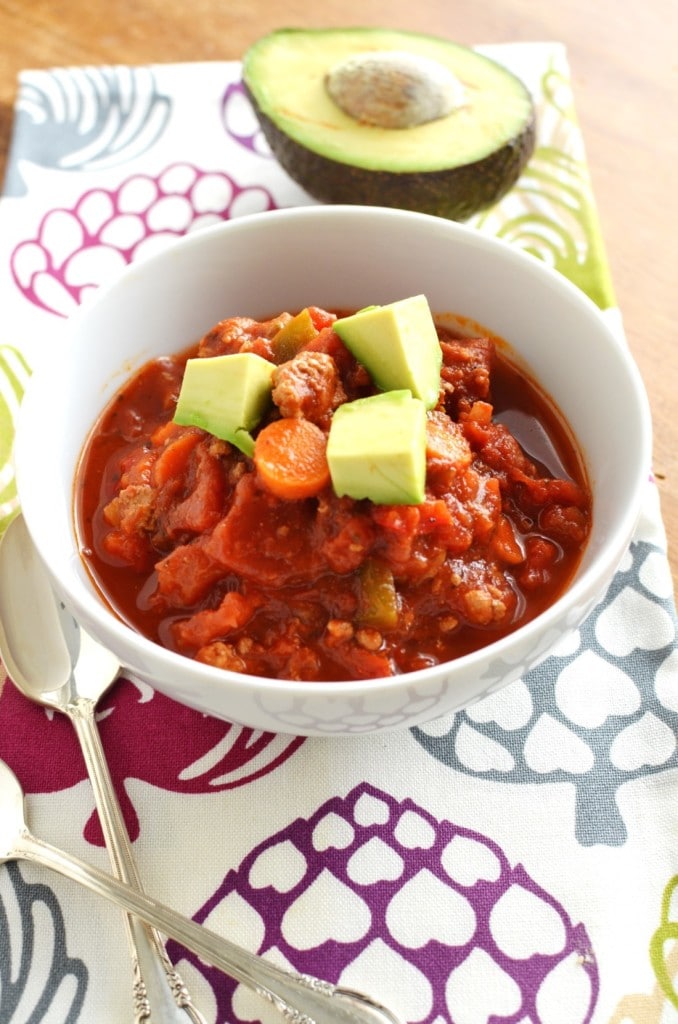 Making Your Easy Paleo Chili:
Anytime is the perfect time to make this everyday paleo chili!  With the cooler weather, it is a great warm bowl of healthy comfort food.  In the warmer months, when you prefer not turning on your oven and stove, the crockpot and slow cooker are great cooking options.
Tip:  Add some chopped sweet potatoes!  You will need to let them cook until fork tender, which may take a few hours.  I have done this the last few times I made this paleo beanless chili recipe and loved it!  Paleo chili does not have beans, but with the right ingredients, you won't miss them.
I recently purchased a slow cooker.  It is a very simple one, but it works amazingly well! Yes, finally I am learning the joys of this wonderful cooking instrument.  This paleo turkey chili recipe is a wonderful dish to make in the slow cooker and was delicious and hearty to consume as the winds were howling outside recently.
Last week I also received a delivery of firewood. Perfect timing.  Eating this spicy, amazing chili by the cozy fire was like a scene out of a holiday card.  Or, something like that.  Of course, my basset hound Dino was right by my side.
Variations to Your Whole30 Chili Recipe:
As with all chili recipes, you can vary the veggies and spices to your preferences.  I recently discovered adding some chopped sweet potatoes, but regular chopped potatoes would also work.  You are starting to move away from a traditional chili recipe and more towards a stew, but I really like to try new things.  I have also made a variation of this completely meatless, with the potatoes and it was amazing!
Low Fodmap Version:
I have been following a low fodmap diet for a while.  It was recommended by my nutritionist and is helping with symptoms of IBS.  Many recipes can be adjusted to the low fodmap compliant.  In this recipe, I would chop the garlic into three large pieces (instead of mincing) and saute in extra virgin olive oil for a few minutes.  Then remove the garlic pieces and toss out.
This becomes garlic infused oil which works on a low fodmap diet.  The oil has the flavor of garlic and so will your recipe.  I use this method quite often with no adverse consequences.  If you are on a low fodmap diet, check with your health professional first, to make sure it is the right thing for you.
I chop the onions in a similar fashion – big pieces that I can fish out.  I saute them in the extra virgin olive oil the same way as the garlic.  Then I toss them out.  This process works fine for me being on a low fodmap diet.  For more information about the low fodmap diet, Monash University has great information and they have created an app (which I do not have yet).
Paleo Chili Slow Cooker (Crockpot):
I am so glad I finally starting using a crockpot/slow cooker.  I am discovering that slow cookers are awesome, just set the temperature and as your dish is cooking, your home is filled with the most amazing scents.  It will be an adventure trying new recipes with this slow cooker. And, I hope to try this in an Instant Pot soon as well.
I am really looking forward to making some sort of baked apples with a cinnamon recipe.  Ah, the fun of being a food blogger. 🙂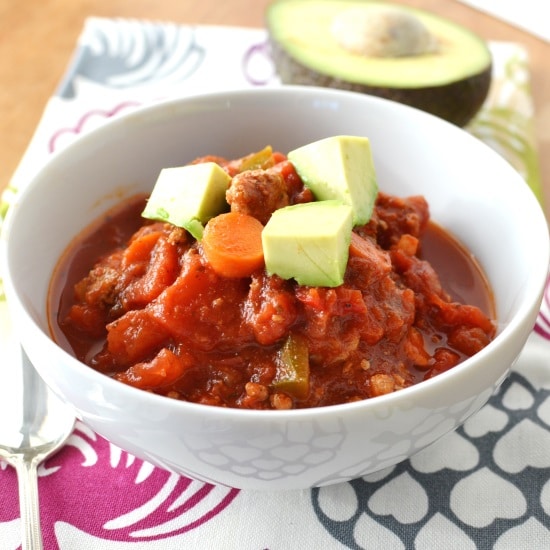 ★ Did you make this recipe? Please give it a star rating below!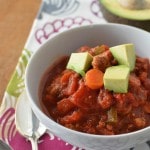 The BEST Crockpot Paleo Chili - Easy and Healthy!
This is a delicious, hearty Paleo chili recipe with just enough heat! Gluten-Free, Grain-Free, Dairy-Free!
Course:
Chili, Dinner, Entree, Main Course
Ingredients
1

lb

dark ground turkey

1

tablespoon

olive oil

l

large garlic clove minced

1/2

in

onion chopped

( I have used either yellow or red onion this recipe)

2

cups

chopped diced peppers

(about 1/2 of a red and 1/2 of a green) pepper (could use yellow also). Shortcut: use frozen sliced peppers and chop them.

1

cup

celery, chopped and diced

(about 5 large stalks)

1

cup

carrots, chopped and diced

(about 5 large carrots) Shortcut: use frozen sliced carrots.

28

ounce

can crushed tomatoes

28

ounce

can fire roasted petite diced tomatoes

1

tablespoon

chili powder

1

tablespoon

basil

1

teaspoon

cumin

1

tablespoon

oregano

1

teaspoon

salt

1/2

teaspoon

pepper
Instructions
In a skillet, saute onion and garlic until translucent in 1 tablespoon olive oil, about 5 minutes. Keep a close watch to make sure onion and garlic don't burn.

Add ground turkey to skillet and brown and cook turkey until no longer pink.

Add turkey mixture and all other ingredients into your slow cooker. Stir the ingredients to combine. Then put on the lid and set the temperature.

I cook this two ways - on high for 3 hours if I want/need it sooner or 6-8 hours on low if I have the time to wait. Both ways are great.
Nutrition Facts
The BEST Crockpot Paleo Chili - Easy and Healthy!
Amount Per Serving
Calories 127
Calories from Fat 18
% Daily Value*
Fat 2g3%
Cholesterol 24mg8%
Sodium 514mg21%
Potassium 521mg15%
Carbohydrates 13g4%
Protein 13g26%
Vitamin A 3875IU78%
Vitamin C 47.9mg58%
Calcium 75mg8%
Iron 2.4mg13%
* Percent Daily Values are based on a 2000 calorie diet.
Thank you for using my affiliate links, which at no extra cost to you, provides me with a small commission that helps with the running of this site.   I look forward to creating and posting many more delicious recipes for you.