These Cranberry Orange Scones (Paleo, gluten-free, dairy-free, grain-free) taste so authentic, they disappear as soon as I make them.
Bonus:  the house smells great as they are baking.
When starting a gluten-free diet, it did not enter my most vivid imagination that I would ever eat a scone again.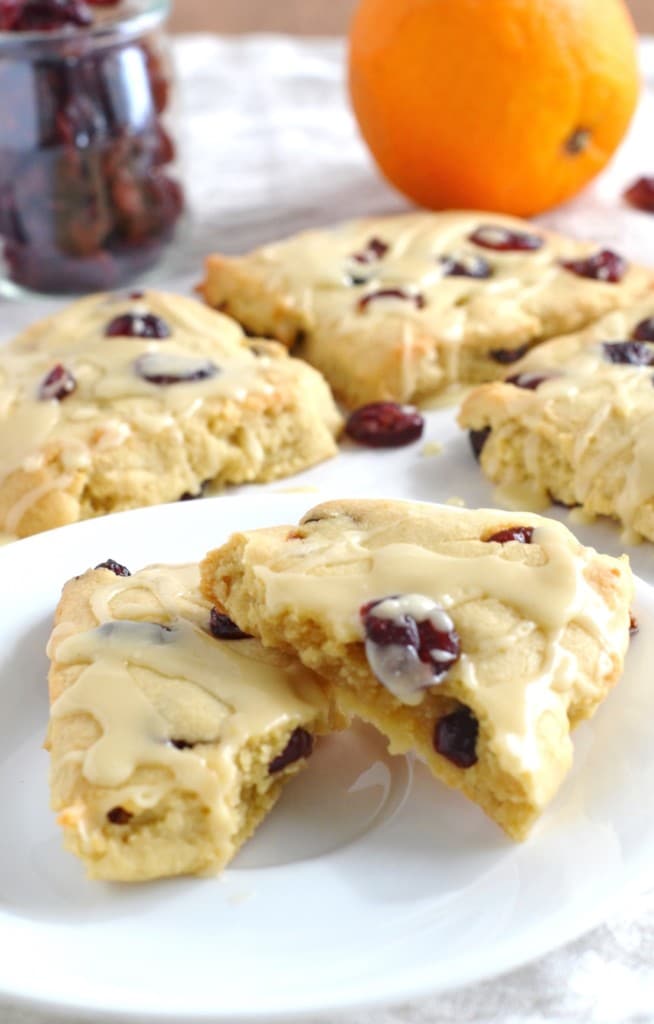 And, if I did, would it taste okay?  As you may know, I only post recipes I really like, and if I am posting a recipe for dairy free, gluten free scones, that are also grain free, that's a good sign?
I have had several readers email to say not only did they love this recipe, but the non-gluten free people in their life loved it as well!
Tagged From A Reader via Instagram:  
"Christmas came early with this little recipe gift from @24carrotkitchen. I've searched for a paleo scone recipe with no coconut flour and have tried many only to be disappointed. I finally found a winner."
This did not surprise me at all.  It is always inspiring to find a great, grain free, gluten and dairy free scone that tastes so much like the real thing.  Maybe better, I dare say.
Making Your Cranberry Orange Scones:
I use a base recipe and then change the ingredients for the specific recipe I am making, in this case, cranberry and orange.  Psst…I have a few other great flavor combos coming in future posts (blueberry gluten-free scones) and (cinnamon raisin gluten free scones).  In this healthy cranberry orange scones recipe, I decided to add a glazed topping; which is, of course completely optional (but delicious!).
These easy cranberry scones make me think of tea, which reminds me of something I recently discovered and which I will pass along to you.  I love green tea, but that is only the case recently.  For a long time, I detested it.
But realizing all the health benefits, I kept trying different brands, asking people what their favorite brands were, trying those brands and ultimately wondering if I would ever like green tea.  I was absolutely amazed that people liked green tea!
But then I read something about green tea which basically said that it was important not to steep it for more than 2-3 minutes max or else it gets bitter.  Okay, so I tried it, and ever since I love green tea.  Seriously, I put the timer on for 2 minutes without fail.  I thought I would pass that along just in case you may have been in the same dilemma.
And by the way, I am not too fussy about the brand either, although I prefer organic.  They all taste good to me now.  So, if you have a green tea story, do tell.  I would love to hear.
Update:  I have now tried matcha green tea (well, in the form of a non-dairy ice cream) and love that as well!  So, I recently purchased some matcha green tea and have yet to do anything with it. Ideas about where to start?
Making the Glaze For Your Cranberry Orange Scones:
In a small mixing bowl, add 1/4 cup organic confectioners sugar and 1/2-1 teaspoon fresh orange juice.  Whisk these ingredients until the icing is smooth and pourable.  You may need to add a bit of sugar or orange juice to get the desired consistency.  An alternative to orange juice is unsweetened almond milk or another non-dairy milk.
Adding orange zest (if using organic oranges) to the glaze would be a very nice addition.
Here is the recipe I use as the base for these scones, and then I vary the directions and ingredients to the recipe I am creating.  I would describe these fresh cranberry orange scones as rich, flaky and slightly sweet. I bake mine until just slightly browned on top.  As they cool, they become a little crusty on the outside while moist on the inside.  They can be stored in an airtight container.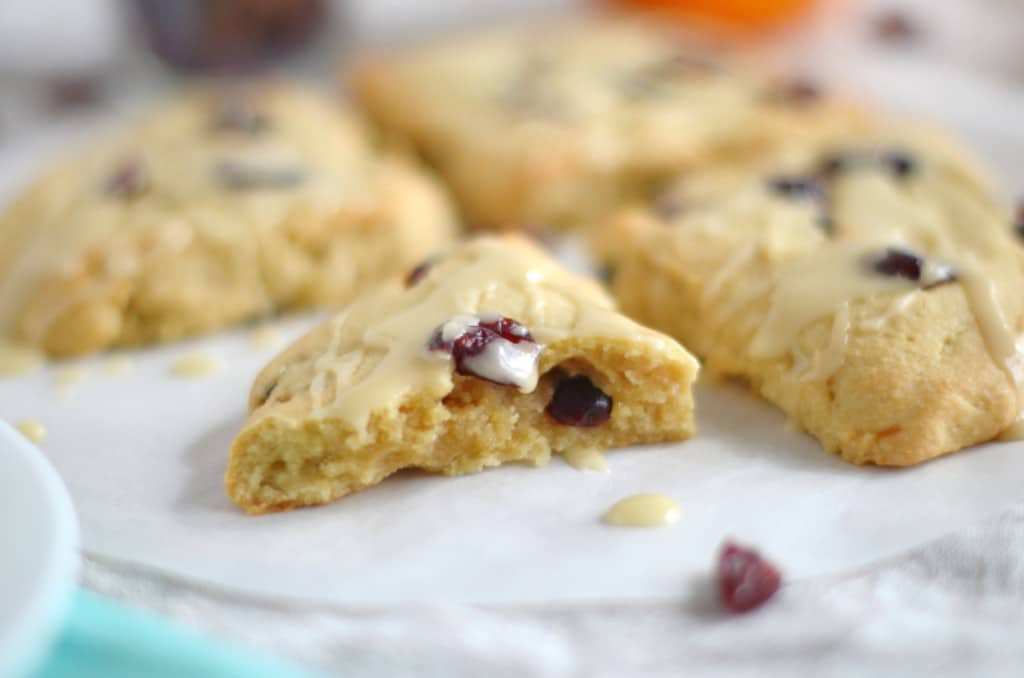 Related:
What is your favorite scone flavor combination?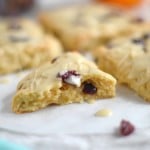 Awesome Cranberry Orange Scones-So Easy!
These delicious Cranberry Oranges (Paleo, grain, gluten and dairy free) taste so amazing! Try with a bit of your favorite jam, jelly or ghee. They are delicious with a bit of glaze as well.
Course:
Breakfast, Breakfast Scone, Brunch, Glaze Sauce, Scone
Cuisine:
American, Breakfast
Ingredients
1 1/3

cup

blanched almond flour

1/2

cup

arrowroot flour

1

teaspoon

baking powder

1/8

teaspoon

salt

1/4

cup

coconut oil

1

large egg

3

tablespoons

maple syrup

1

teaspoon

vanilla extract

1

tablespoon

orange zest

1/3

cup

dried cranberries

(add more if you prefer)

glaze

1/4

cup

confectioners sugar (gluten-free brand)

(I use an organic brand with ingredients of just sugar and tapioca starch)

1/2 - 1

teaspoon

about 1/2 of orange juiced

(can also use almond milk)
Instructions
Preheat oven to 350 degrees F.

Prepare a baking pan by lining with parchment paper.

In a medium-sized mixing bowl, place the dry ingredients and whisk until all (or most) lumps are gone. Almond flour tends to have lumps.

Then add the rest of the ingredients and mix well (I use a large spatula).

Place mixture onto the prepared baking sheet with parchment and shape into a circular round about 1 inch in thickness. Cut into four - six pieces.

Separate pieces so they are not touching and can bake this way.

Bake for 20 minutes or until slightly browned on top.

Let cool and serve. Can be stored in airtight container.

Optional: top with glaze once cooled. To make glaze, place confectioners sugar and orange juice in a bowl and whisk until it forms a smooth glaze. You may need to add a little more sugar or orange juice to get the right consistency. An alternative to orange juice is almond milk or another non-dairy milk.
Nutrition Facts
Awesome Cranberry Orange Scones-So Easy!
Amount Per Serving
Calories 454
Calories from Fat 252
% Daily Value*
Total Fat 28g 43%
Cholesterol 40mg 13%
Sodium 91mg 4%
Potassium 149mg 4%
Total Carbohydrates 47g 16%
Protein 7g 14%
* Percent Daily Values are based on a 2000 calorie diet.
Easy to Pin It Strip: