This Paleo Grain Free Cranberry Nut Granola has many uses; a breakfast cereal with milk, as a topping on ice cream, as a snack; or just to take along when out and about.  What a great protein packed recipe that is super easy to make and you control the ingredients!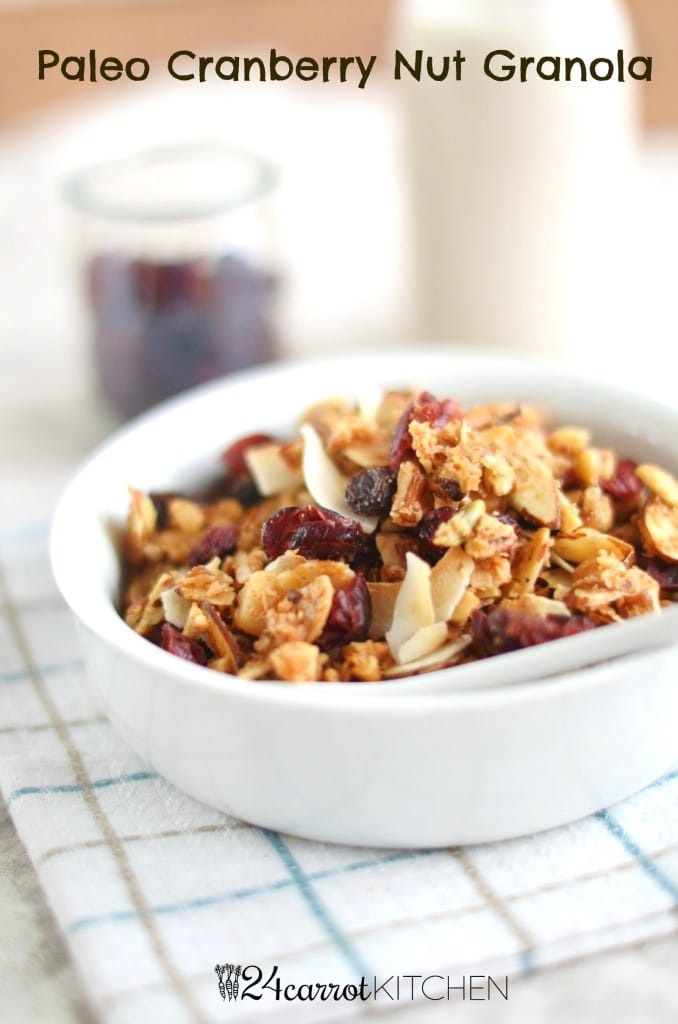 Here are the ingredients you will need for this granola recipe:
Chopped Nuts, Pumpkin Seeds, Dried Cranberry, Shredded Unsweetened Coconut, Coconut Oil, Maple Syrup, Cinnamon, Toasted Coconut Flakes, Raisins, Sea salt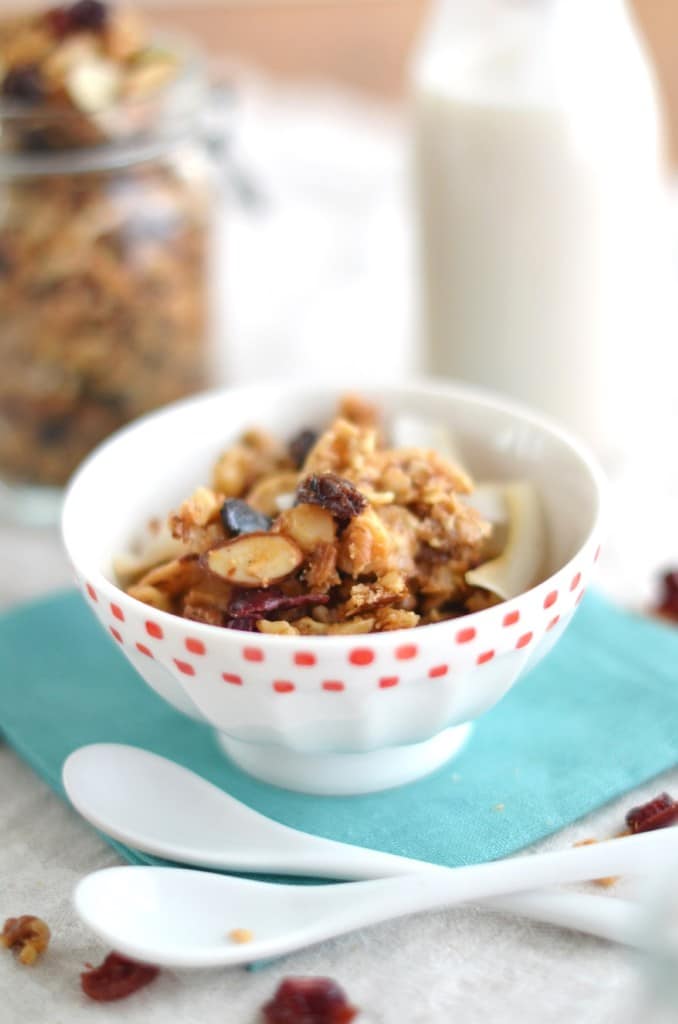 I looove this granola with unsweetened almond milk for breakfast.  It is perfection for those mornings I am looking for fast and easy.  All I do is make a batch, store in a mason jar on the kitchen counter; and then it is ready to go whenever it is needed.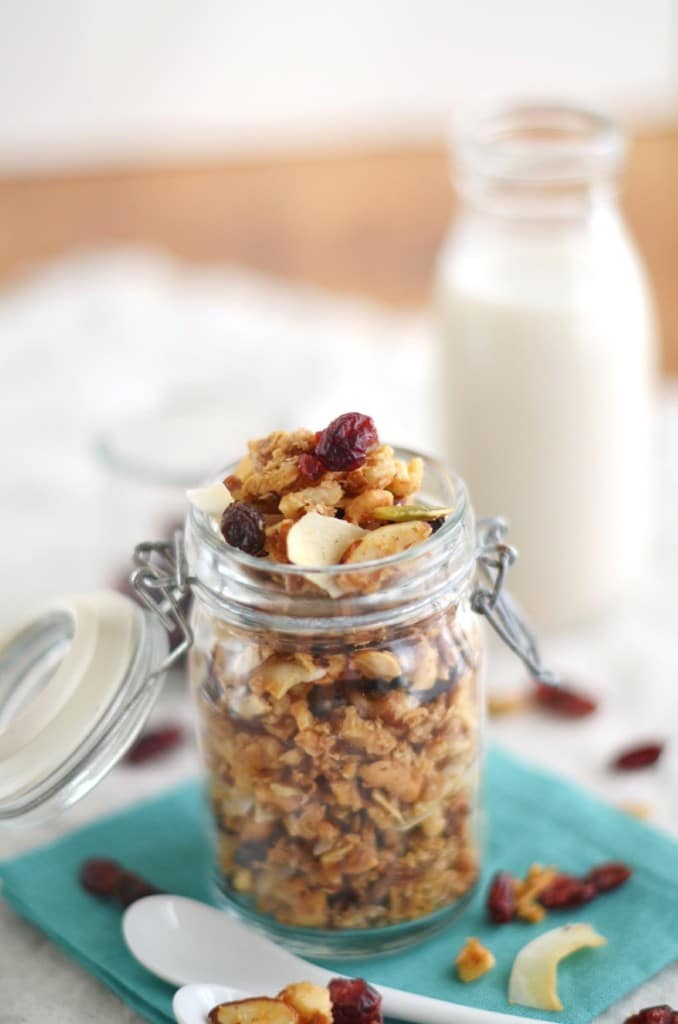 And FYI – this recipe is totally customizable.  For example, use your favorite nuts, omit the raisins, add another dried fruit (or not).  You get the idea.  Try and use what you happen to have on hand, if possible.
One tip I would like to emphasize is to keep an eye on the granola when baking in the oven,  so it does not burn.  Once it starts turning brown, it is done.  Do not worry, it should harden and form some clumps as it cools.  Love those clumps!
I hope you enjoy this recipe if you try it.  This is the granola I use in this recipe.
What are your favorite granola flavor/ingredient combinations?  Please do tell!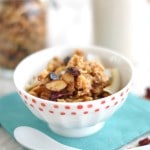 Paleo Cranberry Nut Granola
Lots of healthy fats and nutrition in this easy paleo granola recipe! Use as a snack, topping for ice cream, or with milk as a cereal.
Ingredients
1/2

cup

chopped walnuts

1/4

cup

chopped pecans

1/4

cup

sliced almonds

1/8

cup

chopped macadamia nuts

1/4

cup

chopped cashews

1/2

cup

unsweetened shredded coconut

1/4

cup

dried cranberries

1

tablespoon

coconut oil

melted

2

tablespoons

maple syrup

1/2

teaspoon

cinnamon

My favorite is Ceylon

1

tablespoon

pumpkin seeds

optional

1/4

cup

toasted coconut flakes

optional

1/8

teaspoon

sea salt

1/8

cup

raisins

optional
Instructions
Preheat oven to 300 degrees F.

Line a baking pan with parchment paper.

Place all ingredients in a bowl, except cranberries, toasted coconut and raisins. Toss to mix well.

Pour granola onto baking pan and spread out in a single layer.

Bake for approximately 20 minutes until just slightly browned. Let cool on baking pan, approximately 15 minutes. The granola will start to harden into crispy clumps as it cools.

Once cool pour into a bowl and add cranberries, raisins and toasted coconut flakes if using.

Store in an airtight container.
Easy Pin It Strip –