In the hunt for a quick and easy breakfast idea with lots of great taste, this Paleo Breakfast Casserole was born.
On a recent morning, with the refrigerator open wide, I peered in looking at the options.
The ideal objective – a delicious yet healthy home-prepared Paleo breakfast idea.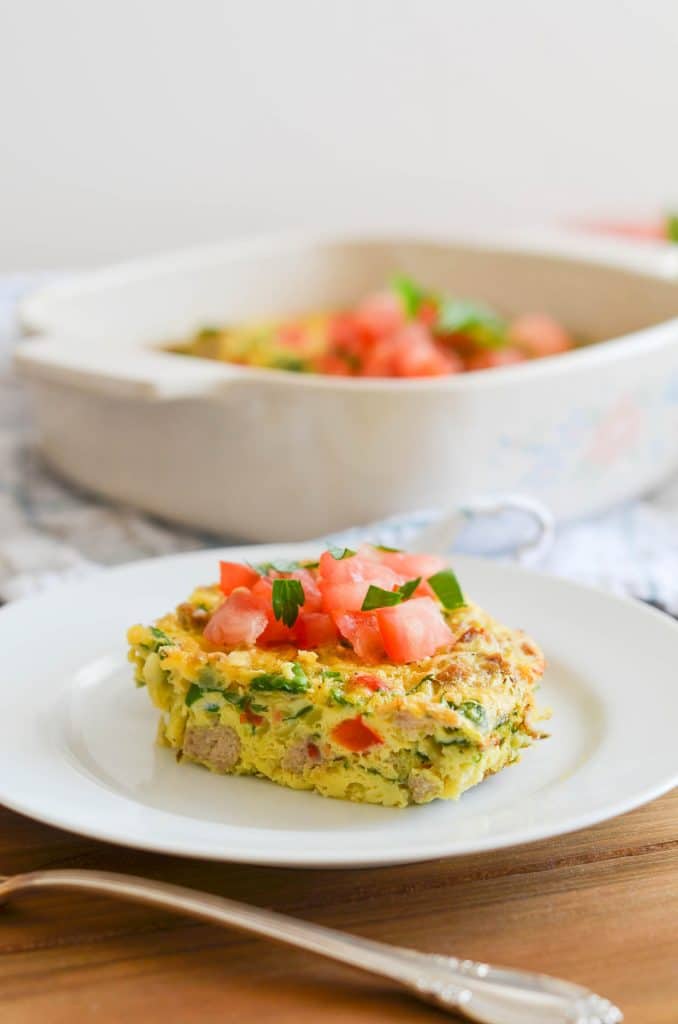 As the rain pelted the windows on an unseasonably cold day, I was seeking warm comfort food.
Would a meal bake for me while I scurried around getting ready for the day?
And while we're at it, could we also please use my favorite homemade breakfast turkey sausage as well? Note: To make the sausage Whole30, omit sweetener.
After discovering how easy this Whole30 Egg Casserole is to make, and it's a perfect size, it has become a family favorite. It is a little less fussy to prepare than scrambled eggs with basil or this delicious poached eggs recipe. So, we'll save those for another day.
What You Will Love About This Paleo Breakfast Casserole:
Great for holidays and parties
Gluten-Free Breakfast Casserole.
Can make the night before (prepare all the ingredients and add eggs at the last minute). Details later in the post.
Dairy-Free Breakfast Casserole.
Grab-and-go breakfast
Great for Back to School!! – both parents and kids love
Non-Paleo and dairy-free folks LOVE this recipe!
Can leave out the sausage for a vegetarian version
Take for lunch
Easy to adjust for portions (Make a small or large casserole)
Swap out and use your favorite vegetables or use the freshest seasonal harvest vegetables.
Easier to make than many other egg dishes.
More Paleo Breakfasts To Try: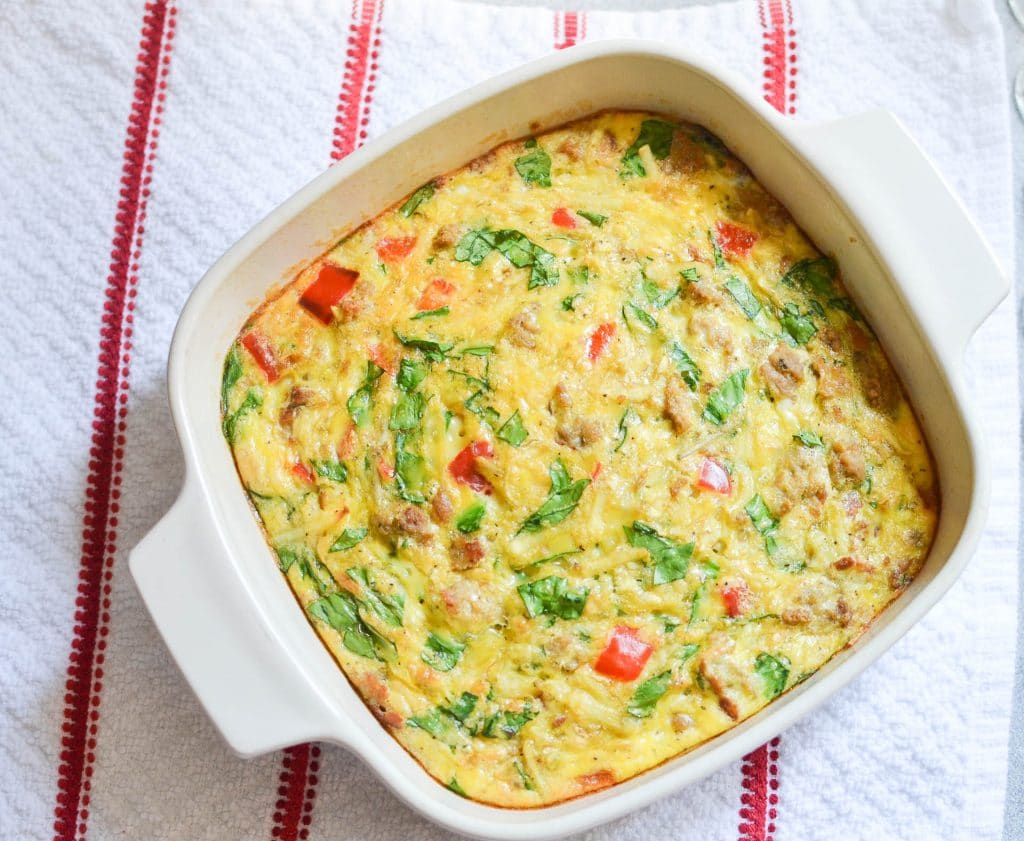 You could also call this a Paleo breakfast quiche without the crust. Next on my list to try with this recipe: Paleo egg bake muffins.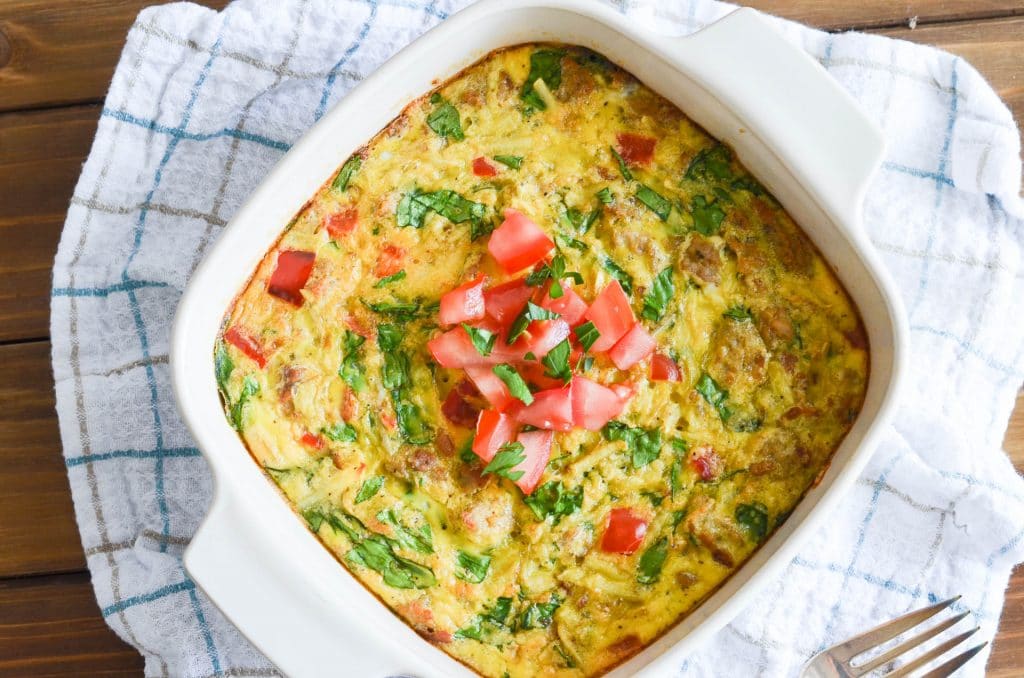 With four servings/slices, it is the perfect size for two people. Just enough for a serving (or two) now and maybe one for later.
However, if you desire a larger casserole, simply double this recipe and use a larger casserole dish.
The larger casserole size is made when I have a large group to feed. Otherwise, I would rather make this smaller size casserole rather than one larger casserole with many portions consumed over several days. One reason is that this casserole tastes best right out of the oven.
How To Make Your Breakfast Casserole In Advance:
Because overnight guests wake up hungry and the school start time always seems so much earlier every year. 🙂
Make the sausage (or if you are like me, I have a prepared stash in the freezer ready to go!)
Chop or shred all vegetables.
Add everything to your casserole dish except almond milk, eggs, and seltzer.
In the morning whisk the eggs, seltzer, and milk and pour over eggs and bake.
FAQ's: Paleo Egg Casserole:
Can this casserole be put in the freezer? A: Not sure, but I do not advise as the texture might change.
How do I store this casserole? A: Airtight container in the refrigerator for up to a few days. But it is best served right out of the oven.
Can this be made in a crockpot or slow cooker? A: I have not done this and prefer baking in the oven.
What's the best substitute for milk in egg casserole? A: Most non-dairy (or dairy-free) milk will work fine.
Tips for Making Your Gluten-Free, Dairy-Free Breakfast Casserole:
Combining the eggs with plain seltzer water helps makes the eggs a little fluffier.
Use your favorite vegetables. Some great options would be mushrooms, bacon, zucchini, etc…
Don't overbake. Don't stray too far from the oven because time flies.
Make this crazy delicious homemade turkey sausage recipe ahead of time.
Toppings Ideas for Your Whole30 Egg Casserole:
Chopped tomato tossed with extra virgin olive oil and fine sea salt. (my favorite and used with this recipe)
Ketchup
A sprinkling of chopped parsley or chives.
Salsa
Hot sauce
Chopped bacon bits
With guests coming, upcoming busy back to school mornings, or comfort food seeking days, you will be on time and ready to go with this super easy and most delicious gluten-free, dairy-free breakfast!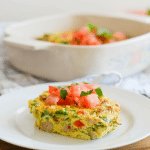 A Super Simple and Most Amazing Paleo Breakfast Casserole!
Enjoy this delicious Paleo Breakfast Casserole in the morning, for brunch or anytime! With just a few ingredients, it is super easy to make!
Course:
Breakfast, Brunch, Main Course
Ingredients
1/2

cup

organic red pepper, chopped

1

cup

turkey breakfast sausage, crumbled

4

large

organic eggs

1/8

cup

plain seltzer water

1/2

cup

organic spinach, chopped

1/2

cup

organic sweet potato, shredded

1/8

cup

almond milk

1/8

teaspoon

fine sea salt

1/4

teaspoon

ground pepper

1/2

teaspoon

dried chives

(optional)

1

organic tomato, chopped

(as a side and garnish)

1/2

teaspoon

extra virgin olive oil

pinch

fine sea salt
Instructions
Preheat oven to 350 degrees F.

Lightly grease a 1-liter casserole dish with oil spray.

In a medium to large bowl, add the eggs and seltzer and whisk until combined. Set aside.

To this bowl, add all the other ingredients - red pepper, spinach, sweet potato, almond milk, sausage crumbles, salt, pepper and dried chives.

Mix to combine.

Pour egg mixture into prepared casserole dish.

Smooth out and make sure ingredients are evenly distributed in the casserole dish.

Bake for 25-30 minutes until lightly browned and eggs are set.

In a small bowl, add chopped tomato, extra virgin olive oil, and salt. Stir to combine.

Cut casserole into four slices and add to plates with a scoop of tomato garnish.
Recipe Notes
Sausage:  you may use store-bought or make your own.  I use the recipe on my site and usually make ahead of time and then chop and crumble for this casserole
Nutrition Facts
A Super Simple and Most Amazing Paleo Breakfast Casserole!
Amount Per Serving
Calories 149
Calories from Fat 63
% Daily Value*
Fat 7g11%
Cholesterol 207mg69%
Sodium 336mg14%
Potassium 350mg10%
Carbohydrates 6g2%
Protein 12g24%
Vitamin A 4260IU85%
Vitamin C 34.2mg41%
Calcium 60mg6%
Iron 1.7mg9%
* Percent Daily Values are based on a 2000 calorie diet.
Resources: TheKitchn,
Recipe adapted from here.