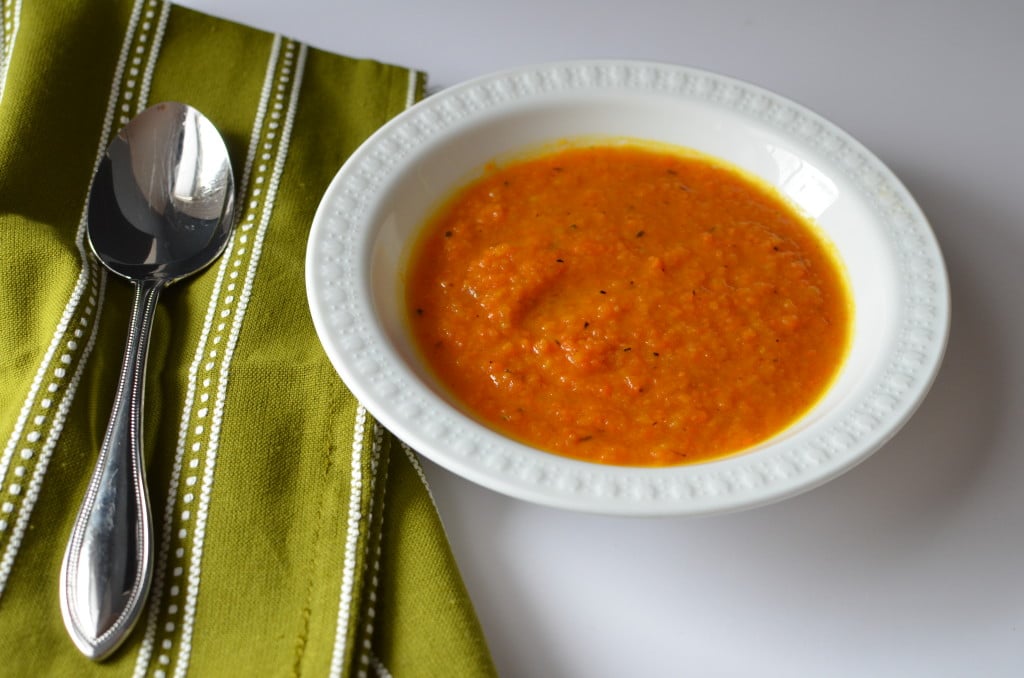 Who Knew!
As in who knew I liked carrot soup!  I saw this dish on another blog and it looked great and the description said it was tasty, so I figured it was worth a try.  Well, I am glad I did. I cannot honestly remember EVER eating carrot soup.  This recipe uses only a few ingredients and is rather easy.  It makes a satisfying meal, I must say.  Have I been depriving myself of carrot soup all this time?
I decided to make this soup with a little texture so it is not completely smooth (as you might notice in the photographs).  I also adjusted some of the ingredients from the original recipe with substitutions and/or omissions.
Recipe from Marin Mama Cooks, originally from Food52
6-8 large carrots – I used 7 large carrots
1/4 cup olive oil – I found I needed much less as I  will show you.
6 cups vegetable stock – I used a good quality low sodium boxed vegetable stock from Whole Foods
1 piece of fresh ginger, about an inch long, peeled
1 piece fresh thyme – I used a pinch of dried thyme
1/2 large sweet onion, chopped – I actually used a regular yellow onion and it worked great.  Next time I will try a sweet onion and it may be even better.
2 large garlic cloves, chopped – I used one garlic clove and it was fine.  I tend to use less garlic than most recipes call for.
Salt and freshly ground pepper to taste.
See, not many ingredients, but the combination adds up to big flavor.
The first thing I did was peel and cut the carrots in about 3 inch long pieces.  Place the carrot pieces on a baking sheet and sprinkle about 2 tablespoons of olive oil over to coat.  Sprinkle generously with salt.  (I used my hands to coat all the pieces with olive oil).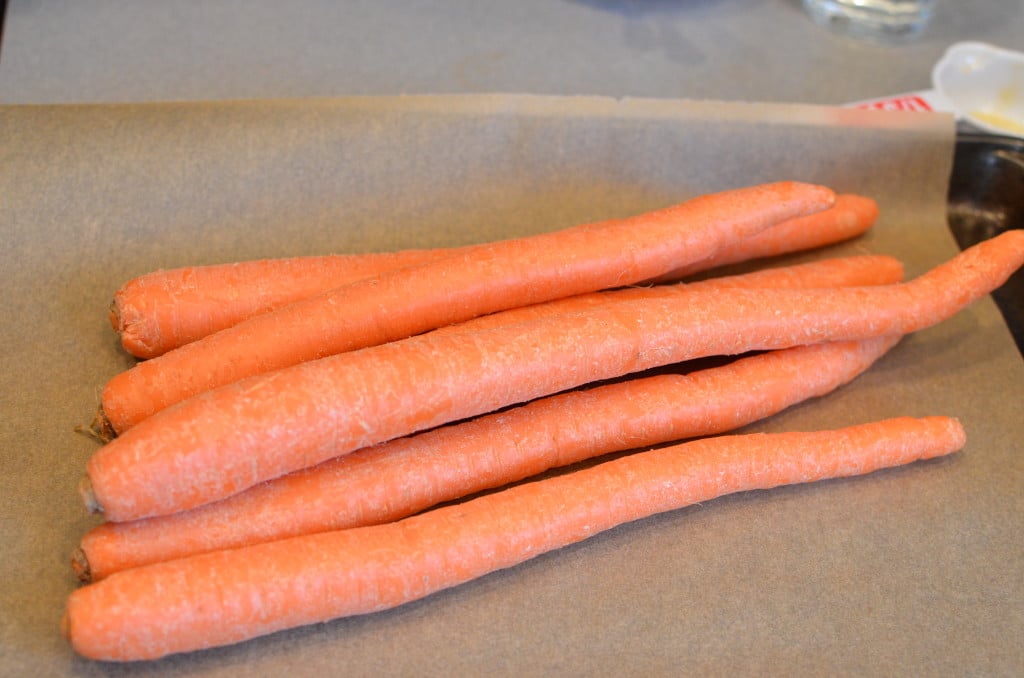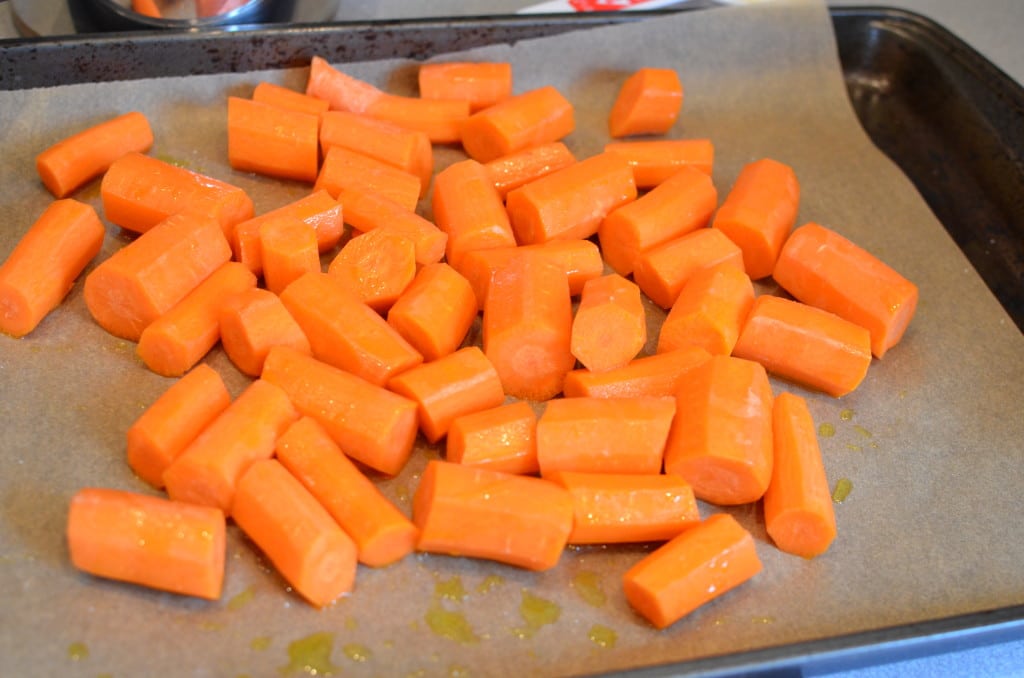 Then I placed the carrots in the oven on the broiler setting, checking them after about 10 minutes and turning them.  The total cooking time was about 20 minutes or so.  Keep an eye on them, checking every five minutes or so.
So, while the carrots are cooking, I placed a few tablespoons of olive oil in a sauce pan with the chopped onions. I did not need 1/4 cup of olive or anywhere near it.  Then I let the onions saute and become translucent.  As the onions were cooking, I prepared the ginger (took skin off with the back of a spoon or knife), and got all the other ingredients ready.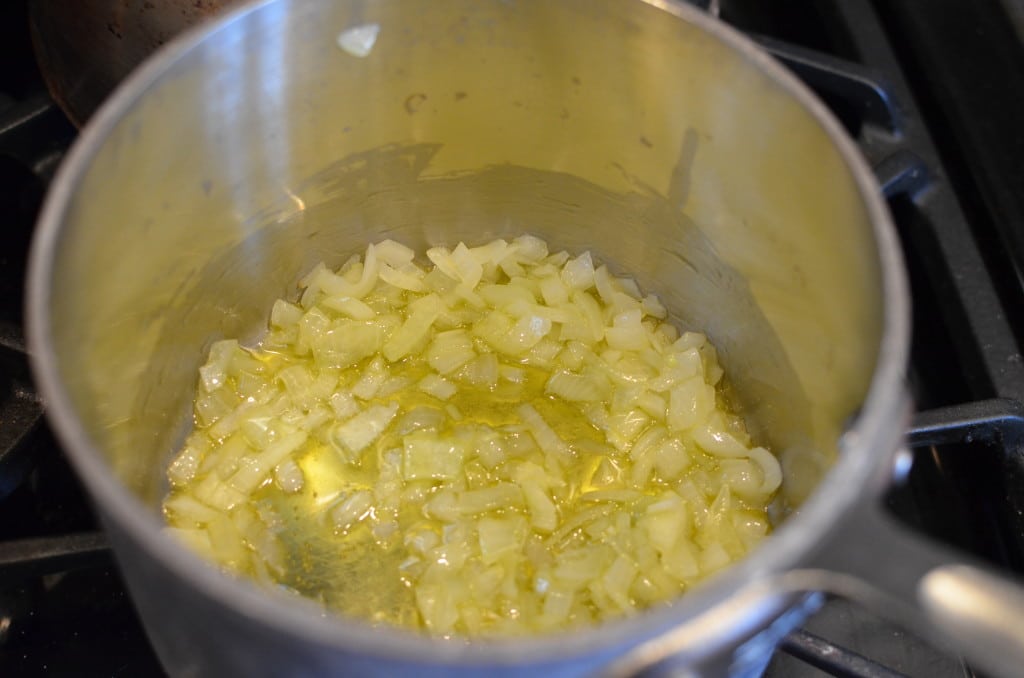 While the onions are sauteeing, this would be a great time to pour the vegetable stock along with the ginger in another sauce pan.  Simmer for 15 minutes.  Then I added a pinch of thyme.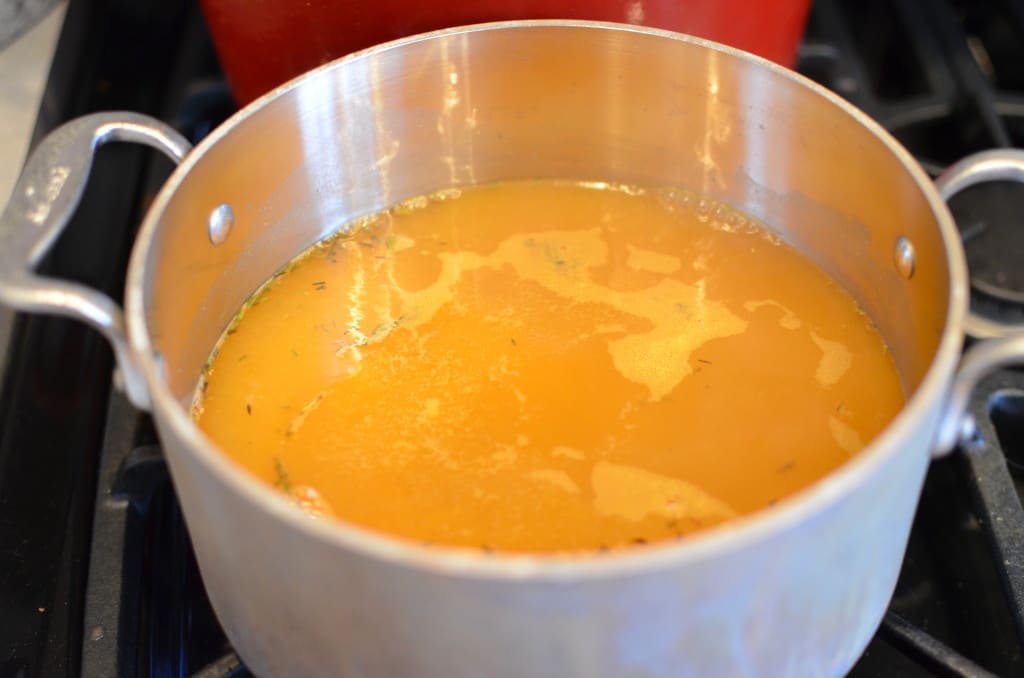 The carrots are done; set them aside to cool.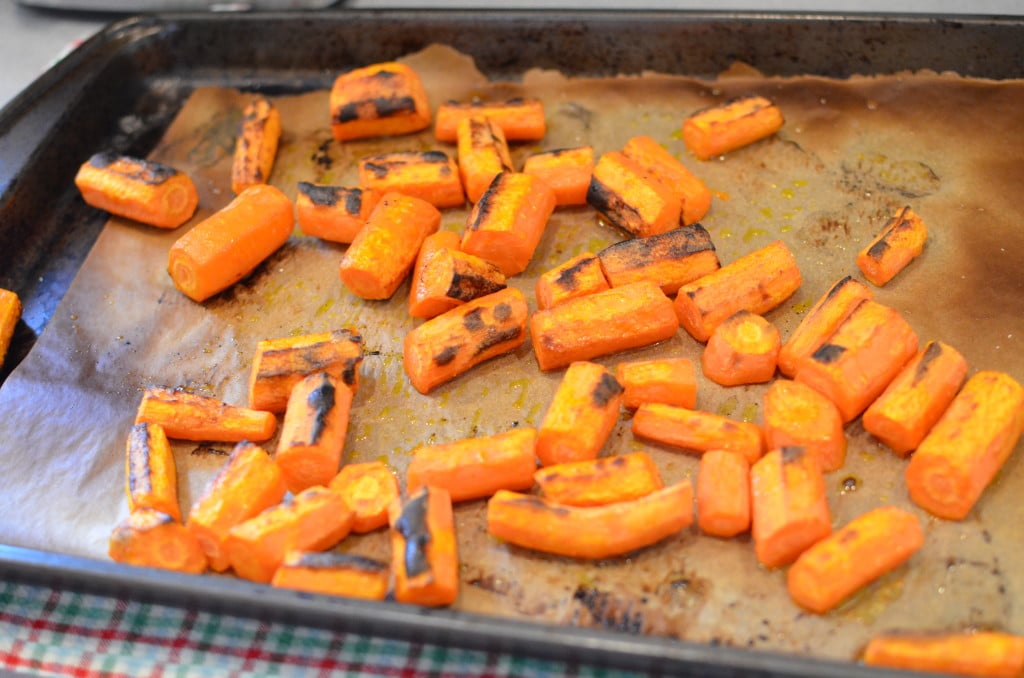 As you can see, I like them really roasted and blackened in parts.  You can see some small black bits in the finished soup.  Roast them until they are tender as you will pureeing them.
Next, add the garlic and then carrots to the onion mixture.  Remove the ginger from the stock and add the onion to the carrot mixture.  Bring to a boil, then simmer for 10-15 minutes.  The carrots should be soft enough to puree.
Now, get out the blender.  Just a note that I bought a Ninja blender last year and love, love, love it.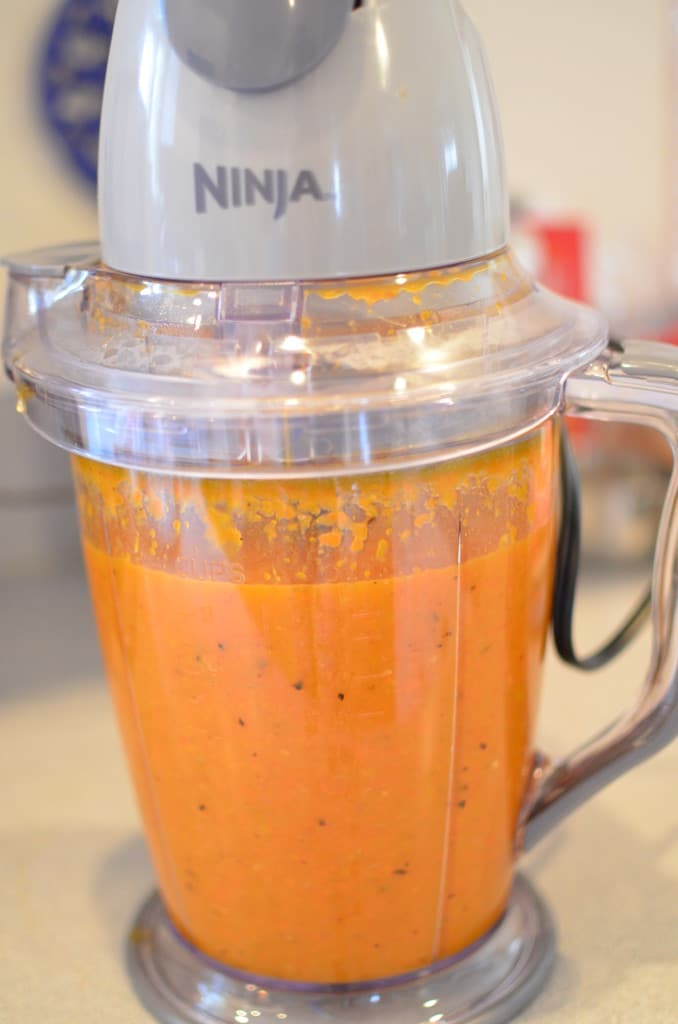 Look at that beautiful orange color.  Add salt and pepper to taste.  I had to taste mine right away and shezam, it was good.  It was dinner that night and did not last.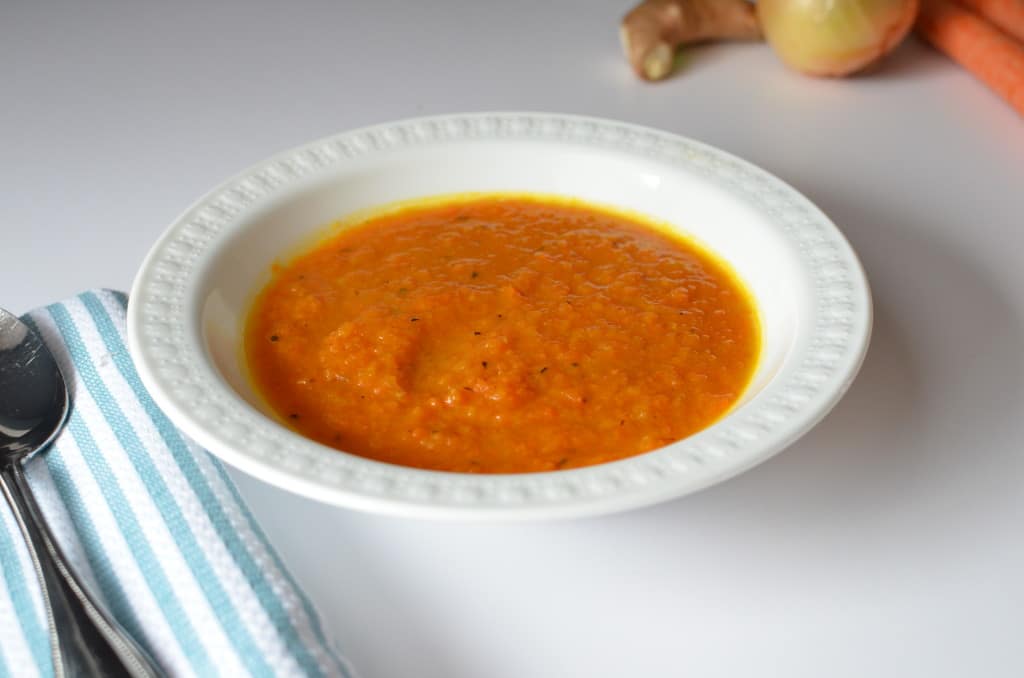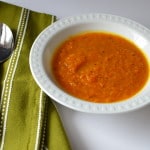 Delicious Roasted Carrot Soup
Ingredients
6-8

large carrots

1/4

cup

olive oil

I used much less

6

cups

vegetable stock

1

piece

ginger

inch long, peeled

1

sprig of thyme or pinch dried

1/2

sweet onion

chopped (I used a yellow onion)

2

cloves

garlic

chopped (I used one)

Salt and freshly ground pepper to taste
Instructions
First, peel and slice carrots in 3 inch pieces. Set on baking sheet pan, sprinkle with about 2 tablespoons olive oil and sprinkle with salt. Place in oven, under broiler, watching carefully and turning every 10 minutes. Should cook/roast in about 20 minutes. Then set aside to cool.

Chop onion and place in sauce pan with a few tablespoons of olive oil and saute until translucent. At this point, add the garlic, then the carrots.

In another saucepan, add 6 cups vegetable stock and ginger. Bring to a boil and then simmer for 15 minutes. Add thyme. Once done, remove ginger and add contents to the onion mixture. Cook for 5-10 minutes until carrots are soft enough to puree.

Pour carrot mixture into blender (or use hand held blender) and blend until desired consistency is reached. Add more stock or water if it is too thick.

Pour back into saucepan and heat on low until ready to serve.
You could try this recipe with croutons or break off a piece of crusty bread.  Yum!  I would love to hear how you like it if you try it.