Don't you love a soup with magical, amazing powers?
What, you say?
To me, that is what this Awesome Chicken Gluten Free Soup is.
Because there are times when it is the most perfect possible solution.  And recently, that is, exactly what happened and I was craving this soup something fierce.
I knew, as do others, that it works.
And this particular version of this soup recipe is streamlined to be very easy and straightforward, with a few simple ingredients.  We all need recipes like this.  Make a big pot of this and have leftovers for days!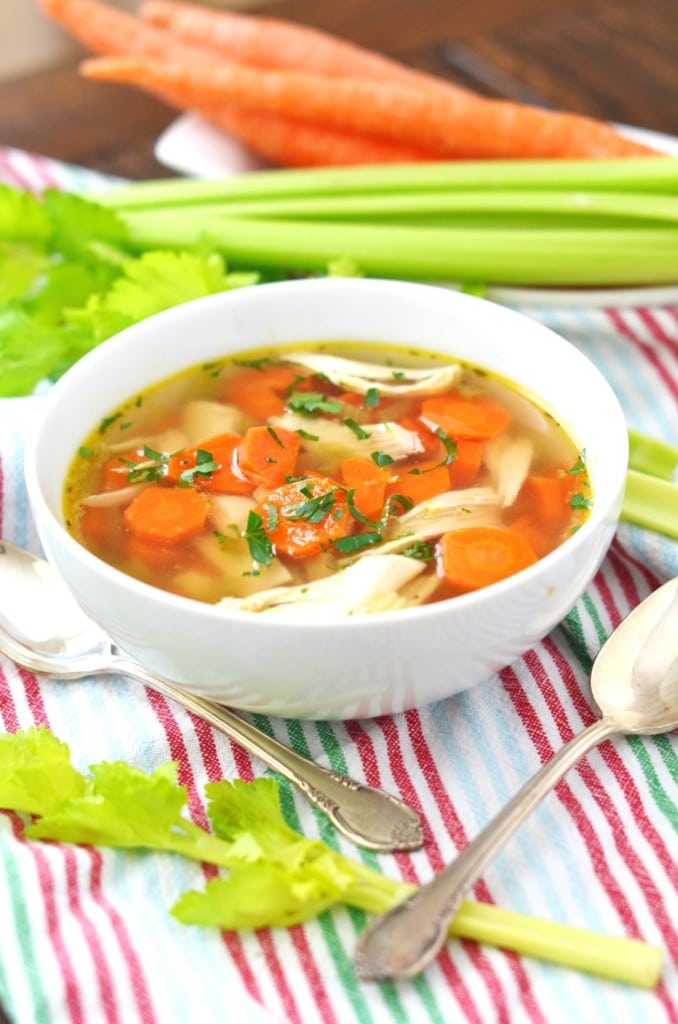 It is winter and you know what that means.  It's cold and flu season.  Although I do have a few ideas or shall we say, hunches, I cannot pinpoint exactly the how or where, but I do know the result.  I picked up a cold somewhere.  And all I want to do is sleep and have this organic chicken soup recipe.  Oh, and snuggle with my basset hound.
But, please do not misunderstand me.
I make this soup quite often, most often, when I am my usual healthy self.  And, maybe, it is possible, without knowing, I am warding off illnesses without even realizing it?
Is it the comfort, the aroma or the ingredients?  All three?  Something seems to provide healing to help the cold go bye bye.  For that, I am grateful.
Can you find the carrot heart in the soup?  It is super simple to cut carrots into heart shapes, so I did a few, but not all.  It's a grateful carrot heart!
I also crave this soup when I want honest, good and delicious comfort food.  Or, when the rain is pelting against my windows as the wind howls and rumbles.  Or, sometimes, I reach for this gluten free chicken and vegetable soup when I receive disappointing news.  I love having something I can count on, so reliable, that never disappoints.
My Childhood Chicken Soup:
This soup is quite different from the chicken soup I had growing up.  First, that soup had noodles, and it most often came in the familiar red can, purchased at the grocery store.  I am sure it had lots of preservatives too.  What was important about that soup to me; however, is that it symbolizes comfort and history.  It was also a food I really liked eating.  I love that with a few tweaks, I can eat that old familiar comfort food.
Making Your Homemade Chicken Gluten Free Soup:
For this soup, I always use my homemade chicken bone broth, either freshly made or frozen.  Then I might bake the chicken breasts  or use frozen shredded chicken I previously baked.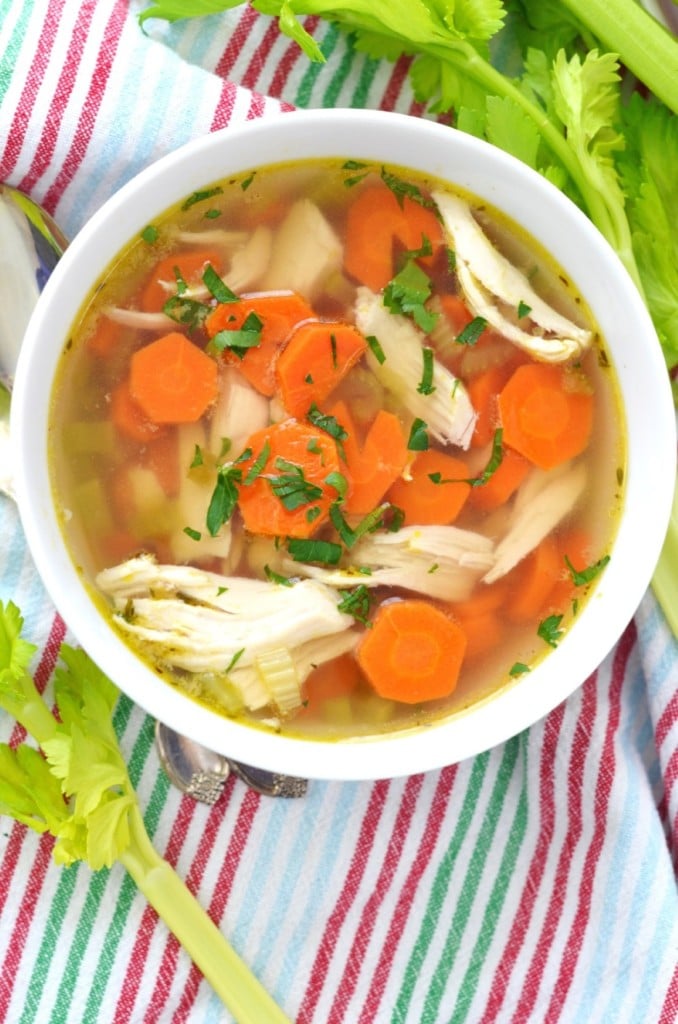 Then it is just a matter of chopping the carrots, celery and parsley (preferably organic).  And then, add salt and pepper to your taste.  And as I sip this soup while writing this, I look outside and see the most perfect blue bird day in New England with temps in the 40's.  I hope to venture a walk around the neighborhood soon.  🙂  But, first, this post!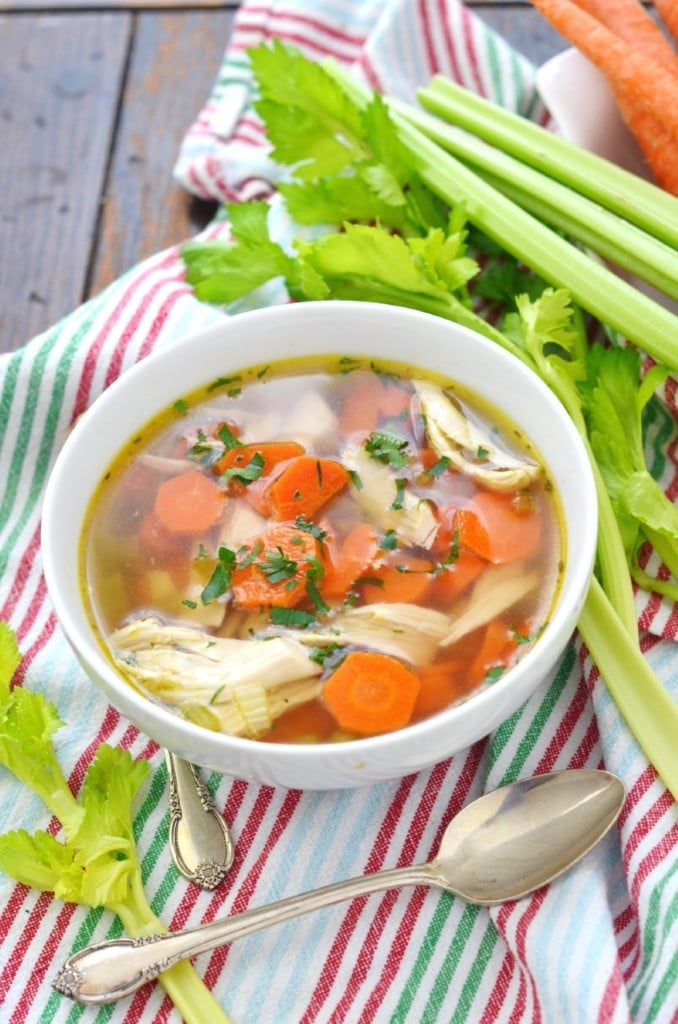 So,  I wait patiently for this soup to do it's magic with my cold.  Soon, please!  I know it will, as it always does.
Do you have recipes that you swear have amazing powers or healing qualities?  Let me know in the comments!
Related:
3 Ingredient Butternut Squash Soup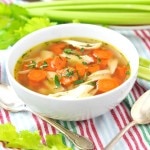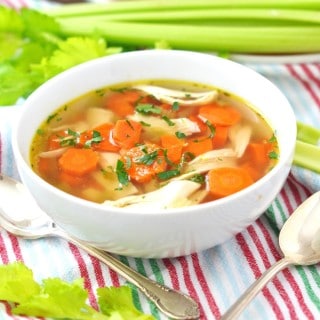 Awesome Chicken Gluten Free Soup - How To Make
Here is a delicious, homemade chicken gluten free soup.
Ingredients
1

clove

garlic

(cut in 3 pieces)

2

tablespoons

extra virgin olive oil

1/8

teaspoon

ground thyme

6

cups

chicken broth

3

cups

medium carrots

(approximately 1 and 1/4 sliced)

3

cup

stalks celery

(approximately 1 diced small)

1

cups

cooked chicken breast

(shredded (approximately 2 )

2

tablespoons

fresh chopped parsley

1/4

teaspoon

fine sea salt and ground pepper

(to taste)
Instructions
Place olive oil in a soup pot along with the garlic on medium low heat. Heat for 2 minutes and then remove the garlic. (Note: removing the garlic makes the recipe low fodmap. I also make this recipe sometimes without any garlic at all.)

Add the celery, carrots and thyme and cook the vegetables for about 5 minutes on medium low heat until they become softened. (Another option: skip the olive oil and cook the celery and carrots in several cups of chicken bone broth for about 20 minutes until tender.)

Add the chicken broth, salt and pepper and continue to cook on medium low for about 20 minutes.

Add shredded chicken and parsley and cook another 5 minutes until completely heated..

It is ready to serve. Can be stored for leftovers also.

Notes: If not on a low fodmap diet, you may mince garlic and leave in soup (or omit completely). There are recipes for Chicken Broth (Bone Broth) and Roasted Chicken Breasts on my site, which I used to make this recipe.
Nutrition Facts
Awesome Chicken Gluten Free Soup - How To Make
Amount Per Serving
Calories 127
Calories from Fat 54
% Daily Value*
Total Fat 6g 9%
Cholesterol 19mg 6%
Sodium 1059mg 44%
Potassium 591mg 17%
Total Carbohydrates 8g 3%
Protein 9g 18%
* Percent Daily Values are based on a 2000 calorie diet.
Easy Pin It Strip: