Whoa! Delicious and scrumptious Paleo Waffles alert!
I see crispy, tasty, healthier waffles in your future.
And you have the choice to make these waffles vegan if you omit the egg!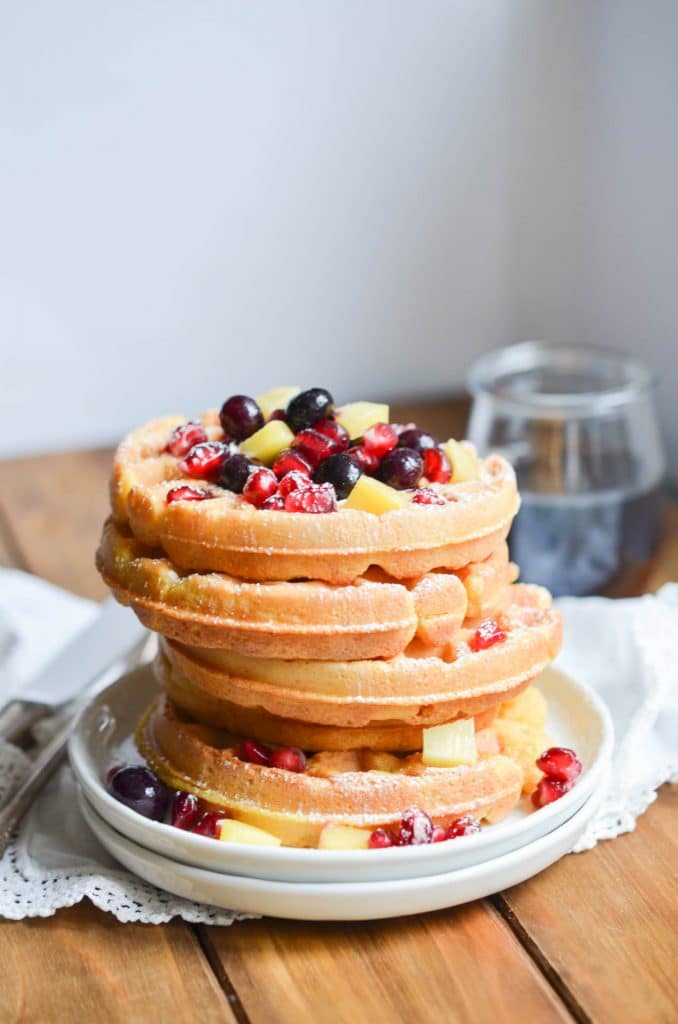 Egg or No Egg In Your Crispy Paleo Waffles?
You can make these with a flax egg or regular egg.  They are both great; however, the flax egg seems to come out a bit crispier.  In this recipe, I used Blanched Almond Flour and Organic Tapioca Flour.  As you can see from the photos, they worked out well and I can tell you they taste great too!  This fantastic waffle maker made the perfect round waffles you see in the photo above.  Small, compact, inexpensive and easy to store!
Making a Flax or Chia Egg:
Making a flax or chia egg is so simple.  A flax egg functions the same way as an egg would in most recipes.  Note: they can't be substituted in all recipes because sometimes the recipe will not turn out well.  But, good news – they work in this one.  As I am recipe testing, I like to try a flax egg in recipes where I believe I will have success.
So, to make a flax or chia egg, you will need to grind one tablespoon of flax or chia seeds.  Then place the ground flax or chia seeds in a small dish.  To this, add 3 tablespoon water.  Stir to mix up a little and wait 10 minutes.  The mixture will congeal and should resemble an egg! Now it is ready to use in your recipe!
Flaxseeds have been around a very long time and are reported to have amazingly great health benefits.  Which is a reason I am always looking for ways to add more to my diet.  Some of the benefits are that they are a great source of fiber, have omega 3 fatty acids, may be good for heart health, cancer prevention, cholesterol, inflammation reduction, diabetes and more.
Notes:   I prefer organic golden flax seed and organic chia seeds when I make a flax egg.
Why Not Make Your Own Gluten Free Baking Powder?:
Did you know I have a recipe for homemade baking powder on the site?  It is my go-to for all the recipes I make.  I use pumpkin puree in this recipe, but it is meant as an oil replacement and there is not a strong pumpkin flavor.  Try these delicious Pumpkin Waffles with a true pumpkin spice flavor.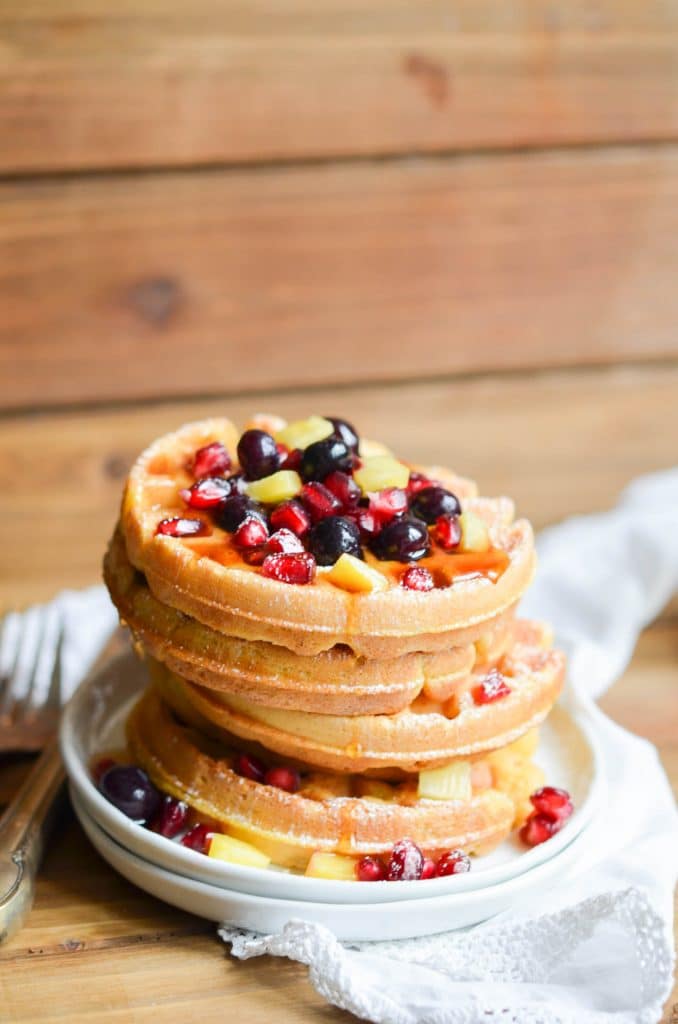 For a larger Belgian style Paleo waffles, this waffle iron is the kind that flips over during the cooking process so that waffles cook evenly throughout.  I usually put a timer on for about 2-3 minutes per side.  Pull the plug of the waffle iron if you use a fork to pop your waffle out.  I keep a plastic fork on hand for just this purpose.
Related:
Delicious Chocolate Chip Muffins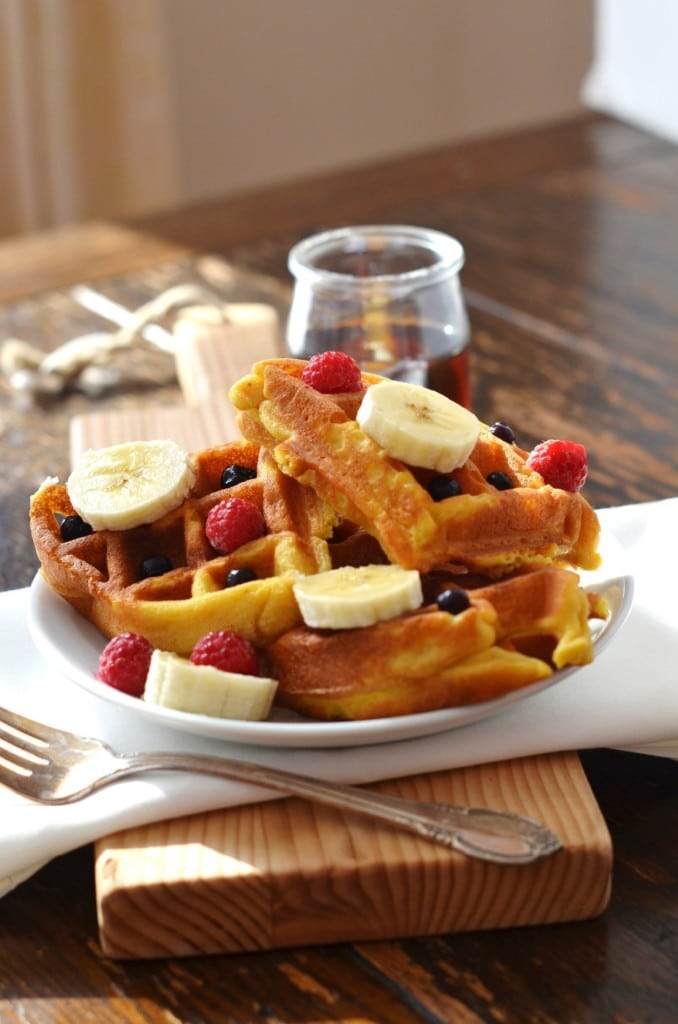 Enjoy these waffles with your favorite toppings – fruit, berries, maple syrup, coconut whipped cream.  You could even top with a poached or fried egg.  Yum!
Check out this post for the recipe and tutorial for Coconut Whipped Cream!
I hope these become your best paleo waffles! 🙂
p.s. – I love seeing your photos of my recipes on Instagram.  If you make a recipe and post a photo, tag me!
Thank you for using my affiliate links, which at no extra cost to you, provides me with a small commission that helps with the running of this site.   I look forward to creating and posting many more delicious recipes for you.
Items Used In This Recipe: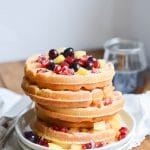 The BEST Paleo Waffles That Are Crispy and Delicious!
I love these crispy paleo waffles that are grain, gluten and dairy free. They can be vegan by using a flax egg. Enjoy!
Course:
Breakfast, Brunch, Paleo Waffles
Cuisine:
American, Breakfast
Ingredients
1

cup

blanched almond flour

1/2

cup

tapioca starch

1

teaspoon

baking powder

(homemade recipe on the site)

1

flax egg

1/2

cup

unsweetened almond milk

1

teaspoon

lemon juice

2

tablespoon

maple syrup*

1

teaspoon

vanilla extract

1/4

cup

pumpkin puree*

Pinch fine sea salt
Instructions
Preheat waffle maker

To make flax egg: in a small bowl, add one tablespoon ground flaxseed and 3 tablespoons water. Stir to combine and let sit about 10 minutes until the mixture becomes egg like. It's magic!

In a medium-sized mixing bowl, add the first 3 ingredients (almond flour, tapioca starch and baking powder and whisk out all lumps.

In another mixing bowl, add almond milk, lemon juice, maple syrup, vanilla extract, pumpkin puree and sea salt. Mix well to combine.

Add the dry mixture to the wet mixture and mix well.

Scoop batter into waffle iron according to manufacturer directions. What works for me: I use a large ice cream scoop because it is the exact measurement needed per quadrant.

This recipe makes about 11 quadrants or 2 - 2 waffles.

Since I have a waffle iron that flips over (love it!) - I cook for 2 minutes on one side and 3 on the other and it worked perfectly.

Note: this recipe can also be made using an egg for the flax egg. The texture is slightly different (both are great). When I use an egg, I adjust the cooking time to 2 minutes on one side and 1 minute on the other (flip over).
Recipe Notes
*Substitutes for the pumpkin puree - applesauce and banana work well.  They both give a subtle flavor of either banana or apple to the waffle.  
*Optional - leave the maple syrup out for a savory waffle.  I occasionally do this when I make an egg sandwich with the waffles (e.g. waffle egg sammy -so good!).
*These waffles are great toasted with a spread of almond butter and your all fruit jam!
Tip: Make Ground Flaxseed Ahead and Store:
I prefer organic golden flax seed for making flax eggs.  They seem to come out fluffier.  It's best to grind the flax seed fresh for flax eggs; however, if I know I have several recipes to make within a few days, I may grind up a batch and store in the refrigerator and use as needed.  I have had no problems/issues with this method.  🙂
Easy to Pin It Strip: