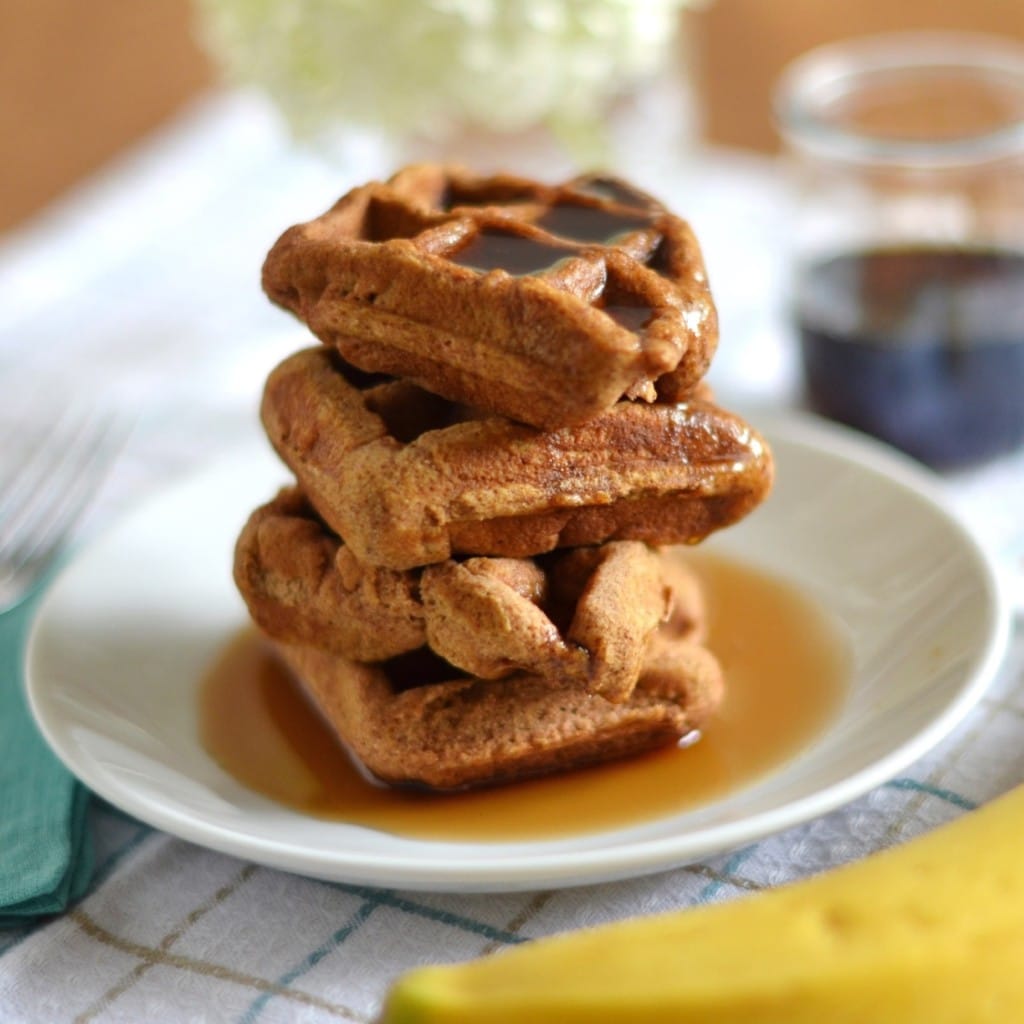 Whoa, yummy waffles alert!  I have been having fun in the kitchen lately and these pumpkin waffles are proof.  Oh.my.gosh. where do I start?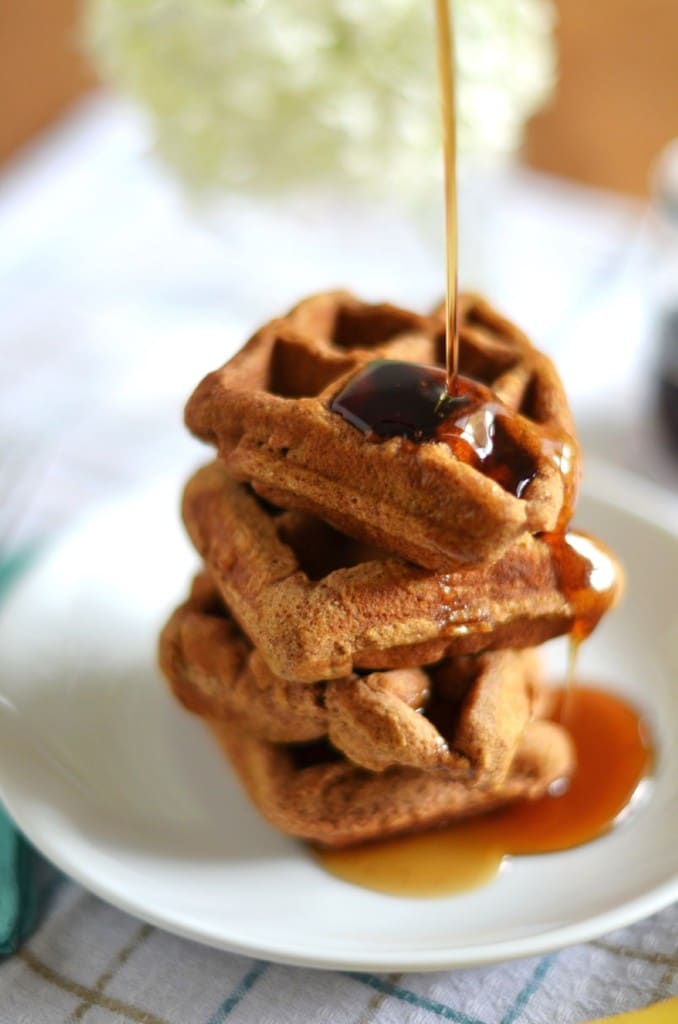 Well, unbelievably, these pumpkin waffles are grain free, gluten free and dairy free.  So, they are paleo waffles only sweetened by the banana that is part of the mix.  Even so, they are fluffy, tasty and just a little bit spicy from the pumpkin pie spice.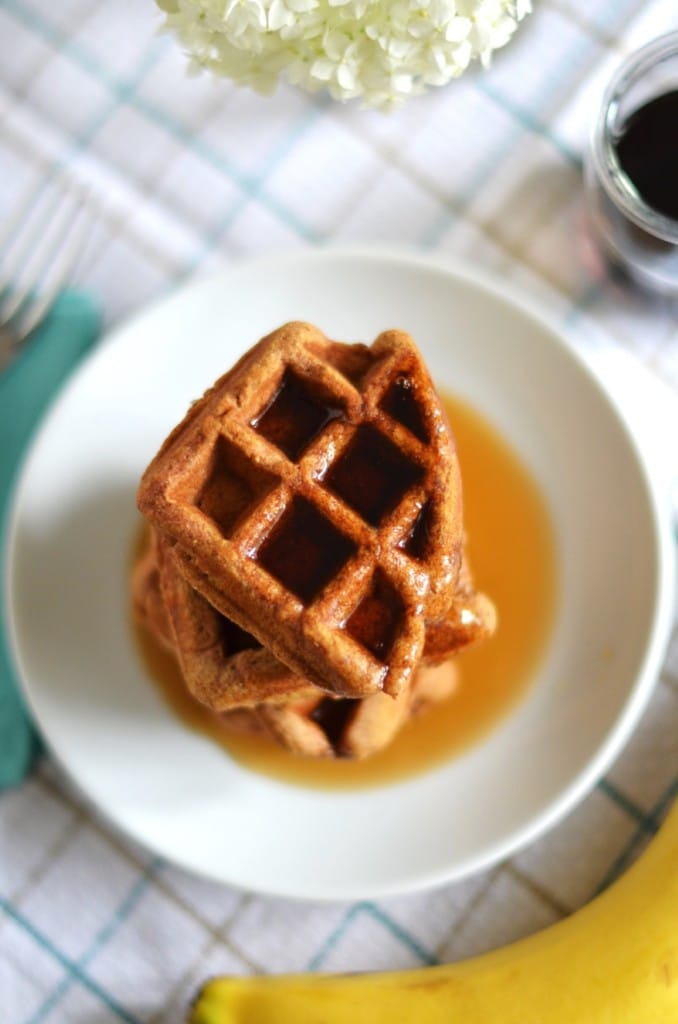 I have found using a large ice cream scoop provides me with the exact measurement I need for my four quadrant electric waffle maker.  So, one scoop of batter per quadrant.  This way there is no guessing by heaping mix in the waffle iron and closing only to see batter oozing down the sides.  Dang, when that happens.  Plus, it's messy and you have more to clean up.  However, it's a thing of the past once you figure out the exact measurement to pour.
Another tip:  I have used various brands of purchased almond butter to make this recipe.  I have had the best results (by far) by using My Favorite Almond Butter recipe.  Store bought almond butter comes with varying textures and liquidity (look for thicker consistency).  I find the waffles come free from the waffle maker very easily as well.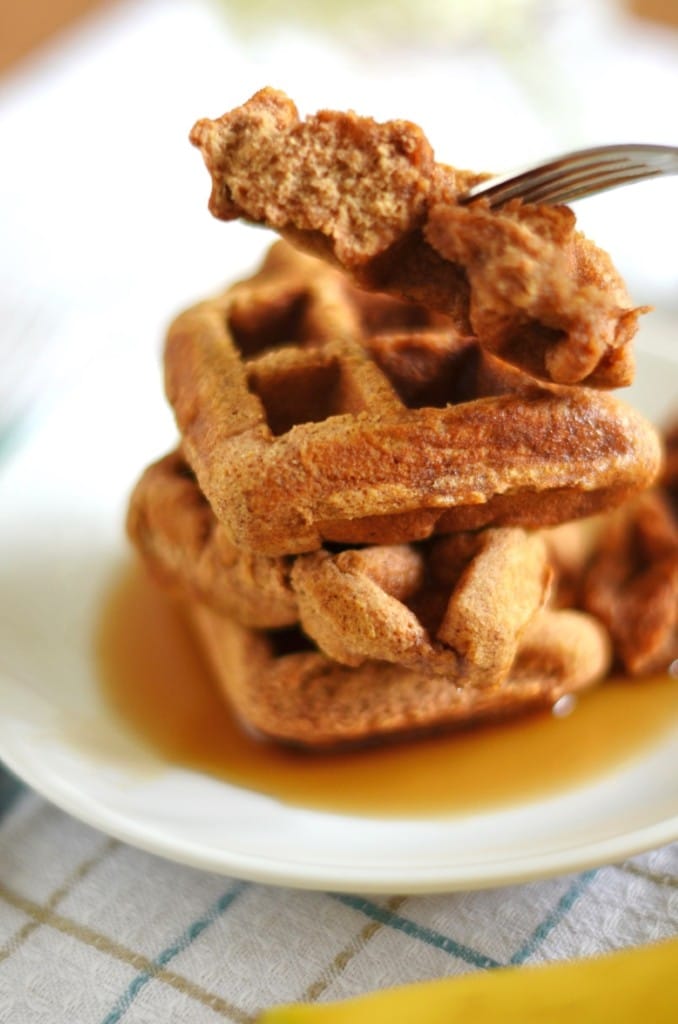 You will want to generously spray your waffle maker with coconut oil so that when the waffles are done cooking, they come free easily (no sticking).  Also, they don't take long to cook, so watch closely so they don't burn.  Cooking time will depend on your waffles maker, but for my particular machine, I set the timer to two minutes and the waffles are usually perfectly cooked.
There are elongated forks that are specifically for retrieving cooked waffles from the waffle maker.  I have thought about getting one.  Please leave a comment if you have experience and let me know if you would recommend. 🙂  I only have so much room for storing my ever growing supply of kitchen utensils and gadgets, so it has to be useful and worthy!  Thanks!
I use real maple syrup for serving.
Breakfast can be fun, delicious and healthy can't it?  Yes!  If you like pumpkin for breakfast, try Pumpkin Pie Chia Pudding and I love Cinnamon Roasted Pumpkin Seeds for a snack or sprinkled on salads.
These can be stored in the fridge for several days.  Can also be stored in the freezer as well, which I do often, making a double batch.  Enjoy!
Pumpkin Waffles
These delicious paleo waffles are grain, gluten and dairy free!
Ingredients
1

large banana

1/4

cup

almond butter

2

large eggs

I use organic

3/4

cup

pumpkin puree

not pumpkin pie mix

1/4

cup

coconut flour

1

teaspoon

baking soda

2

teaspoons

pumpkin pie spice

1

teaspoon

vanilla extract

pinch of fine sea salt
Instructions
Place your banana in a food processor and pulse a few times until it starts to puree.

Next add all the other ingredients in the food processor and process until it becomes a batter.

Preheat your waffle iron. Spray generously with spray oil (I use coconut oil).

Once ready, use your large ice cream scoop to measure one scoop per quadrant. Close and cook per your waffle iron's directions.

Makes 2 1/4 waffles (in my machine) or 9 quadrants.

Can be stored in fridge for several days. Can also be stored in the freezer.

Serve with maple syrup.

Notes: I have made these Pumpkin Waffles with several brands of store bought almond butter, but I have achieved the best results (by far) by using My Favorite Almond Butter recipe on my site. I have included a link in this post or you can use search on side bar. 🙂
Easy to Pin It Strip: