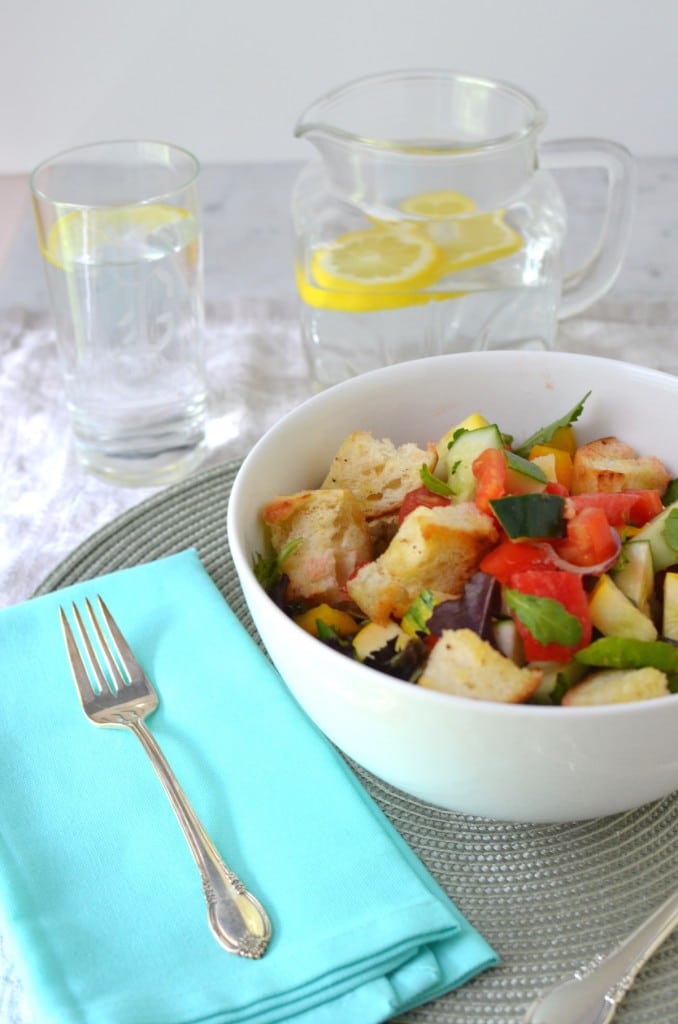 I recently made this delicious panzanella salad with fresh veggies from the farmers market.  My town recently started a farmers market and it has been a welcome addition to Saturday mornings around here.  It is located across from the library so it could not be more perfect as I am an avid reader and am always picking up or dropping off a book.  I have tried the e-readers, but so far prefer actually books.  Is anyone else like that?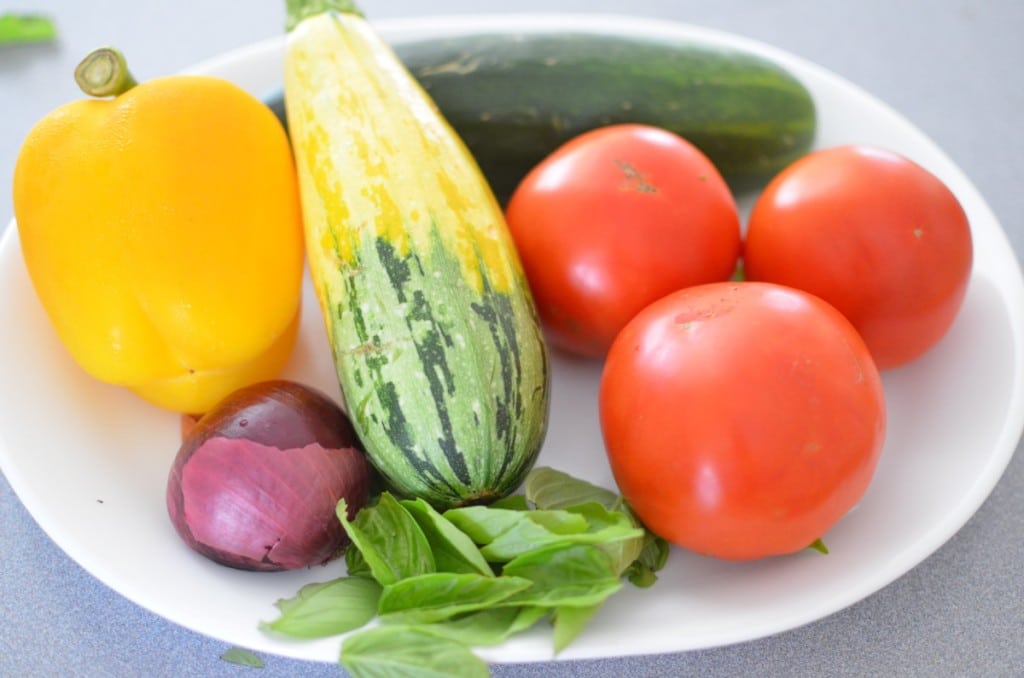 So, here is my catch from the farmers market to make my panzanella.  The only exception is the basil which is from my little herb garden that I have right outside my house.  Next year, I would love to expand the herb garden and include many types of herbs.  For some recipes, I just need a pinch, and if I want to use fresh, that means buying a bundle and some gets wasted.  I am considering spots around my yard as the critters and deer (or someone!) seems to munch on the herbs I have.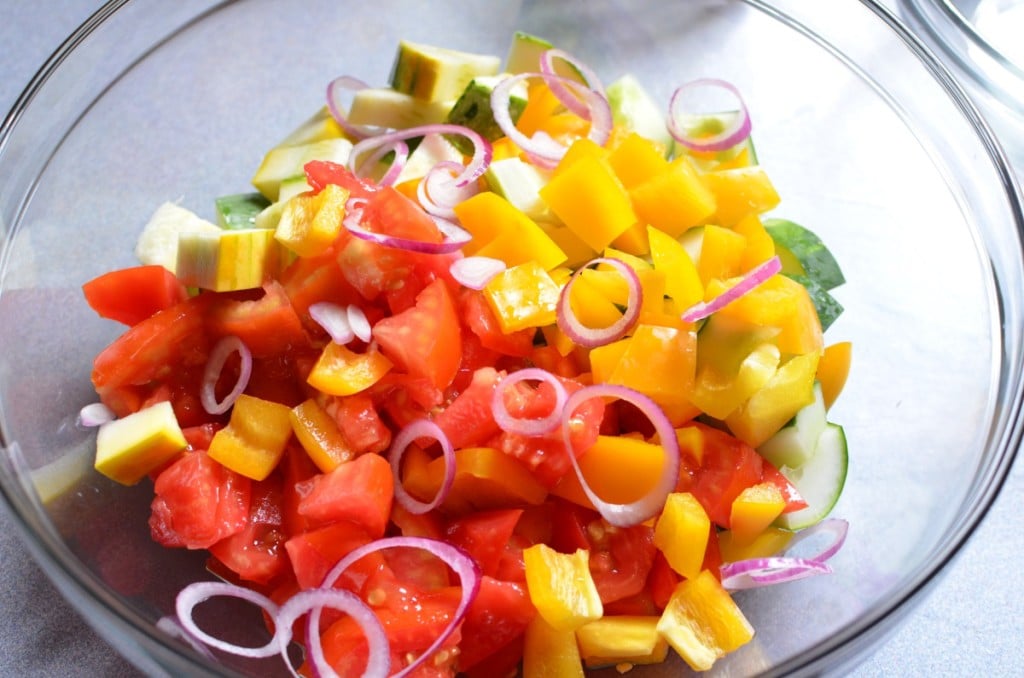 Here are the veggies cut up.  This is really a cinch to make and so fresh and delicious.  It is completely customizable; replace or add the veggies you like.  Next time, I might substitute chopped zucchini for the cucumber.  I only added a small amount of red onion compared to what the original recipe called for.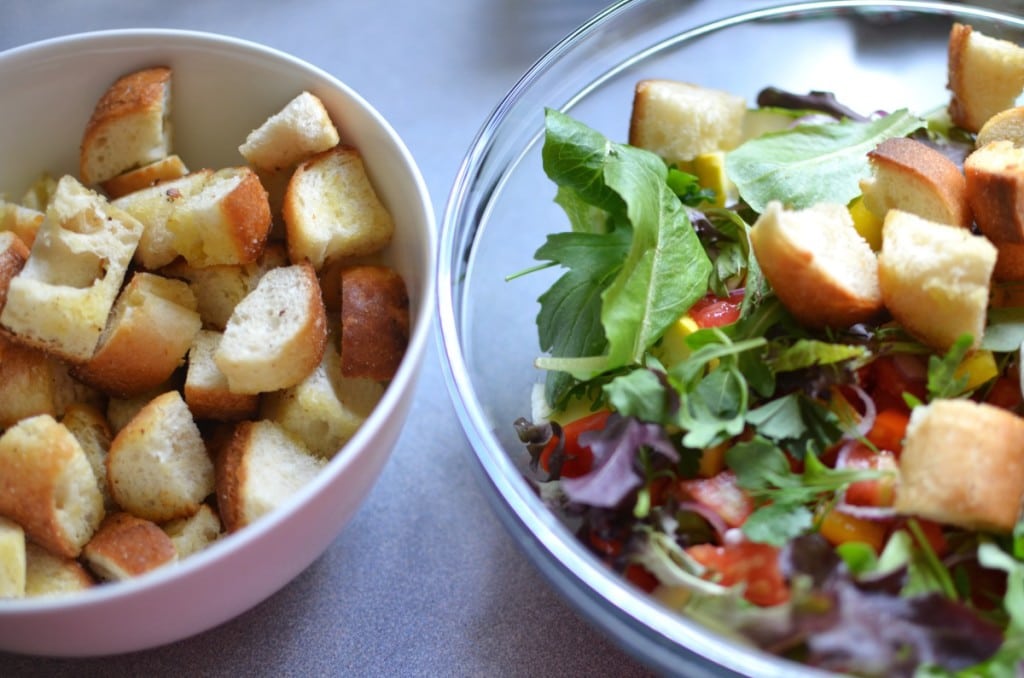 The croutons can be toasted in a cast iron skillet.  Simply pour about a tablespoon or two of olive oil in the pan along with some salt and pepper.  Add the cubed bread and toss around on medium low heat for a few minutes until toasted.  I believe mine took about 15 minutes to get to my desired toastyness.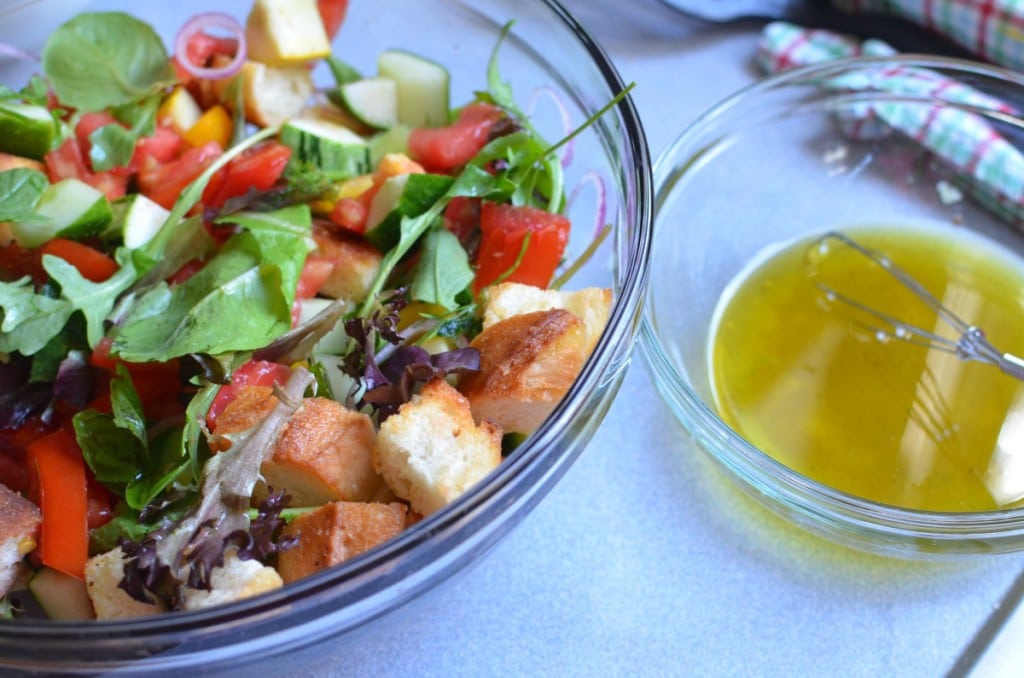 The dressing comes together easily, but I would recommend combining salad and dressing just before serving.  Also, I prefer my salads at room temperature.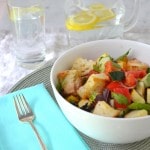 Panzanella
This is a great summer salad using fresh in season ingredients.
Course:
dressing/sauce, Salad
Ingredients
3

tablespoons

olive oil

1/2

inch

french baquette

cut into 1 cubes (6 cups)

1

teaspoon

salt

2-3

large tomatoes

cut into small cubes

1/2

cucumber

seeded and sliced into cubes

1/2

slices

yellow pepper

cut into small cubes or

slices

a few thin of red onion

10

leaves

basil

chopped

2

cups

arugula blend salad

For the vinaigrette:

1

teaspoon

minced garlic

1/2

teaspoon

dijon mustard

2

tablespoons

white wine vinegar

1/2

cup

extra virgin olive oil

1/2

teaspoon

salt

1/2

teaspoon

freshly ground pepper
Instructions
Heat olive oil in skillet (I use my cast iron skillet), add the bread cubes and saute until toasted, about 10-15 minutes. Keep an eye on them so they don't burn.

Whisk all other ingredients together in a bowl for the dressing.

In a large bowl, mix all the vegetables, basil, croutons, dressing and arugula blend.

Best served at room temperature.

Enjoy!
Nutrition Facts
Panzanella
Amount Per Serving
Calories 236
Calories from Fat 225
% Daily Value*
Total Fat 25g 38%
Sodium 592mg 25%
Potassium 155mg 4%
Total Carbohydrates 2g 1%
* Percent Daily Values are based on a 2000 calorie diet.
I hope everyone is having a great week!   I didn't post last week, but I have been busy cooking and baking. I also spent some on the east end of Long Island which is where I grew up.  I will be featuring some of my adventures, food and otherwise, in upcoming posts!
Not only do I like food blogging, but I also read many blogs and often try the recipes.  Here are a few recipes that I tried recently and loved –
Homemade Pita Chips – Hidden Fruits and Veggies
Soft and Gooey Loaded S'mores Bars – Averie Cooks
Copycat Near East Rice Pilaf – Coffee and Quinoa
Wishing you a blessed day!
Christine