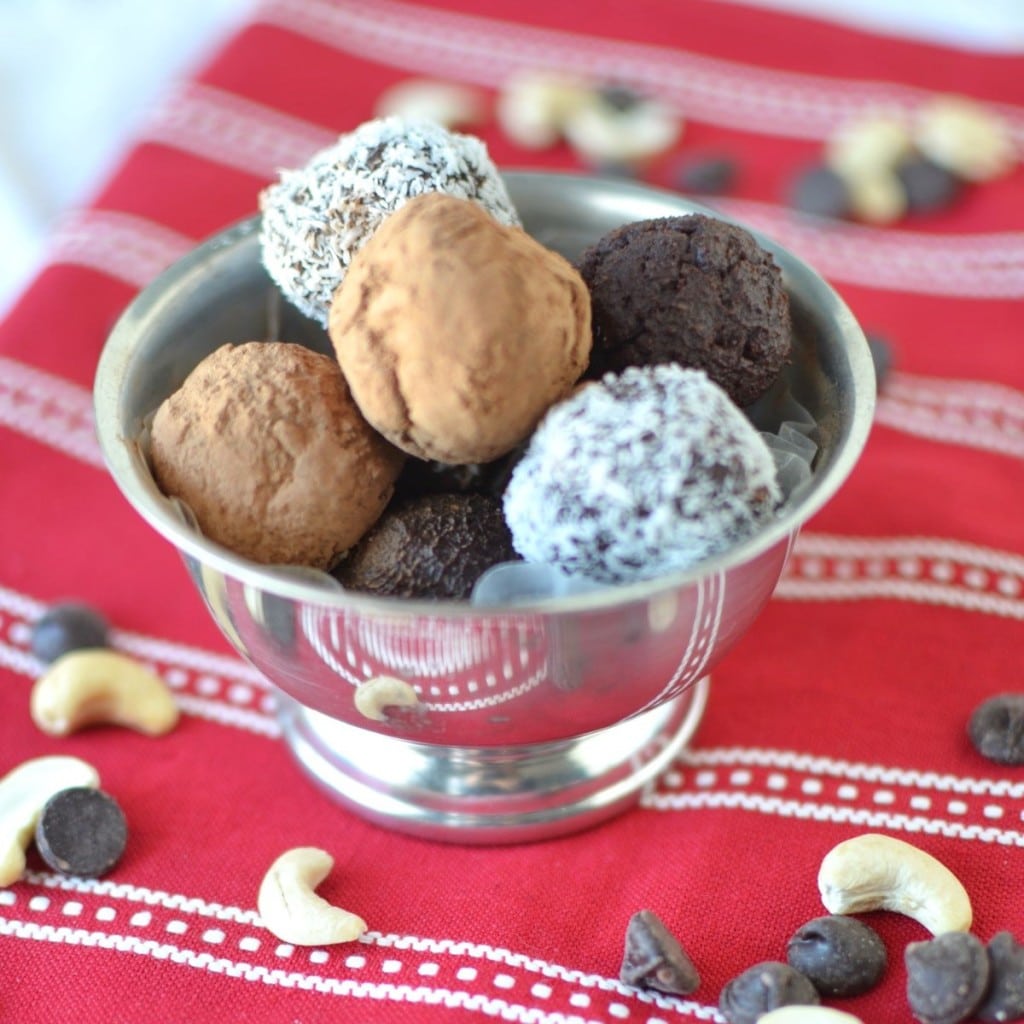 Chocolate Truffles are a favorite treat of mine.  I don't have them too often, but with a few ingredients and this recipe, they can be made anytime.
I decided to vary from the original recipe and add some different toppings, unsweetened cocoa powder and coconut, as they were what I had on hand.  There are other toppings that work equally as well, perhaps finely chopped almonds as an example.
It has been a mostly cold and snowy winter here in Mass. but I am embracing and enjoying this.  Yes, really, I am.  I feel it is about attitude.  I found a really cool hiking trail in the woods recently and it was so great to be out in nature.  Dino (my basset) loves when I take him to new walking trails.  He naturally sniffs his way along the trail and invariably meets up with other doggies which he loves. During our last walk, a man had lost and was looking for his black lab puppy.  As we were talking to him, his puppy appeared walking along the trail right towards us.  It is always great when that happens.  I am looking into buying a pair of hiking boots so if anyone has a favorite, please leave a comment and let me know.  Anyway, these truffles would make a nice after trail treat.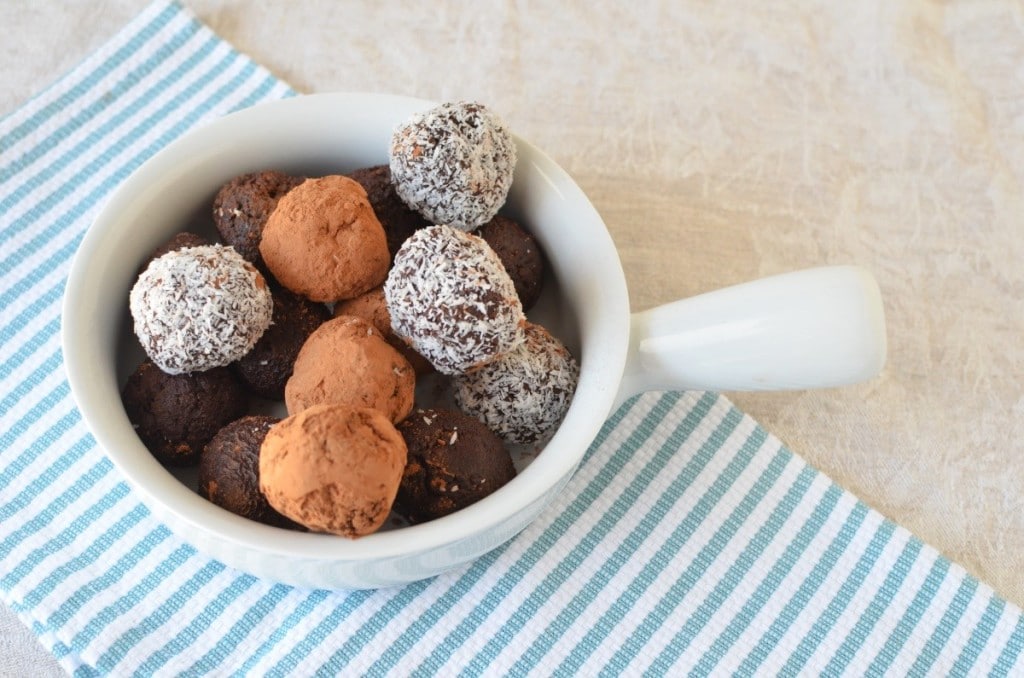 For this recipe, you will need to make Cashew Cream.  Cashew Cream is very simple to make, but does take a few hours.  Most of that time is the nuts soaking in water in a glass container on the kitchen counter.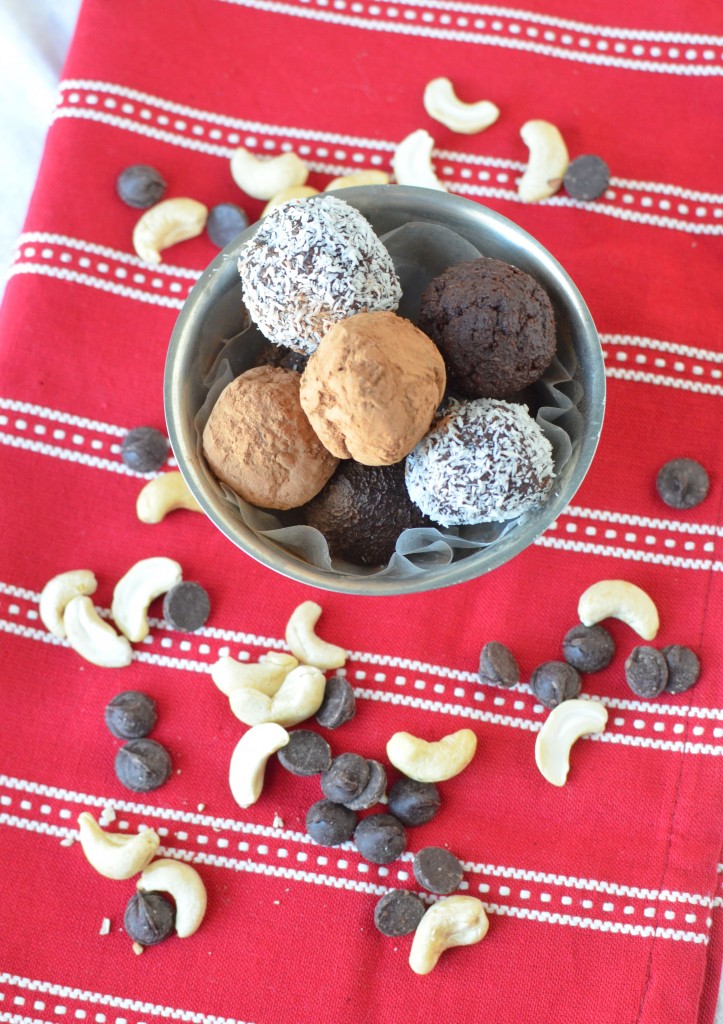 These chocolate truffles would be great to serve as dessert at a dinner party or packaged nicely with a bow as a special gift.  Of course, do not wait for a special occasion to enjoy these as these can and would be suited for anytime.
I hope you like them if you try them!
Oh, and one of the new features of my new blog design is that you can sign up to receive blog post updates via email! Oh, and how I would love if you signed up!  Simply enter your email address in the top right sidebar of the site where it says Subscribe and then hit enter.  Easy, and you will get an email every time a new post is published.  Thank you to all who have already done this!  You're awesome!  🙂
Wishing you a wonderful week,
Christine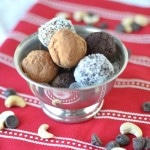 Chocolate Truffles - Vegan
Delicious and very sweet chocolate truffles. Vegan too.
Cuisine:
American, Dessert
Ingredients
2/3

cup

Cashew Cream

2

cups

vegan chocolate chips

12 ounces

1

teaspoon

maple syrup

1

teaspoon

vanilla extract

zest of 1/2 medium orange

truffles topping (shredded coconut

cocoa powder, etc...)
Instructions
Prepare a large baking sheet with parchment paper. Set aside.

In a medium mixing bowl, stir the cashew cream and chocolate chips. Place bowl over a simmering pan of hot water. Stir until cream and chips are combined and melted, about 2 minutes. Turn off the heat and whisk in the rest of the ingredients (maple syrup, vanilla extract and orange zest). Place mixing bowl with chocolate mixture in frig for about 1 hour, until firm.

Remove the chocolate mixture from the frig. Using a small ice cream scoop or a tablespoon measure, spoon out the mixture and form balls (that look like truffles). Place the balls on the baking sheet about an inch apart (don't let them touch). Try using wet hands if your hands start to get sticky. Once all the truffles are completed, put them back into the frig again until firm, about an hour. Take them out of the frig and roll in your preferred topping and enjoy!
Nutrition Facts
Chocolate Truffles - Vegan
Amount Per Serving
Calories 289
Calories from Fat 171
% Daily Value*
Fat 19g29%
Sodium 1mg0%
Potassium 70mg2%
Carbohydrates 31g10%
Protein 4g8%
Calcium 62mg6%
Iron 4mg22%
* Percent Daily Values are based on a 2000 calorie diet.
Recipe from Giada De Laurentis, Vegan Truffle Recipe.