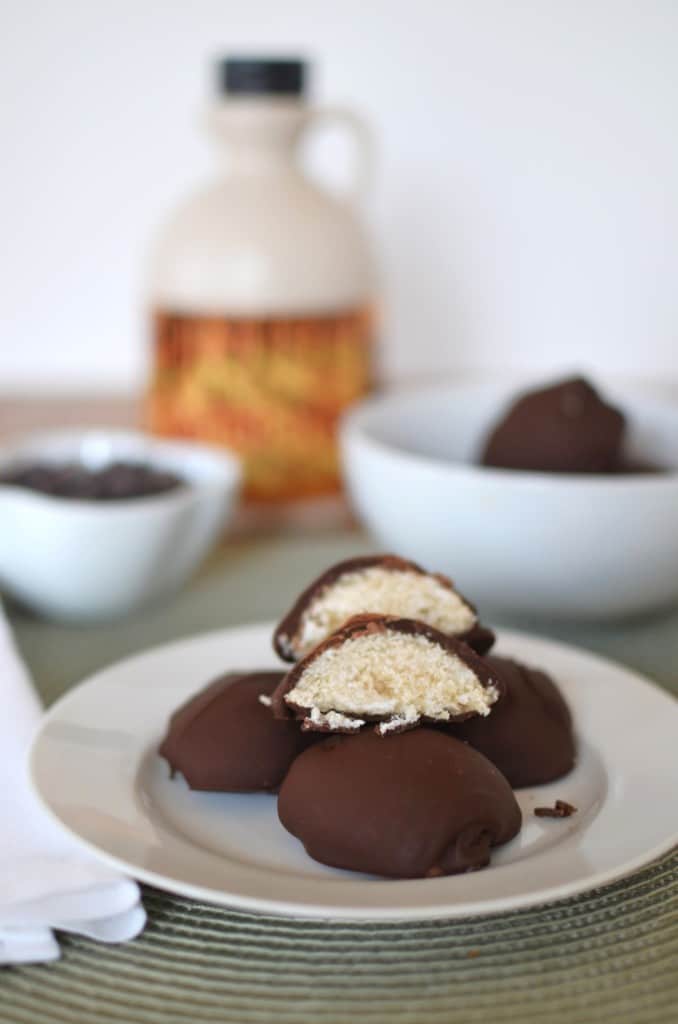 Do you love Mounds Bars?  Then keep reading…
Trying is believing with this recipe.  It almost seems a dream that you could have healthier Mounds Bars in your life, but after making (and eating) several batches (over several months!) of these delicious bars, I can exclaim, "it's true, it's true"!
What's great about these bars?  They are so easy to prepare and are ready within an hour.  I love that (and so will you)!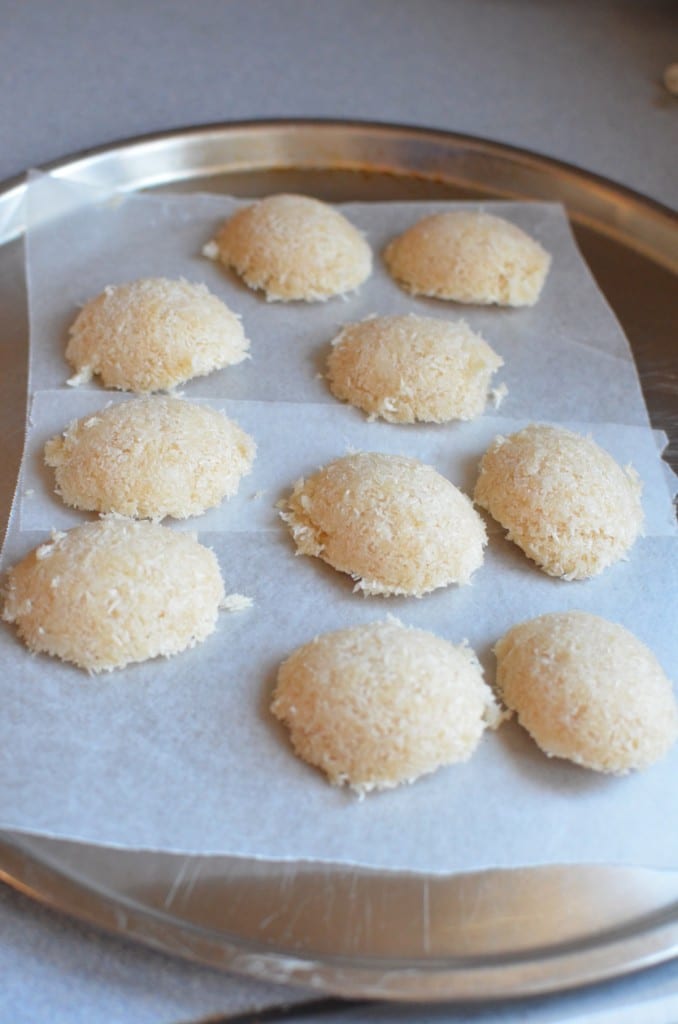 I initially tried making these bars by pressing the coconut filling into mini muffins tins and you may want to try this method as well.  My favorite, and what I consider the easiest method, is to press (press hard to compact the filling) the coconut filling into a tablespoon measure and then scoop out onto a baking pan lined with wax paper.  It is more of a round shape than a Mounds shape, but still cute and purty and most importantly – tasty!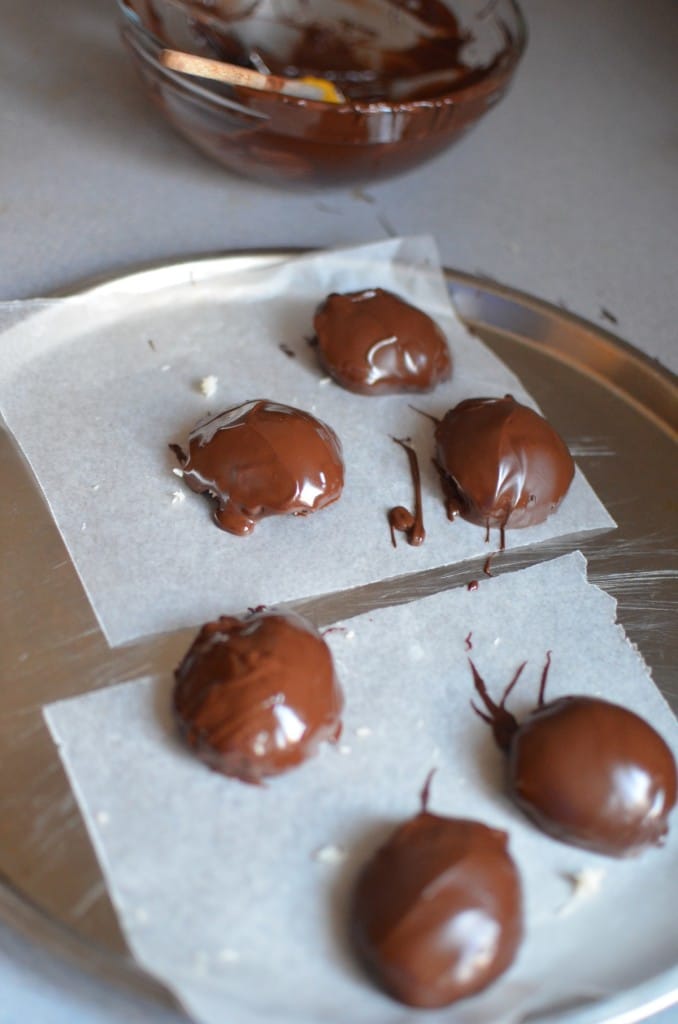 I find that when preparing the melted chocolate coating, adding a little bit of coconut oil makes the melted chocolate easier to work with.   I prefer a thick chocolate coating, which is why this recipe may use more melted chocolate than some others out there.  After trying a few batches, this is what seems to work the best for us.  It's a great recipe to experiment with and you can see what works best for you. 🙂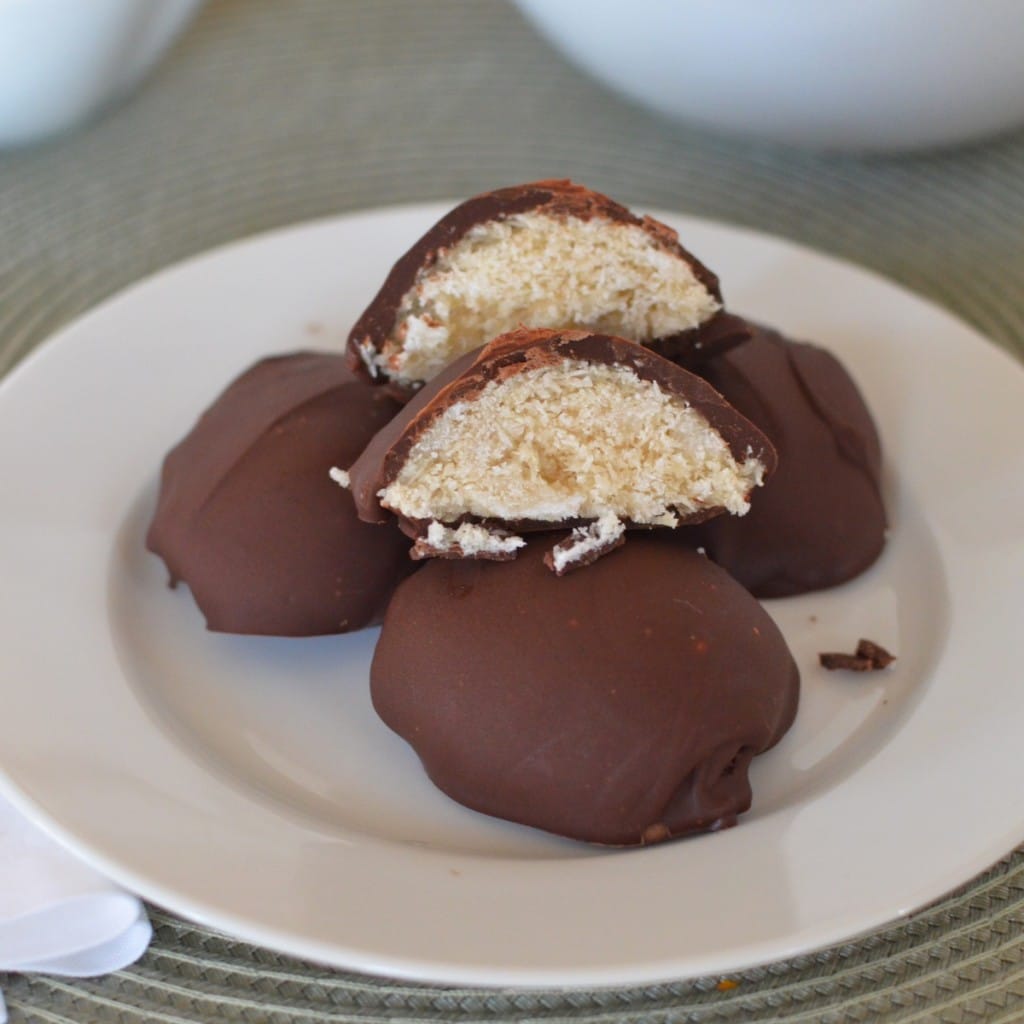 I am looking forward to trying and finding other healthy candy bar recipes in the future.  It's a great assignment!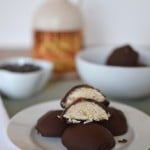 Healthier Mounds Bar
This is a healthier version of the famous Mounds Bar. No guilt to this delicious sweet treat!
Ingredients
Coconut Filling:

1

cups

and 1/2 unsweetened shredded coconut

1/4

cup

maple syrup

2

tablespoons

coconut oil

slightly melted in microwave

1/4

teaspoon

vanilla extract (optional

I have made this recipe with and without)

pinch of salt

Chocolate Topping:

1

cups

and 1/2 semi-sweet chocolate chips

I prefer Enjoy Life brand

1

teaspoons

and 1/2 coconut oil
Instructions
Place shredded coconut in a medium sized mixing bowl. (You could also mix in a food processor).

Add maple syrup, coconut oil, vanilla extract (if using), and salt. Mix well.

Press mixture into a tablespoon measure. Press down and then scoop out and place on a baking sheet that has wax paper. Continue to place coconut scoops on the wax paper. Place baking sheet in the freezer for 30 minutes.

To prepare the chocolate coating - place chocolate chips in a microwavable bowl along with the coconut oil. Microwave in 30 second intervals until almost, but not completely melted. When almost melted, remove from microwave and stir to melt.

To coat coconut balls - take coconut balls out of the freezer and gently use a fork to drop into chocolate mixture. I usually place the bottom of the balls into the chocolate, and then remove by placing the fork underneath and lifting out gently. Then I used a spoon to drip chocolate all over the top of the coconut ball (mound). I then use my mini spatula to gently push the mounds bar off the fork and back onto the wax paper (on baking sheet). Once all mounds bars are coated, place baking sheet back into the freezer. The bars should be ready in half an hour. You can store in the frig or freezer for about a week.

My recipe yielded 10 mounds bars. Enjoy!

Note: I like a thicker chocolate coating (oh, you too?) so the 1 and 1/2 cups of semi sweet chocolate chips. Invariably, I have a little coating left over and you have the option of just adding to the tops of the mounds bars you have already done or licking the bowl! 🙂 (I know which one you will choose ;))
Adapted from:  Chocolate Covered Katie
Hope you are having a great week!
Christine