Vegan cream cheese that is so authentic, you'll be making a batch every week!
This dairy-free cream cheese has four ingredients – it's perfect slathered on crackers, as a spread (add your favorite herbs or seasonings), on baked potatoes, or licked off the spoon!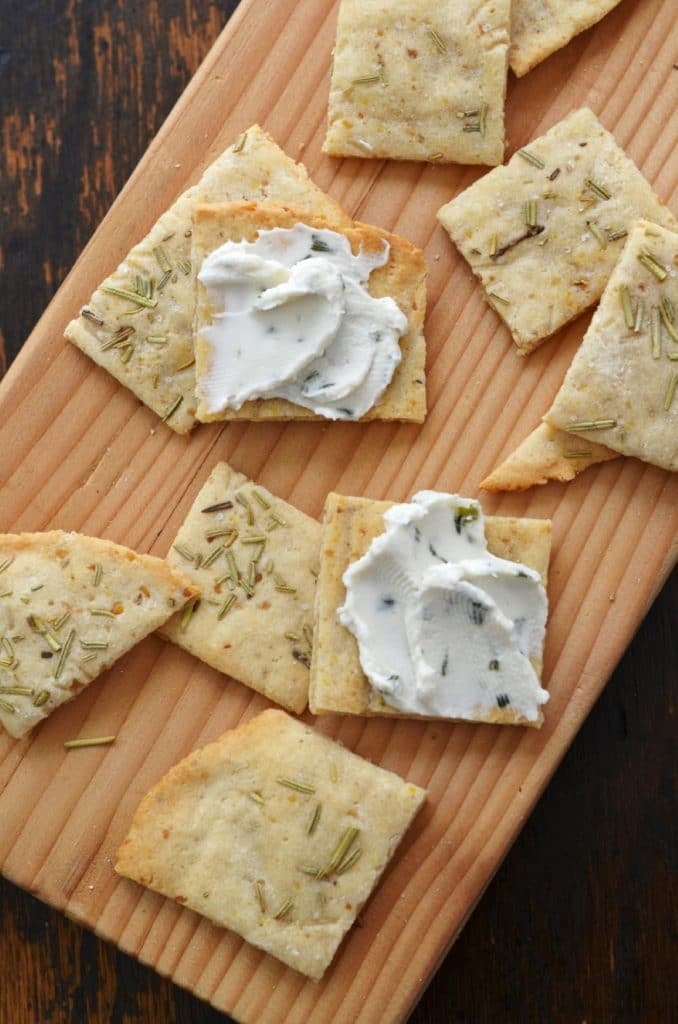 I remember way back when I used to get those tubs of whipped cream cheese and chives from the grocery store. Usually, I did this as a treat, it was so good and such a great memory. My favorite flavor was cream cheese and chives. And I can still envision that package with the little chives on the front.
So, you can imagine my delight, when I realized that there would be a chance that I could create a non-dairy version. I will be honest, I was apprehensive, and took it one step at a time, trying to not get my hopes up…too much.
*Squeal*
Much to my delight, I have something that tastes like cream cheese. So awesome!
How To Make Vegan Cream Cheese:
Step 1 – Gather your ingredients.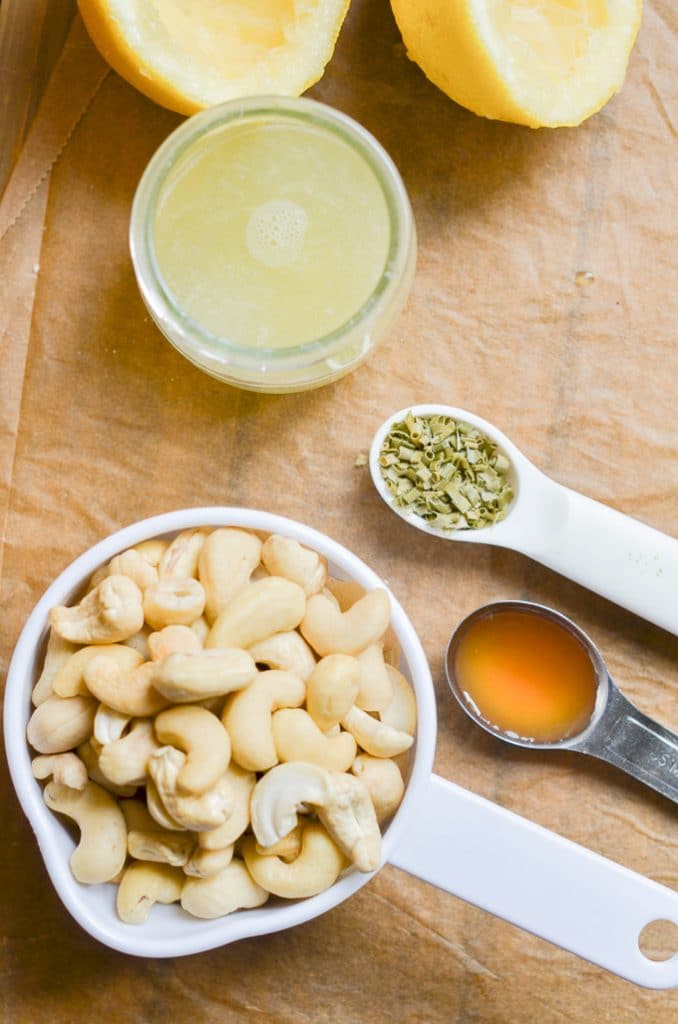 Step 2 – Place cashews in a heatproof bowl and add boiling/very hot water to cover them. Soak for 10 minutes.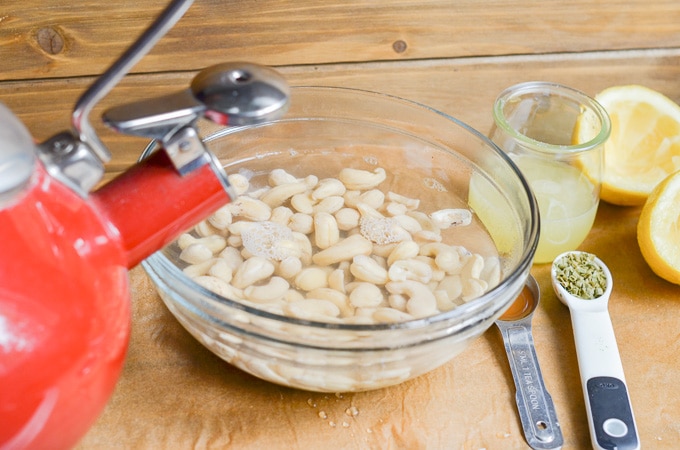 Step 3 – Drain and rinse the cashews.
Step 4 – Place all the ingredients in a small food processor or high-speed blender.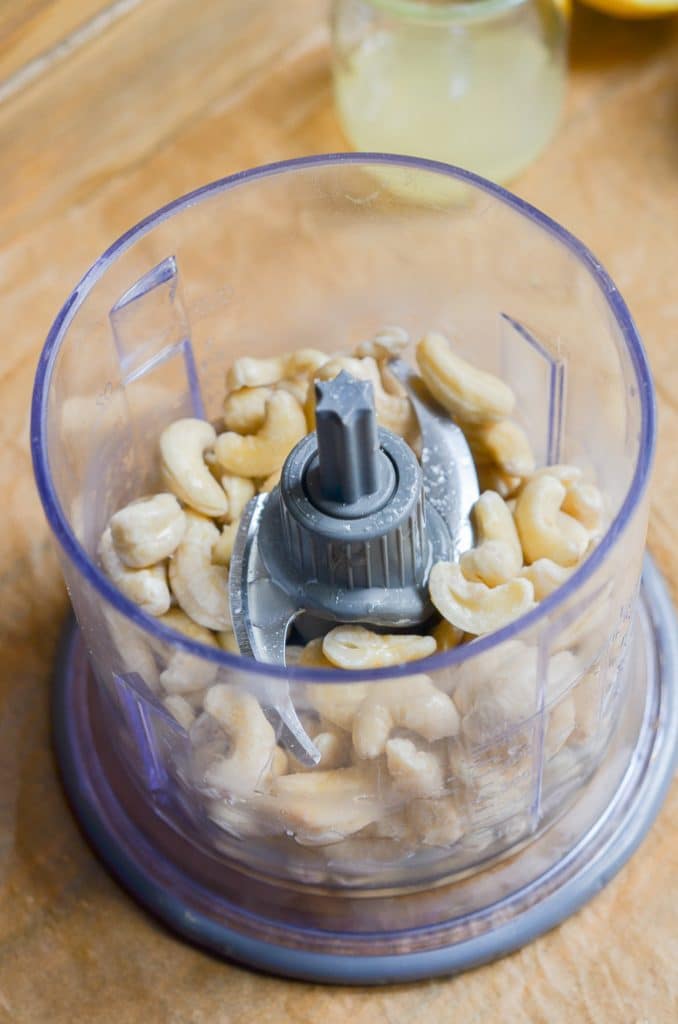 Step 5 – Blend until smooth and creamy. In the below photo, you can see the stages the mixture goes through to get to the creamy stage.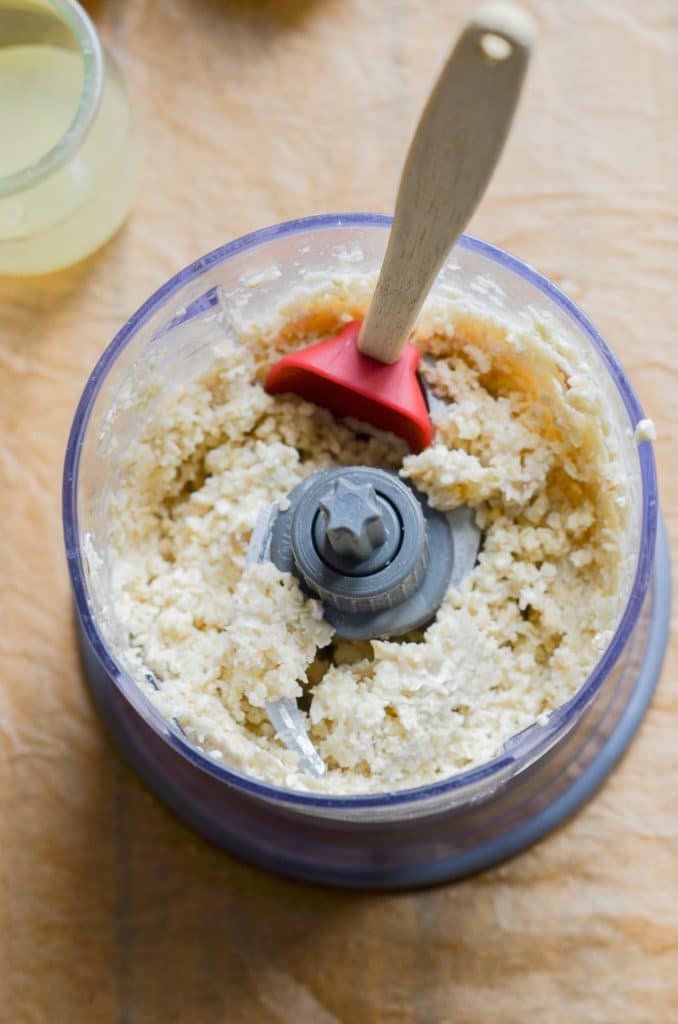 Step 6 – Once creamy, add a little water to thin out if needed. And check for seasonings; salt, herbs, etc…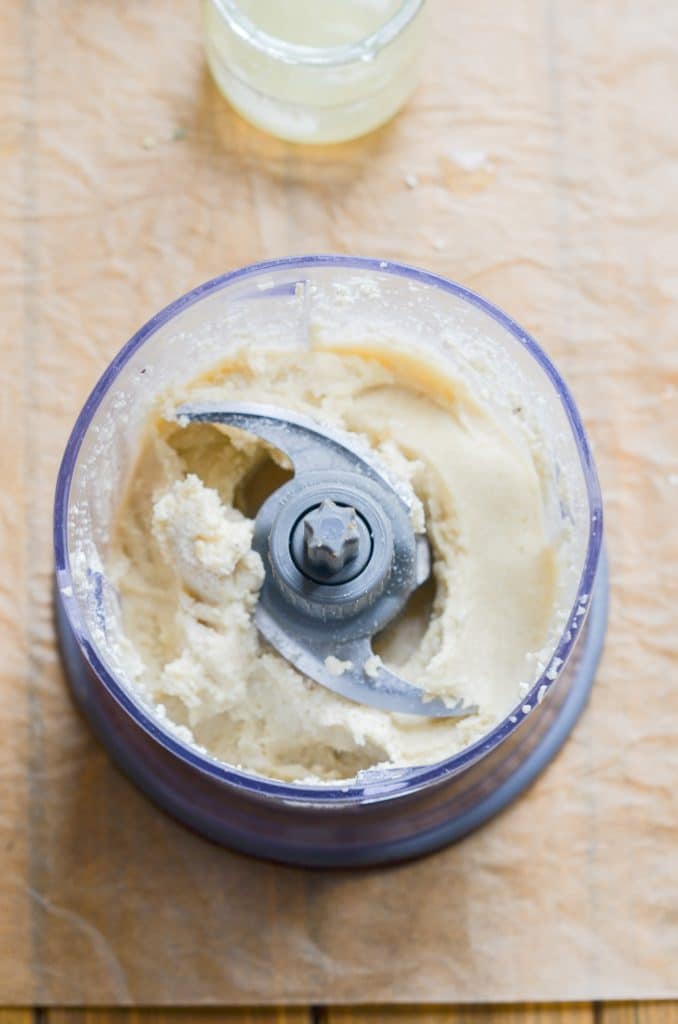 Helpful tips:
Once the vegan cream cheese is blended and creamy, add additional water to get the right consistency, especially if you are making a dip.
An alternate method to hot/boiling water method is to cover and soak cashews for four hours (then drain and rinse and follow directions).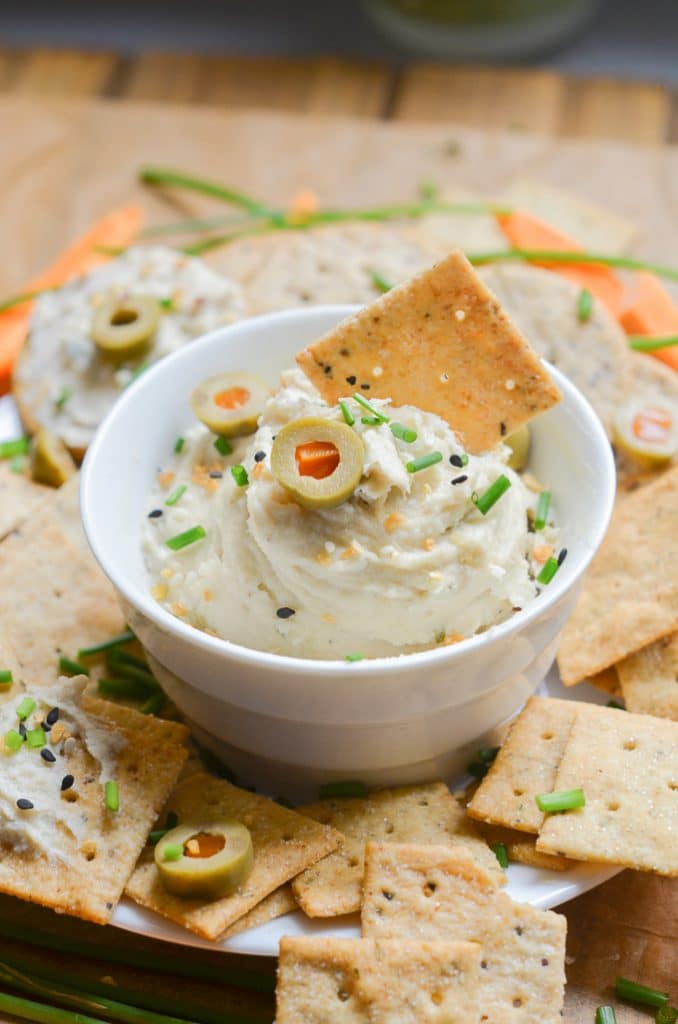 Try this dairy-free cream cheese recipe with these Paleo Crackers. The grain-free crackers are low carb, easy to make and versatile. I often add herbs, sesame seeds or sprinkle some sea salt on them. Also, try spreading some almond butter and jam on those crackers. Yum!
Bake until nice and crispy and then spread with this amazing cashew cream cheese.
Benefits of Homemade Vegan Cream Cheese:
A great benefit that you will love about this cream cheese is that it does not have the additives that are usually necessary for store-bought products. There is some advance preparation required as you will need to soak the cashews. This softens the cashews to make them easier to blend. Using a food processor or blender, blend all of the ingredients for several minutes. Add a few drops of water if the mixture seems too thick.
Please note: You might be surprised by who likes this vegan cream cheese recipe! This cream cheese is so good, everyone I know loves it. Yes, I know it tastes very authentic, but I was not expecting that! By the way, I am creating and testing a vegan cream cheese frosting recipe!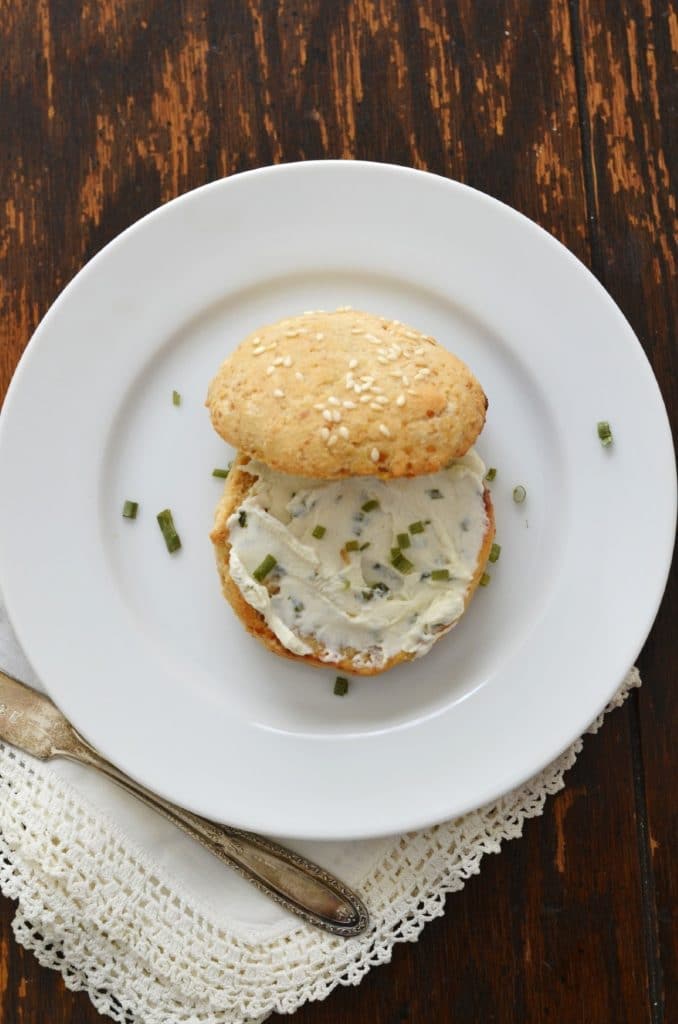 Oh, my goodness. I used my Paleo Pizza Crust recipe to make some rolls (photo above) and then enjoyed with the delicious dairy-free cream cheese. I added dried chives, but plain is great as well.
What Is The BEST Vegan Cream Cheese?
Made with vegan products but has the taste and consistency of traditional dairy cream cheese.
What Is Dairy-Free Cream Cheese Made Of:
This recipe uses cashews and liquid to achieve a delicious cream cheese.
Some recipes use tofu, dairy-free yogurt, other nuts – all viable options depending on what you want to use.
How Long Does Dairy-Free Cream Cheese Last?
It lasts about a week stored in the refrigerator.
Tips For Making Cashew Cream Cheese:
Use raw unsalted cashews.
Add some (2-3 tablespoons) unsweetened dairy-free yogurt to add some creaminess if desired.
Serve with vegan chips, sliced veggies (carrot and celery are delicious),
Add some powdered sugar to make a vegan cream cheese frosting.
Thin out with some water, add some chopped herbs for a fabulous dip.
Store in an airtight container in the refrigerator.
More Recipes Using Cashews:
Chocolate Chip Cookie Dough Truffles
Vegan Recipes To Try:
More Recipes Using Cashews:



★Did you make this recipe? Please give it a 5-star rating below!★
Where To Buy Vegan Cream Cheese?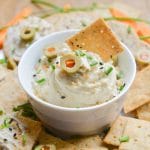 Vegan Cream Cheese Recipe!
This creamy, non-dairy cream cheese is very easy to make with just five ingredients. Grain-free, gluten-free and vegan!
Course:
Appetizer, Condiment, Spread
Ingredients
1

cup

raw cashews

1

teaspoon

organic apple cider vinegar

3

tablespoons

fresh lemon juice

1

teaspoon

dried chives

(optional, add to your taste, add herbs or leave out)

pinch sea salt

(to taste)

water as needed to get the right consistency
Instructions
Pour cashews into a bowl. Pour very hot to boiling water over the cashews. Let sit for 10 minutes. *See notes for an alternate method of soaking.

Drain and rinse cashews. Place cashews along with other ingredients into a small food processor and blend for several minutes until very creamy and the consistency of cream cheese.

Add water to reach desired consistency (if not creamy enough and if you will be using as a dip).

Add additional chopped herbs or dried chives if using.

Store in refrigerator up to one week.
Nutrition Facts
Vegan Cream Cheese Recipe!
Amount Per Serving
Calories 73
Calories from Fat 45
% Daily Value*
Fat 5g8%
Sodium 1mg0%
Potassium 104mg3%
Carbohydrates 4g1%
Protein 2g4%
Vitamin A 335IU7%
Vitamin C 5mg6%
Calcium 9mg1%
Iron 1mg6%
* Percent Daily Values are based on a 2000 calorie diet.
Update Notes: This post was originally published on September 14, 2016, but was republished with an updated recipe, new photos, step by step instructions and photos, success tips and a video in November 2018.