This Gluten Free Pizza Crust is perfect for Pizza Lovers and proves that while finding a vegan, grain, gluten, and dairy free pizza crust can be a challenge, it is possible.  It is also Paleo! This has been my go-to pizza crust recipe for a while and I get requests to make this often. You will love this gluten-free pizza dough recipe without xantham gum and no yeast!
I combine it with my homemade paleo pizza sauce (Zesty Multi-Purpose Pizza Sauce) and it is so delicious!  Serve with this delicious salad.
Gluten Free Pizza Dough Mix:
This is one of my favorite doughs to work with.  It isn't too sticky and rolls out beautifully into whatever shape you desire.  It can be made ahead too.  Just make a batch (or two) and keep in the fridge until you are ready to use.  I do this often and will sometimes make one pizza and one set of crackers.  There are many options and opportunities to use your imagination and creative expression with this recipe.  Add your favorite flavors.  I would love to hear what you come up with!  Please let me know in the comments or tag me on Instagram. 🙂
Once you have the dough combined, roll between two pieces of parchment paper until you have the desired shape and thickness.  I usually make a round dough shape, with a diameter of about 8 1/2 to 9 inches.  And, yes I usually measure!
There are two baking sessions when adding sauce or toppings.  First bake the crust for about 10 minutes until slightly browned on the bottom, but firm in texture.  Add sauce and toppings and bake another 20 minutes until the edges get slightly browned, hard and crispy.
This is sure to become your best gluten-free pizza dough recipe!  Add your favorite paleo pizza toppings and I am sure your pizza will be delicious!
No Egg Needed?
Of course, this is a vegan recipe.  However, the first few times I made this recipe with an egg and then I tried it with a flax egg.  Just an FYI both ways work!  I usually make it with a flax egg because I get plenty of eggs in my diet through other dishes.  You have options and I prefer the flax egg in this recipe!
How To Make A Flax Egg:
You can use already ground flax seed or grind it yourself.  I prefer organic golden flax seed and I grind up a batch and keep in the fridge (at most a few days).  I am usually using the ground flax seed daily while creating recipes, so I find it helpful to have it around and ready to go.  Grind the flax into a powder.  I use a clean coffee grinder to do this.  To make a flax egg, place 1 tablespoon ground flax seed into a small bowl. Add three tablespoons of water and mix a bit.  Wait about ten minutes and stir to combine.  You should notice the texture has become very egg like and congealed.  Add it to your recipe and it will take the place and perform the duties of a traditional egg!  Note:  flax eggs do not work in all recipes.  It is by trial and error, I have found where they work. And, ground flax seed has health benefits as well.
Here's a recent message I received via Instagram: 
– "I made at 24carrotkitchen's Paleo crust for pizza lovers.  And it was AMAZING! My whole family loved it and you can hold it without it falling apart in your hands!  I could easily eat this crust by itself!  Thank you so much at 24carrotkitchen for such a great recipe!
So sweet!
Related:
Paleo Crackers and Tomato Dipping Sauce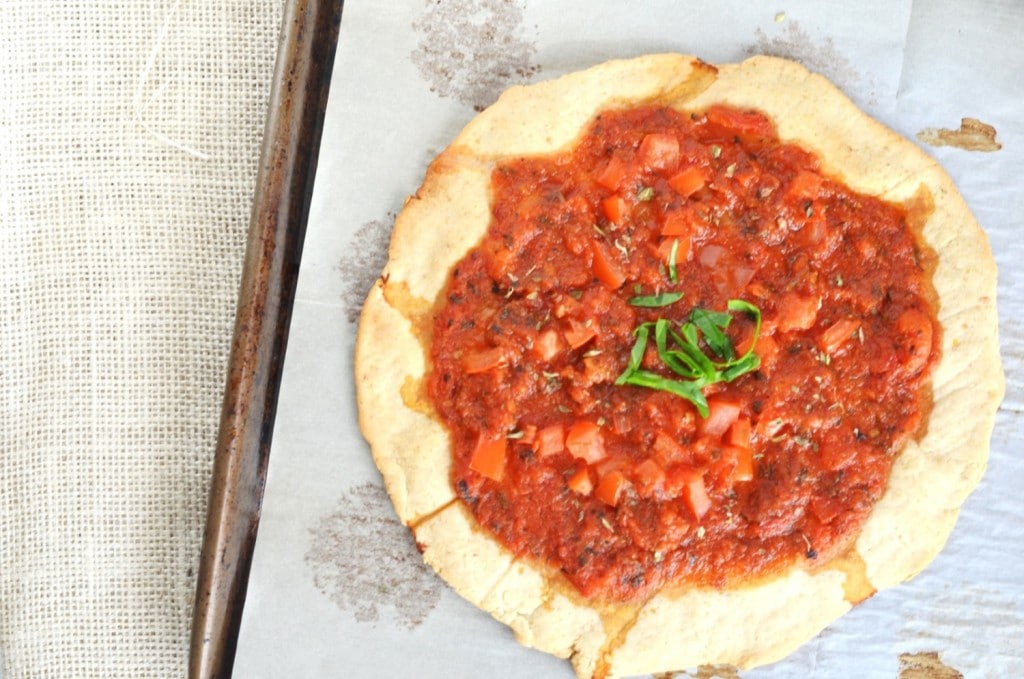 Does Gluten-Free Pizza Crust Measure Up?
Never could I have imagined that there would be such a tasty gluten-free pizza dough recipe no yeast in my future.  A gluten-free diet has a way of dashing those dreams.  Pizza was a favorite food for as long as I can remember.  What a treat it was, as a child, to pick up a pizza at the local pizza place.  In my case, this was a place called Sophies Restaurant.  Sophie's was located in a house (still is), not in the main village, but in a neighborhood, in the small town I grew up in.  It is a very cool and fun memory getting this delicious pizza.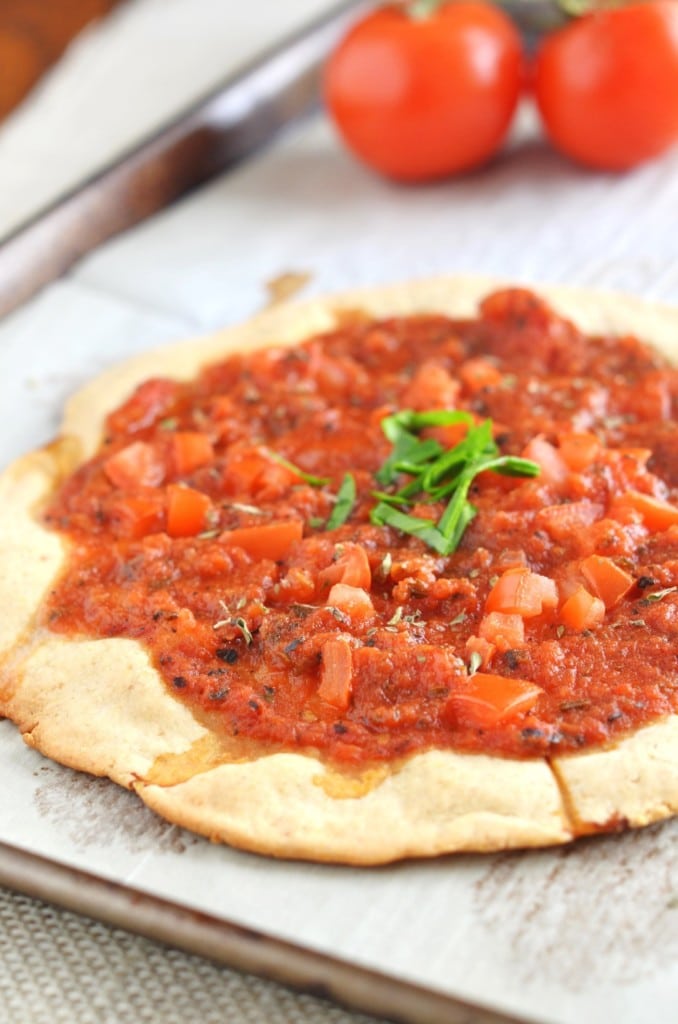 Gluten-Free Vegan Pizza Crust:
Going gluten-free has taught me that there are good substitutes, you just have to find them and incorporate them into your diet and lifestyle.  While this pizza may not be exactly like Sophie's, both have crispy crusts and are delicious!
Gluten-free Pizza Crust Ingredients:
Blanched Almond Flour
Tapioca Starch/Flour
Organic Coconut Flour
Extra Virgin Olive Oil
Flax Egg
Unsweetened Almond Milk
Sea Salt
Hope You Enjoy! 🙂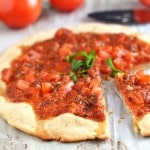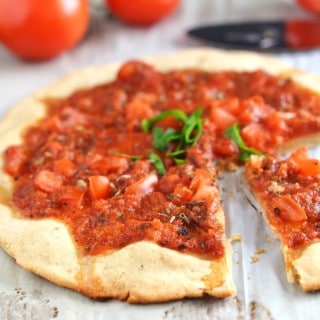 The Very Best Gluten-Free Pizza Crust!
A delicious, easy to make, gluten-free pizza crust. Can be used to make a thinner or thicker crust. Grain-free, Paleo, dairy free.
Course:
Pizza Dough/Crust
Ingredients
1/2

cup

blanched almond flour

1/2

cup

tapioca flour/starch

1/4

cup

coconut flour

1

tablespoon

extra virgin olive oil - melted

(sub-coconut oil)

1

flax egg

1/3

cup

unsweetened almond milk

pinch fine sea salt
Instructions
Preheat oven to 400 degrees F.

Prepare a baking sheet with parchment paper.

In a medium-sized mixing bowl, add the almond flour, tapioca flour/starch, and coconut flour. Whisk to combine and remove all lumps.

Add the rest of the ingredients and stir well to combine. The dough will be easy to handle and not sticky.

Roll dough between two pieces of parchment paper, into your desired shape. I usually make a 9 inch round, but there are many options.

Bake the dough for about 10 minutes until it starts to harden and slightly brown. Take out of the oven and spread sauce and toppings and bake for another 10 minutes. Remove from oven, slice and enjoy!
Recipe Notes
Notes: Baking times will vary depending on the size of your pizza crust and the toppings you use.
Nutrition Facts
The Very Best Gluten-Free Pizza Crust!
Amount Per Serving
Calories 138
Calories from Fat 72
% Daily Value*
Total Fat 8g 12%
Sodium 126mg 5%
Potassium 13mg 0%
Total Carbohydrates 14g 5%
Protein 3g 6%
* Percent Daily Values are based on a 2000 calorie diet.
Easy to Pin It Strip: