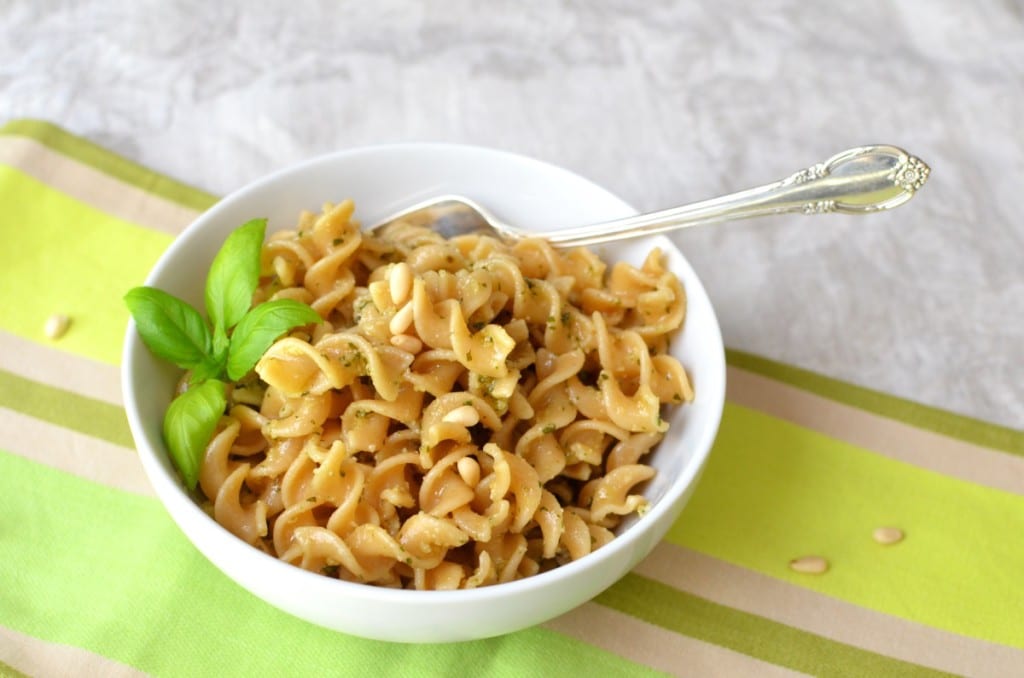 I love fresh pesto, especially during the summer months when fresh basil is available so abundantly.  I probably should have called this four ingredient pesto since it consists of pine nuts, garlic, basil leaves and extra virgin olive oil.  Oh, and a pinch of salt.  My favorite recipes, the ones I turn to the most often, have just a few ingredients.
Last summer I was unfortunate in that while I was enjoying a delicious pesto I made, I contracted pine nut mouth, which I talked about  here.  I guess it would be good for weight loss because everything you eat tastes strange, bitter and has a slight metal taste.  Ugh!  Don't worry though – it's rare.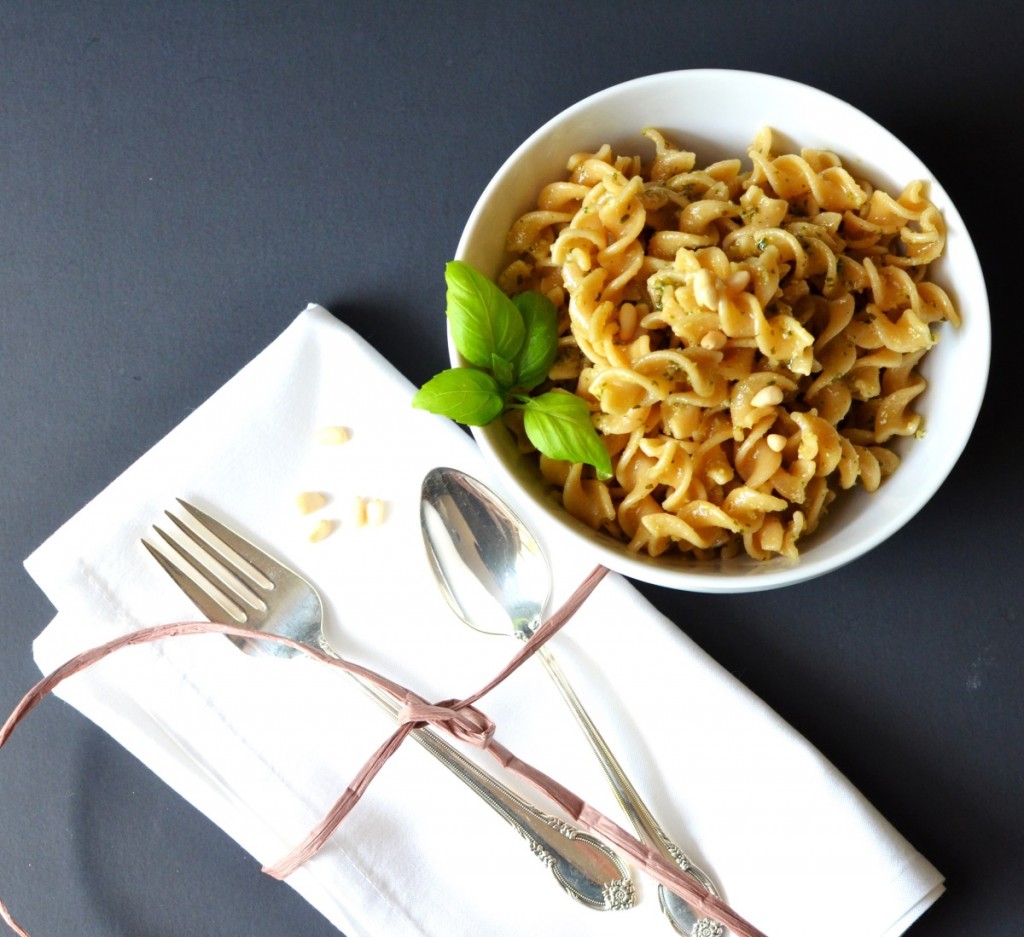 Luckily, I figured out that I had pine nut mouth, and now I am careful about the pine nuts I buy.  They just have to be fresh.  I must have used nuts that I had for a while.  I mark all my spices with the dates I buy them and it wouldn't be a bad idea to do the same with nuts, or maybe everything, but then that might get a little tedious. 🙂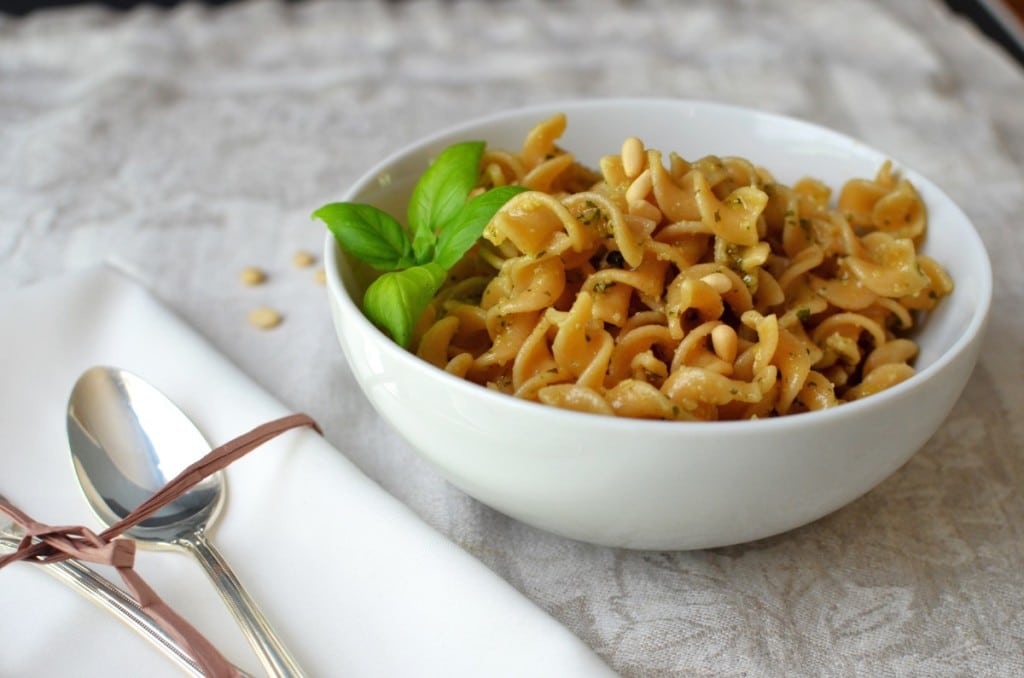 What you will love about this  simple pesto recipe is that it is easy, quick and uses just a few ingredients.  It's also vegan.  I don't miss the parmesan cheese in this recipe.
It would be great to make this with all the fresh basil this summer and then freeze (in ice cube containers) so you will still have some a few months from now into the Fall.
Update:  I have made this recipe substituting a few (about 5 whole) roasted, lightly salted almonds in place of the pine nuts.  It came out great, so if you happen to be out of pine nuts, you might want to try almonds.  The other bit of advice I have with this recipe is that I prefer making this a day in advance.  I believe it tastes better, maybe because the flavors have a chance to come together better.  Anyway, I thought I would provide those updates.  This is such a favorite summer recipe of mine.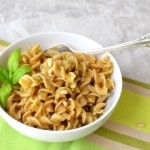 Simple Pesto
This is delicious vegan pesto you can prepare quickly.
Ingredients
2

tablespoons

pine nuts

1

clove

medium garlic

1

cups

and 1/2 basil leaves

1/4

cup

extra virgin olive oil

pinch of salt
Instructions
Place the pine nuts, garlic and basil leaves in the food processor. Pulse several times to chop. Add the extra virgin olive oil and combine until it is the consistency you desire.

Add a pinch of salt and pulse a few more times.

That's it!

This simple pesto can be paired with your favorite pasta. I also sprinkled a few pine nuts on the pasta.
Recipe adapted from – here.
What's for dessert after this amazing pesto?
How about some chocolate chip fudge brownies, or chocolate-chip-cookies or chocolate peanut butter "ice cream" , perhaps?

I recently discovered this almond cookies and they are amazing!
As I write this we are having an afternoon thunderstorm here in New England.  I am happy that my current basset hound, Dino, isn't afraid of thunderstorms.  My previous basset, Humphrey, would basically start to show anxiety, way, way, way before the storm was even remotely noticeable.  He had a sense or I guess used his instincts and would start looking for closets or tables to hide under.  It was hard to comfort him.  It was just the way he was.  New England gets plenty of thunderstorms in the summer, mostly on the hot, humid and sticky days.  It's a welcome relief to most of us because it breaks the heat, that is if it doesn't cancel a nice cookout or some other plans.
Any travel plans or other exciting plans this summer?  Please leave me a comment and let me know.  I love to hear from you!
I hope you are having an awesome week!
Christine