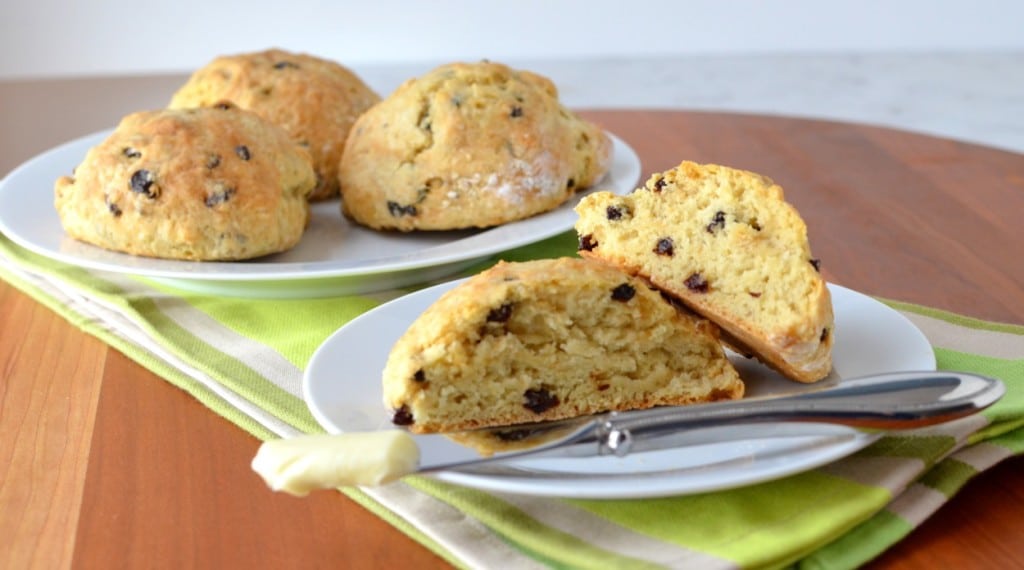 I actually made this recipe for Irish American Soda Bread Scones right before St. Patrick's Day.  I will be making this again all year-long because they are the perfect breakfast scones.  In a search for a recipe for Irish Soda Bread for St. Patrick's Day, I came across several that looked promising.  Well, it could have been something I did or didn't do, but they were not edible.  That's how bad they were.  Then I came across this recipe from Smitten Kitchen (adapted from Cook's Illustrated) and I found exactly what I was looking for.  This was my first foray into making irish soda bread.  When I was in Whole Foods just prior to St. Patrick's day, I spotted a beautiful irish soda bread loaf that was calling out to me.  I picked it up, looked it over and was tempted, I will say that.  In the end, I wanted to see if I could make this at home myself.
What I found is that it is not as easy as I thought it would be.  This recipe was my third attempt.  When you make a recipe, you want to know that it will be worth the effort and time involved.  This recipe is worth it.
The reason that it is an American Irish Soda bread version is because there are added raisins (I used currants) and the caraway seeds are optional.  This is the version for me.
Do you like light, flaky, not overly sweet irish soda bread?  Then you will love these.   Bake them until they are slightly browned on top.   With a bit of butter (or Earth Balance), some jam or jelly, they are heaven.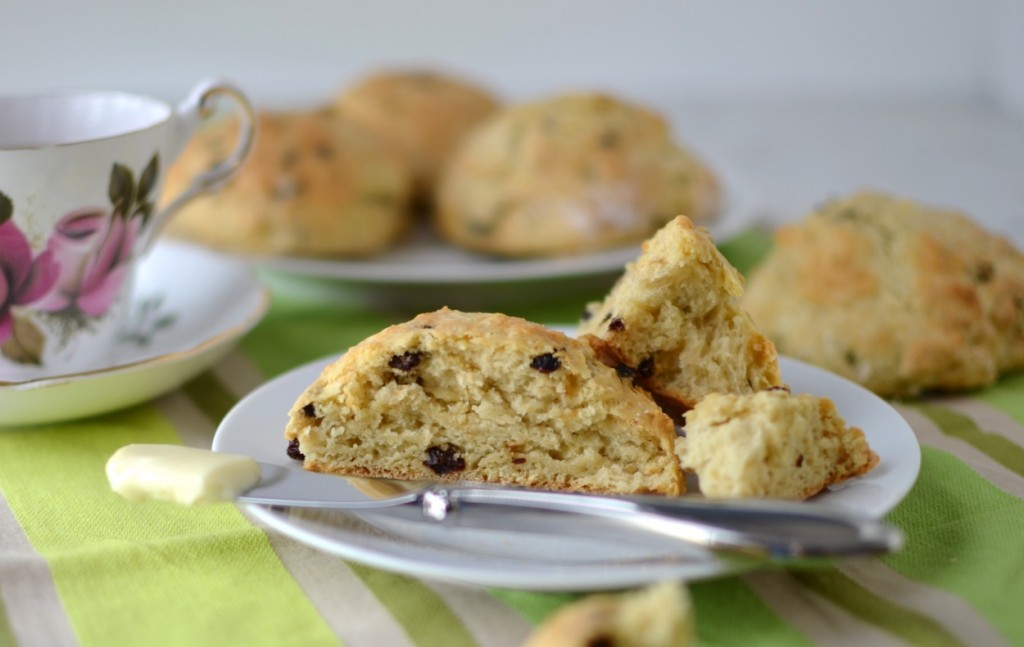 I loved having these with a cup of tea in the afternoon as well.  The batch I made lasted a few days in an airtight container, although they did as specified in the original recipe change in texture somewhat.  They are best consumed on day 1 and I found them tasty on day 2 as well.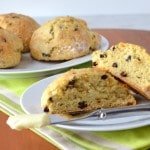 American Irish Soda Bread Scones
This is a delicious american irish soda bread scone. This would be great for breakfast, an afternoon snack with tea or coffee, as a gift, or to bring in to the office.
Ingredients
3

cups

all-purpose flour

plus additional for work surface

1

cup

cake flour

1/4

cup

granulated sugar

1

teaspoons

and 1/2 baking soda

1

teaspoons

and 1/2 cream of tartar

1

teaspoon

salt

5

tablespoons

unsalted butter (4 tablespoons softened

1 tablespoon melted)

1

cups

and 1/4 buttermilk

1

egg

lightly beaten

t

cup currants or raisins

1

tablespoons

caraway seeds

optional
Instructions
Preheat oven to 400 degrees F.

In a large bowl, whisk together flour, sugar, cream of tartar, baking soda and salt. Add the softened butter and combine with the flour mixture (use hands, fork, or pastry blender).

Once the dry ingredients and butter are combined, add the buttermilk and egg, currants or raisins and caraway seeds. Stir until just combined (do not overmix, dough will become tough). Then place dough on a work surface and pat it into a round and use a knife or dough divider to cut into 8 wedges. Form each wedge into a small round (like a biscuit) and place on a prepared baking sheet (using parchment paper (my first choice) or by greasing a pan. Cut a cross shape into the top of each scone.

Place in the oven and bake for 15-20 minutes until the tops are golden brown (and internal temperature reaches 170 degrees). A toothpick or knife should come out clean when place in the center of the scone. Remove from oven and brush with butter, then allow to cool to room temperature.

The recipe states it is best to consume these on day one because they start to change texture by day two.
Nutrition Facts
American Irish Soda Bread Scones
Amount Per Serving
Calories 349
Calories from Fat 81
% Daily Value*
Fat 9g14%
Cholesterol 42mg14%
Sodium 469mg20%
Potassium 201mg6%
Carbohydrates 56g19%
Protein 8g16%
Vitamin A 300IU6%
Vitamin C 0.2mg0%
Calcium 54mg5%
Iron 2.6mg14%
* Percent Daily Values are based on a 2000 calorie diet.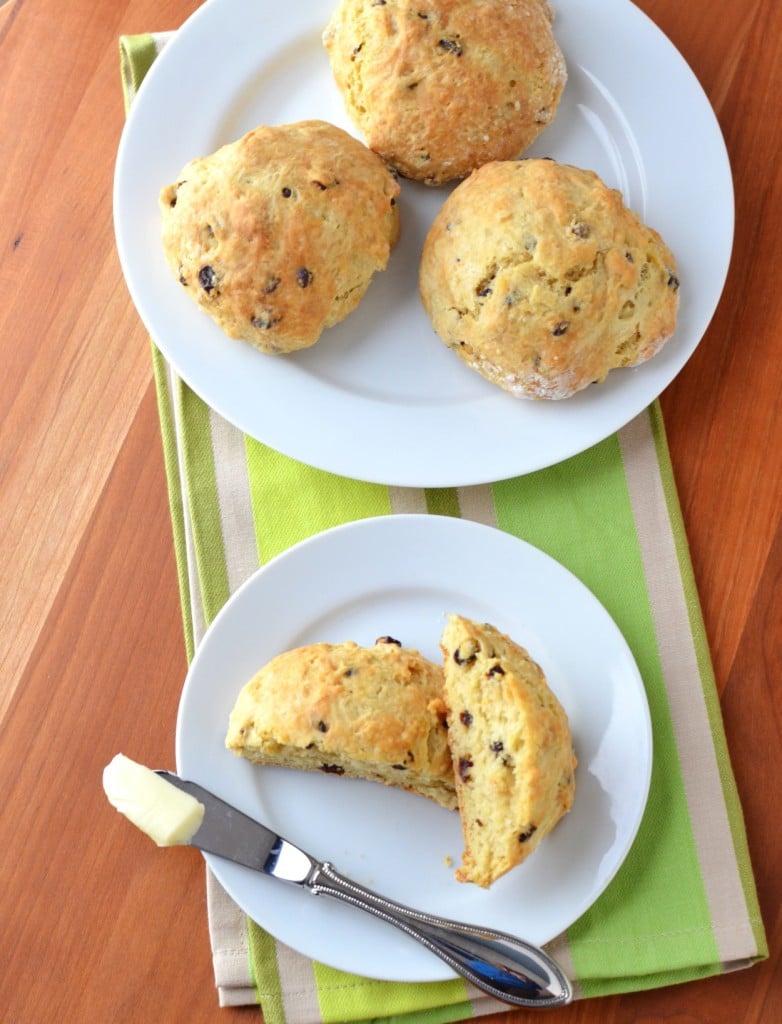 Enjoy!  Please let me know if you try these.