This post may contain affiliate links.
Let me tell you how this irresistibly delicious, grain free, gluten-free and dairy free Peach Blueberry Crumble came to be.
It started with research that sent me down a long rabbit hole of information.
Was I making a crumble, a crisp, a buckle, a cobbler, a brown betty, a slump or a grunt?
Say what?
Although I loved the idea of making a slump/grunt just to hear the interesting noises it's supposed to make as it cooks, my peach blueberry dessert choice became this super easy to make, healthy peach blueberry crisp or crumble. Crumbles are also called crisps.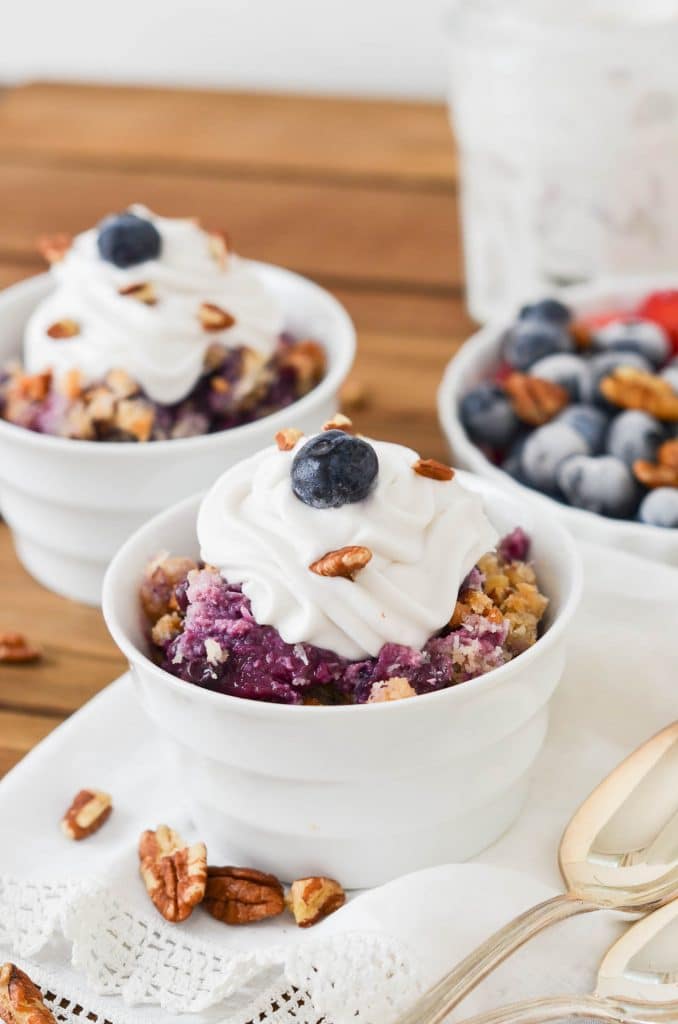 How To Make Your Peach Blueberry Crumble:
Prepare your fruit by washing and peeling (if necessary) and slicing. Try this easy kitchen hack to peel your peaches fast!
Mix your fruit in a bowl with lemon juice, and tapioca starch (or substitute arrowroot).
Spread your fruit mixture into your lightly greased casserole dish.
In a bowl, mix up your topping ingredients: almond flour, shredded coconut, coconut oil, maple syrup, chopped pecans, cinnamon, vanilla, and salt.
Spread the topping over all the fruit and press down gently as this will help to form crunchy clumps.
Are you enjoying all the fresh summer produce? In this Peach Blueberry Crumble recipe, I used fresh blueberries and peaches. The fresh blueberries and peaches available abundantly right now make it a perfect summer dessert.
Related:
How To Peel Peaches in A Minute!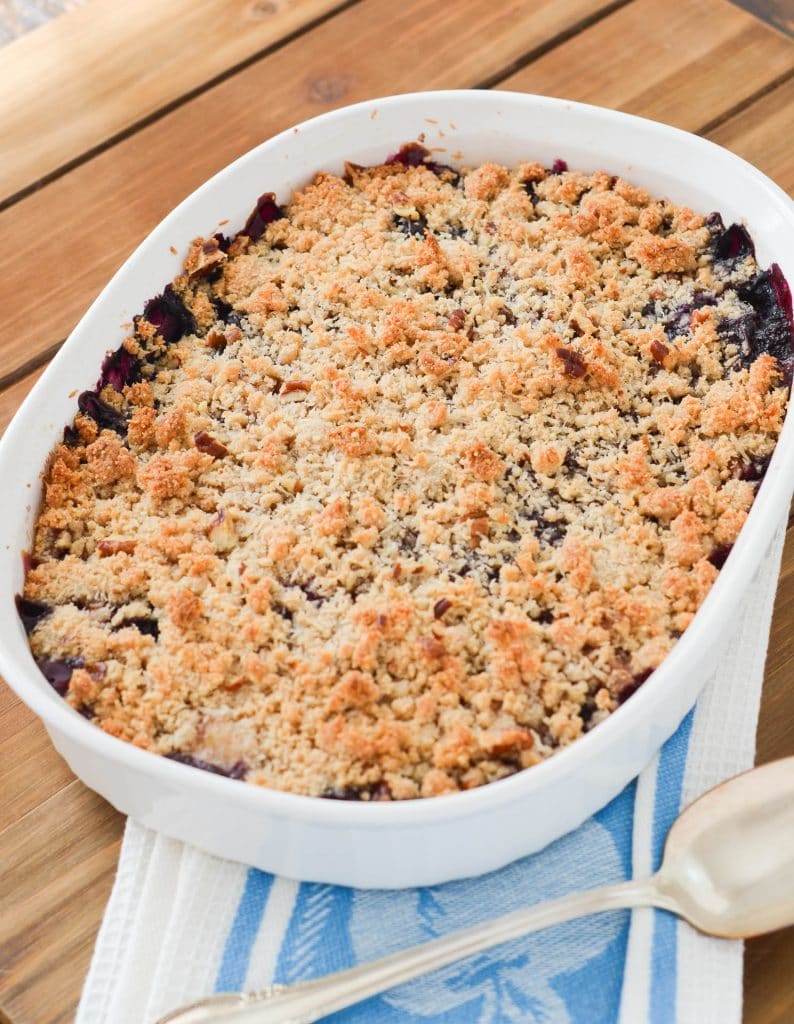 Quality Fruit for The Best Blueberry Crisp Recipe:
In the quest to eat as cleanly as possible, I use organic produce whenever possible. Even going so far as to forgo buying fruit if organic is not available. Avoiding fruits and vegetables grown with the highest amounts of pesticides is a priority for me.
Luckily for us, an annual list is available with the best and worst choices. Note: this list changes yearly so I always obtain the latest version. Print it out, place in your wallet for easy access at the grocery store or farmers market.
Strawberries currently top the "Dirty Dozen" list of fruits grown with high amounts of pesticides, so I always buy organic. Luckily, there is usually plenty organic produce available.
Be adventurous and try other fruits with this crumble topping. Strawberries, apples, plums, cherries, blackberries, raspberries, pears and nectarines would make delicious crumbles.
There you have it. You will be the star of the show with this dessert. It can be made ahead of time and then baked before serving. I would have to experiment in the future, although, it is certainly a-ma-zing the way it is. I was so happy with the results.
Scooping your freshly made crumble into ramekins is fun and easy for serving. You could also bake your crumble in these as well.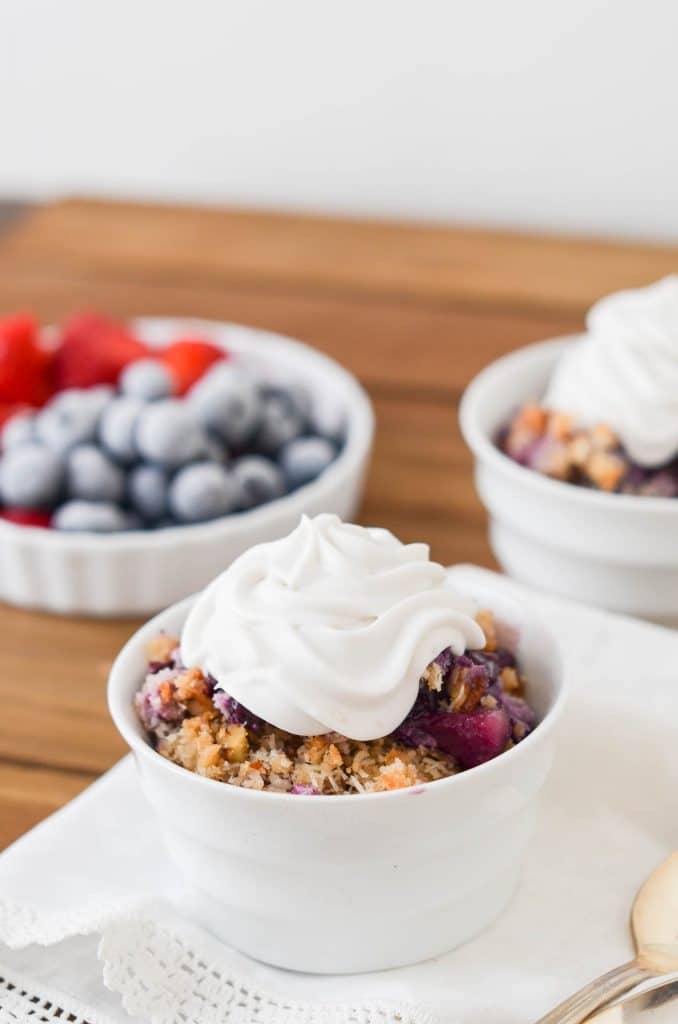 Learn how to make dairy free coconut whipped cream here. Using the whipping attachment for my favorite mixer, this coconut whipped cream is made in minutes!
Nice swirls are easily made with a piping bag and tips! Just rinse the bag out and dry and you should be able to get additional uses.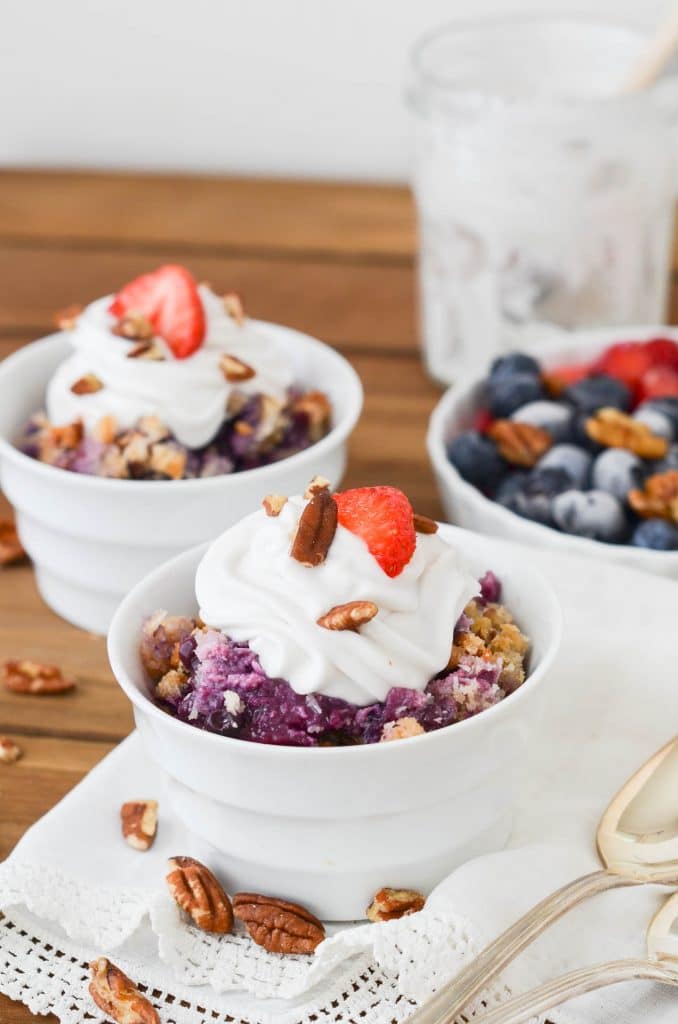 Top your crumble with a garnish or chopped nuts, sliced fruit or berries. Even toasted coconut chips would be delicious.
The benefits to this crumble are that it is super delicious, filled with lots of healthy quality ingredients and so easy to make. Just mix up the ingredients, pour into your dish and bake!
Hope you enjoy this delightful Peach Blueberry Crumble.
May it render the room quiet with the only sounds the noms and nods of approvals indicating thumbs up!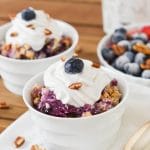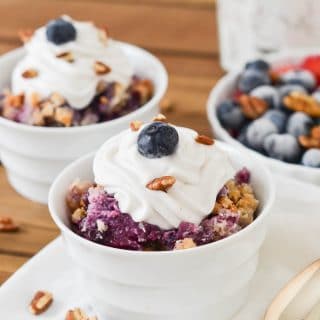 Peach and Blueberry Crumble
Sometimes called crisps or crumbles, this gluten free peach blueberry crumble is a delicious dessert that combines fresh fruit with a crispy textured topping. Top with dairy free coconut whipped cream or your favorite dairy free ice cream!
Course:
Breakfast, Brunch, Dessert, Dessert Topping/Icing/Frosting
Cuisine:
American, Dessert
Ingredients
5

large peaches

(3 cups sliced, firm but ripe peaches, or may use frozen)

1 1/2

cups

organic blueberries

(fresh or frozen, a few extra for garnish)

2

tablespoons

fresh squeezed lemon juice

(juice of one lemon)

1 1/2

cups

almond flour

(I used blanched, but you could use almond meal also)

1/2

cup

organic shredded coconut

(can sub with almond flour if do not like coconut)

1

tablespoon

organic coconut oil

1

teaspoon

vanilla extract

4

tablespoons

maple syrup

2

tablespoons

chopped pecans

(a few extra for garnish)

1/2

teaspoon

ground cinnamon

1/8

teaspoon

fine sea salt

2

tablespoons

tapioca starch
Instructions
Preheat oven to 350 degrees F.

Wash the peaches and blueberries.

Tip- To remove peach skins: place peaches in boiling water for about 1 minute. Immediately place peaches in a bowl of cold water. This will make them easier to peel.




Peel peaches and slice into 1-inch pieces. In a large bowl, add peaches, blueberries. lemon juice, tapioca starch. Gently mix together to combine. Pour mixture into a lightly greased baking pan. I like to use coconut spray.


Crumble Topping: In a bowl, combine all remaining ingredients: almond meal, shredded coconut, maple syrup, coconut oil, chopped pecans, cinnamon, vanilla, and salt. Mix until combined using a spoon. Using your spoon, spread topping over fruit in a casserole dish. Then gently press the topping on top of the fruit mixture.


Place baking pan in oven for 35-45 minutes, until crumble is browned and fruits are bubbling. My crumble took exactly 40 minutes.


Let sit for 5 minutes and serve warm or at room temperature. Can be served with your favorite non-dairy ice cream or coconut whipped cream.


This crumble can be made ahead of time, stored in the refrigerator and then baked prior to serving.

Nutrition Facts
Peach and Blueberry Crumble
Amount Per Serving
Calories 370
Calories from Fat 216
% Daily Value*
Fat 24g37%
Sodium 53mg2%
Potassium 351mg10%
Carbohydrates 37g12%
Protein 8g16%
Vitamin A 425IU9%
Vitamin C 13.8mg17%
Calcium 87mg9%
Iron 1.9mg11%
* Percent Daily Values are based on a 2000 calorie diet.
Read more about cobblers, buckles, crisps, etc… here, here and here!