What? These Cinnamon Raisin Gluten Free Scones rival the best traditional scones I have ever had?  Yes!  They are such a great treat and so easy to prepare!
How do I describe a scone?  Like a sweet biscuit, kind of crusty like a biscuit and sweet like a muffin.
One of my favorite places to take these scones is on a getaway vacation.  Being paleo, my dining and food options are sometimes limited, so it is best to plan ahead.  I will often make a big batch of granola, so I can easily make this parfait for breakfast.  In addition, I will make some brownies, some sausages (depending on the distance) and these paleo cinnamon scones.  Each trip, I change it up and bring different recipes.  Plus, I like to bring a good supply of fresh veggies and fruit.
While on vacation, I try to bring foods that, like these scones, make the perfect breakfast or snack and are great on the go.  These scones travel well and will last a few days.  Perfect for a weekend away, especially when the destination is a drive away.
Making Your Cinnamon Raisin Gluten Free Scones:
I use the same base recipe as my Cranberry Scones and Gluten Free Blueberry Scones.  With the base recipe, you can add flavorful combinations of ingredients to re-create you favorite type of scone.
Each time I make this easy scones recipe, I try to vary how I shape them and the pan I bake them in, so I can see the options and how well they work.  Always a delight, and I will tell you that the non-gluten-free people in my household are usually waiting as they bake to get a fresh, delicious, warm scone, fresh from the oven.  I love hearing how awesome they are and that you wouldn't know this is a paleo scones recipe.
In this particular version, I  pressed the batter into a round metal pie pan.  Previously, with another batch, I shaped the dough into a round traditional scone shape and used round cookie cutter type cut-outs.  And in yet another version of this easy scones recipe, I have shaped the dough into a round shape about 3/4 inch thick and then sliced into four equal triangles.  The scones have proven to be very versatile by cooperating and working out beautifully each time.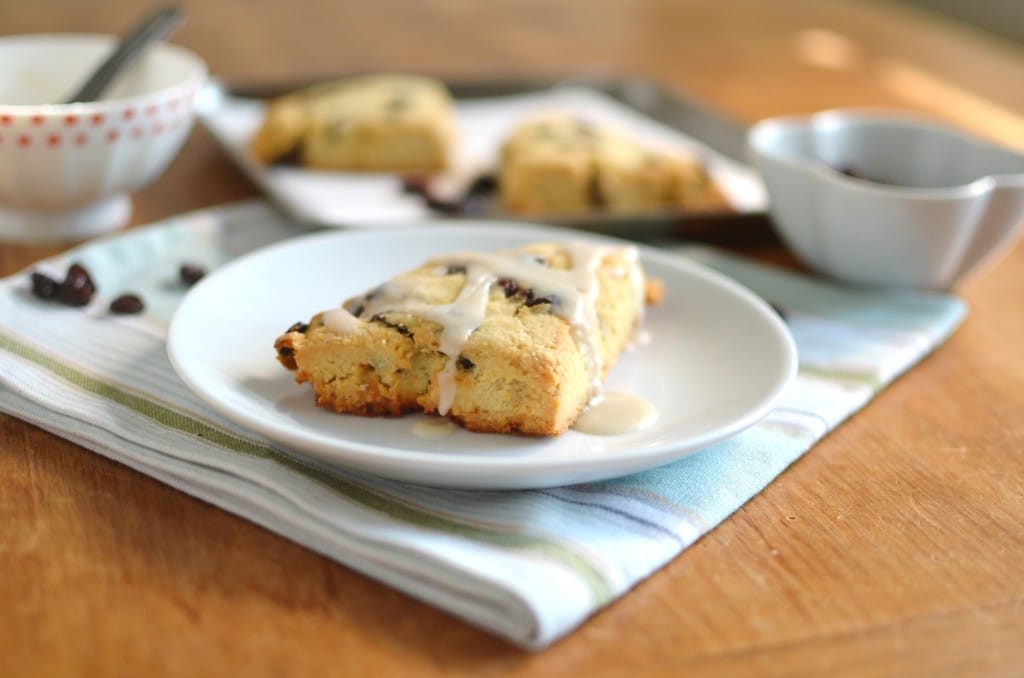 Out of the oven these scones were a little toasty and crunchy on the outside and soft on the inside.  Can you see this from the photos? Total yum!
Making The Glaze For Your Gluten Free Scones:
The glaze is optional, but quite tasty.  Place 1/4 cup organic confectioners sugar in a small mixing bowl.  To this, add about 1/2 – 1 teaspoon unsweetened almond milk (you could sub another non dairy milk).  Whisk until you have the glaze consistency.  You could add a few drops of vanilla extract if you wish.  Another option is to add a juice (like lemon or orange) in place of the almond milk to make a flavored glaze.  I often eat these delicious scones plain and on occasion have them with a slather of jam or jelly.  There are many options so choose your favorite.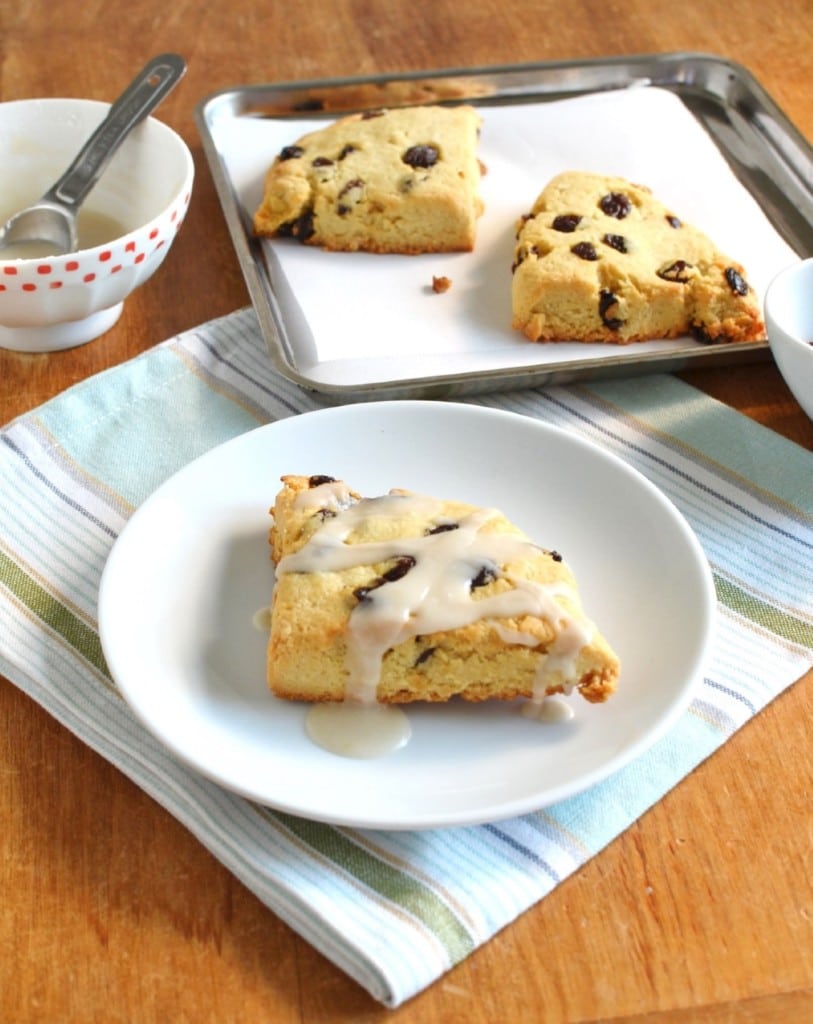 I hope you like them if you try them!
Items Used To Make This Recipe: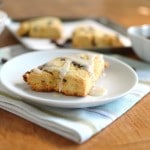 The BEST Cinnamon Raisin Gluten Free Scones
Oh my! You are in for a treat! Not only are these gluten free scones paleo, dairy free, and grain free, they are so easy to make! Enjoy!
Course:
Breakfast, Breakfast Scone
Cuisine:
American, Breakfast
Ingredients
1 1/3

cup

blanched almond flour

1/2

cup

arrowroot flour

1

teaspoon

cinnamon

pinch sea salt

3

tablespoons

maple syrup

1

teaspoon

baking soda

1/4

cup

coconut oil

1

teaspoon

vanilla extract

1

large egg

(I use organic)

1/2

cup

raisins

glaze
Instructions
Preheat oven to 350 degrees F.

Prepare a baking sheet by lining with parchment paper.

Place all ingredients in a mixing bowl and stir until combined.

Pour mixture onto prepared baking pan with parchment.

Mold into a round (I usually make a 8" round approximately 3/4" thich). Cut 4 to 6 slices and separate so they are not touching when baking.

Bake for about 20 minutes until slightly browned on top.

Cool and glaze if desired. Try some ghee or your favorite jam smeared on top. Store in air tight container for up to a few days. They tend to be best the first day.
Nutrition Facts
The BEST Cinnamon Raisin Gluten Free Scones
Amount Per Serving
Calories 499
Calories from Fat 297
% Daily Value*
Fat 33g51%
Cholesterol 40mg13%
Sodium 296mg12%
Potassium 198mg6%
Carbohydrates 46g15%
Protein 9g18%
Vitamin A 60IU1%
Vitamin C 1mg1%
Calcium 117mg12%
Iron 2.1mg12%
* Percent Daily Values are based on a 2000 calorie diet.
Easy to Pin It Strip: