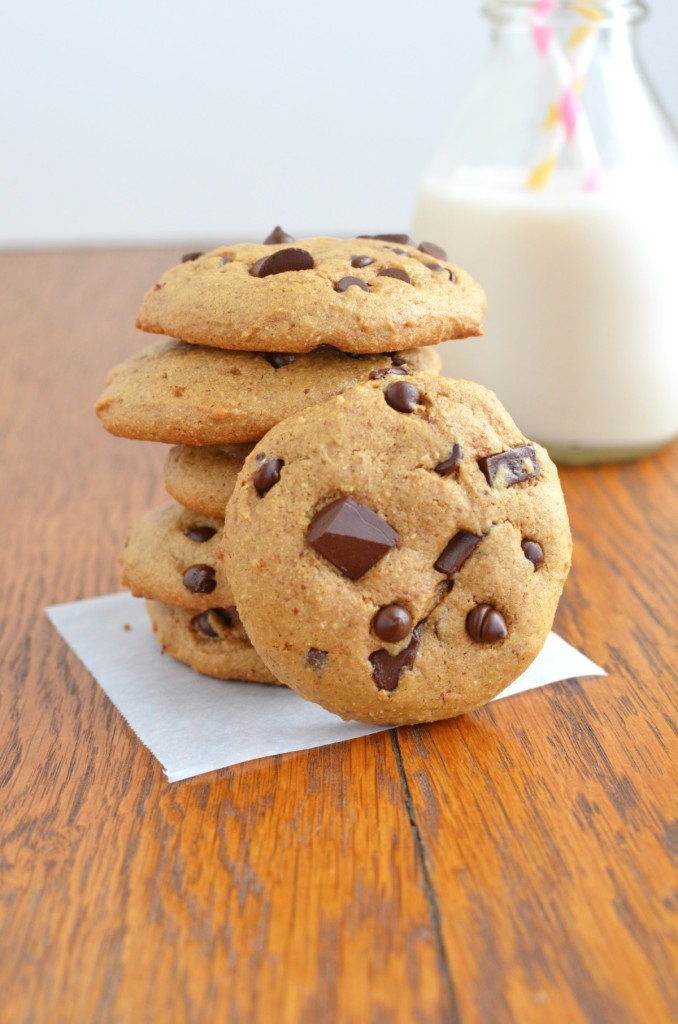 Feast your eyes on these gluten and dairy free delights!  These delicious Chocolate Chip Chunk Cookies are also very easy to make.  I have found it can be very challenging finding really good gluten and dairy free products and recipes.  And that is why I am so glad to have this recipe, so I can whip these up anytime.  I decided to use both chocolate chips and chocolate chunks.  Ramp up the wow factor a little!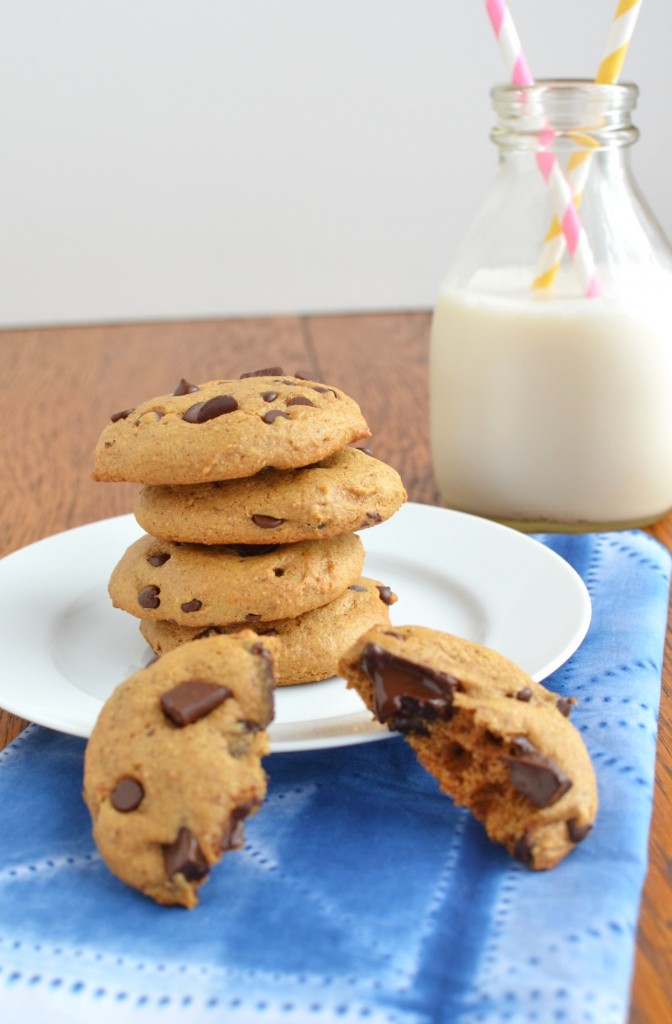 Instead of butter, this recipe uses almond butter.  I used my homemade almond butter recipe found here.   The chocolate chips and chunks are Enjoy Life brand and are gluten and dairy free.  Once you start mixing all the ingredients, you may find the dough a little thick and sticky.  This is how it should be and I took my time and used a wooden spoon to combine.  I also reserved about a tablespoon of the chips and chunks so I could place a few on top of each cookie prior to baking, for appearance purposes.  I really like how these cookies are nice and puffy too.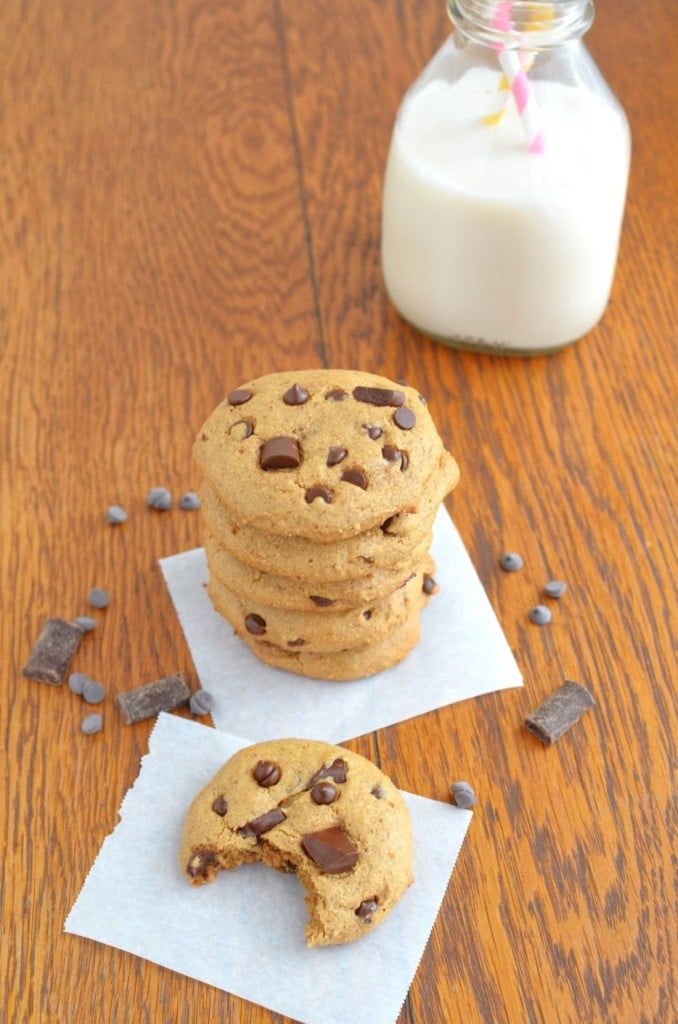 Meanwhile,  I wanted to mention how much I am enjoying the changes that were made to the blog earlier this year.  After blogging for just over a year, I decided to upgrade and change the look.  I am finding that the choice of the Genesis Framework and the Foodie Theme were great decisions.  Foodie is perfect for food bloggers and their customer service has been awesome.  Any questions have been answered very quickly and easy to follow tutorials are available.  There is even a Foodie Showcase featuring how creatively bloggers are using and customizing this theme.   Yours truly is featured as well. 🙂  If you are thinking about starting a blog or changing the look, I would suggest considering Genesis and Foodie, or choose one of the other great Studiopress themes.  I am so glad I did.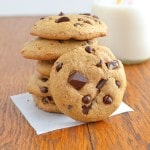 Chocolate Chip Chunk Cookies
Gluten and dairy free healthier version of the classic chocolate chip cookie.
Ingredients
3/4

cup

brown rice flour

1

teaspoon

baking soda

3/4

cup

coconut sugar

1

cup

smooth almond butter

2

large eggs

I used organic

1

teaspoon

vanilla extract

1

cup

chocolate chips (I used 1/2 cup gf

df chocolate chips and 1/2 cup gf,df chocolate chunks)
Instructions
Preheat your oven to 350 degrees F.

Prepare a baking sheet with parchment paper. Most likely 3 batches, so you could prepare 3 baking sheets if you have available.

In a small bowl, add the brown rice flour and baking soda. Mix well and set aside.

In a larger mixing bowl, add the coconut sugar (Use a wooden spoon to stir out any lumps in sugar), almond butter, eggs and vanilla extract. Mix well.

Then add the flour mixture to the sugar mixture and when dough is well mixed, thick and sticky, add your chocolate chips (and chunks if using). Suggestion: reserve about a tablespoon of chips and chunks to place on cookies right before putting in the oven.

Drop tablespoons of batter onto your prepared baking sheets, about 2 inches apart. I used a small ice cream scoop. Once you have the cookies on the pan, wet your hands slightly with water and gently flatten the cookies before putting in the oven. Bake until cookies are slightly brown around the edges and top. Ovens vary, but mine took exactly 8 minutes.

Let cookies cool on baking sheet for about 3 minutes and then transfer to a wire rack to completely cool. Will last for several days in airtight container. Batch made 28 cookies.

Serves 14 - 2 cookies each.
Update: Grain Free: I have also made these grain free by substituting 1/2 cup almond flour and 1/4 cup coconut flour for the brown rice flour.    Same great taste and texture.  Baking time increased to 10 minutes in my oven. 🙂
Easy to Pin It Strip:

Enjoy!
Disclaimer:  this post contains affiliate links.  Thank you for supporting 24 Carrot Kitchen. 🙂