This is my first holiday gift guide!  This Helpful Holiday Gifts For The Home Cook guide was so much fun to put together and I hope you find some inspiration in this busy holiday season.  There's not much time left so go shopping!

This is the mixer I use all the time and I would be lost without it.  It is a sturdy mixer that lasts; I have had mine for over 20 years!  I remember when I received mine as a holiday gift from someone who knew I loved baking.  I was thrilled.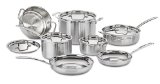 Just like my sturdy mixer, I love and use my All Clad cookware.  I purchased a set years ago.  It is well made is a dream to cook with.

Do you know a smoothie lover?  I make smoothies every day with this blender.  It takes up very little counter space and whips up smoothies in no time.

I started using a cast iron skillet only a few years ago.  It is my go-to pan for certain recipes and I love the consistent results I get when I use it.

What a great stocking stuffer this would be.  Full disclosure: I purchased my frother a few years ago and it is still going strong.  It is this brand, but mine takes batteries.  It looks like this is the updated electric version, which in my opinion is a plus for you.  Yay!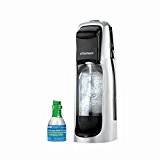 Do you know someone that loves seltzer?  We purchased a Soda Stream a few years ago and it has been great. No more lugging seltzer bottles from the grocery store.  We drink our seltzer plain, with no flavorings, but there are delicious flavorings to choose from.

Spatulas for the stocking!
Wishing you a wonderful holiday season!
Christine
*This post contains Amazon affiliate links.  As always, all opinions remain my own and I only recommend products I use and love.  Thank you for your support.